Makita vs. Bosch: Which Power Tool Brand is Better in 2023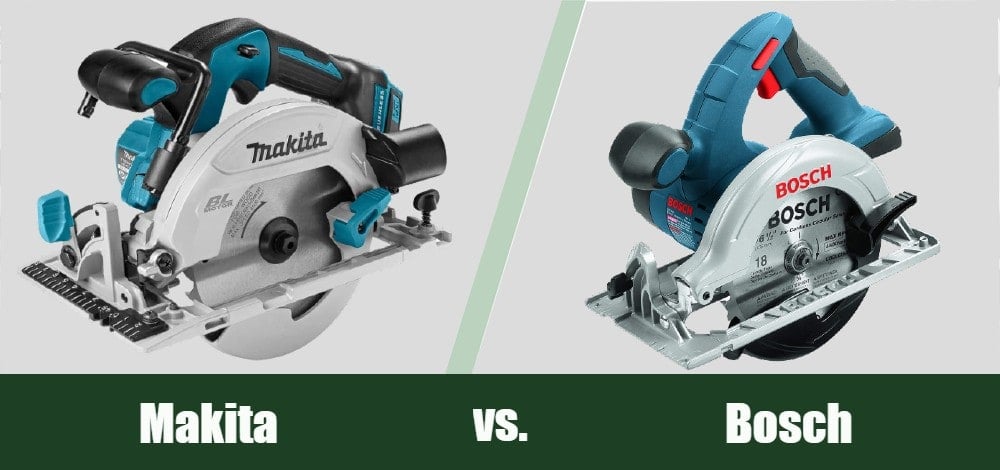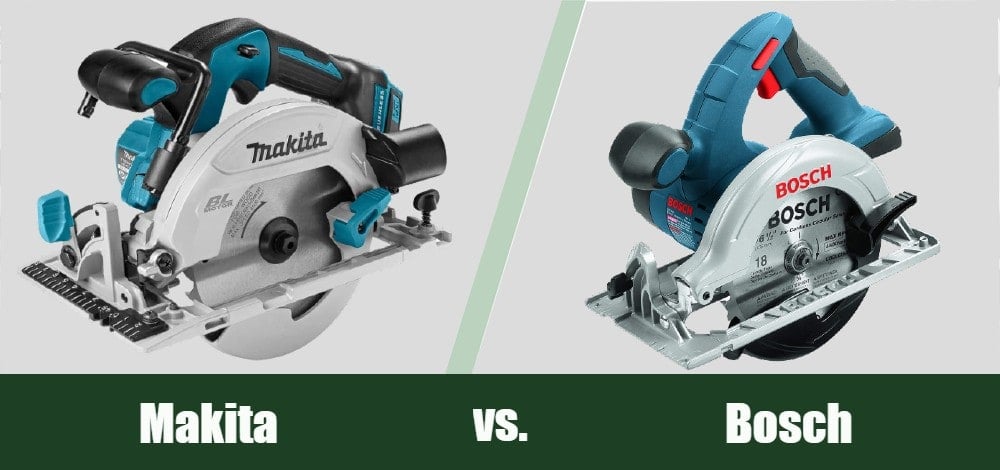 Both Makita and Bosch are tough power tool manufacturers. In many ways, they are fairly similar, like most other power tool brands on the market. It can be difficult to choose between them simply because they are so similar. Bosch makes a large range of power tools, including 12V, 8V, and 36V cordless power tools like their drills, drivers, and saws. Bosch is particularly known for its drills and rotary hammers.
Makita has one of the largest offerings on the market. They make 12V, 18V, 36V, and 7.2V power tools ranging from lawnmowers to radios. Both companies offer a line of outdoor equipment as well. This article will review the company behind each brand and some of their most popular tool offerings. By the end, you should be able to choose which power tool brand is right for you and your particular situation.

A Quick Comparison
| | | |
| --- | --- | --- |
| Brand Name | Makita | Bosch |
| Established | 1915 | 1886 |
| Headquarters | Anjo, Aichi, Japan | Gerlingen Germany |
| Product Lines | Power tools, outdoor equipment | Power tools, outdoor equipment |
| Parent Company | None; they only sell tools under their name | Robert Bosch |
Brief History of Makita
Mosaburo Makita founded Makita in March 1915 in Nagoya, Aichi, Japan. He started by repairing lighting equipment, motors, and transformers. In the beginning, this company did not have any of its tools. Instead, they repaired tools made by other companies.
In 1958, Makita designed and marketed a portable electric planer in Japan and began manufacturing more power tools only a year later. In April 1969, they introduced the first rechargeable drill on the market, which had a 6500D battery. In December 1978, they introduced a 6010D rechargeable drill, which also happened to be the first nickel-cadmium battery tool.
In August 1997, the 6213D rechargeable drill was introduced at the company's Chicago Hardware Show. It was the first nickel hydride battery tool available on the market. In February 2005, they also introduced the first lithium-ion battery tool.
Makita is also known for its inventive stacking box system. They ship their tools in stackable boxes, allowing them to prevent damage to the tools and take up less space per package. Their "Makpac" design is registered.
---
Brief History of Bosch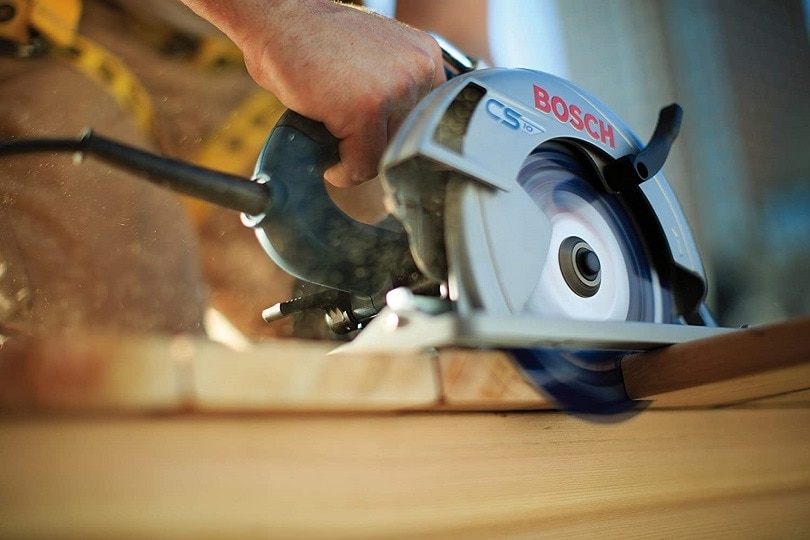 Bosch does not just make tools. This multinational engineering company also makes a variety of other items. Robert Bosch founded this company in 1886 in Stuttgart, Germany. Today, Bosch is owned 92% by Robert Bosch Stiftung, which is a separate charitable organization.
Bosch has made several tools and devices throughout history, ranging from magneto ignition devices for automobiles to windshield wipers. Of course, they also make a line of power tools, which we'll focus on in this article.
The first Bosch factory was opened in 1901. In 1906, it was one of the first companies to introduce the 8-hour workday. In 1910, they opened another factory nearby and began producing headlights. They were transformed into a corporation in 1917. Robert Bosch died in 1942 after many of the company's factories had been taken over by the Nazi government in World War II.
Bosch has invented several ingenious products, including oxygen sensors, electric motor control, and a traction control system. Much of our technology today would not be the same without this company.

Makita vs. Bosch: Manufacturing
Makita
Some of Makita's tools are made in the USA. They have had a facility just outside of Atlanta, Georgia, since 1985, where they make many of their tools. Some Makita tools are made in Japan, which is to be expected given that they are a Japanese company.
In fact, Makita operates factories in various locations, including Brazil, China, Japan, Mexico, Romania, the United Kingdom, Germany, Dubai, Thailand, and the United States. Many of their tools include parts from around the world, though a few are completely made in specific locations.
For instance, a particular drill may be made in Japan and China. Some tools will say "Made in China," while others will say "Made in Japan." There does not seem to be a difference in quality depending on where the tool is made.
Bosch
A small selection of Bosch's tools is made in the USA. Like many other tool companies, Bosch does outsource much of their manufacturing to other countries, including China. Tools that are labeled as "made in America" may actually have parts that are made elsewhere. We expect that Bosch will continue to run factories in various countries like most other tool manufacturers.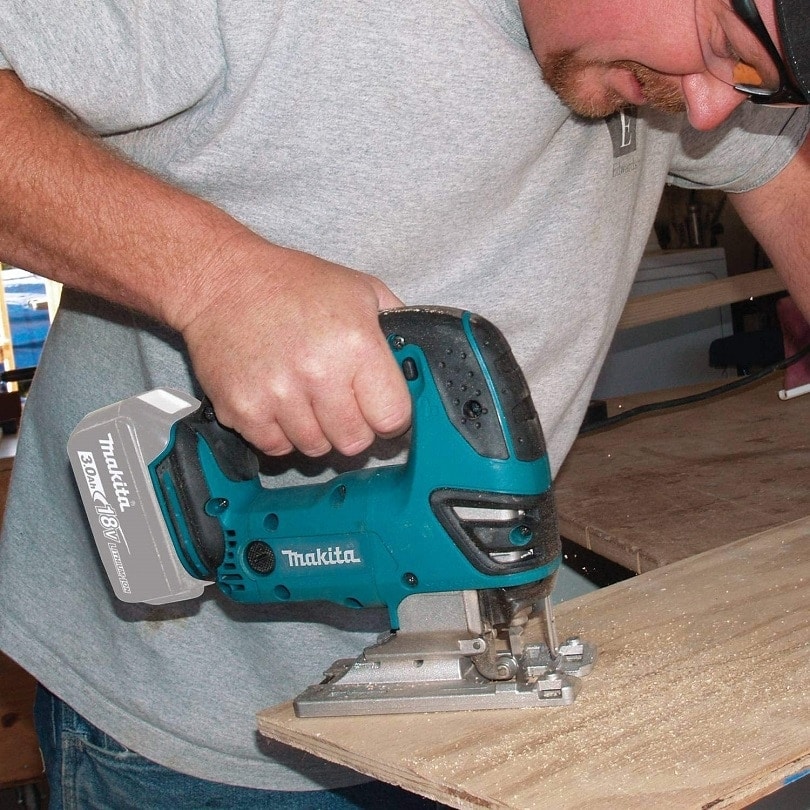 Makita vs. Bosch: Product Lines
Makita
Makita is best known for its cordless power tools, of which they have many. Today, many of their power tools are cordless with high-quality batteries. As far as power tools go, they also make saws, woodworking equipment, dust extractors, measuring tools, and drills.
They also make accessories, including drill bits, cutting blades, and organization equipment. Many of their accessories are made to work on their tools, so they won't necessarily work on other companies' tools. Makita is also well-known for outdoor power equipment. They make weed eaters, lawnmowers, leaf blowers, and basically anything else you'd need to care for your yard. They are one of the leading producers of outdoor electric equipment.
Bosch
Bosch makes numerous products. Their power tool selection includes cordless power tools, drills, hammers, measuring tools, grinders, metalworking gear, and routers. Basically, if it is a tool, they probably make it.
They also make a line of accessories for their power tools. Things like drill bits and blades are the most common, but they also make various other accessories. They also make "attachments," which are just accessories under another name. In the end, this company focuses mostly on power tools, many of which are cordless.
---
Makita vs. Bosch: Price
Generally speaking, Makita will be more expensive than Bosch. Sometimes, they're over twice as expensive. Other times, the price may be pretty close. Ultimately, it depends largely on what you're buying and what deals you happen to snag.
Makita
Makita is not the most expensive tool company out there by any means. They are typically much cheaper than some of the "premium" brands. However, they are usually substantially more expensive than Bosch, which is known as a budget brand. In general, if the price is extremely important to you, you'll probably want to steer clear of Makita.
Bosch
Bosch is substantially cheaper than Makita on most occasions. Some of their more powerful tools may be the same, but most of the time, you will get a deal if you choose a Bosch. However, this doesn't mean that the Bosch is low-quality at all.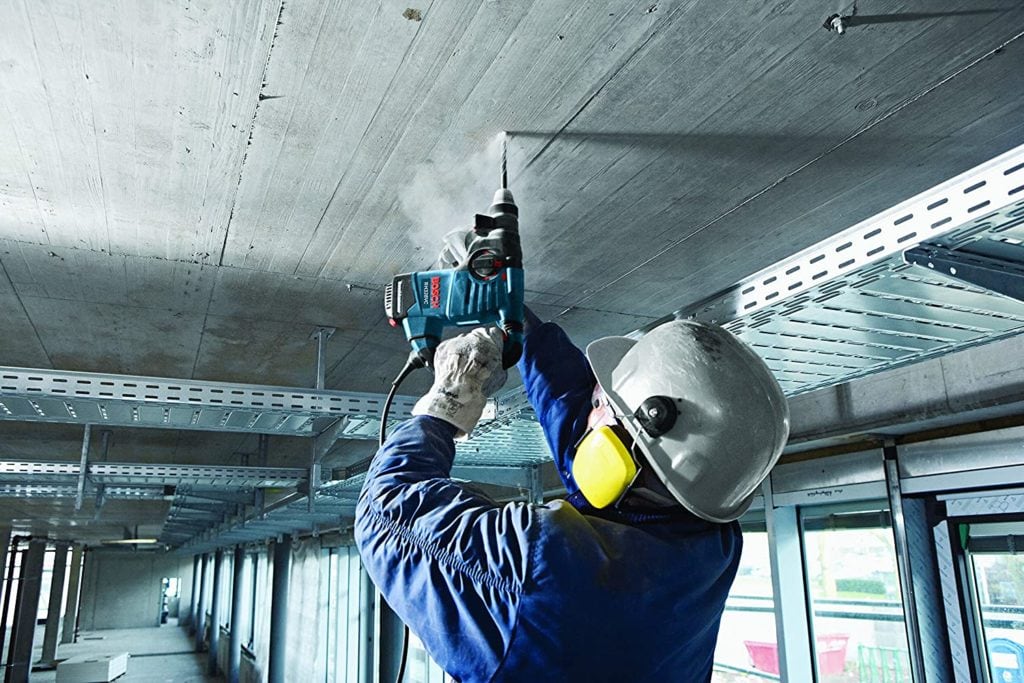 Makita vs. Bosch: Warranty
Both these companies offer a similar warranty, like most tool brands on the market. The small print on each warranty is what's really important, so we took the time to read it to compare.
Makita
Makita offers a pretty average warranty as far as power tools are concerned. They have a 3-year limited warranty on most of their products. This warranty covers failures that are the result of faulty materials or craftsmanship. In other words, they will not cover the tool if you drop it and break it.
Bosch
Bosch has a slightly shorter warranty at only a year. This warranty is limited, meaning it covers only faulty parts and craftsmanship that may have affected the quality of the tool. If the tool breaks because of something they did, it is covered under warranty. However, they are not going to replace a tool because you dropped it or broke it.
However, Bosch also has a 1-year service protection plan. This plan covers electrical, safety, and performance checks for free. It will also cover lubrication and replacement of parts worn under normal use. It will not repair your tool if you break it, but it will cover some maintenance. You will have to take it to a qualified service center, however.
---
Makita vs. Bosch: Customer Service
If you want to take advantage of either company's warranty, you must deal with their customer service. Sadly, customer service in the tool industry is often lacking.
Makita
Makita has different customer service centers for different countries. Because they are an international brand, many of its tools are sold worldwide. To help all of their customers, they need to have multiple service centers.
How each center operates varies, as does the quality. In our research, we found that Makita customer service representatives tend to be easy to reach and friendly. Most are knowledgeable about the product. However, issues are difficult to get resolved. The company seems to try everything to get out of the warranty.
Bosch
Bosch seems to have a similar customer service department. They are easy to reach and friendly. However, they did seem to know less about the products than Makita customer service did. Issues were resolved at a higher rate, however.
Bosch customer service is prone to giving out incorrect information and trying to use service calls to sell new products. There are reports of people receiving sales calls after calling in for a service-related issue.

Head-to-Head: Combo Kits
Makita XT263M vs. Bosch PSB7MM3C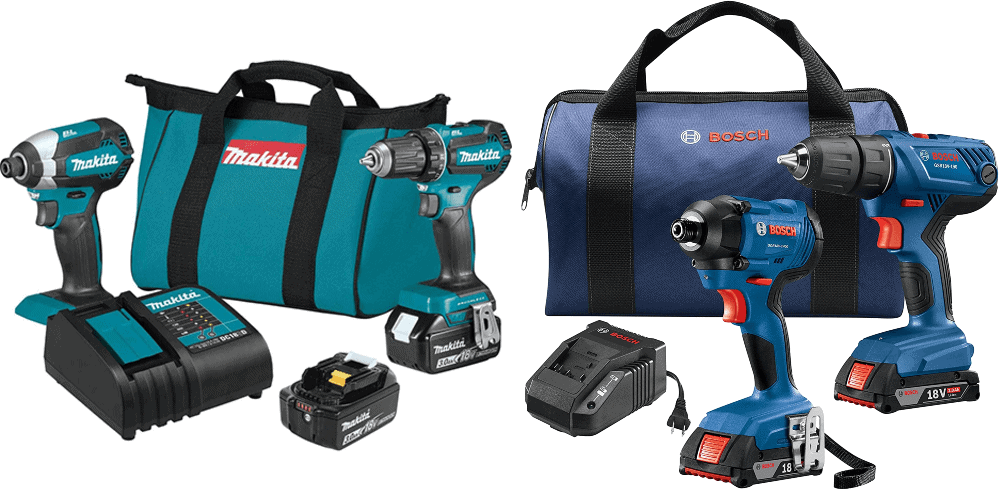 Both Makita and Bosch have similar combo kits. The Makita kit includes a 6.5-inch circular saw, two batteries, a charger, a work light, a reciprocating saw, and an angle grinder. It is labeled as a 6-piece kit, but most of the products included are not technically "tools." It comes with a bag to carry everything in, as do most combo kits.
On the other hand, the Bosch comes with a grinder, cordless jigsaw, circular saw, reciprocating saw, flashlight, three batteries, and a charger. It comes with more stuff and is cheaper. It also comes with a bag to carry everything in.
Overall, we found the included Makita tools to be higher quality, but not so much so that it made up for the fewer included tools and higher cost. For this reason, we couldn't rate the Makita higher than the Bosch, though it was a close call.
Out Verdict: Bosch

Head-to-Head: Cordless Drills
Makita XFD131 vs. Bosch PS32-02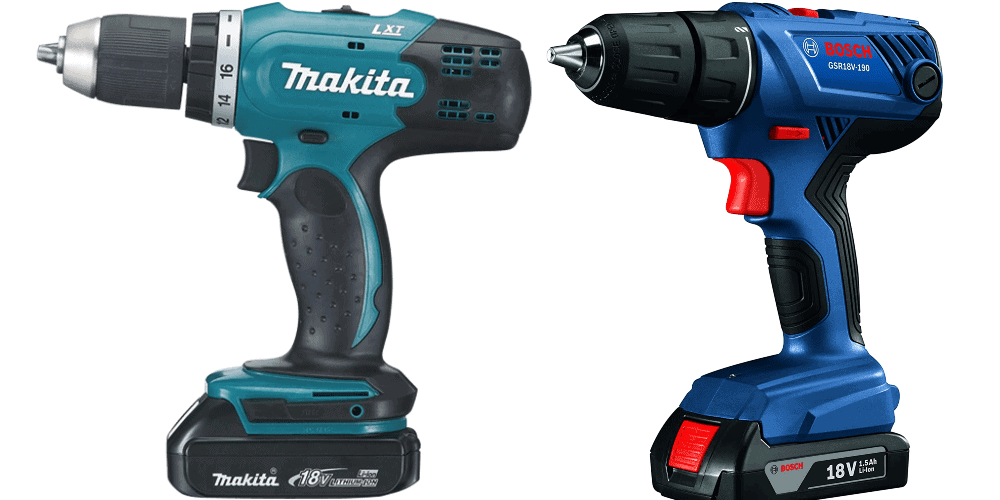 In general, Makita tools are typically higher in quality than Bosch. However, when it came to the company's cordless drills, this was not the case. The Bosch drill performed very well right out of the box. The Makita was okay, but it required extra accessories to get the job done. The Makita drill costs more anyway, and the extra accessories only add more to that cost. The Bosch is cheaper and doesn't require anything extra to work.
The Bosch is much lighter than the Makita as well. It weighs only 2 pounds, which is half the weight of the Makita. This is a significant difference when working with the same tool over an extended period. Both tools are compact, so it was a tie in that department. However, the lighter weight of the Bosch did make the compact frame easier to handle.
The Bosch drill also has a higher RPM. It can reach up to 1,300 RPMs max, which is about 400 more than the Makita. It packs quite a bit of power for the cost and smaller size of the tool.
Our Verdict: Bosch

Head-to-Head: Cordless Impact Drivers
Makita

DTD153Z 18V LXT 1/4″ vs.

Bosch 18-Volt (Li-ion) 1/4″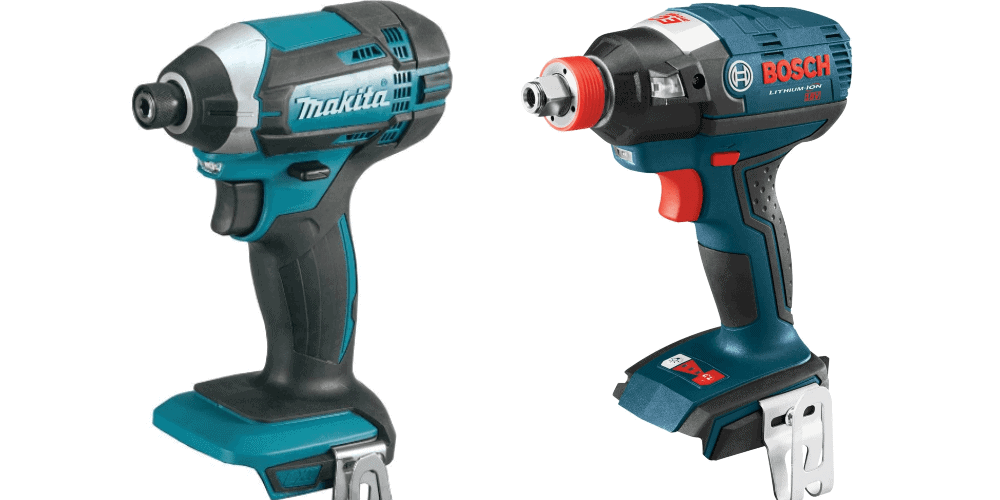 This is a rare situation where the Bosch and the Makita impact drivers cost similar amounts. The Bosch is slightly cheaper, but the difference is so small that we doubt you'll use it as a deciding factor.
The Bosch is a bit heavier than Makita by a little less than a pound. This is a big enough difference to note, but it shouldn't be such a huge difference that it'll become your deciding factor. Both of these tools are decently light, so you shouldn't worry about the weight.
The Bosch is a little less powerful than the Makita. However, it is easier to use. The socket is much more user-friendly than any other impact driver on the market. You don't need to use a socket adaptor nearly as much, and the socket fits tightly into the tool, ensuring that it isn't going to flop around.
While the Bosch is rated at a higher tension than the Makita, it doesn't perform up to snuff in real-world situations. It seems to peak at just over 15,000 bolt tension, which is slightly less than Makita.
In the end, it is very hard to draw out a sure winner in this regard. The Makita is more powerful, but it is a bit pricy. The Bosch is heavier, but it is easier to use. There is no true winner in this regard since both tools had many areas where they need to improve.
Our Verdict: Tie

Overall Brand Reputations
Performance
Edge: Tie
It seems that the word on the street is that Makita crafts the more powerful tools. However, this doesn't seem to be the case when comparing specific tools. In some cases, the Makita brand does make more powerful options. In just as many cases, though, the Bosch tools win.
---
Price
Edge: Bosch
When you compare both brands' prices, the Bosch is almost always cheaper. There are some occasions when the price is very close, but the Bosch is usually still a few dollars cheaper in these situations. The Bosch was always the cheaper option in all tool comparisons we checked.
---
Durability
Edge: Tie
We did not find significant durability differences between either of these brands. Both of them have tools that are somewhat lower quality and likely to break. Both of them have tools that will probably outlive you. There doesn't seem to be a clear consensus on one brand being more durable overall than the other.
---
Design
Edge: Bosch
In all the tools we looked at, the Bosch model seemed to have better features. Bosch tools are usually lower in weight and have a higher power turnout. For this reason, we had to give Bosch the edge in this section.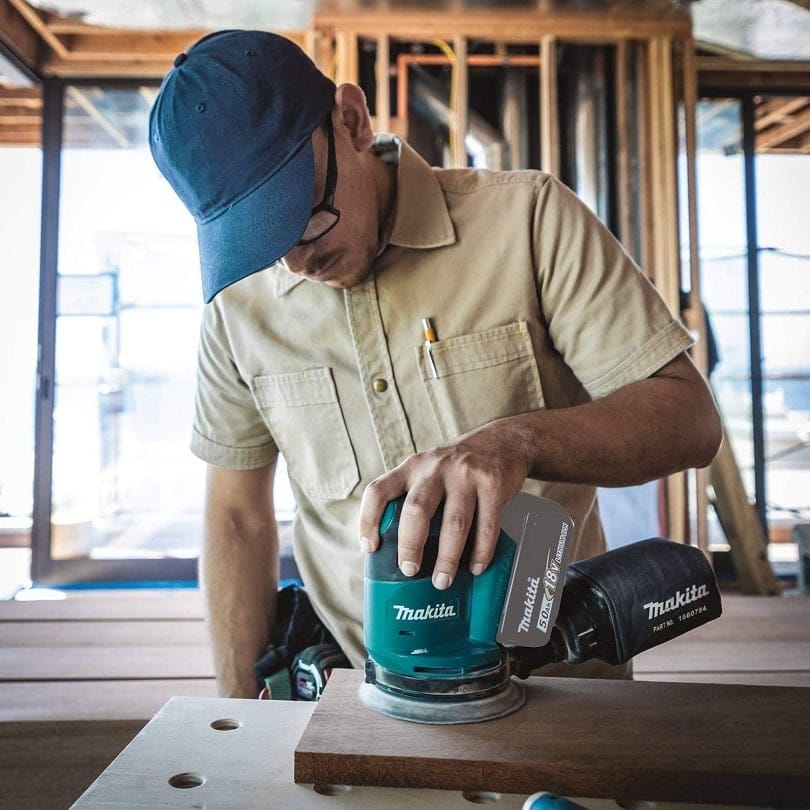 Conclusion
Overall, Bosch seems to be the better tool company. Their tools are much cheaper, but they are often just as good as Makita's. They are often lighter, produce more power, and cost less than the competition. There are a few tools where Makita will edge Bosch out, but this is rare enough that we can confidentially declare Bosch the winner.
It is important to note that this is a fairly close win. Bosch is not considerably better than Makita, but it's just enough to edge ahead.
You might also be interested in: