Milwaukee M18 Brushless Combo Kit Review 2022 – Pros, Cons & Final Verdict
Our Final Verdict
We give M18 Brushless Combo Kit a rating of 4.5 out of 5 stars.

Build Quality: 4/5
Power: 4/5
Features: 5/5
Price: 5/5

Milwaukee M18 Brushless Combo Kit – A Quick Look
Combo Kit Includes:
M18 1/4" Hex Impact Driver Bare Tool (2850-20)
M18 1/2" Brushless Hammer Drill (Tool Only) (2902-20)
M18™ REDLITHIUM™ XC 4.0 Extended Capacity Battery Pack (48-11-1840)
M18™ REDLITHIUM™ CP2.0 Battery (48-11-1820)
M18™ & M12™ Multi-Voltage Charger (48-59-1812)
2 Belt Clips
Contractor Bag
Side Handle
The Milwaukee M18 Brushless Combo Kit is one of this company's many combo kits. It includes a ½" Hammer Drill and a ¼" Hex Impact Driver, as well as a charger to keep the batteries charged and ready to go. It also includes a carrying bag that is specifically designed to fit both of these tools and the charger.
This combo kit is designed for your average drilling and fastening. With both of these tools, you should be able to accomplish most drilling jobs. Plus, by purchasing the combo kit, you'll save a bit of money.
With that said, a combo kit is only worth as much as its tools. In this article, we'll review both tools to help you determine if this combo kit is a good option for you.
Pros
Quality Tools
Durable
Includes many accessories
Two batteries included
Battery-powered
Cons
Poor customer service
Batteries are known to have charging problems

Hex Impact Driver Specifications
| | |
| --- | --- |
| Brand Name | Milwaukee |
| Power Source | Cordless |
| Length | 5.1" |
| Weight | 2 pounds |
| Width | 2.25" |
| Torque | 1600 in-lbs |
| LED | Yes |
| Battery System | M18 |
---
Brushless Hammer Drill Specifications
| | |
| --- | --- |
| Brand Name | Milwaukee |
| Power Source | Cordless |
| Length | 7" |
| Weight | 3.1 pounds |
| Width | 2.31" |
| Torque | 725 in-lbs |
| LED | Yes |
| Battery System | M18 |

Milwaukee M18 Brushless Combo Kit Details
Compact Design
The main purpose of this combo is to provide compact tools for drilling in small spaces, and that's exactly what it delivers on. The hex impact driver is much smaller than other options out there, but it still provides excellent balance and control. Therefore, it is perfect for overhead work and projects in tight spaces.
The hammer drill is made similarly. It is designed for work in small spaces while still providing plenty of power and a long runtime. It is perfect for applications in tight spaces or overhead. Plus, it also weighs less than most options.
Brushless Motor
Both tools feature a brushless motor, which provides a much longer lifespan than a brushed motor. In fact, this motor provides far more runtime than other options to ensure that you get your money's worth out of these tools.
Of course, the motor is also designed to be efficient, which ensures that as much power as possible gets transferred into what you're working on.
Metal Design
On top of the efficient and powerful motor, both of these tools are made with quite a bit of metal to improve durability and longevity. For instance, the gear case is all metal, which helps protect the motor inside. The chuck is also completely metal for maximum durability.
Both of these tools are clearly made to last with all their metal fastenings.
REDLINK Intelligence
Both tools are equipped with overload protection, which monitors temperature and prevents damage due to excess use. You don't have to worry about running these tools too hard for too long, as they will automatically shut off if damage is possible.
In this way, both tools tend to last longer than those without this feature. Simply put, these tools are designed to protect themselves so that you can get more use out of them.
Battery Powered
Both of these tools are completely battery-powered. Now, this can be both a good thing and a bad thing. On the one hand, you don't have any cords restricting your movement. You can also use these tools in areas without power, as long as the battery was charged beforehand.
However, that also means that once the battery dies, it's dead. You don't have an unlimited runtime like a corded tool. Instead, you have to be cautious about how much battery life you have left and ensure that you charge up the batteries regularly.
For this reason, some people simply don't like battery-powered tools. On the other hand, other people love them. It all just depends on what your preferences are.

FAQ
Are Batteries Included?
Yes, the combo includes two CP2.0 batteries which are compatible with both tools. You can use one battery while you're letting the other one charge, which helps ensure that you always have a battery ready to go.
How Many Years is the Warranty?
The warranty is five years on both the tools. You do need to register the tools for the warranty to activate, though, so be sure that you do that.
What's the Difference Between an Impact Driver and an Impact Wrench?
An impact driver is meant for drilling holes and screws. It is a high-powered screwdriver, basically, that allows you to get through tougher materials. An impact wrench is used for removing nuts and bolts. It is a wrench—not a driver.
This combo includes an impact driver, which will help you make holes and add fastenings to your project.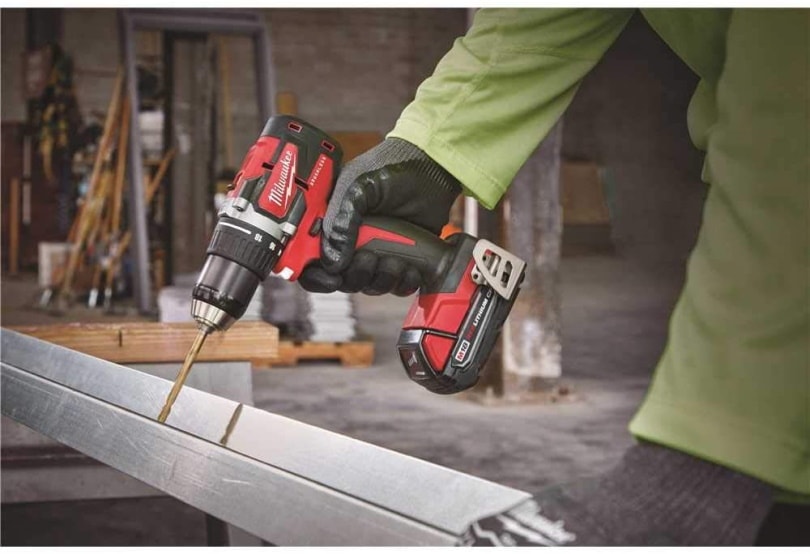 Where is This Product Manufactured?
As far as we can tell, this product is made in China. The company is not super straightforward about where their products are made, but that seems to be the general understanding.
Are These the Newest Versions of the Tools?
Yes. The combo includes only the newest and best versions of the tools, and most people seem to be quite pleased with them.
Do They Go in Reverse?
Both tools will go forward and reverse with a quick flip of the switch. They are suitable for most jobs out there for this reason.

What Users Are Saying
For the most part, users seem to be quite pleased with this combo. Many claim that it is a very well-put-together combo, especially since it includes two separate batteries. Most recommend it over other combos that they have seen with similar tools.
However, others have a few problems. Firstly, the batteries are probably the poorest aspect of the set. Because the tools require the batteries to work, this sometimes leads to problems. Many users claim that they have problems with the batteries being defective, which often means that they have to replace them.
Batteries are not cheap, so that requires quite a bit of money to replace.
There are also complaints about service from the seller. If you do need any help, it's difficult to get. Calling their customer service line takes you an automated phone line, and it is difficult to speak to an actual person. We found many complaints regarding their customer service.

Conclusion
This combo is perfect for those that need to create holes and insert fasteners—which is truthfully a part of most DIY projects. Therefore, this can also be a great beginner's combo, especially since it includes two different batteries.
The tools themselves are high-quality, and the combo is well thought out. The only potential problems come from the batteries, which seem to be the weak point in the combo. The customer service isn't great, either, which only exuberates the battery problem.
However, for the price, this combo is often considered more than worth it.
---
Image Credit: Milwaukee, Amazon