Milwaukee M18 Chainsaw Review 2023 – Pros, Cons & Final Verdict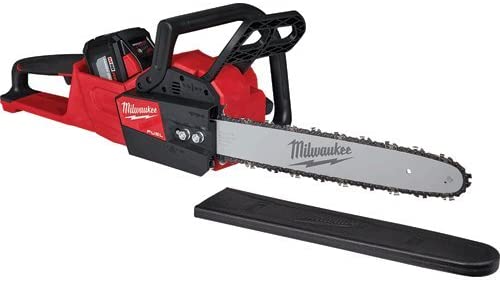 Review Summary
Our Final Verdict
We give Milwaukee M18 Chainsaw a rating of 4 out of 5 stars.
Build Quality: 4.5/5
Power: 4.5/5
Features: 4/5
Price: 4/5

Milwaukee M18 Chainsaw — A Quick Look

Specifications
Brand Name: Milwaukee
Model: M18 Chainsaw
Bar Length: 16 inches
Power Type: Battery
Battery Type: Red lithium-ion
Voltage: 18 volts
Battery charger included: Yes
Filter type: Mesh filter
Weight:9 pounds
Manufacturer Warranty: 3 years on parts and battery
The Milwaukee M18 Chainsaw is a fantastic tool that provides you with plenty of power without the noise that you expect from a chainsaw, which means it's the perfect choice for people who live in an area where too much noise can be a problem. It will provide you with the power that you need to remove small trees and other plants from your property without requiring a huge investment. If you've been looking for a new chainsaw, keep reading as we take a closer look at the Milwaukee M18.
Pros
Battery-powered
Variable speed trigger
Brushless motor
Cons
Heavy
Leaks oil
Short bar

Milwaukee M18 Chainsaw Details
Brushless Motor
One of the most important features of the Milwaukee M18 Chainsaw is that it uses a brushless motor. This type of motor dramatically reduces friction inside the component to deliver a large amount of power for a long time, so you don't need to recharge it often, and you can tackle large projects. Since there is no brush inside to wear out, these motors don't require much maintenance and last a long time.
---
Red Lithium-Ion Battery
An important feature of the Milwaukee M18 Chainsaw is its red lithium-ion battery. This improved version of the standard lithium-ion battery delivers 20% more power with a 40% longer runtime. It also gets 50% more recharges, which extends its lifespan considerably.

Redlink Plus Intelligence
A special feature of the Milwaukee M18 Chainsaw is its Redlink Plus Intelligence. This technology enables the hardware and battery to communicate with the tool's internal computer. This information will help control the chain's rotation and protect it from overload, among other things
---
Automatic chain Lubricator
One lackluster feature of the Milwaukee M18 Chainsaw is the automatic chain lubricator. While it is handy while you're using the saw, it continues to drip even when in storage, leading to quite a mess, and draining it before storage is not practical.

FAQ
What is the power rating in horsepower for this saw?
Unfortunately, since it uses battery power, the horsepower is not provided. However, the literature that comes with the product states that it's equal to a chainsaw with a 40-cc gasoline engine.
Can you change the chain?
Yes, you can change the chain if you need to. The primary thing is to make sure it is 16 inches long and has the same number of links.
Does this saw come with a carrying case?
Unfortunately, the Milwaukee M18 Chainsaw does not come with a carrying case, but it does come with a blade cover that will help protect the chain while you store the saw.
How fast is the battery charge?
The speed that your battery recharges will depend on several factors, including the battery's age and existing charge when you connect it. However, for most people, it should be ready to go about an hour after being placed in the charger.
Does it come with a battery and a charger?
Yes, a battery and charger come with the Milwaukee M18 Chainsaw.

What the Users Say
We searched the internet to see what other people are saying about the Milwaukee M18 Chainsaw. Here are a few things we found out by looking at sites like Amazon.
Most people are happy with their purchase.
Many people suggest that this size is comparable to a medium-sized gas-powered chainsaw.
Many people are happy with the way that the saw cuts.
Many people complained that it leaks oil.
Many people found it easy to remove small trees and shrubs from their yard.
Several people commented that they wished that they had a second battery.
A few people mentioned that it works best for small jobs.
A few people mentioned that they had a hard time keeping this chain on the saw.

Conclusion
The Milwaukee M18 Chainsaw uses a brushless motor and a technologically superior battery to provide you with plenty of power for maintaining your property. It easily cuts through small trees and shrubs and isn't so heavy that it's hard to use. The only downside is that it leaks quite a bit of oil when you're not using it, so you'll need to be careful where you store it.