15 Most Dangerous Cities In Europe (2022)
Note: This article's statistics come from third-party sources and do not represent the opinions of this website.
Europe is the third largest continent, by population with a total of nearly 750 million people, making it slightly larger than North America but considerably smaller than Africa and especially Asia. It is home to some of the most popular tourist cities in the world including Paris, London, Istanbul, and Rome, and many smaller destinations have just as many great features to enjoy. However, these large tourist centers also tend to attract high crime rates, including property crimes and violent crimes.
Generally, wherever there is a large concentration of people, crime tends to follow. And that certainly seems the case with the European cities that are considered among the most dangerous.
Europe is considered one of the safest continents, although the difference between Eastern Europe and Western Europe is stark. Eastern Europe, for example, has a homicide rate of around 12 per 100,000 population while Western Europe's rate is approximately 2 homicides per 100,000
Danger in cities can take many forms. Generally, we look at murder or homicide rates as well as violent crime rates and property crime rates. But some cities, like Brussels, for example, are more prone to terrorist attacks, while cities like Naples are known to have large, organized crime connections. It is also worth noting that it is very difficult to get reliable crime rates for some cities and from some countries.
Below is a list of what are considered 15 of the most dangerous cities in Europe.

The 15 Most Dangerous Cities In Europe
1.

Shkoder
| | |
| --- | --- |
| Country: | Albania |
| Population: | 135,612 |
Shkoder is one of the most historically significant towns in Albania and is a major market area for the northern Albanian mountain regions. Traders trade tobacco, cotton, silk, potatoes, and fruits. It is also a popular tourist destination for those looking to see historical Albania.
However, the city is not only considered the most dangerous and crime-ridden in Albania but across the whole of Europe. Human trafficking, extortion, and organized crime are rife, and the city has a crime rate of 7,656 per 100,000. Even more alarmingly, Shkoder has a murder rate as high as 36 per 100,000 people.
---
2.

Kyzyl
| | |
| --- | --- |
| Country: | Russia |
| Population: | 112,659 |
It is unlikely that you will be looking at Kyzyl as a tourist destination unless you want to visit the geographic center of Asia.
This highly industrialized city is ranked as the most dangerous city in Russia and it has witnessed serious crime rates for decades, although the figures have improved since reaching their peak in the 2000s. This decrease has been driven by new alcohol licensing laws, with alcohol proving the primary fuel behind most of the earlier crimes. Apparently, the capital of the Tuva region has a murder rate as high as 35 per 100,000, which is more than 6 times higher than that of Tallinn.
---
3.

Tallinn
| | |
| --- | --- |
| Country: | Estonia |
| Population: | 426,538 |
Tallinn is the capital of Estonia as well as being the most populous city in the country. It is also considered the cultural hub and the walled city has cobbled streets and an old-world charm. It has a 13th Century Gothic town hall as well as numerous cafes and bars. The Kadriorg Art Museum is a sight in itself and visitors will want to get a picture of the impressive Alexander Nevsky Cathedral.
Crime levels are generally low in Tallinn, with the biggest problem often being that of pickpocketing. Thefts do occur in Old Town, and especially in the bars and cafes where criminals try to catch visitors unaware. However, despite having a relatively low crime rate, this is another city where the murder rate is high – 5.5 per 100,000 visitors, in fact.
---
4.

Kaunas
| | |
| --- | --- |
| Country: | Lithuania |
| Population: | 295,269 |
Kaunas has a population of nearly 300,000 people and is the second-largest city in Lithuania, by population. It is described as being highly picturesque and it has stunning traditional architecture. As well as visiting Old Town, visitors flock to the Ninth Fort and the Devil's Museum. Museums include the National M. K. Ciurionis Art Museum and the Museum of History of Lithuanian Medicine and Pharmacy.
Although Kaunas is considered a generally safe city to visit with a crime rate as low as 3,787 per 100,000 people, it has a murder rate of 5.4 murders per 100,000 people. Avoid the station market, opposite the train station, because this is where most thefts occur in the city.
---
5.

Glasgow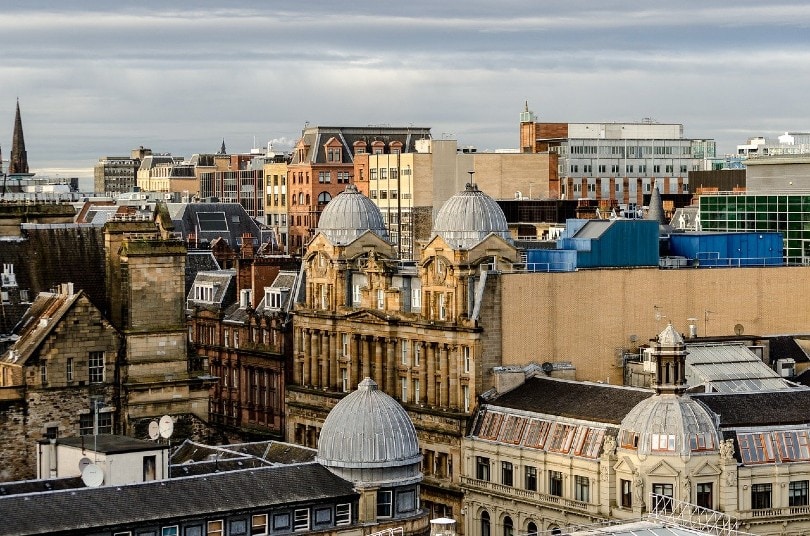 | | |
| --- | --- |
| Country: | Scotland |
| Population: | 1,680,669 |
Glasgow is the 5th largest city in the UK after London, Manchester, Birmingham, and Leeds respectively. Historically, it was a successful cotton town but shifted its output to mining, iron, and engineering, as well as shipbuilding. The television was invented here along with the Kelvin temperature scale. It was also home to the world's first international football match – Scotland played England in a game with a final score of 0-0. Although Scotland is no longer part of the EU, it is still within the geographic European borders.
According to statistics, Glasgow is the most violent of the UK's cities with 1,600 violent crimes per 100,000 people and it experiences 5.1 murders for every 100,000 people in the city. In particular, the city is known for its gangs and knife crime is prevalent in Scotland's first city.
---
6.

Vilnius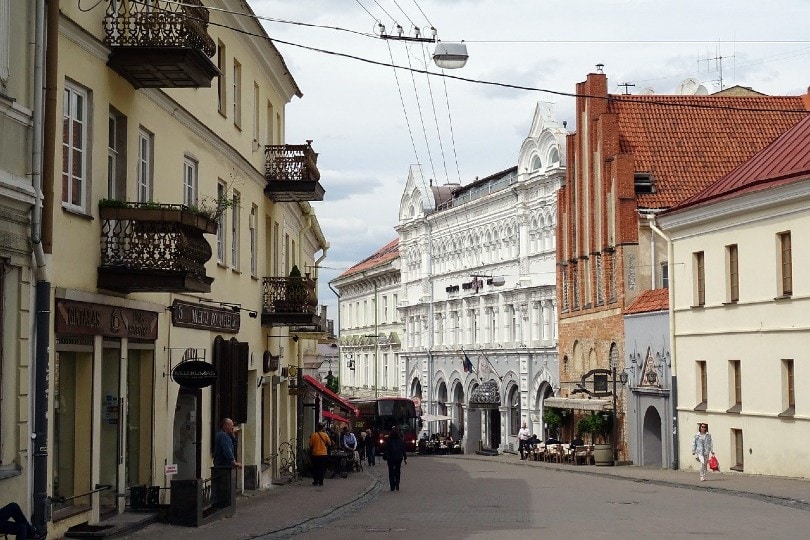 | | |
| --- | --- |
| Country: | Lithuania |
| Population: | 539,978 |
Vilnius is both the capital and the largest city in Lithuania. It has stunning architecture and is also the cultural center of Lithuania so is a home for music and arts. It is especially known for its architecture with the Old Town having been declared a UNESCO World Heritage Site in 1994.
The city actually has a low rate of crimes. Even petty crimes are uncommon. However, Vilnius has a murder rate of 3.9 murders for every 100,000 population.
---
7.

Marseille
| | |
| --- | --- |
| Country: | France |
| Population: | 1,613,797 |
Marseille is in the South of France and has a population of more than 1.6 million people. It is considered a laid-back region that is known for its fresh fish cuisine. Visitors can enjoy games of petanque and a drink of Pastis, which is a French aperitif that is popular in the South.
Unfortunately, the region is also known for having high drug use and this attracts various crimes including mugging and theft, further exacerbated by the high concentration of immigrants that flock to Marseille and its surrounding regions. Organized crime is also a problem in the city and Marseille has a murder rate equivalent to 3.5 incidents per 100,000 people.
---
8.

London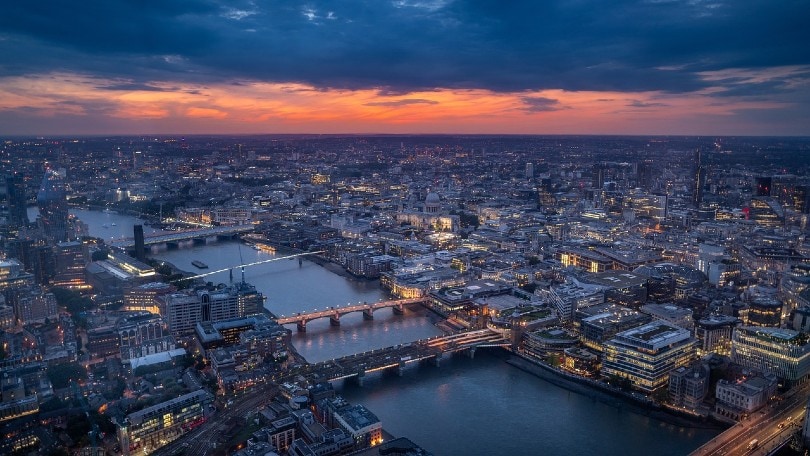 | | |
| --- | --- |
| Country: | England |
| Population: | 9,425,622 |
London is home to nearly 10 million people and is one of the most popular tourist cities in the world, and certainly the most popular in the UK. Among its most popular tourist attractions are Buckingham Palace, home to the Royal Family; The Tower Of London; The British Museum; and The Natural History Museum. The London Eye and the South Bank are other popular cultural attractions.
Anti-social crimes are the most frequently reported while vehicle crimes and theft are next on the list. In total, 870 crimes were committed for every 100,000 people, and if you're looking to avoid the most crime-ridden areas, you should steer clear of Westminster, Camden, and Kensington, although these are home to some of the most popular attractions.
---
9.

Birmingham
| | |
| --- | --- |
| Country: | England |
| Population: | 2,626,374 |
Birmingham is the third-largest city in the United Kingdom, after London and Manchester. It has a population of more than 2.6 million people and contains museums, galleries, and canals. The city is well-known for its curries and curry houses, as well as pubs and bars, and it is the main hub for jewellery trading in the UK.
Common crimes in Birmingham include burglary and bicycle theft. While firearms are illegal in the UK, making gun crime quite rare, Birmingham does have a high knife crime rate. The overall crime rate figure for Birmingham is over 10,000 crimes per 100,000 population, hence its ranking in this list.
---
10.

Naples
| | |
| --- | --- |
| Country: | Italy |
| Population: | 2,182,885 |
Naples, or Napoli, is the third-most populous city in Italy with over 2 million residents. It is a UNESCO World Heritage Site and is where the Margherita pizza was first baked. Popular tourist attractions include the city's three castles while nearby Mount Vesuvius also represents plenty of sightseeing opportunities.
Naples has a crime rate of 3,581.5 per 100,000 which includes pickpocketing and other petty crimes that are commonplace in busy cities. However, like Catania, Naples is also home to organized criminal gangs, including the Camorra, which dates back to the 17th Century and is one of the oldest criminal gangs in Italy.
---
11.

Catania
| | |
| --- | --- |
| Country: | Italy |
| Population: | 586,049 |
Catania is Italy's 10th largest city and the second largest on the Island of Sicily. Located at the base of Mount Etna, the city has survived multiple natural disasters, including the eruption of Etna in 1669. The old town region is a UNESCO World Heritage Site because of its baroque architecture that was designed and built following an earthquake in the late 17th Century.
As well as general crime rates, the region is known for having high car theft rates and organized crime is still a major problem in Catania. Although these are less likely to affect visitors and tourists, it is still possible, and visitors are advised to take certain precautions.
---
12.

Malmo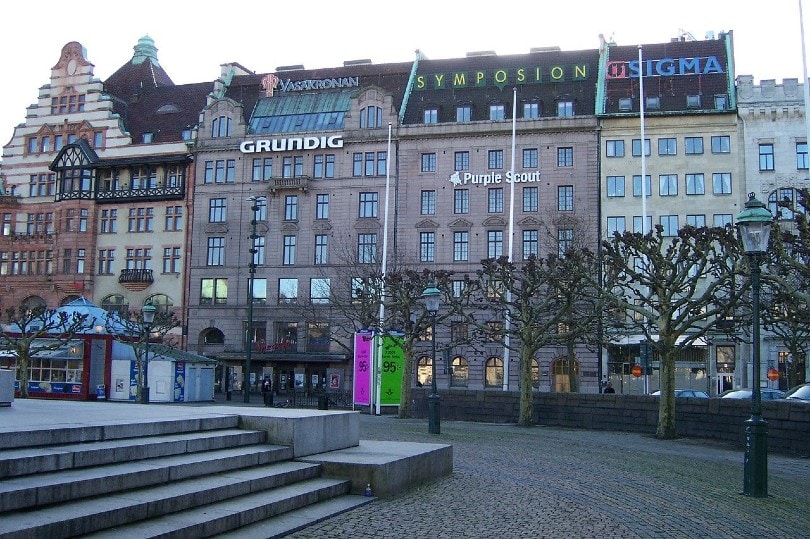 | | |
| --- | --- |
| Country: | Sweden |
| Population: | 326,145 |
Malmo is the third-largest city in Sweden with more than 300,000 residents. It was a heavily industrialized town but has struggled to adapt to post-industrialism and had, therefore, suffered from higher rates of poverty and crime. The city has undergone considerable change since 2000 and is now Sweden's fastest-growing city.
However, the city does have a high crime rate as well as a murder rate equivalent to 2,9 murders per 100,000 people, which is above average for Sweden, as a whole, and puts it high on the list of dangerous European cities.
---
13.

Dublin
| | |
| --- | --- |
| Country: | Ireland |
| Population: | 1,241,953 |
Dublin is the capital of Ireland and another popular tourist destination. Popular destinations include Dublin Castle and St Patrick's Cathedral, as well as the many pubs and bars in the city center. The Irish are renowned for their friendly and hospitable nature, but the high population density, large number of annual visitors, and the prevalence of venues serving alcoholic drinks mean that the city has a high crime rate of approximately 5,160 crimes per 100,000 people.
Pickpocketing and personal theft are among the most common crimes, but some violence can spread out of bars and into the main city center in the evenings, and visitors are encouraged to stick to the outskirts and surrounding neighborhoods to avoid many of the problems.
---
14.

Paris
| | |
| --- | --- |
| Country: | France |
| Population: | 11,078,546 |
Paris is a hugely popular tourist destination that attracts visitors from around the world and has a population of more than 11 million residents of its own. It has major attractions like the Eiffel Tower and the Louvre Museum and is considered the City of Love and is especially popular for honeymoons, romantic breaks, and anniversary celebrations.
Unfortunately, the city has also seen a series of terror attacks in recent years. Since 2014, more than 250 people have died and a further 1,200 injured in these attacks, making it one of the most dangerous cities in Europe. The city also has a reasonably high rate of pickpocketing and theft of personal belongings.
---
15.

Brussels
| | |
| --- | --- |
| Country: | Belgium |
| Population: | 2,095,688 |
As well as being the capital of Belgium, Brussels is also home to many of the administrative headquarters of the European Union including the European Commission, European Council, and European Parliament. Although there is no capital of Europe, Brussels is its administrative center and is described as the de-facto capital.
As such, as well as having reasonably high rates of crimes such as pickpocketing and theft, it is also prone to terrorist attacks. The last major attack was in 2018 with coordinated attacks occurring at the airport, metro, and train stations. Demonstrations in Brussels can turn violent, although this certainly isn't always the case.

How To Stay Safe In Europe
If you do travel in Europe, there are some tips and steps that you can take to help improve your safety and remain as safe as possible:
Do Your Own Research – Choose destinations carefully and, before you set off, ensure that you know which regions of a city are considered safe and which areas you should absolutely avoid. There are plenty of resources online and if you know anybody that has traveled to the region before, ask. When researching, try to find the opinions of locals because local residents usually have a better idea of where to avoid and where is safe.
Take A Travel Companion – Traveling alone is inherently more dangerous than with a companion. Ask a friend or family member if they will accompany you on your travels.
Be Discreet With Valuables – Keep valuables and essentials like your passport locked in your hotel or accommodation safe and ensure that you can choose or change the safe combination yourself. Valuables like cell phones that you want to keep on your person should be fully charged in case you need them, but they should also be stowed away in an inside pocket or other safe location. Having them on display is an invitation.

Conclusion
It is possible to stay in most of the cities above and never experience any crime. Millions of people do so every year. However, if crime rates do concern you, and you want to avoid those that have a high crime rate and head for arguably the safest cities then you should consider Copenhagen in Denmark. As well as topping the list as the safest city in the continent according to violent crime rates, it is also considered very safe for digital and infrastructure security. It also regularly features at the top of lists for resident satisfaction and happiness.
See Also: What Is The Most Dangerous City In Ireland?
---
Featured Image Credit: rdlh, Pixabay