10 Most Expensive Homes in Louisiana (with Pictures)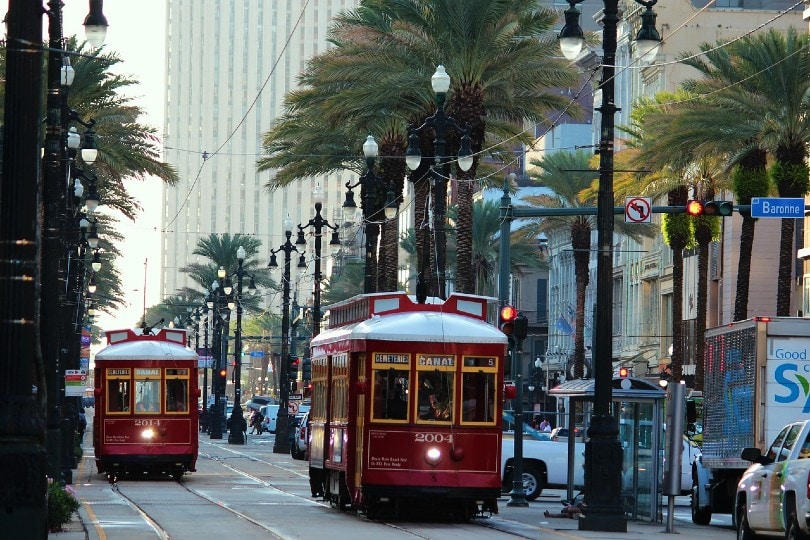 Ritz and glamour may not be the first thing that comes to mind when you think about Louisiana—a land that boasts about its po boys and gumbo. And for most of the state, you'd be correct. On the whole, housing is moderately priced in Louisiana. In 2021, a single-family home averaged around $193,000, which is cheaper than 40 other states.
However, Louisiana is also home to multi-million dollar mansions. The upper-class houses in Louisiana are often obscurely nestled in quiet parks near a major city, or in a gated subdivision just outside of town. Others, such as the historical Uptown District homes in New Orleans, flaunt their wealth down the main streets for all the tourists to see. Here's a list of the top 10 most expensive homes in Louisiana if you're in the market for a mansion (or just curious).

The 10 Most Expensive Homes in Louisiana
1.

Highland Rd., Baton Rouge
If you decided to rent this house instead of buy it, each rent payment would equal the average American's yearly salary! Zillow estimates this stucco mansion will sell for around $7 million (although it's currently listed for almost double) or rent for $73,000 per month.
A double courtyard introduces you to the house. As you walk inside, you're greeted by a double curved staircase with a magnificent chandelier overhead. The living room is two stories tall with a curved iron overhang at the top of the stairs. The kitchen has a double island (we're noticing a theme with the doubles) with more counter and cabinet space than you've ever dreamed possible.
This 25,000 sq. ft. mansion has just as many features outside as it does within its walls. The property has a lakefront view and sprawls over 14 acres, including a quarter-mile golf course. The circular bedroom window overlooks a balcony with a grandiose saltwater pool beneath. There's a large cabana with an outdoor kitchen for entertaining guests. Mostly for the servants, there's an elevator that takes you up to a third-floor storage area.
---
2.

  Knollwood Dr., Baton Rouge
This natural beauty is tucked away in the forest near Baton Rouge. Light-colored wood accents and flooring give color to the brilliantly white walls of this pristine mansion. The aesthetic feels modern, but far from cold-hearted. The beautiful stained-glass door welcomes you in this 4-bedroom, 7-bathroom dream.
Once you're in, you'll shortly find yourself in the naturally lit living room with tall cypress ceilings. Every room in this house feels bright and airy. The open design is studded with windows that let the sunshine in, allowing guests and residents to soak in the glory of the oaks and crepe myrtles outside.
This house is only a fraction as big as the first one listed. In fact, you only get 6,000 sq. ft. of space for nearly the same listing price!
There are 6.5 acres surrounding the house, as compared to the 14 above. However, the views are unparalleled. This mansion comes with many relaxing outdoor amenities, like a pool with a waterfall surrounded by a stone outdoor seating area cooled by ceiling fans. The gorgeous sunroom overlooks Bayou Duplantier and would make an ideal retreat for unwinding with a glass of chardonnay from the wet bar. There's also a guest house out back that makes it easy to share the delights of this mansion with visiting family and friends.
---
3.

Damiano Rd, Folsom
Down in Folsom, this 6-bedroom, 10-bathroom beauty rests on the edge of a 3 acre pond. This farmhouse style house only pretends to be modest. The 8,000 sq. ft. interior boasts of a large kitchen and huge dining area complete with a stone fireplace. However, the real show belongs to the exterior. Featuring an astounding 85 acres of land, this property was originally constructed to house Arabian horses and their riders.
Currently, there are outdoor delights for every family member with a built-in golf course and large playground, in addition to the European 14 stall horse barn with a large pasture. There's even an over-sized tractor shed complete with finished walls, shiny floors, and a whopping fan. This 7-million-dollar property would be perfect for someone who owns a lot of horses…and a lot of dough.
---
4.

Audubon Pl., New Orleans
If you think this home is expensive, check out the HOA fees! You must pay $12,500 every year to live in this 6-million-dollar mansion. Of course, if you can afford this house in the first place, the fee might not be a problem.
This house is located in the Uptown District on less than a half-acre of land. The reason for the high price lies in its history, size, and privacy despite being in a prime urban location. Crafted in 1915, this three-story brick mansion features a solarium and library in addition to 6 bedrooms and 7 bathrooms.
Its grounds are protected by a private drive and 24-hour security. Though there isn't much outdoor space to spread out, its yard is thoughtfully landscaped with shrubs and a swimming pool graces the walking area beside the guest house.
---
5.

  Audubon Pl., New Orleans
Here's another house in the Uptown District of New Orleans. If you like the neighborhood, you might find this 5-million-dollar home is a bit more in your budget range than the previous option, even for 1,000 more square feet of space!
Despite the similar location, the style of the house differs remarkably from the other house on Audubon Place. This 7-bedroom, 6-bathroom house was built in 1914 in the colonial style. The marble staircase leads to the front door underneath two majestic white pillars reminiscent of the Greek architectural style popularized in New Orleans around the time it was built.
Despite an intense remodel in 2020, this mansion has maintained its traditional roots. The white colors and maroon ceramic roof make this historical home feel very modern for being over a century old.
---
6.

  Mission Hills Ave., Baton Rouge
This 7-bedroom, 8-bathroom home was constructed in the colonial style. Located in The Country Club of Louisiana, this home represents everything called to mind when you think about upper-class living. From the outdoor pool, brick pathway, fine landscaping and prestigious water fountains to the guest house, the outside lacks nothing for a first-class experience.
Inside, there's a classic mahogany study room complete with built-in bookcases. The kitchen features top-quality appliances like a Miele built-in coffee machine and a Wolfe stove—with 5 cm marble slab countertops everywhere. The third floor has a name, "The Princess Suite," and it is outfitted with its own bathroom.
---
7.

Kimball Dr., Lafayette
This stately mansion was built only a few years ago in 2015. We presume the original owner was a sports enthusiast because there's a dedicated gun room and 25 ft. deep fish pond stocked with bass and bream instead of your typical ornamental koi and goldfish. Not only does this house have its own pond, but it's also settled on the Vermilion River.
The outdoor wet bar is studded with mahogany walls and there's a covered wrap-around balcony and porch with plenty of opportunities to catch the sunset from your swing or rocking chair. Inside, there are 4 bedrooms and 5 bathrooms with high, wood vaulted ceilings and multiple fireplaces throughout. The flooring on the second level is antique longleaf pine. There's even an entertainment barn on the river outfitted with a full bath and gourmet kitchen.
---
8.

N Mission Hills Ave., Baton Rouge
Also located on the golf course but for a totally different price and style, The Stone Home is just under 5 million and was built in 1996 with many French inspired and imported features. The exterior is made out of dappled stone and a slate roof.
Oaks dripping with Spanish Moss hang over the pool, which is surrounded by a cobblestone path and detailed landscaping. There's even a mosquito abatement system, an extremely useful feature in Louisiana. Though this house has only 5 bedrooms and 6 bathrooms, it's nearly 10,000 sq. ft., which is larger than many houses on this list.
The wrought-iron staircase spirals majestically up to the second floor and compliments the late 1800s Gothic style that permeates the rest of the house. An abundance of windows give light to the bedrooms, which are mostly covered with French-style wallpaper and dark wood floors. There's also a guest house in the backyard.
---
9.

Northlake Dr., Mandeville
If you leave New Orleans and drive the 25-mile bridge across Lake Pontchartrain, you'll soon find yourself in Mandeville. This small town is home to many historical homes and mansions, but this one was built in 2001 and is expected to sell for around 4 million.
The large front porch holds stunning views of the lake, along with the many windows that line the front of the house along its three stories. There's a 250 ft. pier with a boat dock for fishing and parking your boat if you like to explore the lake up close. The home rests on 1.38 acres and has a quarterly HOA fee of $860, which is modest compared to the mansions in New Orleans proper.
There's a built-in tennis court, a unique feature even for upper-class homes. Instead of a guest house, there's a mother-in-law suite with an elevator that can travel up and down all three stories of the home, making this an ideal living situation for someone who cares for their elderly parents.
---
10.

Oriole St, New Orleans
Not every mansion is old and stately. This new construction has a stark-white exterior with rectangular windows trimmed with black. Though it's not quite lakefront property, you can see nearby Lake Pontchartrain from the top balcony. It will have a saltwater pool and outdoor entertainment area once it's finished.
Despite being recently built (the walls and floors aren't even completed yet), this house suffered extensive damage due to Hurricane Ida and will need a new roof. Maybe that's why it's listed for a discounted rate of around 4 million! This one really is a bargain because the HOA fee is only $250 annually, which is a fraction of the price of the other New Orleans mansions that we listed here.
Conclusion
You'll discover that some of the most expensive houses in Louisiana are nestled in bayou next to the major cities. The stately mansions keep the bayou in view, making it seem like a tropical paradise more than common fishing grounds.
However, these houses are unaffordable for most Louisianans, who earn significantly less than the national average income each year. If you want one of these luxurious manors, you'll have to come with some serious credit and at least 4 million dollars approved—not to mention a high-paying job that'll help you afford the hundreds or even thousands of dollars of just HOA fees each year.
---
Featured Image Credit: Oliver_Weidmann, Pixabay