13 Multifamily Housing Trends & Statistics in The UK (Updated In 2023)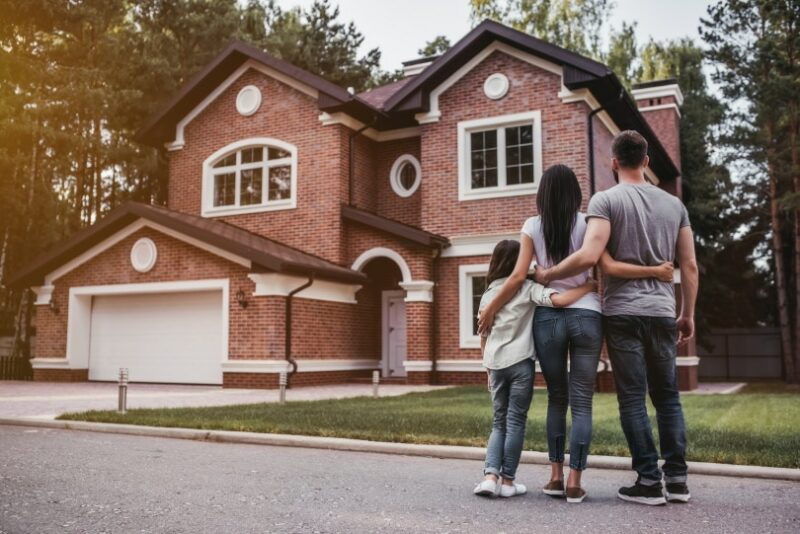 Note: This article's statistics come from third-party sources and do not represent the opinions of this website.
Multifamily housing is a type of housing where more than one housing unit is contained within the same building. Houses in Multiple Occupations (HMOs) are similar, in that multiple, separate tenants live in the same building and share at least a toilet, bathroom, or kitchen. The most common form of multifamily housing is the apartment block, which can hold anywhere from two or three to several hundred apartments. Prices for flats and apartments tend to be lower than houses and they can represent a good investment to landlords and property owners.
Below are 13 multifamily housing trends and statistics for the UK market, including information on the current rental market and general figures on UK housing stock.

Top 13 Multifamily Housing Trends & Statistics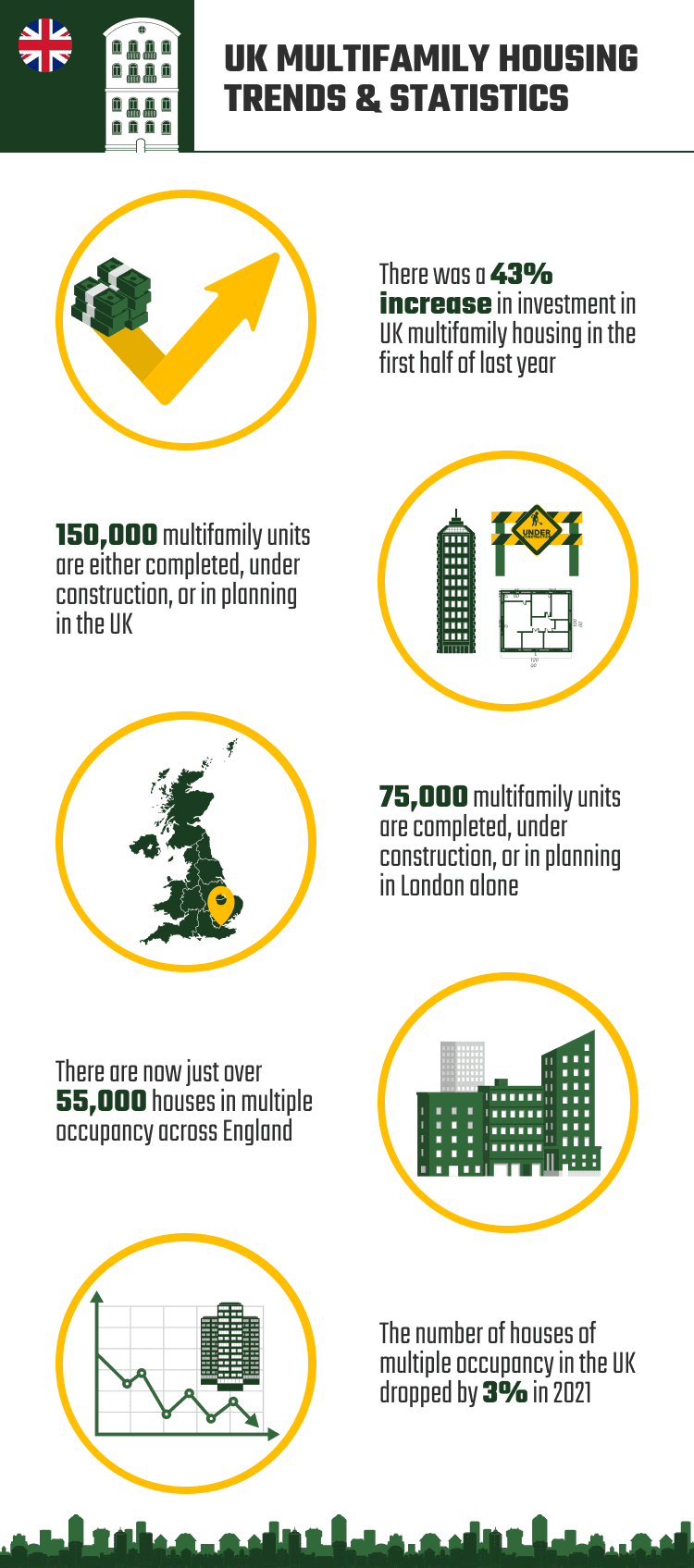 Market Overview
1.

There Are 24.7 million Dwellings in England.
(Statista 1)
There are nearly 25 million dwellings in England, which includes rented accommodation as well as owner-occupied premises. It also includes flats, apartments, and all types and sizes of houses. The number of dwellings has steadily increased. In 2001, there were 21.2 million dwellings. The UK government has said that they want 300,000 new houses built a year, but figures suggest that they have fallen someway short in the past couple of years, albeit during the Covid pandemic years.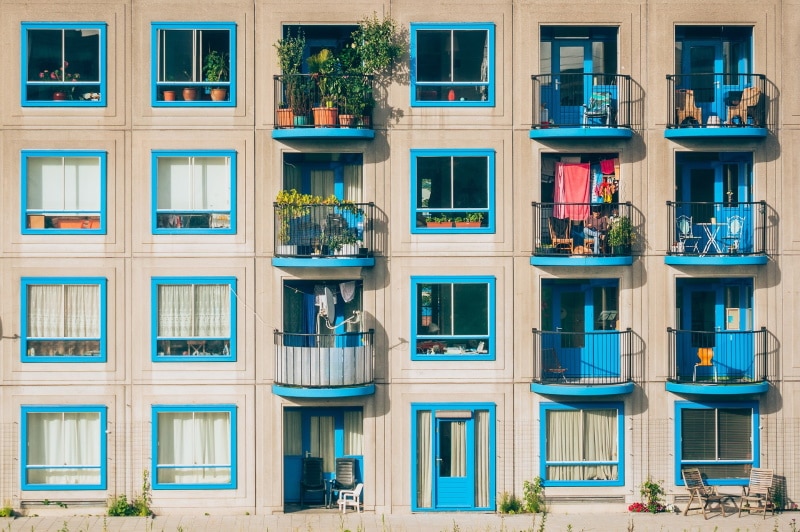 ---
2.

UK House Prices Increased 12.6% To £296,000 Over the Year to October, in the UK.
(ONS)
The average cost of a house in the UK also continues to increase and has seen a significant increase from 2021. In October 2022, the average house price across the whole of the UK was £296,000 which represents a 12.6% increase when compared to October 2021.

Multifamily Housing Stock
3.

There Was a 43% Increase in Investment in Multifamily Housing in the First Half Of 2022.
(Savills)
Multifamily housing is a type of housing where multiple housing units or premises are contained within the same building. The units can be stacked vertically or lined up horizontally. Common examples include blocks of flats and apartment buildings. With house prices rising so sharply, more people are turning to multifamily housing as an affordable means of renting, which also means that investment has increased.
The first half of 2022 saw a record H1, with a 43% increase in investment in this kind of housing, although this does come against the first half of 2021 which included some lockdowns and remaining Covid restrictions.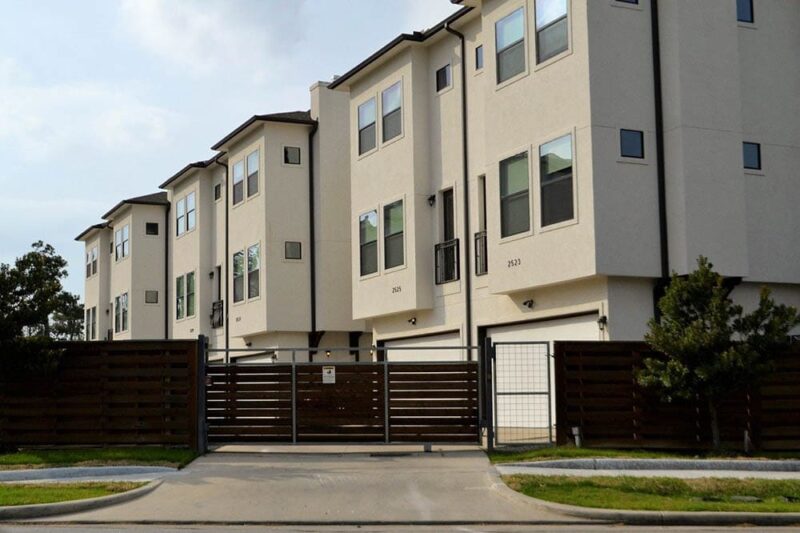 ---
4.

150,000 Multifamily Units Are Either Completed, Under Construction, Or in Planning.
(ONS 2)
More multifamily housing is being built. 150,000 units are considered to be in the planning stage, under construction, or have been completed. This does not include those properties that have been completed and already have tenants but is an indication of more multifamily housing investment.
---
5.

75,000 Multifamily Units Are Completed, Under Construction, Or in Planning in London Alone.
(ONS 2)
London is the most popular area for multifamily housing units. The city is large and densely populated, and property costs considerably more in the capital than anywhere else in the country, hence the popularity of more affordable housing options. Of the 150,000 multifamily units under development, half of those in London alone.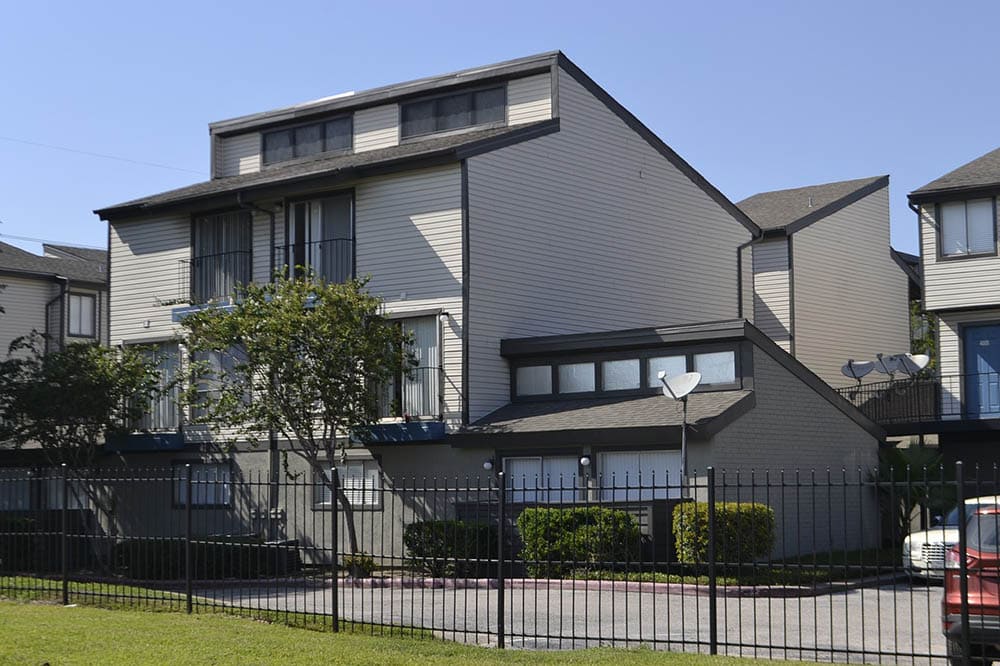 ---
6.

The Number of Houses of Multiple Occupancy in the UK Dropped By 3% In 2021.
(Compariqo)
Houses of Multiple Occupancy (HMO) can be considered another form of multifamily unit. For a development to be considered an HMO it must have three or more separate tenants, making up at least two households, and the tenants must share at least a bathroom, kitchen, or toilet.
In some cases, HMO tenants can share all of these rooms and just have separate living and sleeping areas. New restrictions and regulations were placed on HMOs in 2018, and analysts believe that these, which aim to increase living space and living conditions for tenants, have led to a drop in the number of HMO units. In 2021, there was a 3% drop in HMO unit numbers.
---
7.

There Are Now Just Over 55,000 Houses in Multiple Occupancy Across England.
(Buy Association)
Following the decline in numbers in 2021, there are believed to be approximately 55,000 HMO units now across England. This doesn't take into account figures for Scotland, Wales, or Northern Ireland.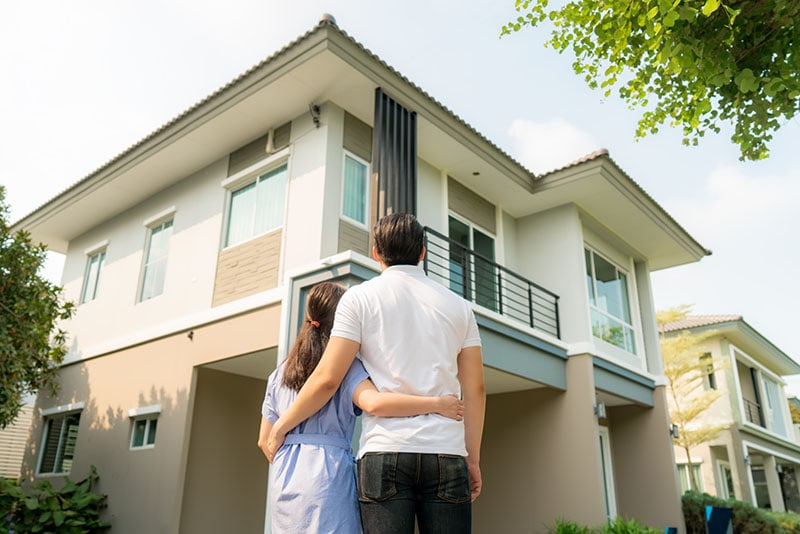 ---
8.

Total HMO Stock Is Worth Approximately £11.2 Billion.
(Buy Association)
Although the number of HMOs has dropped, the stock of this type of housing still holds a lot of value. Considering all HMO units in England, this segment of the housing market is believed to be worth £11.2 billion, which equates to more than £200,000 per individual unit.
---
9.

21% Of Dwellings in the UK Are Flats.
(BRE Group)
There are many different types of property in the UK, ranging from detached houses to flats. More than one in five dwellings in the UK are considered flats or apartments. A flat is defined as part of a building that is used for residential purposes and that has another flat either above or below it. While flats typically share hallways, they do not usually share other rooms, and some flats do have their own entrance.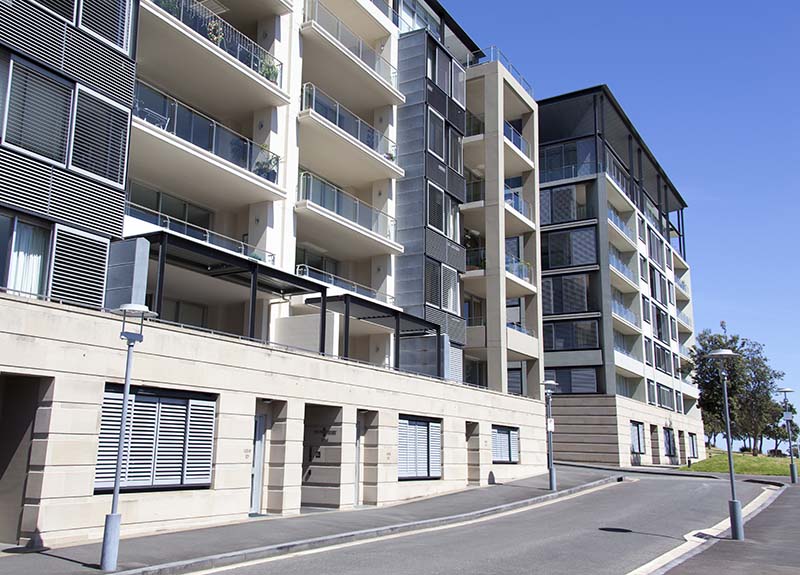 Rental Properties
10.

4.4 million People Rent in the UK.
(Statista 2)
Multifamily housing is considered a good investment opportunity for landlords and investment groups. Having multiple tenants means minimising exposure to tenancy voids. A total of 4.4 million people rent property in the UK, meaning that multifamily housing owners have a lot of potential tenants to target.
---
11.

60% Of Private Rented Properties in the UK Are Houses.
(Knight Frank)
The housing market can be broken down into owner-occupied buildings, social housing, and privately rented housing. To become a social housing landlord, it is necessary to register. Private landlords also need to register, but the process is simpler, and there are considered to be more investment opportunities in the private rental market. Although 60% of the private rental market is made up of houses, this leaves 40% of property stock that includes flats and apartments.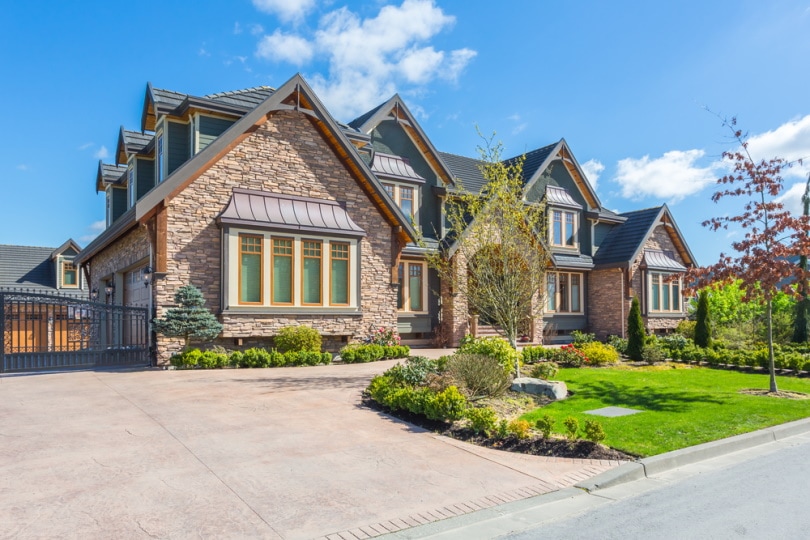 ---
12.

A One-Bedroom Flat Costs an Average Of £758 Per Month in London and £614 in the Rest of the Country.
(Studying In UK)
One-bedroom flats can offer a good return on investment. They are naturally smaller than those with more bedrooms, and they can attract a higher rental per square foot than larger properties. A one-bedroom flat has an average rental value of £758 per month in London and £614 per month outside the capital.
---
13.

A Quarter of UK Residents Have to Spend More Than 40% Of Their Disposable Income on Rent.
(Savills)
Rental prices have risen in the past couple of years, while income has stalled when compared to inflation and the cost of living. As a result, tenants now have to pay a much larger portion of their salary as rent. A quarter of UK residents now spend more than 40% of their disposable income on monthly rent.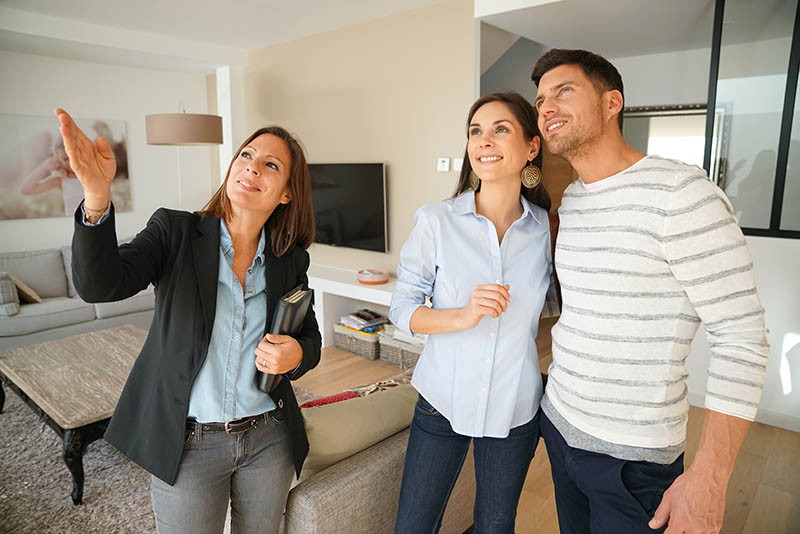 Frequently Asked Questions About Multifamily Housing in the UK
What is multifamily housing?
Multifamily housing is a type of housing where multiple housing units are located in one building. They can share hallways but do not usually share any other rooms. The building can have one or more floors and there may be as many as hundreds of housing units in a single building.
What is an HMO?
Houses in Multiple Occupations, abbreviated to HMOs, are similar, in that multiple housing units are located in a single building. However, they differ from multifamily housing because they must contain at least three separate tenants and the tenants must share at least a bathroom, toilet, or kitchen to be considered an HMO.
Can individuals live in multifamily housing?
Individuals can live in multifamily housing. In this case, family is just meant to refer to one individual or group that lives in a single housing unit.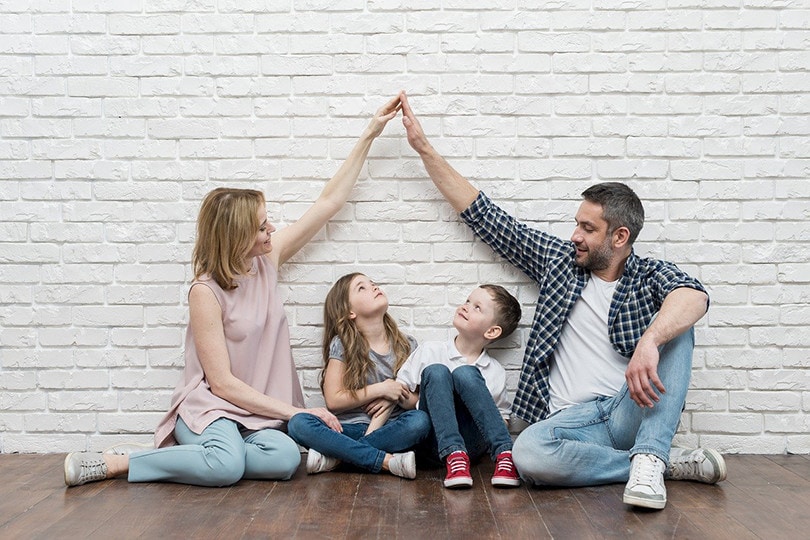 Conclusion
Multifamily housing is a type of housing that consists of multiple housing premises within one single building. They can be owner-occupied but are often rented out and they offer affordable housing options with lower rent than houses. There are approximately 150,000 new multifamily housing units currently in development or planning, with half of these planned for London.
See also: 14 Home Staging Statistics in the UK
---
Featured Image Credit: 4 PM production, Shutterstock