Ryobi P236 Cordless Impact Driver Review 2023 – Pros, Cons, & Verdict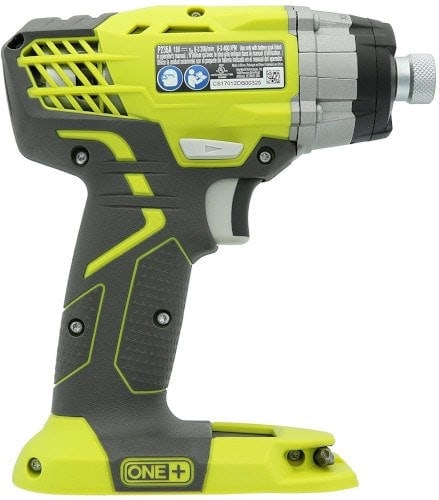 We give the Ryobi P236 Cordless Impact Driver a rating of 4.7 out of 5 stars. 
Build Quality: 4.6/5
Power: 4.7/5
Features: 4.7/5
Price: 4.9/5
Review Summary
Powerful, compact and best of all really affordable, the Ryobi P236 is perfect for finishing off that deck project that has defied your favorite cordless drill. It brings enough torque to remove most lug nuts, but where it really shines is in driving screws into stubborn places. It also has a keyless chuck and a magnetic strip so that swapping out bits is a snap, and an LED light to illuminate what you're working on. It's also part of Ryobi's One+ tool family, which means it's not just a tool but part of a cohesive workshop arsenal.

Ryobi P236 – A Quick Look
Pros
Affordable
Plenty of torque for most jobs
Great at driving in deck nuts
LED light
Keyless chuck
Cons
Not designed for auto shop work
Specifications
Brand name: Ryobi

Model: P236

Type: Impact driver

Power source: Cordless

Dimensions: 12 x 3 x 9 inches

Weight: 2.7 lbs.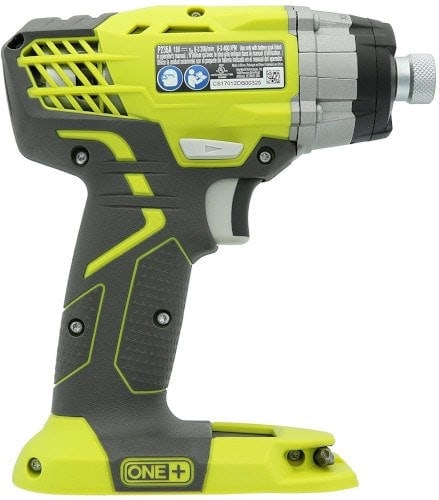 Affordable torque
With a maximum torque power of 133 foot-pounds, the Ryobi P236 is within the specs of most cars' lug nuts. You can get an impact wrench with more power for really seized-up nuts, but for your average day-to-day task, this is all you'll need. Where it really shines, though, is in projects for which you need advanced driving power, like inserting wood screws into a deck. Best of all, you can get this kind of torque power for less than most people pay for a night out on the town.
No-hassle operation
A keyless chuck lets you swap out bits quickly to reduce time prepping the tool and more time working, and a magnetic onboard strip lets you keep what you need for the job right at hand. If you happen to drop something you need, the Ryobi P236 has three LED work lights that you can use to find it. That same light also makes sure that you don't have to do your work in the dark.
One+ compatible
The Ryobi P236 isn't just a single tool, it's part of a family of many tools built around the idea of shared compatibility with a power source. The same Ryobi lithium-ion battery that runs your impact driver can also power a light, a radio, and even a leaf blower. It's like buying a tool with the option of adding to it through purchased accessories.

FAQ
How much torque can this deliver?

1,600 inch-pounds, which translates to roughly 133 foot-pounds if you're comparing it to standard impact wrenches.

Will this run on older-style nickel-cadmium batteries, or just the new lithium-ion ones?

As part of the Ryobi One+ tool line, it is compatible with any battery that is part of that line. That means older nickel-cadmium batteries like the P100. It is also compatible with more-powerful lithium-ion batteries in the One+ line.

What is the warranty that covers the P236?

All Ryobi products come with a three-year manufacturers warranty.


Conclusion
Ryobi's P236 is a great driver for anyone with the need for a driver with advanced power. With 1,600 inch-pounds of torque power, it is perfect for driving wood screws into your deck project and it's even powerful enough to remove most lug nuts. While it's not really designed for auto work, it is designed for easy, headache-free use with a keyless chuck and magnetic strip that reduce downtime. It's also got a light for work in dimly-lit spaces. Most of all, we think you'll like the price, which considering that it's compatible with Ryobi's One+ tool family makes it an even better deal.

You might also be interested in these Ryobi reviews: