Ingersoll Rand 2235QTiMAX Air Impact Wrench Review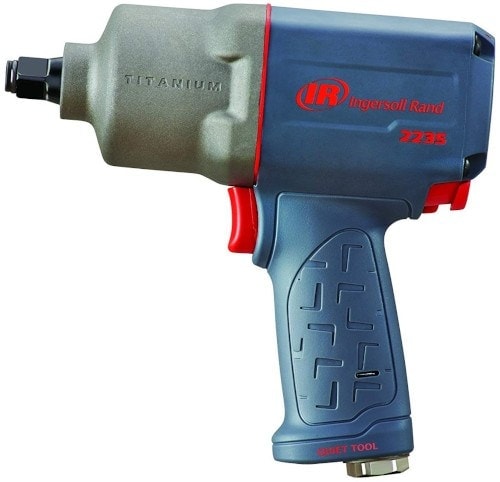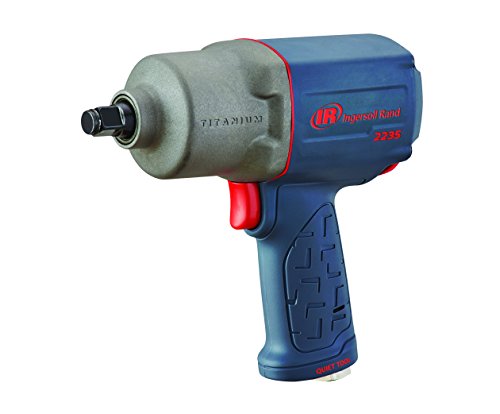 Editor Rating: 4.7/5
Build Quality
Power
Features
Price
Review Summary
There are words that anyone looking to buy an impact tool wants to hear. They are powerful and durable. It doesn't get any more complicated than that. Ingersoll Rand's 2235QTiMAX is both, capable of delivering 1,350 foot-pounds of pressure going forward and 930 foot-pounds in reverse. That's a lot more than any home hobbyist would want, which considering the price is good. No home hobbyist would want to pay for it. But, considering the power, it's a great option for professionals and delivers value for every dollar you spend buying it.
Ingersoll Rand 2235QTiMAX – A Quick Look
Pros
Very powerful
One-handed control
Cons
Bigger than previous impact tools
Expensive for home hobbyists
Specifications
Brand name: Ingersoll Rand

Model: 2235QTiMAX

Type: Impact wrench

Power type: Pneumatic

Dimensions: 3.5 x 1.2 x 3.9 inches

Weight: 5.5 lbs.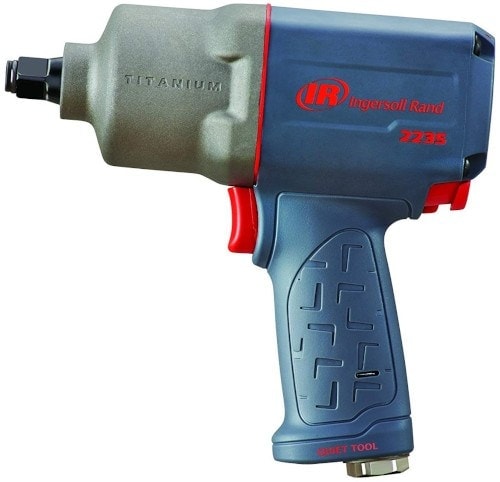 Plenty of muscle
The basic question about an impact tool is how much power can it deliver. In the case of the 2235QTiMAX, the answer is plenty. More specifically, it's 1,350. That's probably more than you'll need as a home hobbyist, but it's a good number for people who need it professionally. Very few nuts can withstand that kind of power, especially when paired with its 930 foot-pounds of pressure in reverse.
One-handed control
Designed for easy, headache-free operation, the 2235QTiMAX allows you control over all facets of its operation with just one hand. One hand to hold the tool in place while you preparing it for use, and one hand to manage its operation while making it go. No lag time using both hands to manipulate the settings how you want, no downtime switching between forward and reverse torque.
Compact design
Most impact tools that deliver this kind of muscle put a strain on the operator through weight, but not Ingersoll Rand's 2235QTiMAX. Weighing in at less than five pounds and no larger than four inches in any direction, this impact tool fits easily into your hands and lets you get to work quickly and comfortably. It'll also let you work for long hours without getting fatigued by a bulky, heavy piece of equipment wearing out your hands and wrists.
FAQ
What kind of air pressure works best with this?

With a 3/8-inch hose, the best air pressure range is between 90-120 psi.

What kind of warranty comes with this?

Ingersoll Rand backs this product with a two-year manufacturers' warranty.

What is the maximum number of impacts from this gun's motor?

It maxes out at 1,220 impacts per minute.
Conclusion
Delivering a lot of power on a very small frame, Ingersoll Rand's 2235QTiMAX might not be a professional's best friend, but it's pretty darn close. It'll crank out 1,350 foot-pounds of pressure forward and another 930 foot-pounds in reverse. It's also small enough to use with one hand and is designed to let that one hand control all facets of operation. For an average homeowner, it's probably priced outside of what they'll want to pay for an impact tool, but professionals will see value in what they spend. Not just because this can deliver a lot of torque, but because it's designed for all-day use without tiring out its operator.