15 Facts and Statistics About Tesla – 2023 Update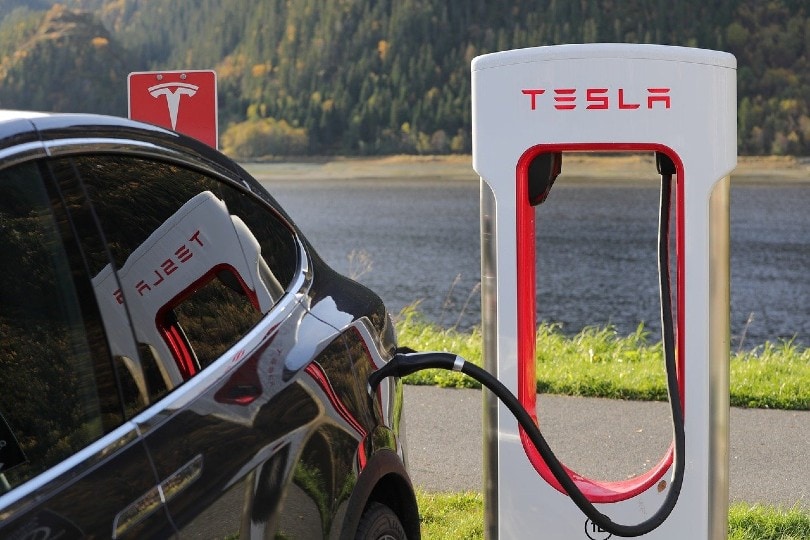 Note: This article's statistics come from third-party sources and do not represent the opinions of this website.
Many people have heard of the company Tesla. From its unique electric cars to its celebrity CEO Elon Musk, it's nearly impossible to get on the Internet, read the newspaper, or watch TV without any references to Tesla.
Because of how far Tesla has stretched into mainstream culture, it's no shock that there are tons of facts, statistics, and information about Tesla you might not know. Below, you are going to learn about the top 15 facts about Tesla!

Top 15 Tesla Stats & Facts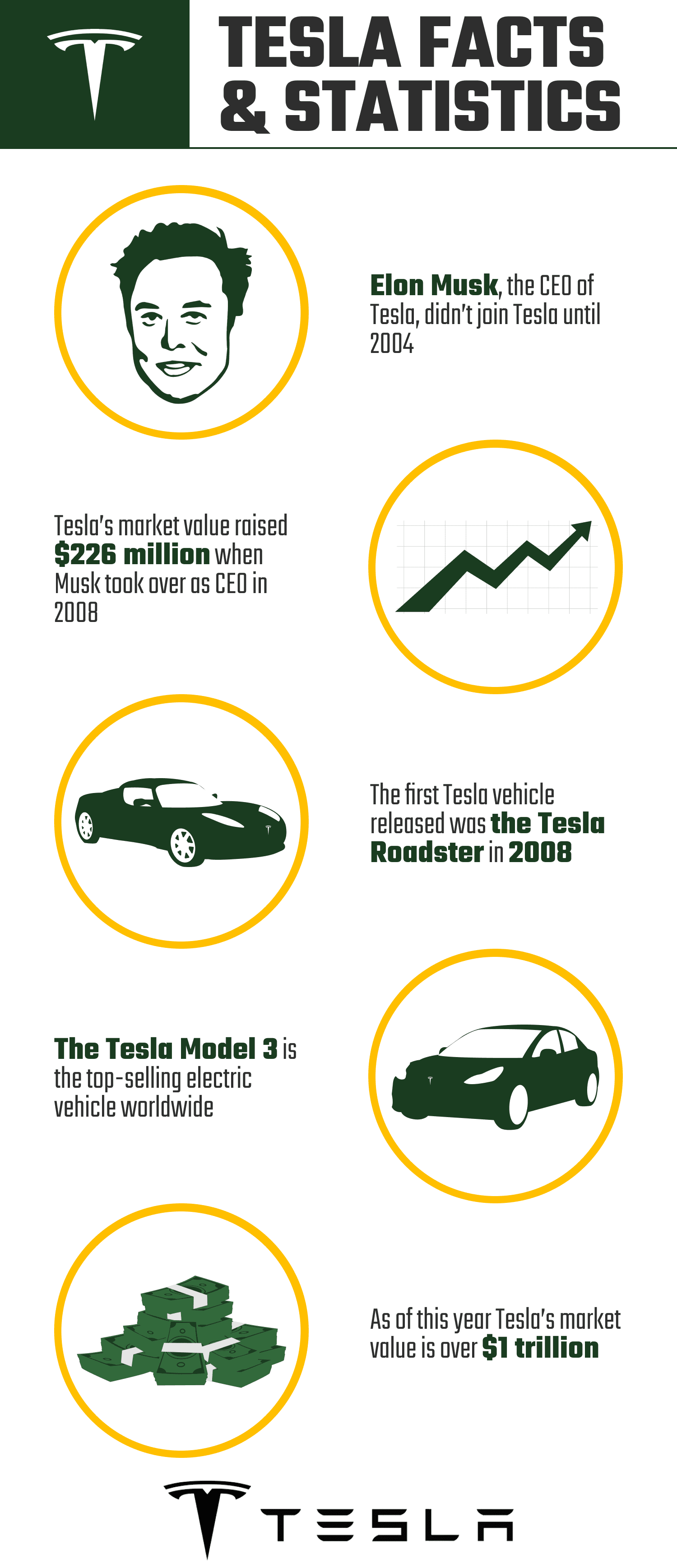 Facts About Tesla's History and Origins
1.

The name "Tesla" has meaning.
(Seattle Times)
The name Tesla is a nod to Nikola Tesla, a Serbian-American scientist, renowned as a genius inventor. Nikola Tesla was specifically an electrical engineer. Today, Tesla's innovation has contributed to fields like electricity, radio, and robotics.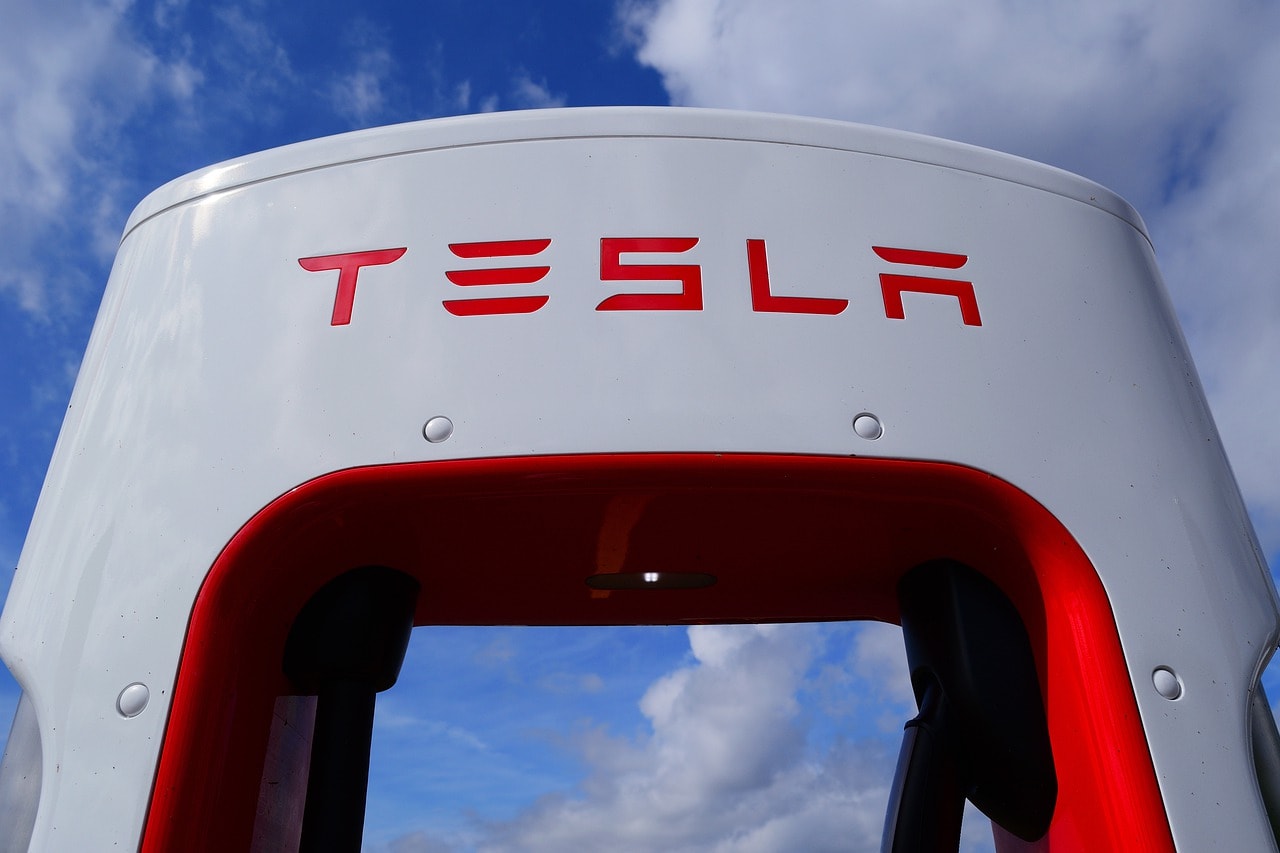 ---
2.

Tesla ventured into other electric products after 2010.
(Britannica)
Tesla is known for luxury electric vehicles. Although Tesla is most known for these vehicles, the brand ventured into other electric products after 2010. In 2015, it started specializing in solar energy products as well.
Because Tesla has ventured further into the electric energy field, Tesla Motors changed its name to Tesla, Inc. in 2017. This reflects that Tesla sells more than just cars today.
---
Facts About Tesla's Elon Musk
3.

Elon Musk didn't join Tesla until 2004.
(Britannica)
It's impossible to think of Tesla without imagining Elon Musk. Even though Elon Musk has long been the face of Tesla, he didn't join the company until 2004. Beginning in 2004, he served as the chairman of Tesla Motors after bringing in $30 million.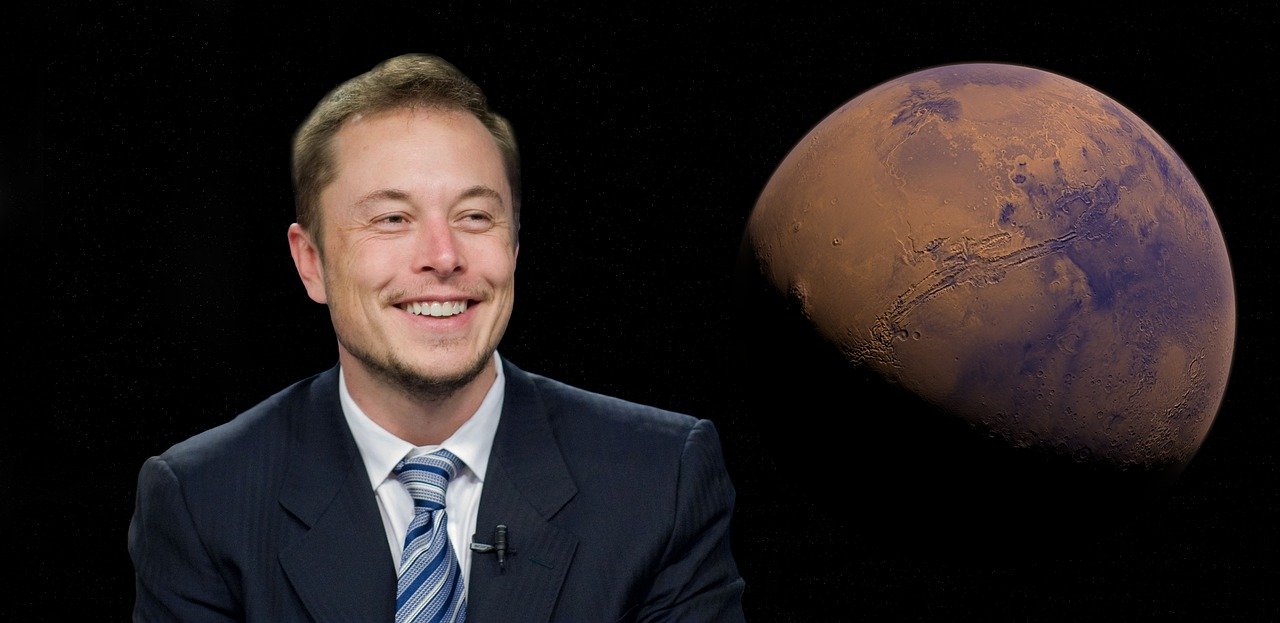 ---
4.

Musk took over as CEO in 2008.
(Britannica)
By 2008, Musk officially took over as CEO. This occurred whenever the former CEO and President of Technology, Martin Eberhard, resigned from the position. After it was announced in 2008 that he had left, the other founder, Marc Tarpenning, left as well. As a result, Musk took over as CEO.
---
5.

Tesla's value raised $226 million when Musk took over as CEO.
(TheStreet)
By the time Musk was named CEO, he had brought in even more money. Just by 2010, two years after he took the position, the company's initial public offering raised by around $226 million.
---
6.

Musk is the second man in Silicon Valley to increase three companies to over $1 billion, with Tesla being one of them.
(Yahoo News)
To prove just how effective Musk has been at leading Tesla, he is the second man in all of Silicon Valley to increase three companies' value to over $1 billion. Tesla is one of them. The other two are SpaceX and Paypal.
---
Facts About Tesla Vehicles
7.

The first Tesla vehicle released was the Tesla Roadster.
(Tesla)
The very first vehicle Tesla released was the Tesla Roadster. It was launched in 2008 and was unveiled as having cutting-edge battery technology. Even though the Roadster was a huge step in the right direction, it was way too expensive, which caused Tesla to stop its production in favor of slightly more affordable models.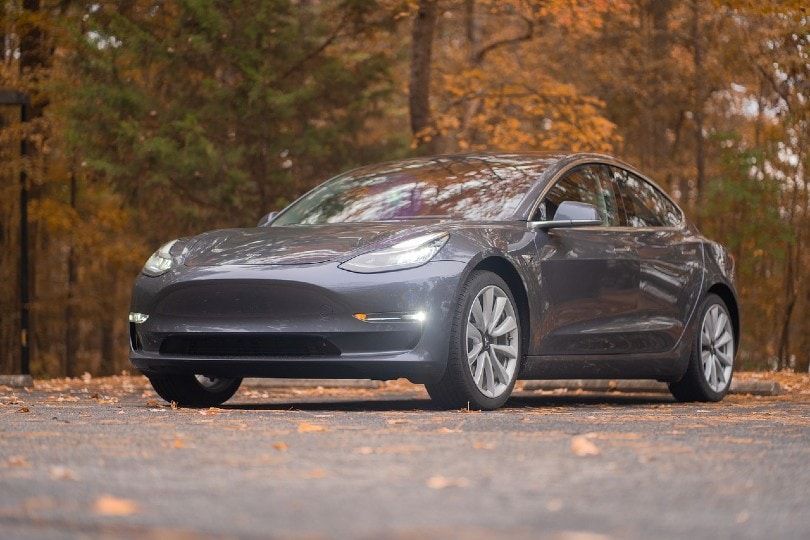 ---
8.

The most known Tesla vehicles are the Model S, Model X, Model 3, and Model Y.
(Tesla)
Today, Tesla is much more known for the Model S, Model 3, and Model Y. The Model S received the best car in its class for all categories, meaning it was safe and efficient. In 2015, Tesla released the Model X. One year later, Tesla introduced the Model 3. by 2019, Tesla unveiled the Model Y, which is a midsize SUV.
---
9.

The Model 3 is the top-selling Tesla.
(Inside EVs)
Currently, the best-selling Tesla vehicle is the Model 3. Not only that, but it is the best-selling electric vehicle of all electric vehicles.
---
10.

The Tesla Y is the safest vehicle.
(Electrek)
To date, the Tesla Y is the safest of Tesla vehicles. More so, it is considered one of the safest vehicles you can buy, beating out EVs and standard gas vehicles. It achieved the highest possible IIHS safety rating, making it the safest vehicle out there.
---
11.

There are a lot of Easter Eggs in the Tesla vehicles.
(Business Insider)
Tesla vehicles don't just stand out because of their safety and electric battery. What also makes them super interesting is that they are packed full of Easter Eggs. The Tesla vehicles allow you to drive down Rainbow Road from Mario Kart, turning the charging handle into a flashing rainbow, and more.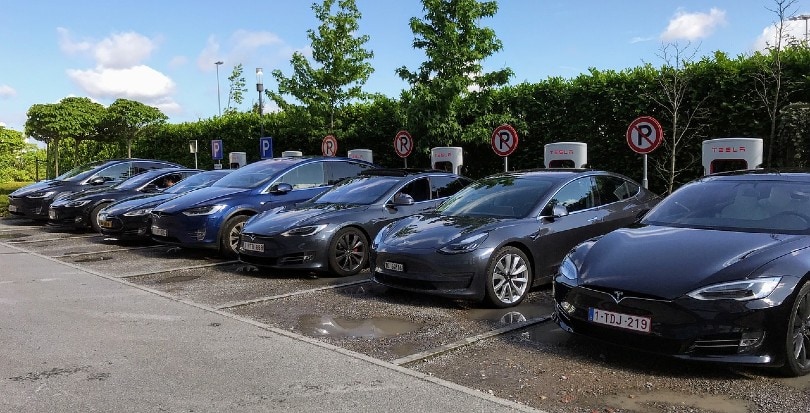 ---
12.

Tesla wants to venture into other electric vehicles.
(Electrek)
Even though Tesla has done fantastic with the currently produced vehicles, they aren't stopping there. It has been released that Tesla is looking to release a Cybertruck with Powertrain variations, a Tesla Semi, and a second-generation Roadster.
---
Tesla and the Market
13.

Tesla's market value is over $1 trillion.
(Companies Market Cap)
As of 2022, the market capitalization of Tesla is $1.03 trillion. This makes Tesla the sixth most valuable company in the world. It also is by far the most valuable motor vehicle company.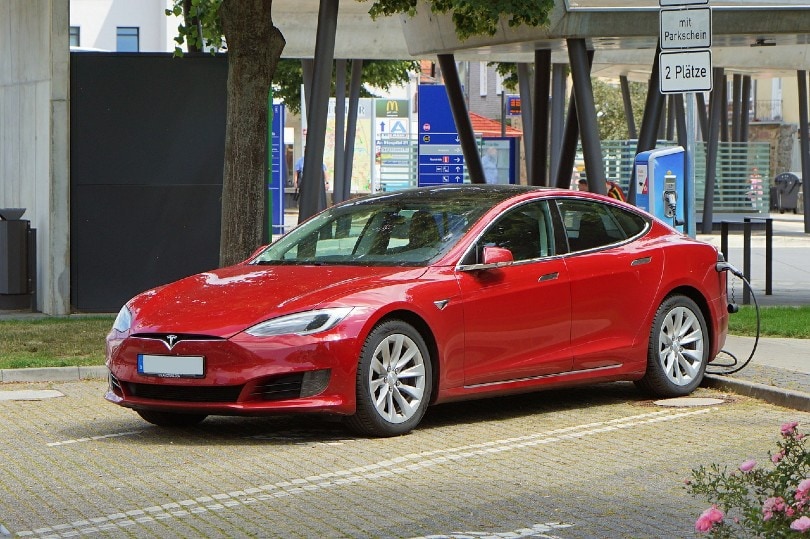 ---
14.

Tesla is worth 3x more than Toyota.
(Yahoo News)
Obviously, being worth over a trillion dollars is an outrageous amount of money. However, it is outrageous, especially when you compare it to the value of other car companies. The second most valuable car company in the world is Toyota.
The current market cap of Toyota is about $300 billion. This makes Tesla worth over three times more than Toyota. In other words, Tesla is way ahead of the competition by a landslide.
---
15.

Tesla is the second-fastest company to surpass the $1 trillion mark.
(Business Insider)
Even when you compare Tesla to other companies outside its industry, it is the second fastest company to surpass the $1 trillion mark. The only company to beat it out is Facebook, and it just barely hit the mark faster than Tesla.

Frequently Asked Questions About Tesla
Who founded Tesla?
Tesla was initially called Tesla Motors and was founded in 2003. The two main founders were Martin Eberhard and Marc Tarpenning, but a group of other engineers also participated in the founding.
(The Street)
What is Tesla named after?
Tesla is named after the 19th-century inventor Nikola Tesla. He is most known for discovering rotating electromagnetic field properties. His work eventually led to the alternating current, which is the electrical transmission we still use today.
Though he has made significant contributions to engineering and sciences, he is also a pop culture icon for many scientists.
(TheStreet)
How much is Tesla worth?
As of January 2022, Tesla is valued at about $1.2 trillion. It is currently going for $1200 a share, with around 1 billion shares outstanding.
(Barrons)
How long can a Tesla battery last?
Tesla batteries last for about 336 miles on average on a single charge. The Model 3 has the lowest battery lifespan, lasting 267 miles. The Model S, in comparison, can last 405 miles on a single charge.
(Energy Sage)
What is the cheapest Tesla?
The cheapest Tesla is the Model 3. Prices start at around $35,000 for a Model 3.
(Inside EVs)

Conclusion
In conclusion, there is a lot to know about Tesla. Because it is such a big player in the industry and culture, it's always helpful to know what you can. From its history to its value on Wall Street, learn all you can about Tesla, starting with the facts above!
Related Reads:
---
Featured Image Credit: Blomst, Pixabay