WEN 4210 vs SKIL 3320 Drill Press: Which One's Best?
The Wen 4210 and Skil 3320 are electric drill presses that, on the surface, look very similar, but how do they really compare? They have similar motors, roughly the same variable speed settings, and they both have features like precision laser guides that help ensure an accurate and uniform hole every time. They do differ in some important aspects, though.
Changing the speed of the Skil 3320 is not a simple task and it requires moving the belt to the appropriate setting. This is actually true of both devices, but it isn't as intuitive with the SKIL. The WEN 4210 is larger than your typical drill press, and its cumbersome form means that it might not sit conveniently on your chosen workspace.

At a Glance
Let's look at the key points of each product.
WEN 4210
2-amp Motor
600 – 3,100 RPM adjustable speed
Rack and pinion table height adjustment
Bevels up to 45°
10" swing
SKIL 3320
2-amp Motor
570 – 3,050 RPM adjustable speed
Rack and pinion table height adjustment
Bevels up to 45°
10" swing
Overview of WEN 4210
The WEN 4210 is a 10-inch drill press that runs on a 3.2-amp motor. It can drill depths of up to ½-inch  and is very effective at boring through the wood. The drill can struggle to cope with metal like steel, but this is far from unusual with this type of device and if you want to drill thick metal, you should look for specialist devices. Wen's documentation suggests that the drill is capable of drilling steel, but you will want something with a bit more torque if you are serious about cutting into metal.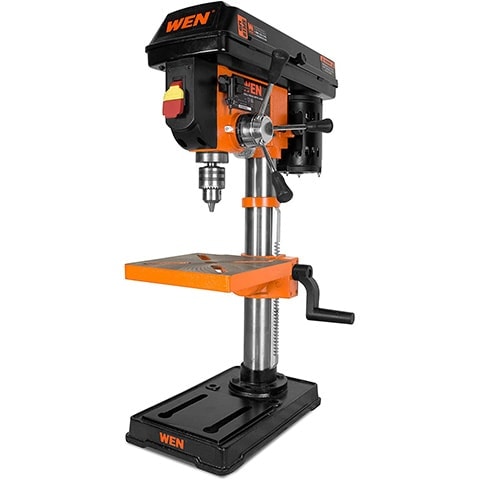 Five speed settings enable you to choose between speeds ranging from 600 to 3,100 RPM. Slower speeds are better suited to harder and denser material, while the higher speeds will make short work of softwoods. Like most devices of this type, the WEN drill press does not have a dial to change speeds. You will need to remove the cover and change the drill belt from one pulley cog to another. The process is quite easy, and the sizes are well labelled on the device.
One way that a drill press helps ensure accurate drilling is through the adjustable table. If you can adjust the height and even angle of the table, it prevents you from having to try and hold the workpiece in an unnatural position or attempt some outlandish drilling feat to get the cut you want. The WEN 4210 table can be adjusted up and down and has a 45° bevelling surface.
Pros
Powerful 3.2-amp motor
Convenient, adjustable work table
Robust metal design
Cons
Taller than other models
Heavy
Struggles with metal
Laser needs batteries

Overview of SKIL 3320
The SKIL 3320, on paper, looks very similar to the WEN 4210. It has a 3.2-amp motor and it has variable speed settings between 600 and 3,100 RPM. It will also drill holes up to ½" thick and struggles to effectively bore through metal, but makes easy going of wood drilling. However, even though this is also a 10-inch drill, the SKIL 3320 will actually drill slightly deeper, getting down to a depth of 2⅜-inch rather than the 2¼-inch offered by the WEN. ⅛-inch may not make a huge difference to your projects, but it could be enough to swing your decision.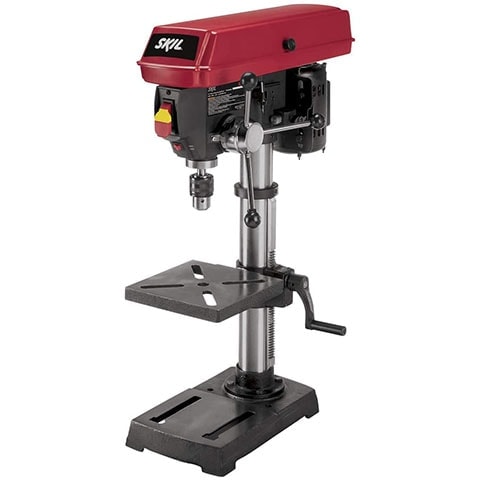 The table can be altered in the same ways as the WEN. It has a rack and pinion vertical adjustment and can bevel up to 45°, allowing for angled cuts without you having to fashion some kind of bevel yourself.
The SKIL is shorter and less cumbersome than the WEN. If your workspace is limited, then this means that the SKIL could be your preference, but if you have ample space and you prefer something with a bit of heft so that it feels more secure and sturdier, then the WEN is reassuringly sturdy.
Pros
Powerful 3.2-amp motor
Adjustable work table
Light and compact frame
Cons
Can feel lightweight
Underpowered for some jobs
---
What are the differences between them?
Performance
Edge: SKIL 3320
It really is only an edge, here. Both the WEN and the SKIL motors offer the same power and they both have pretty much the same variable speed settings, giving a few RPM. The only notable difference, in respect of performance, is that the SKIL is slightly better at coping with drilling steel, and it is capable of cutting marginally deeper holes. The difference is minimal, however.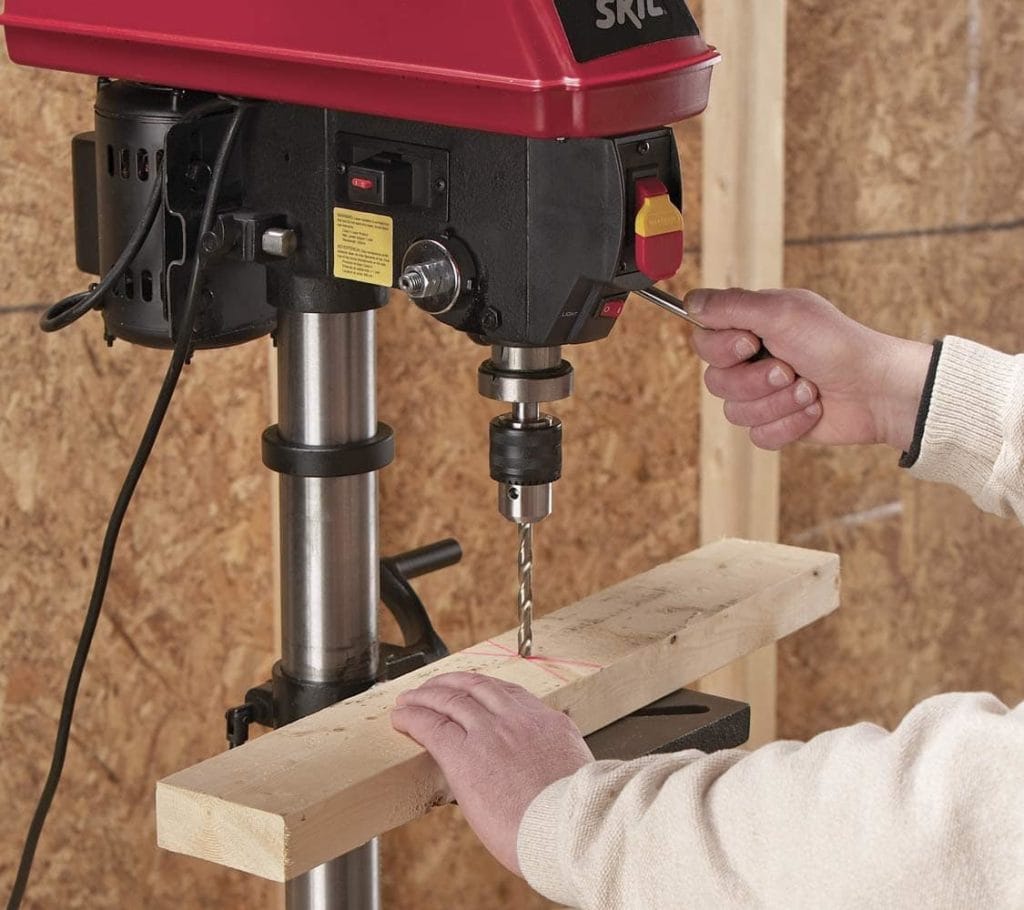 Price
Edge: SKIL 3320
Obviously, this is dependent on offers and the best available price at the time, but generally speaking, the SKIL is available at around 75% of the price of the WEN, which is quite a significant price difference, especially when you consider how similar the two devices are in other respects.
Durability
Edge: WEN 4210
There is a reason that the WEN 4210 weighs a few pounds more than the SKIL, and presumably that the WEN costs more, and that is because WEN has used more steel and iron in the construction of their drill press. You won't find plastic or other lightweight materials, and while this does add to the weight, extra weight isn't always a bad thing. When you apply pressure and add some weight behind your drill press, you don't want the table to feel like it is falling over.
What the Users Say
We've taken a look at user reviews and ratings to see what other buyers think of these two products. This enables us to check out the drill presses in different circumstances that we wouldn't otherwise be able to replicate.
As you would probably expect from two closely matched models of drill press, they both receive similar ratings on consumer websites. On the whole, buyers of both the WEN and the SKIL are extremely happy with their purchase, especially taking into account the relatively low cost of both products.
Buyers had plenty of praise for the quality of the SKIL 3320 finish. It has been described as being basic but highly effective, while some users have said that it has quickly become the most widely used tool in their workshop. However, the SKIL has come in for some criticism for its lack of precision, with buyers saying that the table was not perpendicular and that even the laser was a little out of line. This wasn't a common complaint, however, and the device generally received excellent reviews.
Similarly, the WEN 4210 received mostly positive reviews. Strangely, considering this is the heavier and supposedly more robust of the two drills, there have been a small handful of complaints that the centre column has cracked or broken. Recent buyers have said that the WEN has improved on earlier problems with the device.

Conclusion
There really is very little to choose between these two devices. Even buyer reviews and ratings make it difficult to separate them. The lower cost of the SKIL is actually quite significant, with the device costing around 25% less than the WEN, but the WEN is more durable, contains more metal, and has a better feel when applying pressure. It is for this strength, which is important in this type of device, that we believe the WEN 4210 is the better of the two devices.
Related Reads: