WORX GT2 vs WORX GT3 – Which One is Best?
Rating
Image
Product
Details

The Winner

WORX WG180 GT3

Push button line feeding
Comes with a second battery
Accommodates two types of string
CHECK PRICE

The Runner up

WORX WG160 GT2

Automatic line feeding
Comes with 3 free spools
3-in-1 tool with a mini mower
CHECK PRICE
Looking at the WORX GT3 and GT Revolution is bound to bring up more similarities than differences. These are both sub-6-pound trimmers with edging capabilities from the same company. Both are very capable tools, though the GT Revolution offers minor improvements in several key areas, making it a better choice overall. Still, the GT3 is more than adequate for getting the job done, and it will help the bargain shopper save a few bucks without sacrificing heavily on performance.
The key difference between these models is adaptability. The GT Revolution is more adjustable in the handle and head, making it more maneuverable and comfortable to use. However, these two machines are still very similar in performance and ability, so the GT3 is still a great choice that's a bit cheaper.

At a Glance
Let's look at the key points of each product.
WORX GT3
2-in-1 trimmer & edger
Push-button line feed
20V cordless battery
90° head tilt
Adjustable spacer guard
7,600 RPM
Rubberized wheels
12" cutting diameter
Telescoping shaft
3 lb with battery
WORX GT Revolution
3-in-1 trimmer, edger, mini mower
Push-button line feed
7 handle adjustments
6 rotating head positions
7,600 RPM
5 lb with battery
90° pivoting head
12" cutting diameter
The telescoping shaft is 1' longer
Overview of WORX GT3
The WORX GT3 is a lightweight two-in-one trimmer and edger that uses the WORX 20V batteries. With a battery installed, it weighs just 5.3 pounds, making it light and easy to maneuver. With a no-load speed of 7,600 RPM, this machine zips through grass and weeds with ease.
Changing from a string trimmer to a wheeled edger is a quick transition, though it can be difficult the first few times while the machine is stiff. When you need more line from the trimmer, all you have to do is push the button, giving you complete control over your 12-inch cutting area.
The head on the GT3 tilts 90°, allowing for great adjustability when trimming on sloped terrain or trying to clear out areas that are hard to reach. When edging, the rubberized wheels help to easily roll the machine along the edge.
This is an affordable tool, priced a bit lower than the GT Revolution. You'll still get two batteries and a charger with your purchase, making it a great deal overall.
Pros
More affordable
Offers trimmer and edger capabilities
Cons
Shorter overall length
Not as much adjustability
Related Article: 

Overview of WORX GT Revolution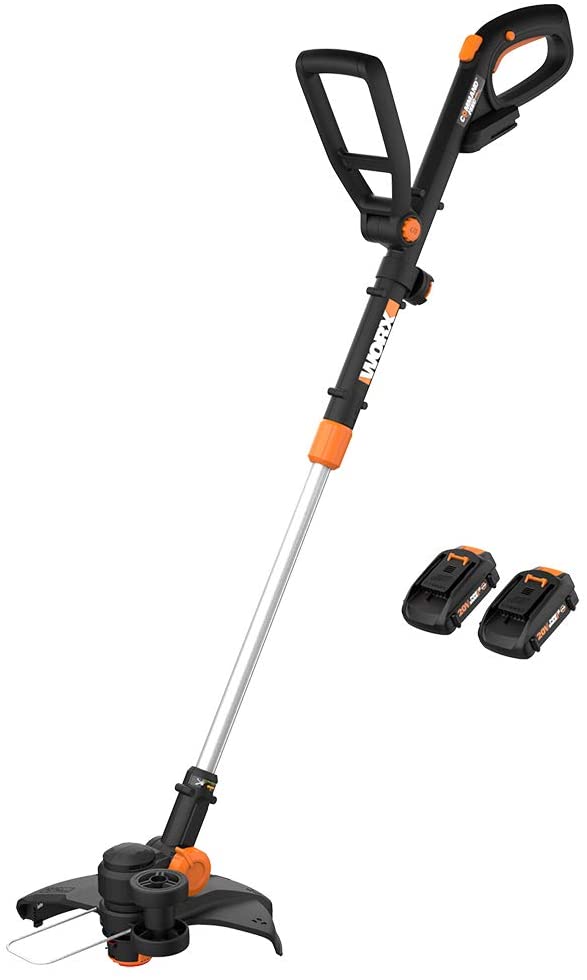 The GT Revolution is one of the newer products in the WORX lineup. It's a bit more expensive than the GT3, but it also offers some improved adaptability. It's marketed as a three-in-one trimmer, edger, and mini mower, though the mini mower capability isn't something we'd consider a special feature on its own.
This model is slightly heavier than the GT3 at 5.5 pounds with a battery, though it's not a difference you're likely to notice. Where this machine shines, though, is in its adjustability. When the telescoping handle is fully extended, it's a foot longer than the GT3, so you don't have to bend over as far to reach the earth. You also get more adjustability from the handle with 7 handle adjustments and 6 rotating head positions so you can always find the perfect angle.
The GT3 was already loved for its great battery life, but the GT Revolution improves it even more. Both machines are capable of the same 7,600 RPM no-load speed, but the GT Revolution seems to have a bit more power when you're actually cutting through weeds and grass.
Pros
Longer telescoping handle
More adjustability
Offers trimmer, edger, and mini mower
Improved battery life
Cons
It's slightly heavier
Higher price
---
What Are the Differences Between Them?
Performance
Edge: GT Revolution
On paper, these two machines have basically the same performance specs. They both have the same no-load speed of 7,600 RPM. But in reality, the GT Revolution feels like it has more power when you start cutting into those thicker strands of grass and weeds. Of course, this is all anecdotal, but the GT Revolution doesn't seem to bog down in thick grass the same way that the GT3 sometimes does.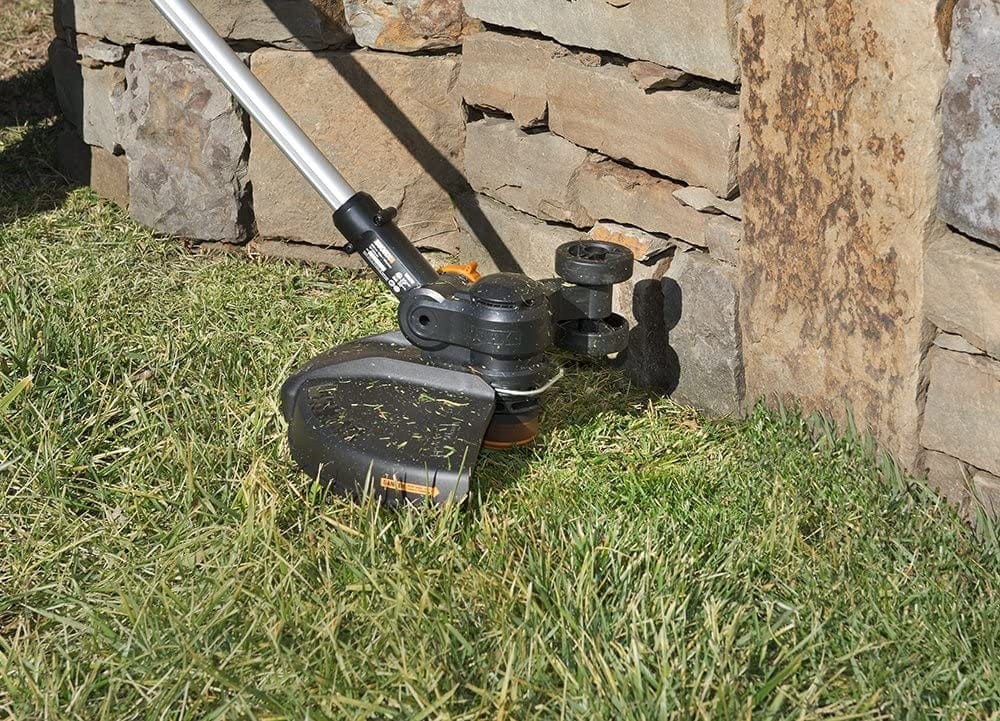 Price
Edge: GT3
The GT3 has a clear advantage here, with a substantially lower price. If you're shopping for the best bang for your buck, you'll probably want to go with the GT3. Unless you have very thick weeds and need the extra bit of power, or you're a very tall person who needs the extra length of the GT Revolution, then the GT3 will probably serve you just as well at a cheaper price.
Adjustability
Edge: GT Revolution
This is where the GT Revolution really sets itself apart. It offers 7 handle adjustments and 6 different positions for the rotating head, allowing you to dial in a comfortable setting or situate the machine for hard to reach areas. Also, the GT Revolution is an entire foot longer at full length, so taller individuals don't have to bend over as far to reach the ground with the trimmer.
Battery Life
Edge: GT Revolution
To be fair, the GT3 already has great battery life. But we got slightly longer performance from a full charge with the GT Revolution. It seems to be a bit more efficient regarding battery life.
What the Users Say
We're pretty confident in our opinions of these two machines, but our opinions aren't the only ones. So, to give you a more complete comparison of these two tools, we've scoured the internet, searching for comments, praise, and criticisms from other real-world users of these devices.
Many users of the GT3 were happy with the battery life, reporting run times of 20-25 minutes from a full charge. Users of the GT Revolution seemed equally happy, often reporting run times as long as 30 minutes. People who used both models commented on how useful the push-button charge indicator on the battery packs is.
Another common comment about the batteries is that they tend to lose power towards the end of the charge. This was reported about both models.
Both machines received complaints about being underpowered, usually in comparison to a gas trimmer, which is unfair. However, users with realistic expectations seemed quite pleased with the power output of both machines. Some users reported the GT Revolution as having more power, though some users seemed to think it was about the same.
Some individuals who used the GT3 complained about it being uncomfortable to use because they had to bend over too far. The GT Revolution received fewer complaints like this, though some still felt that it wasn't as comfortable as they had hoped.

Conclusion
If you're looking for a lightweight and capable string trimmer that doubles as an edger, either of these machines will do. For slightly better performance but ample adjustability, the GT Revolution is a better option, allowing for 7 handle adjustments and an extra foot of length at full extension. But the GT3 offers perfectly adequate performance at a cheaper price, making it the better option for someone on a budget who's not exceptionally tall.
Related Reads: