10 American Savings Statistics and Facts – 2023 Update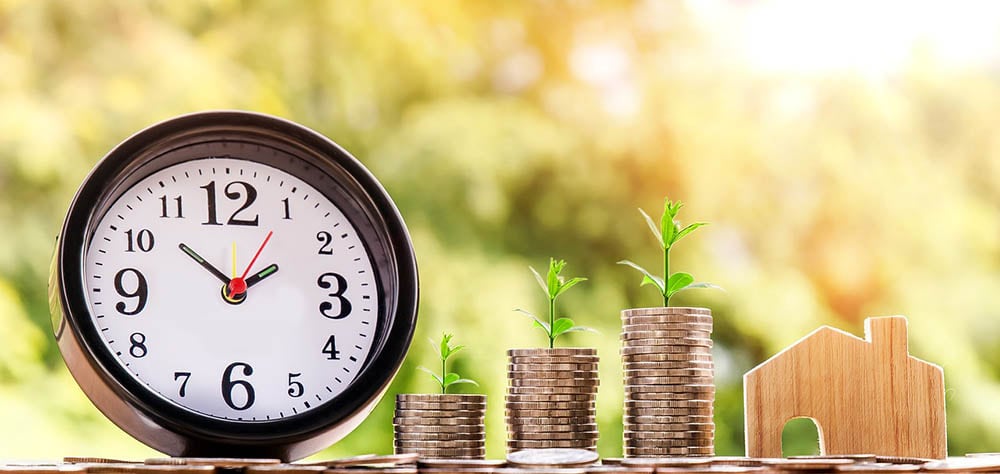 Note: This article's statistics come from third-party sources and do not represent the opinions of this website.
Do you feel like you'll never get ahead with your finances? Do you spend every penny as soon as you earn it, never putting any aside for a rainy day? Savings are crucial to everyone. We all have many reasons why we save. It could be for an emergency fund, a house or car purchase in the future, or even retirement. Each of these areas is crucial for personal finance.
We all make excuses for not saving enough or in the right way. But there's nothing more validating than cold hard facts and figures. They can speak a lot louder than excuses. They can give you a better idea of how much money the average American household saves.
These 10 American savings statistics and facts will help you get started on a path to correct your saving habits. Read on!

The 10 American Savings Statistics and Facts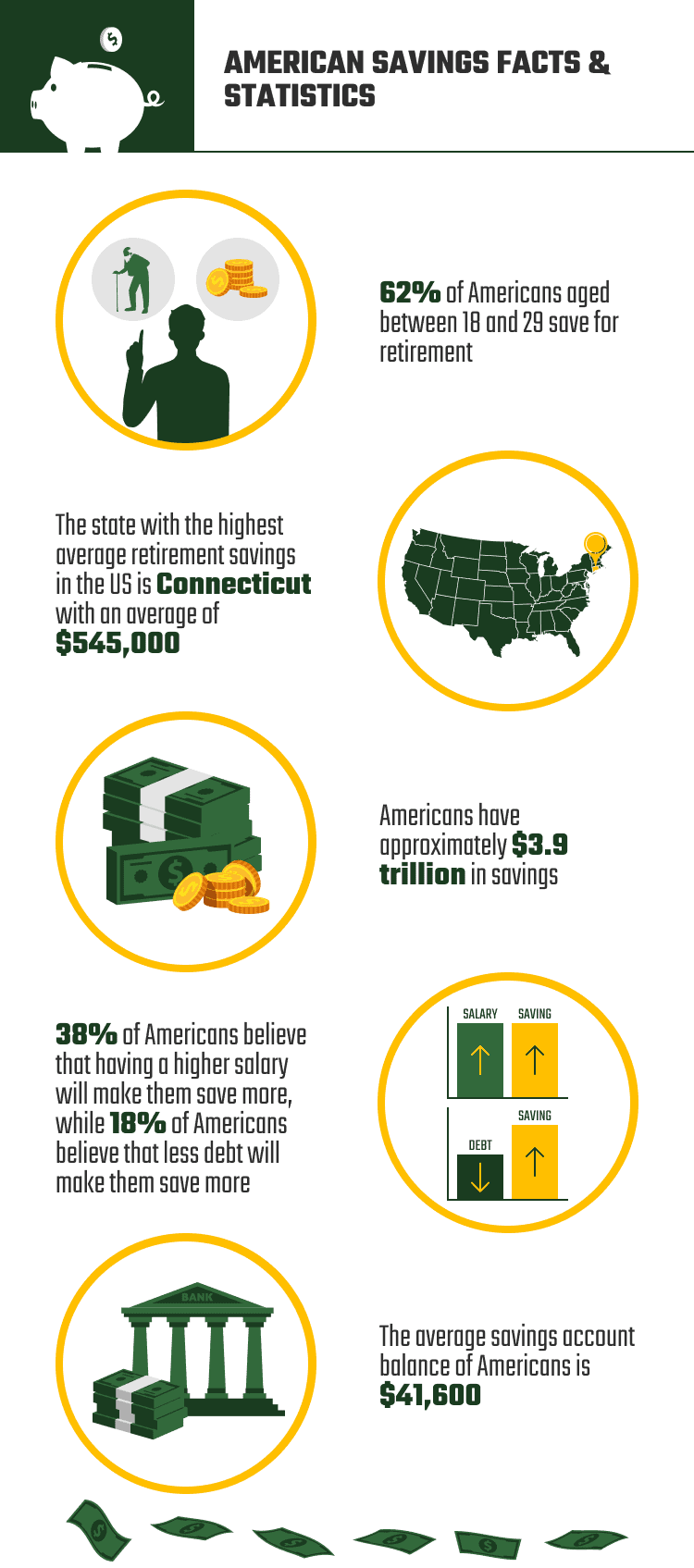 Retirement Savings
1.

62% of Americans aged between 18 and 29 save for retirement. But, only 28% feel they're on the right track for retirement.
(FIRST WESTERN BANK)
The majority of Americans between 18 and 29 years are saving for retirement. But most people don't feel they're on track to reach their saving goals.
Retirement planning is a tricky business. It's not easy to estimate how much money you need to have saved when you stop working. That's why many people don't feel like they're prepared for retirement, even if they are doing everything right.
But, retirement planning is crucial. There are several steps everyone, regardless of age or income, should take to prepare for their golden years.
---
2.

50% of women aged 55 to 66 don't have personal retirement savings. Only 47% of men don't have personal retirement savings.
(CENSUS GOV)
Many women in the US don't have personal retirement savings. Over half of all men in the US have retirement savings. It shows that women are less prepared for retirement compared to men.
This disparity could be due to various reasons. But, one factor that may play a role is that women choose careers with greater flexibility over higher pay. For example, women with children take jobs that do not require them to work overtime or travel frequently. These positions are usually lower-paying.
---
3.

The state with the highest average retirement savings in the US is Connecticut. It has $545,000 in retirement savings.
(BLOOMBERG)
According to Bloomberg, people living in Connecticut save more money for retirement compared to citizens from other states in the US.
Connecticut is home to many hedge fund managers and high-earners. It leads to an increased average income. High-income earners are more likely to save more money than low-income earners. It leads to higher average retirement savings.
It's also crucial to note that people in Connecticut have more disposable income. Connecticut also has a low unemployment rate.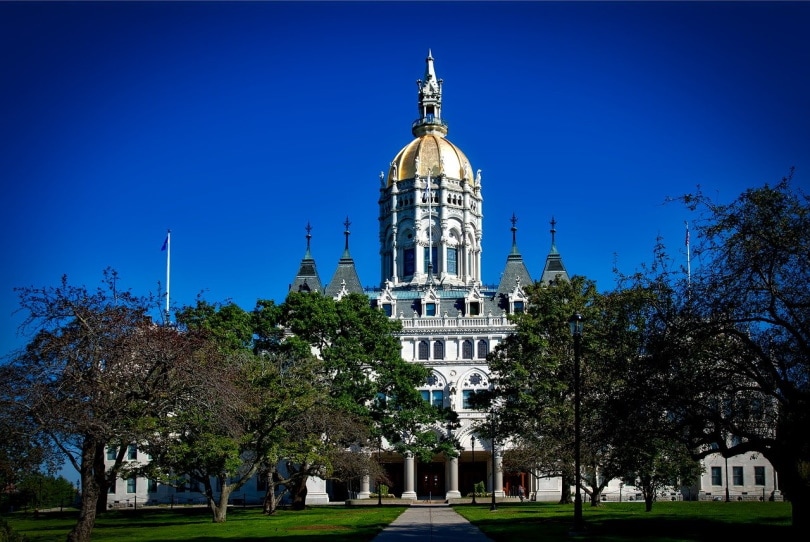 ---
Savings Amount
4.

The average savings account balance of Americans is $41,600. It includes money market and prepaid debit cards, checking, and savings.
(MARKET WATCH)
Most Americans' savings account balance is on average $41,600. It means that more than half of all Americans have less than $40,000 in savings. It also includes debit cards, checking, and many more.
Many Americans are beginning to embrace saving to secure their future or cater to emergencies that may come up. The good news is that saving doesn't always mean you have to put away a large amount of money every day, week, or month!
You can save a small amount of money and still see your savings grow over time if only you create a plan and stick to it.
---
5.

Americans have approximately $3.9 trillion in savings.
(CNBC)
One of the best indicators of a country's economic health is the savings that its citizens can hold in their bank accounts.
Americans save a staggering amount of money every year. These savings are held at several banks and other financial institutions in the country.
Since savings is a big issue for many people in the US, many financial experts offer advice on how to save more money. One of the most common pieces of advice is to sign up for automatic deposits into your savings account from your paycheck each month.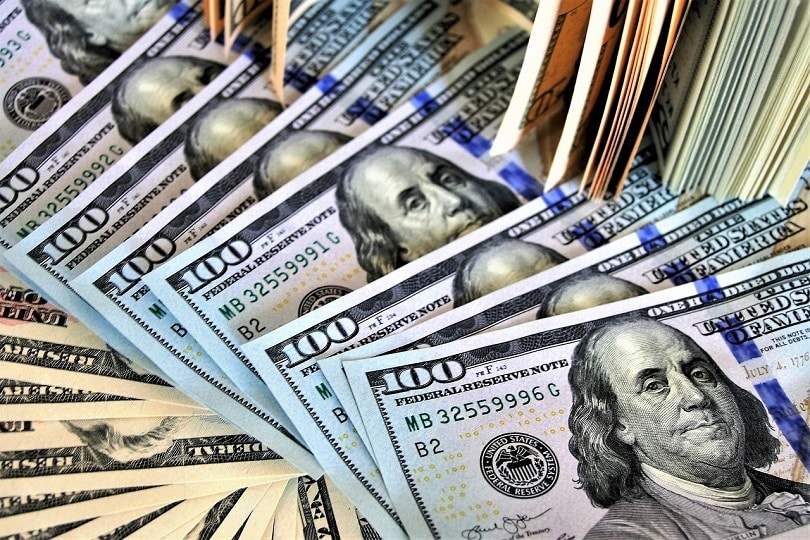 ---
Reasons Americans Save and Where They Save
6.

The bank with the highest interest on savings Annual Percentage Yield (APY) is Bask Bank. It has an APY of 0.80%.
(BUSINESS INSIDER)
Bask Bank has one of the highest savings account interest rates in the country. Also, it offers a checking account with a high-interest rate, no monthly fees, and no minimum balance requirement.
Bask Bank is based in Texas and offers many high-yield CDs and savings accounts. The bank offers a competitive rate because it's an online-only bank. It doesn't have the overhead expenses of traditional branches.
The best savings accounts are available online. It means you don't have to visit a branch. You can open an account and start depositing money right away with only a few clicks.
---
7.

38% of Americans believe that having a higher salary will make them save more. On the other hand, 18% of Americans believe that less debt will make them save more.
(YAHOO FINANCE)
According to Yahoo Finance, many Americans with higher salaries save more money. People with low wages say that they would save more if they had a salary increase. Also, they believe that if you have less debt, you'll also save more.
Americans feel confident when it comes to their finances and ability to save. But, many of them still struggle with debt and aren't sure how to create a budget that works for them.
It's true that having a high salary and low debt will allow you to save more. But, it's crucial to remember that you don't need to wait for your salary to increase before you can save more money. Saving more money is about creating better habits and making money-saving choices every day.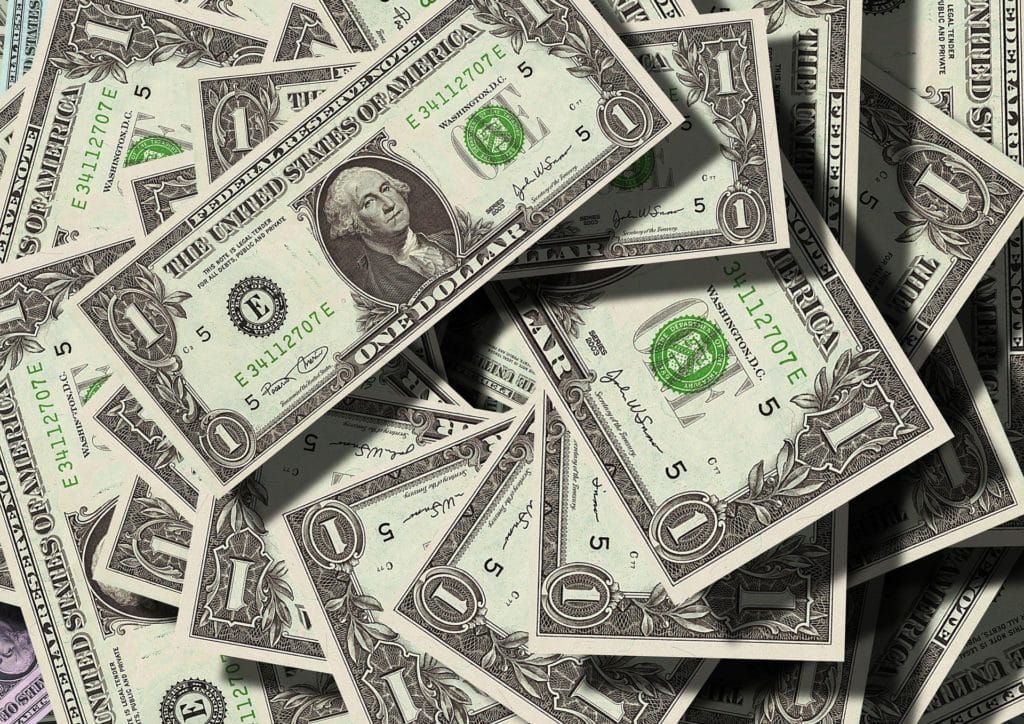 ---
8.

25% of Americans don't save for emergencies. Another 26% have emergency savings. But it's not enough to cater for three months' expenses.
(CNBC)
A small portion of Americans don't save for emergencies. Others save for emergencies, but the savings are not enough to cater for a few months' expenses.
One reason most people don't have emergency savings is huge debts. They have little money left each month to save for an emergency fund.
Others say that their paycheck isn't enough to cover their needs. They spend more than what they earn. As a result, they cannot set aside money for an emergency fund.
On the bright side, nearly half of Americans save for emergencies. More Americans see the need to save for a rainy day.
You need an emergency savings fund to save for emergencies. Set aside a certain amount of money each month to cater for unexpected expenses.
---
Savers Categories
9.

Gen Z begins saving at 19 years, Gen X at 30 years, millennials at 25, and baby boomers at 35 years.
(BUSINESS INSIDER)
Gen Z is the first generation to start saving so early in their lives. They're followed by Gen X, millennials, and baby boomers. It also shows that around four out of ten people in this generation already have a savings account.
Starting to save sooner is giving the younger generation an added advantage. This early-retirement focus makes sense for Gen Z. It's because people in this generation are struggling with student loan debt.
They're also coming of age during the pandemic recession. It's putting many in the position of job insecurity and financial uncertainty. That's why they have to save to secure the future.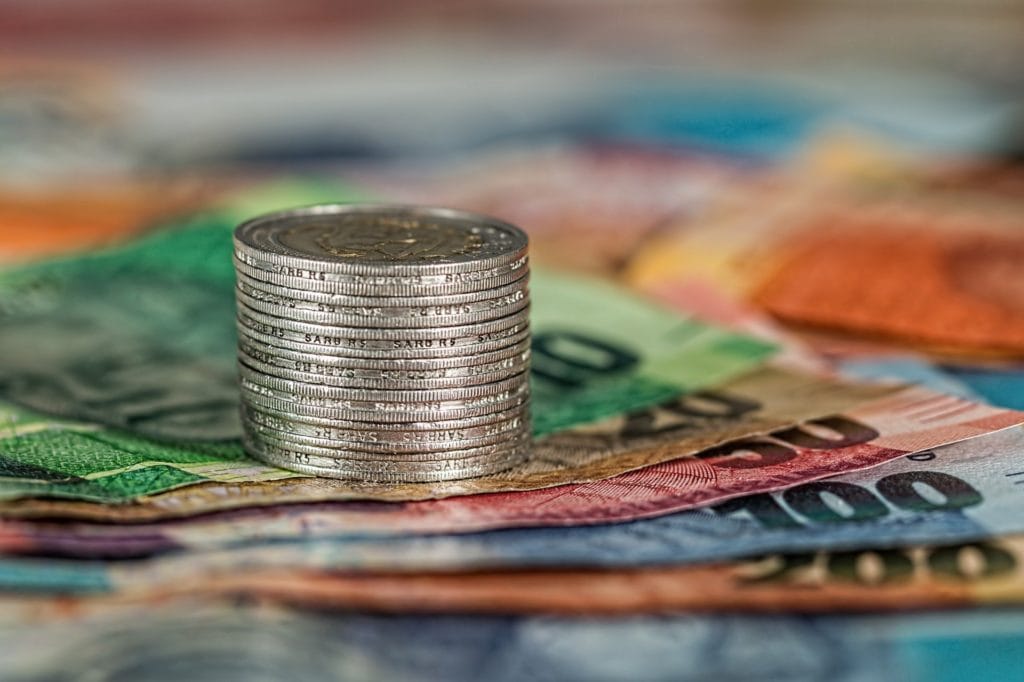 ---
10.

45% of Americans keep their liquid cash in checking accounts, while 35% keep it in low-yield savings accounts at physical banks. Another 7% save using low-yield savings accounts at online banks.
(NEXT ADVISOR)
Nearly half of all Americans save money in checking accounts. A third of them have low-yield savings accounts in various physical banks countrywide. Less than 10% of them rely on online banks.
You can make your money grow by putting it in a savings account. But not all savings accounts are alike. Some are better than others, and some banks pay higher interest rates than others.
The interest rate you earn on your savings impacts how fast your savings balance grows. The higher your savings account's interest rate, the more interest income you'll earn on the money in your account.
---
Frequently Asked Questions on American Savings
What is the primary purpose of saving?
The primary purpose of saving is to put you in control of your financial situation. It means having the freedom to take advantage of opportunities that come your way.
If the worst happens, you will have the cash you need to sort things out. Also, if something unexpected happens, it makes sense to use your savings rather than go into debt with a loan or credit card.
Unlike credit cards, savings don't charge interest or fees. Besides, many savings accounts give you interest on your balance.
(DISCOVER)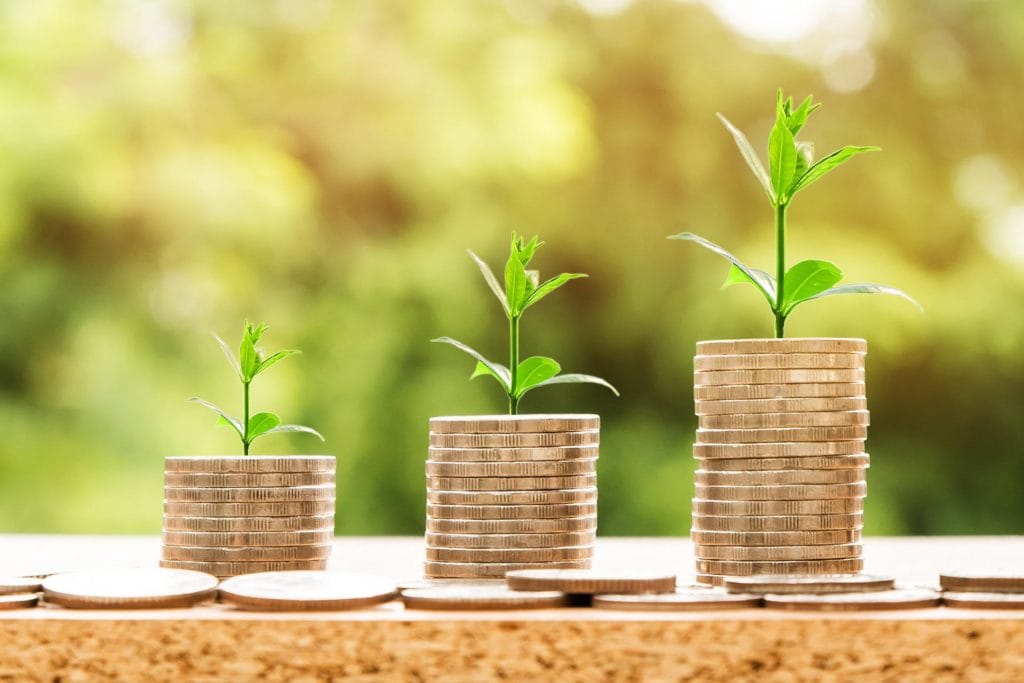 How does saving affect the American economy?
Saving is critical to any growing economy. It provides the capital that businesses need to expand and hire new workers. When someone puts money in their bank account, it becomes available for lending to companies.
They will use that money to grow. This way, savings fuel growth by providing the capital businesses need. Also, they allow businesses to stay afloat by providing them with access to credit.
Saving is also crucial for growing capital stock in an economy. Capital stock refers to all the physical capital goods. It includes buildings, machinery, equipment, roads, and technology needed for production. More products can be made and sold if there's a larger capital stock in an economy.
(SGP FAS)
What are the risks of a savings account?
There are several risks of a savings account. They are all related to the interest rate you earn. Interest rates in savings accounts are low. It means your money is not growing at a fast pace.
Besides, inflation can be so high that your money may be diminishing in value. It can happen if the interest rate on your savings account is below the inflation rate.
So, a savings account pays less interest. If you're putting money in a savings account, it's a safe bet that you're not looking for high returns.
But if your goal is to grow your money, a savings account may not be enough. Other investments can have higher returns. But they might also have more risks associated with them.
(SMALL BUSINESS)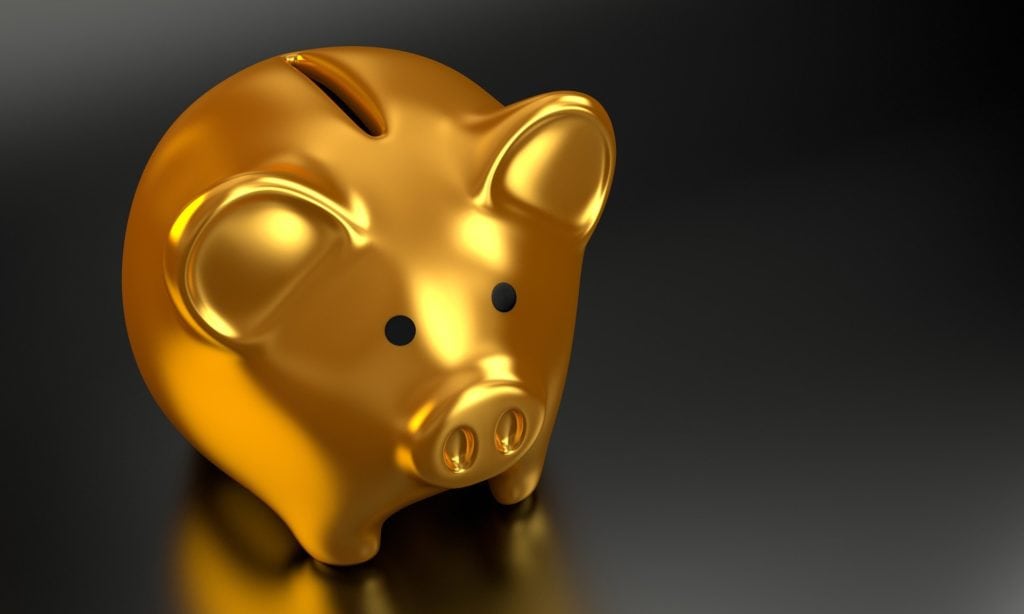 What is the best type of savings?
The best type of savings account is straightforward. You want an account that pays a high-yield interest rate on your money with no fees. This way, you can save and grow your money as fast as possible.
A High-Yield Savings account is an excellent choice for people looking to earn interest on their money. It is the best bet if you also want the flexibility to take your money when you need it.
Usually, High-yield savings accounts have minimal requirements and restrictions. They include a low minimum opening balance and no monthly fee or minimum balance requirement to keep the account open and earn interest.
You can find plenty of high-yield savings accounts that pay impressive interest nowadays. They pay much higher than you would get with a traditional brick-and-mortar bank.
(FORBES)
What is the crucial factor to consider before you start to save?
Two primary factors determine how much you can safely invest: risk profile and risk tolerance.
Your risk profile is the amount of money you're comfortable leaving in a savings account. It's the sum of your investment goals, overall financial situation, and age.
If you're young and just starting, you won't have any risk tolerance for a lot of money. You may be better off saving what you can afford when you get paid.
Your risk tolerance is the amount of money you can withstand losing before it becomes an issue. For example, if things go wrong in the stock market, would that force you to sell off your retirement fund? Or, would it be okay if you lost part of your portfolio?
(AIA INSURANCE)
Main Reasons Americans Do Not Save
Most Americans nowadays do not save their money because of several reasons. One of them is lack of income. Many Americans are living paycheck to paycheck. It means they don't have enough money to cover bills and other expenses without borrowing or relying on credit cards.
And if you're putting all your income toward living expenses, you won't have any leftovers for savings.
Also, you may be spending more than you earn. That may be because of a high cost of living, an extravagant lifestyle, or both. If you have a lot of expenses, you'll need to reduce them to start saving money.
But how do you know where to cut? One way is by tracking your spending for a few months. This way, you can see where your money is going. Then, you can evaluate your spending habits and make cuts accordingly.
Some people also find it challenging to save money because they struggle with debt payments. High-interest credit card debt can be pernicious. It's because it's so expensive and can spiral out of control if you make only the minimum required payment.
If you're struggling with credit card debt, one of the best things you can do is contact your creditor. Ask them if they'll lower your interest rate. Many will be willing to do this if you've been a longtime customer and have a history of on-time payments.

Conclusion
If you have been looking for ways to increase your savings, all of the information above will be helpful. If you're not cautious about how much you spend, ensure you look more closely into how much your essentials and luxuries cost.
You can easily subtract these expenses from your income each month and know what percentage is left for saving by doing this math ahead of time.
That's all for our American savings statistics and facts, but we'll leave you with this last thought. Saving money is crucial to your well-being.
You can cover financial emergencies or allow yourself the occasional splurge after a period of frugality. Saving money is a useful skill. Anyone can benefit from learning this.
---
Featured Image Credit: nattanan23, Pixabay