6 Clever and Creative Art Supply Organization Ideas (With Pictures)
Art is a labor of love, and it can easily spiral out of control as your home becomes overrun with art supplies. Yarn, markers, ribbons, and all kinds of items can be frustrating to efficiently store, but it doesn't have to be that way. We've compiled a list of the most creative DIY art supply organization projects so you can reclaim your space. Let's check out how to go about making them below.

The 6 Clever and Creative Art Supply Organization Ideas
1.

Art Peg Board by How Does She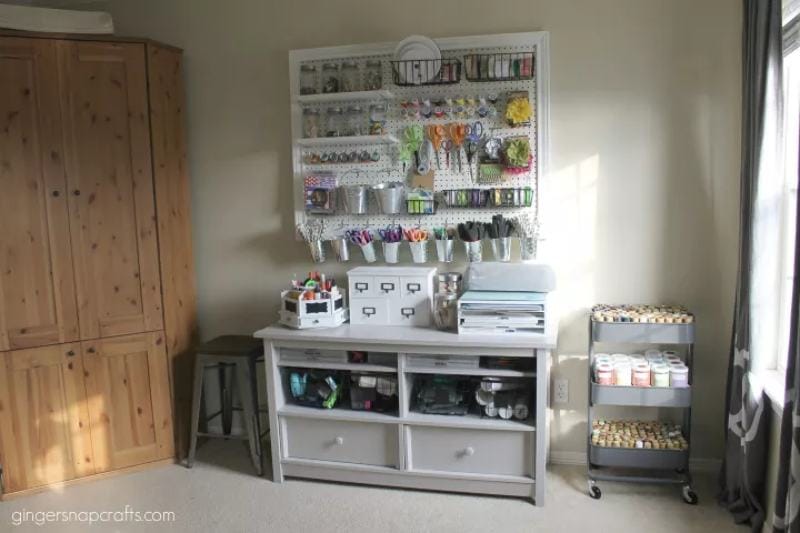 | | |
| --- | --- |
| Difficulty | Expert |
| What you'll need | miter/table saw, 1×2 wood boards, trim, wood glue, paint, brush, nail gun, nails, caulk, drill, screws |
This huge peg board is the perfect art organization project for someone with power tools and a lot of art supplies. While this project isn't actually that difficult, it does require familiarity with saws and other basic tools.
The hardest part of this project is cutting and assembling the board with the frame, but the rest is pretty straightforward. This board will hold a lot of weight once hung up, but you need to be careful to securely attach it to the wall or it can easily come loose when loaded with supplies.
---
2.

Fabric Filing Cabinet by Craft Your Happiness
| | |
| --- | --- |
| Difficulty | Easy |
| What you'll need | filing cabinet/drawer and file folders |
If you're tired of your fabrics taking up tons of haphazard space, consider filing them like paperwork. You'll need a filing cabinet if you have a lot of fabric, but regular drawers can work for smaller collections of fabric. You simply put the folders upright in the drawer and drape your fabric over the folders. You can organize it by any color sequence you wish.
---
3.

PVC Pipe Marker Storage by Robin Feicht
| | |
| --- | --- |
| Difficulty | Moderate |
| What you'll need | 1.5" PVC pipe, PVC cement, miter saw |
This is a fairly simple way to store huge collections of markers for cheap. You just need a length of 1.5-inch PVC pipe, which you'll cut to 5-inch lengths. You can go shorter if you want, but that's up to your preference. Then you'll need to hold the PVC pipes in place while you apply the cement, and that's it! Just let the cement dry for as long as the instructions recommend, and you can store markers by any organization method you want.
---
4.

Ribbon Storage Tote by The Chicken Chick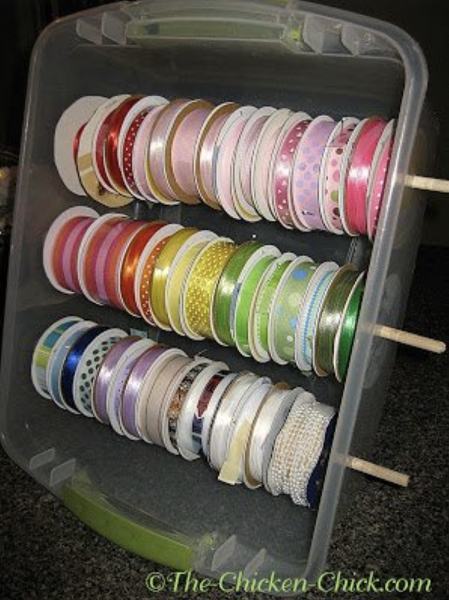 | | |
| --- | --- |
| Difficulty | Moderate |
| What you'll need | clear plastic tote, dowels, drill with 5/16" bit, hot glue gun and glue |
To keep ribbons neatly stored in a portable container, consider making a ribbon storage tote. You just need a clear tote with a lid, some dowels, and a few other basic tools. Use your drill to create holes in the side of the tote according to the size of your ribbon spools. Create as many or as few rows of dowels as you need to or use separate totes for different-sized ribbons. The biggest advantage of this storage solution is that you can just put the lid on and move it whenever you need to.
---
5.

Foam Yarn Shelves by HELLOhappy
| | |
| --- | --- |
| Difficulty | Easy |
| What you'll need | foam core, knife, marker, ruler, duct tape |
If you're tired of storing yarn in cabinets or in your closet, grab some foam and get ready to do some math. Using the Pythagorean theorem, you'll need to calculate what angles you want your shelves to have. Add up the total measurements, buy that much foam core, and buy some extra foam just in case. Duct tape is optional but very useful in securing your foam shelves. Store your yarn by any method you wish.
---
6.

Jar Supply Shelf by Poofy Cheeks
| | |
| --- | --- |
| Difficulty | Easy |
| What you'll need | a shelf, drill, screws, baby food/mason jars with lids, labels |
For miscellaneous bits and bobs, make a floating shelf double as an art supply shelf. Baby food jars and mason jars alike work for this project, depending on your needs. The project was created to store hair ties for a business, but you can use it to store nearly any type of small item. Slap some labels on the jars and you're all good to go.

Conclusion
Art supplies can quickly become a jungle if left unorganized, but there are tons of ways to fix the issue. With some woodworking gear, you can make a giant peg board, turn some PVC pipes into marker storage, and numerous other creative, clever art supply storage projects. Try one of them today to get organized!
Related Read:
---
Featured Image Credit: L Gould, Pixabay