16 Clever & Creative Bathroom Organization Ideas (With Pictures)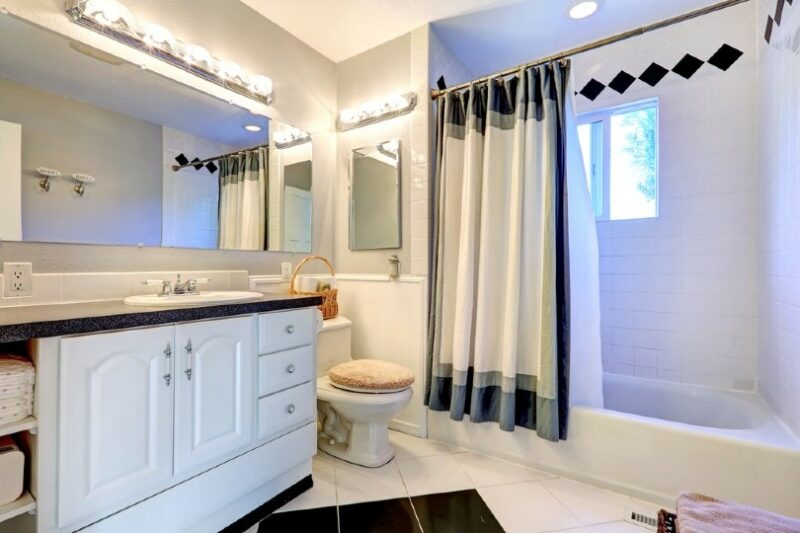 At around 40 square feet, the average bathroom certainly doesn't leave much space for storage. Linens, lotions, toothpaste, and toiletries all need a place to make the room tidy, but limited options can often push the limits of your imagination.
If you've tried it all and still can't keep your bathroom clean, all hope isn't lost. Learn how to bring practicality and aesthetics to your bathroom with these 16 clever and creative organization ideas.

The 16 Bathroom Organization Ideas
1.

Hanging Toilet Paper Holder by Make It & Love it
| | |
| --- | --- |
| Tools and Materials | Fabric, scissors, sewing kit |
| Difficulty Level | Easy |
Making spare toilet paper as accessible as possible will give your family zero excuses not to change out the toilet paper roll for the next person. Using a simple fabric toilet paper holder, you'll add tons of convenience and save space in the cabinet for other essentials. Choose your favorite prints for a clever and personalized twist!
---
2.

Mason Jar Organizer by DIY Playbook
| | |
| --- | --- |
| Tools and Materials | Wood backing, mason jars, hose clamps, drill, hammer, screws, wood stain |
| Difficulty Level | Easy |
Rustic comfort always seems welcome in the bathroom. Bring the country style to your space in a functional way with the most essential of DIY farmhouse elements, the mason jar.
With a wall-mounted mason jar organizer, you'll have room to store toothpaste, brushes, Q-tips, and more without stealing shelf space. Build it to give every family member their own jar, and get creative with different paints and designs.
---
3.

Rolling Laundry Basket By Build Something With Kreg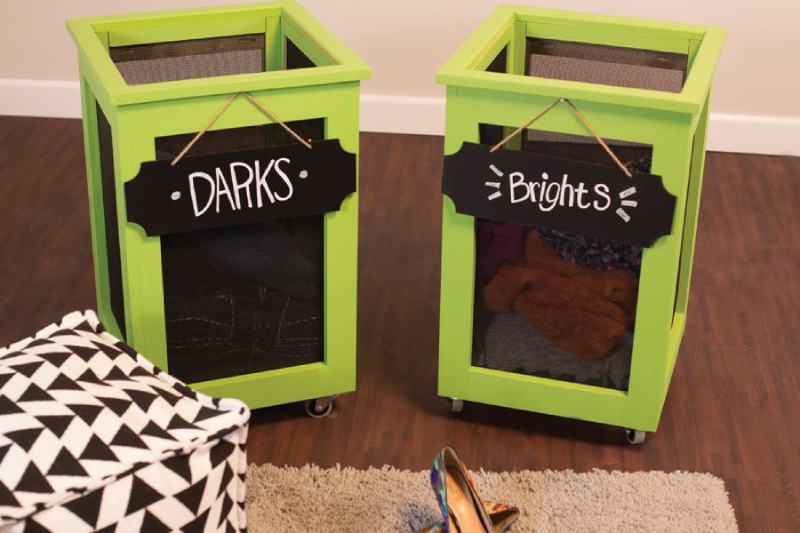 | | |
| --- | --- |
| Tools and Materials | 1×2 boards, 1×3 boards, molding, swivel casters, drill, miter saw, nail gun, screening roll |
| Difficulty Level | Advanced |
Clothes and towels can accumulate fast next to a shared shower, and the ever-growing pile will ruin an otherwise well-organized bathroom. If you're tired of asking people to pick up after themselves, a rolling hamper will make life easy for everyone and remove any excuses for leaving clothes on the floor. The pocket screws require more advanced woodworking chops, but the final results are sure to delight.
---
4.

Recessed Wall Storage By The Handyman's Daughter
| | |
| --- | --- |
| Tools and Materials | Plywood, trim, brad nailer, wood glue, shims, shelf pin jig, shelf pins, clamps |
| Difficulty Level | Intermediate |
Don't let the bathroom walls limit your usable space. Create more room with recessed shelves, a surprisingly easy addition that looks amazing and opens a world of storage possibilities.
Use a stud finder to find a potential cavity, and construct a box to fit the space. Finish up with trim for a flawless and professional-looking installation. By adding pin holes (the most complex part of the project), you can rearrange the shelving to fit your changing storage needs.
---
5.

DIY Rope Basket by Studio Stories
| | |
| --- | --- |
| Tools and Materials | Cardboard box, glue gun, fabric, scissors, rope, sewing kit or machine |
| Difficulty Level | Easy |
Classy rope baskets supply straightforward storage for bathrooms, and while they aren't terribly expensive, you can take pleasure in crafting a DIY version.
Create a simple rope basket with a cardboard box wrapped in rope and fabric, a clever solution with an authentic feel. By forgoing a store-bought basket for a custom option, you can perfectly size it to fit your sink, bathroom cabinet, or toilet tank.
---
6.

Over-the-Toilet Bathroom Ladder By Ana White
| | |
| --- | --- |
| Tools and Materials | Studs, nailer, drill, brads, wood screws, miter saw, sander, wood stain |
| Difficulty Level | Intermediate |
A simple ladder makes an excellent mobile hanging solution for towels and robes. You can supply even more storage options with a wooden bathroom ladder to sit over the toilet.
The shelves provide ample space for toilet paper, hand towels, or small plants and candles for an atmospheric upgrade. Since it doesn't have fasteners holding it against the wall, it's easy to move out of the way for top-to-bottom bathroom deep cleans.
---
7.

Scrap Wood Toothbrush Holder by The Owner-Builder Network
| | |
| --- | --- |
| Tools and Materials | Scrap wood, shims, mag drill, planer, sander, table saw |
| Difficulty Level | Intermediate |
It may seem simple, but you need precise cuts and quality woodworking tools to build this scrap wood toothbrush holder. But while the beveled edges and exposed biscuit joints take a little extra finesse, they give an otherwise basic DIY project a crisp professional aesthetic, especially when you finish with a lustrous stain. Custom-size it to fit your family, and you'll never have to worry about brushes and toothpaste tubes falling on the floor or filling the sink.
---
8.

Handmade Linen Tower by Handmade Weekly
| | |
| --- | --- |
| Tools and Materials | Miter saw, drill, pocket hole jig, 2×2 boards, 1×8 boards, wood glue, pocket screws, sandpaper, stain |
| Difficulty Level | Intermediate |
A floor-to-ceiling linen tower is one of the most effective bathroom organization ideas, essentially adding a whole new storage cabinet in an otherwise unused space. Keep linens stored neatly in tight corners by resizing these plans to suit your bathroom's unique dimensions. By using pocket screws and finishing with a bold stain, you'll create a gorgeous, durable, and practical bathroom fixture to enjoy for years to come.
---
9.

In-Cupboard Hair Dryer Holder by 100 Things 2 Do
| | |
| --- | --- |
| Tools and Materials | Plywood, jig saw, drill, wood screws, wood glue, miter saw, sandpaper |
| Difficulty Level | Intermediate |
Hair dryers inexplicably occupy as much space as a microwave, so figuring out a smart storage solution can make the difference between cluttered and clean. Keep them off the counter and out of the sink by installing a hair dryer holder in your cabinet door.
A few pieces of plywood come together to make a convenient storage spot for your hair dryer and brushes without stealing any real estate. Apply a stain or coat of paint to match the decor for a seamless installation.
---
10.

Wall-Hanging System by Ana White
| | |
| --- | --- |
| Tools and Materials | Metal piping, street elbows, S-hooks, flanges, wood backing |
| Difficulty Level | Intermediate |
A Pottery Barn-inspired wall-hanging bar system is a versatile bathroom organization idea that adds an industrial flair and loads of functionality. Metal pipes attach to a wood backing via street elbows and flanges. The system mounts to the wall, and you can add S-hooks to hold towels, robes, and baskets. The plans even include a tutorial on building a three-shelf organizer to fit onto your bars.
---
11.

Bathroom Counter Organizer by Sarah Coggins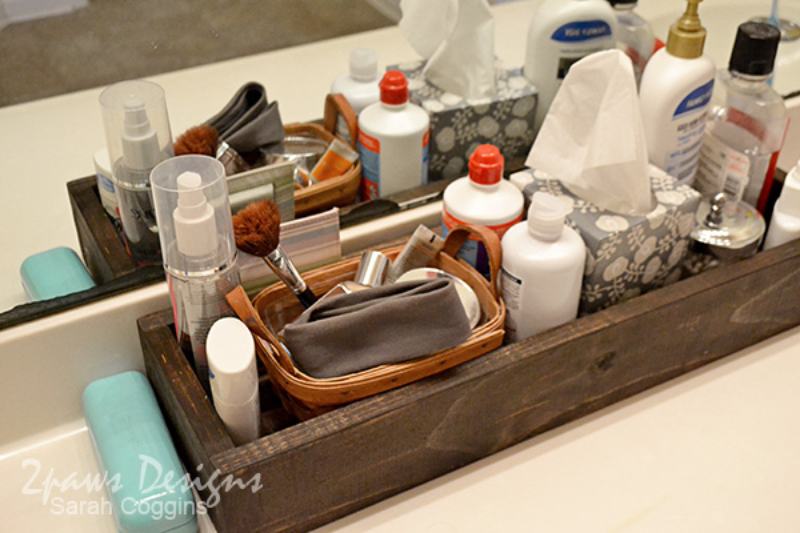 | | |
| --- | --- |
| Tools and Materials | Pine board, wood glue, hammer, saw, sandpaper, stain |
| Difficulty Level | Easy |
You don't need any special pocket jigs or power tools for this DIY bathroom counter organizer. With a nail setter and wood filler, you can take the easy route to hide the fasteners for a cleaner appearance. Complete the look with a smooth stain application, and enjoy a tidier bathroom counter.
---
12.

Rope Hanging Shelves by The Creative Mom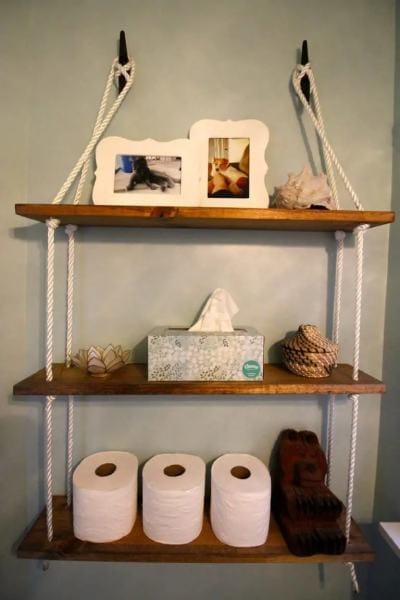 | | |
| --- | --- |
| Tools and Materials | Drill, deck cleats, 1×4 board, nylon rope |
| Difficulty Level | Easy |
Floating shelves have tons of practicality, but these nautical rope bathroom shelves offer even more benefits in simplicity and efficiency.
With only a 25-foot nylon rope and a few boards cut to equal size, you can make a multi-shelved system to hang on the wall or bathroom door. The setup is easy to remove when you have to clean, and adjusting the shelf height is as easy as moving a few knots. Add or remove shelves as your needs change for complete versatility.
---
13.

Wall-Mounted Towel Storage Bars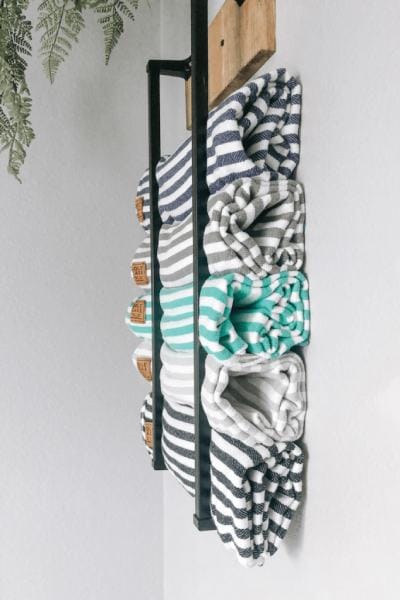 | | |
| --- | --- |
| Tools and Materials | Drill, towel rods, towel bar posts, wood board, spray paint |
| Difficulty Level | Easy |
Folded towels are a consistent storage challenge, but not with these cheap DIY towel storage bars. Two parallel bars attach to a wood backing to make a slim, wall-mounted holder for your towels. Finish with a coat of black paint for a modern reimagining of a classic bathroom fixture.
---
14.

Toilet Paper Holder with Shelf by DIY Show Off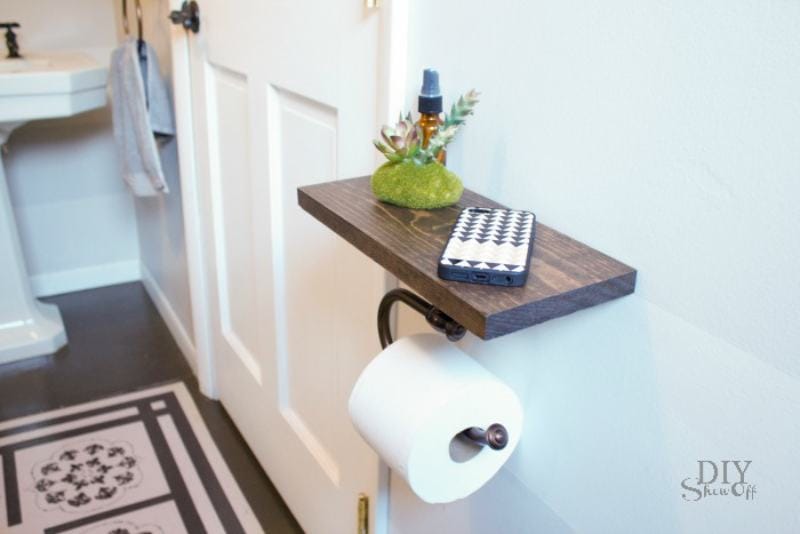 | | |
| --- | --- |
| Tools and Materials | Toilet paper holder, wood board, stain, corner brackets |
| Difficulty Level | Easy |
Here's a quick and creative way to make the bathroom experience more enjoyable. A shelved TP holder offers a convenient tabletop to hold a phone, book, or spare toilet paper roll. If you have some scrap wood, screws, and some stain, you can whip up this handy bathroom upgrade in a matter of minutes.
---
15.

Bathtub Tray by Prodical Pieces
| | |
| --- | --- |
| Tools and Materials | Miter saw, 1×10 board, furring strips, window sash handles, wood screws, sandpaper stain |
| Difficulty Level | Easy |
A soothing bath is the ultimate at-home luxury after a long day's work. If you value your time in the tub, an elegant DIY bathtub tray will put the finishing touch on your personal spa. Using a pre-cut board, you can inject style and substance into your bathroom decor with only a few minutes of work, giving you something to look forward to whenever you're ready for a soak.
---
16.

Modern Towel Hooks by Within The Grove
| | |
| --- | --- |
| Tools and Materials | Miter saw, drill, 2×2 board, dowel screws, sandpaper, stain |
| Difficulty Level | Easy |
Take out the towel bar and try these wooden towel hooks for an attractive contemporary update to your bathroom wall organization. Dowel screws connect mitered cuts of 2×2 to the wall, creating a simple floating effect that you can arrange to your liking. Use various stains or paints to color code the hooks, and find creative ways to hang baskets, towels, and more.

Conclusion
You don't have to start knocking down walls and spending tons of money to add effective bathroom storage solutions. In many cases, all it takes are some basic materials you can get for under $50 and a little imagination. Consider your family's unique challenges, and let these clever bathroom organization ideas inspire you to make the change you need.
Related Reads:  
---
Featured Image Credit: Artazum, Shutterstock