5 Best Drywall Sanders of 2023 – Reviews & Buyer's Guide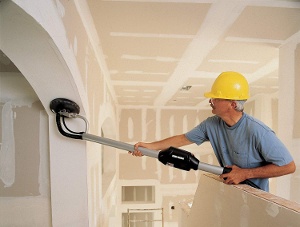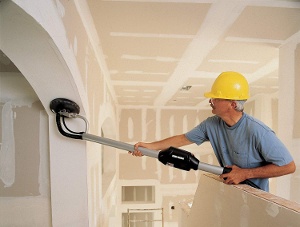 You can thank ancient China for inventing sanding and rubbing rough surfaces into smoothness with abrasives like broken seashells. Most of us think of sanding in relation to wood, but it's also used in various trades, including fashion. Yes, fashion! A few decades ago, if you wanted a pair of distressed jeans without living through the actual distress, you could buy jeans that had been made fashionable by a person wielding a sandblaster.
But until the drywall sander was invented in 1988—thank you, William Matechuk—you were stuck sanding new walls by hand, which was a slow, tedious, unavoidable, cramp-inducing process that no one enjoyed. Mr. Matechuk looked around at other powered electric sanders and tweaked the design until he created one that worked well on drywall. We hope these reviews get you one step closer to owning your own drywall sander. You'll get the job done significantly faster, leaving you with free time to sand your jeans into fashion.
Our 5 Favorite Models Compared in 2023
Rating
Image
Product
Details

Best Overall

PORTER-CABLE 7800

Fantastic dust control
Sandpaper a breeze to change
Unmatched finishing capabilities
CHECK PRICE

Festool 571935

Efficient
Durable motor
Removable skirt lets you sand the edges
CHECK PRICE

Best Value

WEN 6369

Very affordable
Good for rookies
Folds small and telescopes long
CHECK PRICE

ALEKO 690E

Inexpensive
Variable-speed motor
Can be used on floors
CHECK PRICE

ALEKO DP-3000

Ability to do floors and adhesives
You can use it without a shop vac or dust collector (if you dare)
CHECK PRICE
The 5 Best Drywall Sanders
1.

PORTER-CABLE 7800 Drywall Sander – Best Overall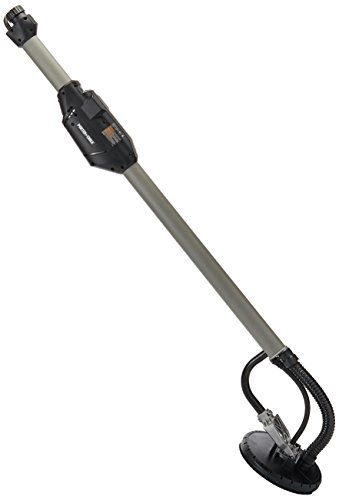 The Porter-Cable 7800 drywall sander is the best overall drywall sander and an overwhelming favorite in the field.  With a 13-foot hose that attaches to a dust collector, it provides phenomenal dust abatement, with some users going so far as to skip plastic sheeting on nearby furniture or even dusk masks (but always wear your dust mask!).  Its variable speed head will give you a professional finish even if it's your first day with the tool, and newbies and pros alike will appreciate the easy-to-change sandpaper.
Despite some complaints that it's heavy (8.8 lbs.), it is hailed as a lifesaver when it comes to ceilings.  The dust hose attaching mechanism doesn't always cooperate, but that's a small price to pay for a sander that goes beyond expectations.  Alas, it comes with a hefty price tag, but if that's not in your budget, you might be able to rent one, although you might wind up so smitten with it that you buy one for yourself anyway.
Pros
Unmatched finishing capabilities
Fantastic dust control
Sandpaper is a breeze to change
Cons
Fussy hose connection
Expensive
---
2.

Festool 571935 Drywall Sander
The Festool 571935 is another quality drywall sander. Its brushless motor tops the Porter-Cable 7800 in efficiency and durability and gives it a run for its money with dust collection ability.  It's a bit lighter, has the variable speed settings you'd expect, and is easy to use as soon as you unbox it.
The Festool allows you to remove a section of the head, so you can sand right up against the edges if you are brave enough.  It's simple enough for the rookie to use and comes with a decidedly professional high price.  Although it's handy that it comes in a carrying bag, it doesn't come with a hose.  Your dust collector presumably has a hose, but it's just one more (admittedly small) step to consider before you can fire this up.
Pros
Removable skirt lets you sand the edges
Efficient and durable motor
Good dust collection
Includes a tote bag
---
3.

WEN 6369 Drywall-Sander – Best Value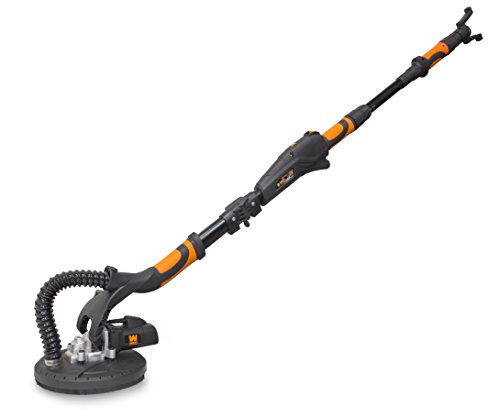 You could almost buy a different WEN 6369 drywall sander for every day of the week for the same price as our Runner-Up, but don't think the small price tag is leaving you high and dry.  This WEN is the best sander for the money and comes with several sanding discs, a 15-ft. hose, and a variable speed head that can pivot in every direction.
You can fold it down to half size for transport and telescope it out to 5 feet to really increase your reach.  Pros who use it complain that it's wobbly and shuddery on the wall, but DIYers are consistently happy with its performance and easy-change sandpaper.  Home handymen with projects lined up could do a lot worse than this tool, and it won't break the bank for anyone.
Pros
Very affordable
Folds small and telescopes long
Good for rookies
Cons
Vibration and wobbling can be significant
Not suitable for professionals
Find a drywall specialist in your area, and get free, no-commitment estimates for your project.


---
4.

ALEKO 690E Electric Variable Drywall Sander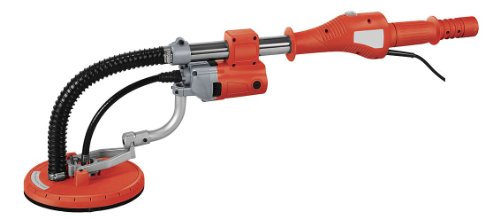 The Aleko 690E is about the same price as our Best-for-the-Money pick, but shoppers should approach this model with caution.  It also has a telescoping handle and variable-speed motor and comes with both a hose and several sanding discs.  Unlike our other drywall sanders, this Aleko also sells itself as appropriate for flooring work and adhesive removal.
But at 10.5 lbs., it's a beast to handle, especially for ceiling work, and unlike our Top Pick, you can't count on it to make the best of your user errors.  No one is excited about its finishing performance, either.  To make matters worse, there are quite a few reports of DOA and short-lifespan tools.  Use it if someone gives you one for Christmas, but the Aleko isn't anyone's favorite.
Pros
Inexpensive
Can be used on floors
Cons
Heavy
Mediocre finishing
Unreliable
---
5.

ALEKO DP-3000 Drywall Sander
The Aleko DP-3000 is lightweight (7 lbs.) and comes with sanding discs, a bag, a light, and the ability to do floors and adhesives.  But it also comes with serious headaches.  Unlike the other models listed, it does not connect to a shop vac or dust collector; it comes with a large dust bag that you sling over your shoulder.
Sadly, this just doesn't work, and users complain loudly about dust getting everywhere.  You'll want the instruction manual to help with assembly when it arrives, but you'll be ready to toss it across the room in frustration because it is so unhelpful and only partially written in English.  And there's more bad news; no one sells replacement sanding discs, so once you use the ones that came with it, your sander is useless.  This is a tool that should never have left the factory.
Pros
You can use it without a shop vac or dust collector (if you dare)
Cons
Terrible dust management
Useless instruction manual
No replacement discs
---
Buyer's Guide – Purchasing the Best Drywall Sander
Now you're finally ready to pull the trigger and buy a drywall sander.  Not only will the sanding go exponentially faster, but you'll be able to mud faster, knowing that the sander will make quick work of any mess you make. The wide array of features and prices makes it hard to choose.  Here's what you need to consider while shopping for a drywall sander.
#1 – Dust
You already know that drywall sanding generates a crazy amount of dust.  A sander won't change that, but it can make enormous strides toward managing it.  The best drywall sander will come with a hose that you can readily connect to a collector so that nearly 100% of the dust is contained.
Some sanders don't come with a hose but can likely still be connected to your dust collector; you just need to purchase the hose.  And you can either use a special connector to make the ends compatible, or you can use the universal tool (duct tape) to secure the ends together.
No dust collector?
If you don't have a dust collector, you can still attach your sander to your shop vac in the same way.  The downside to the shop vac is that you will have to stop and clean out the filter often.  The benefit of the dust collector is that it auto-cleans its filter.  With a shop vac, you get to do it.
Since one of the primary benefits of a drywall sander is the ability to maintain a clean working space, this is one feature you want to zero in on.  Why make cleaning up a separate and time-consuming task if you can buy a machine that will do it for you as you go along?
#2 – Performance
Using a drywall sander isn't hard, but there is a bit of an art to it.  Once you get the hang of it, the sander should make your life easier by creating smooth walls and ceilings.  Some sanders struggle to do this even in the hands of experienced tradesmen.  If a machine you're considering has reports of swirling and gouging the walls or causing the paper cover to tear away, that's a red flag.  A good drywall sander will make your job exponentially faster and easier;– any that don't should be avoided.
#3 – Ease of use
Some assembly required?
Some drywall sanders arrive fully assembled; all you have to do is take them out of the box and plug them in.  Others ask you to snap together one or two pieces, and still, others have you assembling as if you were a factory worker.  If you will be frustrated by having to put it together, be sure to get one that jumps out of the box and is ready to go.
Weight and balance
Yes, you've vowed never to hand sand drywall again, but that doesn't mean you get to lounge on the couch to get the job done.  You have to wield the tool, which means holding it out in front of you and maybe holding it over your head if you've got a ceiling to do.  It will be around 3 to 5 feet long and weigh at least 8 lbs. or so.  If you have fallen behind on your upper body workouts, you're in for sore muscles.  Any drywall sander will start to feel heavy after waving it around for a few hours.
On a related note, you'll want to consider how it's balanced.  Specifically, is the motor at the head or along the shaft?  There isn't a compelling reason for it to be one or the other, but you may find one design more comfortable.  Go to your local tool supplier and carry a few around to see what your preference is.
Length
A drywall sander will come in around 4 feet long.  Some might just be the one length, but others will allow you to make it shorter or longer.  If you're sanding a half wall, you don't necessarily need or want something several feet long.  If you're working with high ceilings or archways, you'll appreciate the option to telescope out to a longer length.
Portability
While you're checking its measurements, think about how portable you want it to be.  Some sanders fold up or come apart for more compact storage or carrying, and others come in a bag to make it easier to carry them and any related accessories around.  But if you only need it at one job site or in your own house, you won't need these features.
Edges and corners
You may have noticed that the drywall sander heads are round.  Will they be able to do the edges and corners, or are you still stuck doing those by hand?  That depends on which model you choose.  Some have a plastic skirt running around the edge of the head, meaning you won't be able to get the sandpaper right up to the edge or into a corner. Those will require hand sanding, but some let you remove sections of this barrier and sand right up to the edge.
This is both a blessing and a curse. This is a great feature if you have a very steady hand, but if you're new to sanders or sneeze while trying to do an edge, you may wind up gouging the other wall.  Doing the edges the old-fashioned way might be safer if you're a rookie.
#4 – Sandpaper
Sandpaper for your drywall sander will come in various grit options, just like any other sandpaper, but will have small holes to allow dust to pass through on its way to the shop vac or dust collector.   It should be easy to put on and take off, and replacement discs or paper should be readily available online or at any hardware store or tool supplier.  These may seem like obvious points, but not all sanders meet these admittedly low bars for customer satisfaction.
Some models are sold with a selection of sandpaper discs included, which is a nice feature if you're itching to start sanding the day you get the sander.  You should check the product description to see if it does, and if it doesn't, factor in any extra time you'll spend getting the paper and the additional cost.
#5 – Versatility
Presumably, you're buying a drywall sander because you want to sand drywall, but some models also claim to work on floors and other surfaces.  If you're hoping to stretch your dollars and make this sander do double duty, that may seem like a great idea.  Just remember that there are not a lot of tools in the world that excel at multitasking.  It can often be smarter and more cost-effective in the long run to get the right tool for each job.
#6 – Cost
As with most tools, you can spend a little or a lot for the same thing.  Some drywall sanders cost several times more than others. You'll need to evaluate what you need it for.  Are you a pro with years of sanding jobs in front of you, or are you wanting to knock out a few rooms in your house over the next month or two?  A pro should probably pay for the longer-lasting tool that provides fantastic finishes, excellent dust collection, and overall performance, but the rookie can likely make do with one that's more affordable (and may not want to pay for features they won't even appreciate).  There's a decent sander for any budget.
Other Sander Types to Consider:
Conclusion
The Porter-Cable 7800 is a crowd favorite, and deservedly so.  With unsurpassed finishing and top-of-the-line dust management, it will turn drywall sanding from a dreaded chore to a delight you anticipate.  It's a little pricey but worth every penny.
Unless you're a professional, the WEN 6369 will see to every drywall sanding need without breaking the bank.  It offers respectable finishing, ease of use, and good dust control, which are all the features the home DIYer will want but at a reasonable price.
There's no good reason to sand entire walls and ceilings by hand.  With a drywall sander, the sanding and clean-up will go faster.  This increase in productivity and the happier client (or family member) will soon far outweigh the initial purchase price.
See Also: