Festool vs DeWalt: Which Power Tool Brand is Better in 2023?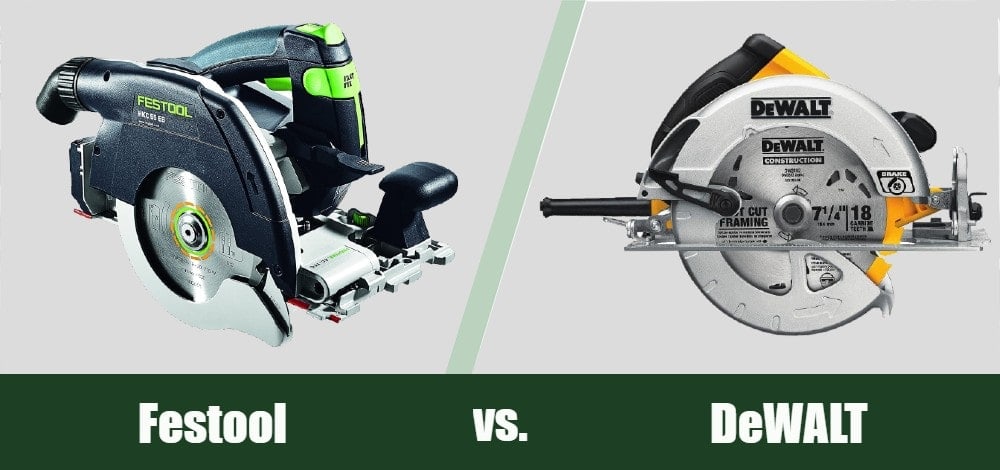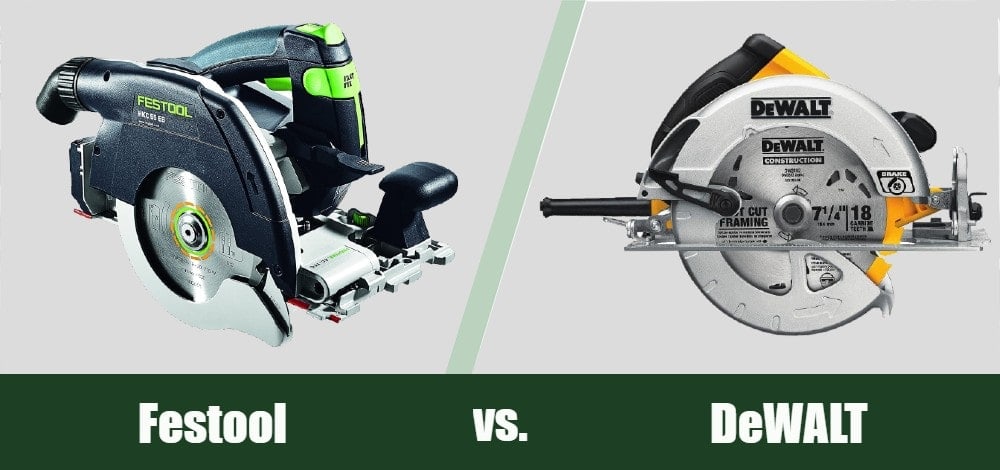 Festool and DeWalt are two power tool companies that were around before 1930 and are still going strong. Both companies have similarly large product lines of high-quality tools. Festool is a German company, so the American DeWalt company is better known, but Festool's popularity is growing in the USA largely because of its emphasis on dust removal. Join us while we take a look at both brands to see how they compare, and which would be the better choice for your workshop.

A Quick Comparison
| | | |
| --- | --- | --- |
| Brand name | Festool | DeWalt |
| Established | 1925 | 1924 |
| Headquarters | Germany | America |
| Product lines | Power tools, Sandpaper | Poer Tools, Hand Tools |
| Parent company/ major Subsidiaries | Festool SRO. | DeWalt |
---
Brief History of Festool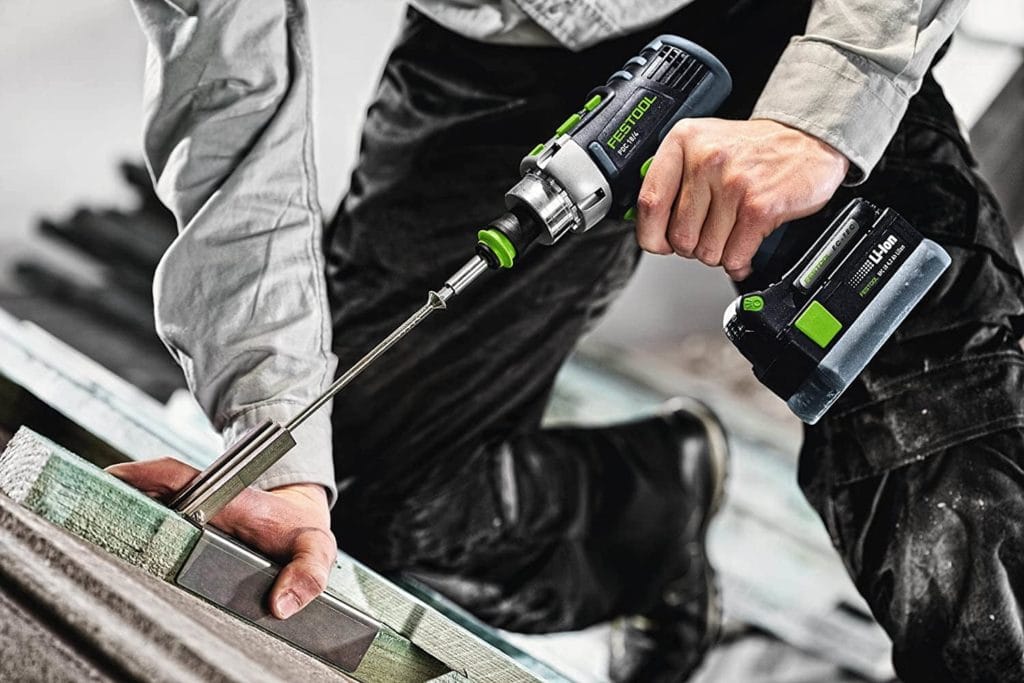 Festool is a German-based power tool company that makes power tools with a focus on dust removal. Gottlieb Stoll and Albert Fezer founded the company n 1925 and named it Fezer and Stoll and started making the first portable chainsaw. They changed the name to Festo in 1933, which started Festo Tooltechnic in 1992. The power tool division of this company branched off to form Festool in 2000.
---
Brief History of DeWalt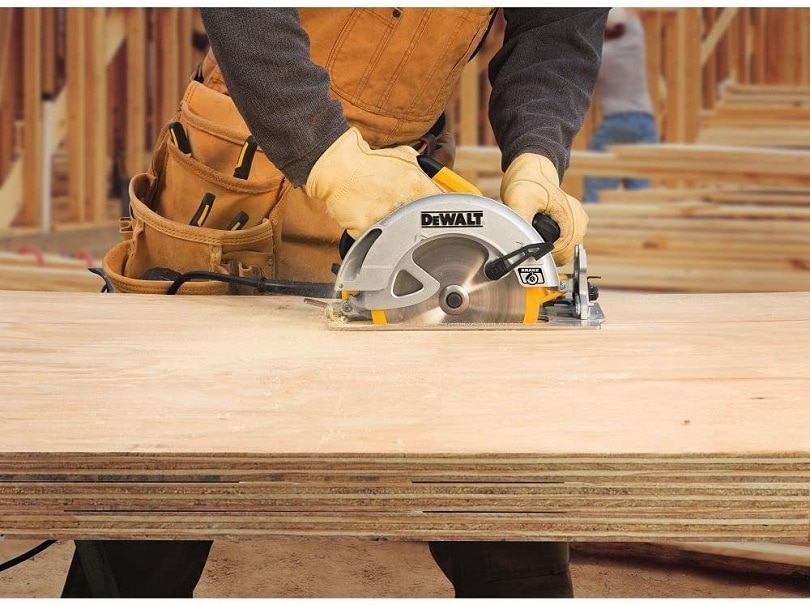 DeWalt is an American-based power tool company with a focus on power and durability. Raymond DeWalt founded the company in 1924 and invented the radial arm saw. It grew quickly to become DeWalt Inc. in 1947. Black and Decker purchased the company in 1960 from the American Machine and Foundry Co. who purchased it in 1949. In 1992, Black and Decker began using the DeWalt name for their high-end tools and continues to do so today. They began creating hand tools in 2011 and automotive tools in 2013.

Festool vs DeWalt: Manufacturing
Festool
Festool has factories in 26 countries, including the United States, Canada, Netherlands, Russia, Turkey, Japan, China, and the United Kingdom. It also has a company in Indiana that makes guide rails for its track saw. Festool is also a member of the European Power Tools Association.
DeWalt
DeWalt has seven factories throughout the United States, including one in Connecticut, Kentucky, Indiana, Maryland, North Carolina, South Carolina, and Tennessee. Though they assemble the parts in America, DeWalt sources parts from many areas worldwide, including the United Kingdom, Mexico, China, Czech Republic, and Italy.
---
Festool vs DeWalt: Product Line
Festool
Festool has a wide range of cordless tools, including sanders, impact drivers, drills, grinders, saws, and lights. They also have a wide range of saws, including the circular saw, miter saw, jigsaw, and chainsaw, and an entire line of dust extracting machines to fit different budgets and needs.  Dust collection is one of Festool's main selling points, and not only are there many machines available, but dust collection is built-in to almost all of their tools to help improve safety and health.
DeWalt
DeWalt has one of the largest product lines available, and they have over 200 hand tools, including drills, grinders, impact wrenches, saws, and more, and they provide over 800 accessories that you can use with the tools. They also have a full line of hand tools that include screwdrivers, hammers, pliers, tape measures, and more, along with a full line of automotive tools, like sockets, wrenches, and several pneumatic tools.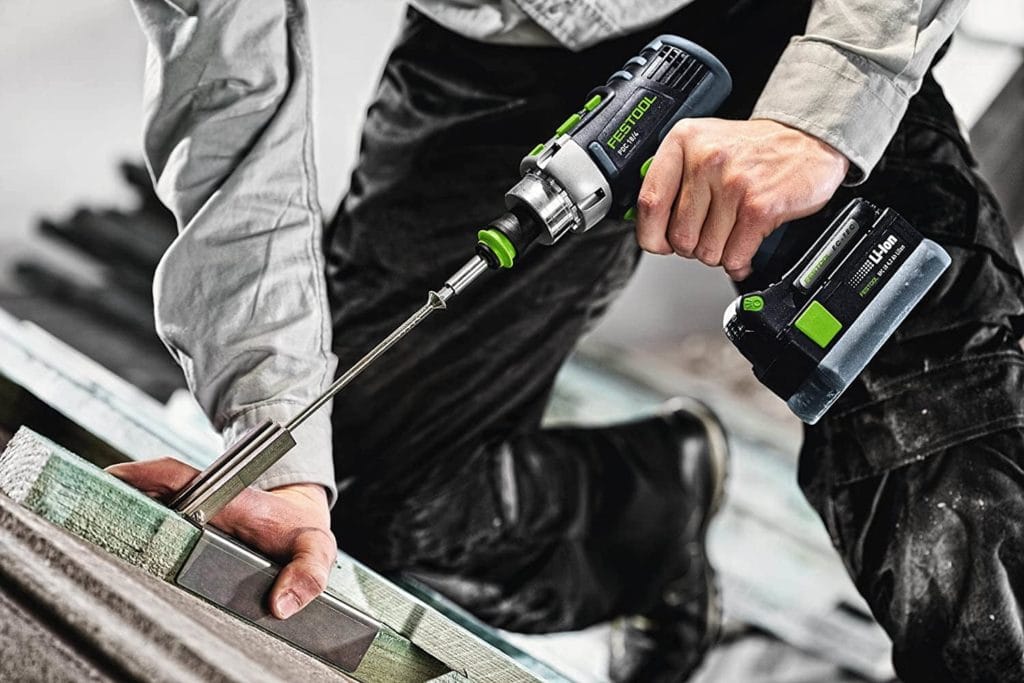 Festool vs DeWalt: Price
Festool 
Festool Power tools are quite expensive compared to most other brands, including DeWalt. Even their basic tools, like their 564620 cordless drill, will likely cost more than $200. Top of the line Festool cordless drills can exceed $300, and many of their cordless sanders, like the 201524, and dust removal machines, like the 574837, can exceed $500.
DeWalt 
DeWalt power tools are high-end power tools with their cheapest cordless drills, like the DCD771C2, closer to the $100 price line. Their higher-end tools like the DWS716 miter saw will easily cost more than $200. DeWalt also offers several multipacks that contain multiple tools to get you started. These multipacks are expensive but cheaper than if you were to purchase each one separately.
---
Festool vs DeWalt: Warranty
Festool
Festool offers a three-year limited warranty that guarantees that your product is free from defects and problems due to manufacturing. It does not include damage caused by normal use. You can also upgrade to their all-inclusive repair program that improves the three-year warranty to include damage caused by normal wear, free shipping, and even 48-hour repair. Replacement parts are guaranteed to be available for ten years after the purchase date.
DeWalt 
DeWalt has a similar three-year warranty on their power tools, but you can upgrade it to seven years. Both the three and seven-year warranties come with one-year free service for repairing parts broken due to normal wear free of charge. Many of their hand tools have a lifetime guarantee, and both Festool and DeWalt offer a 30-day money-back guarantee.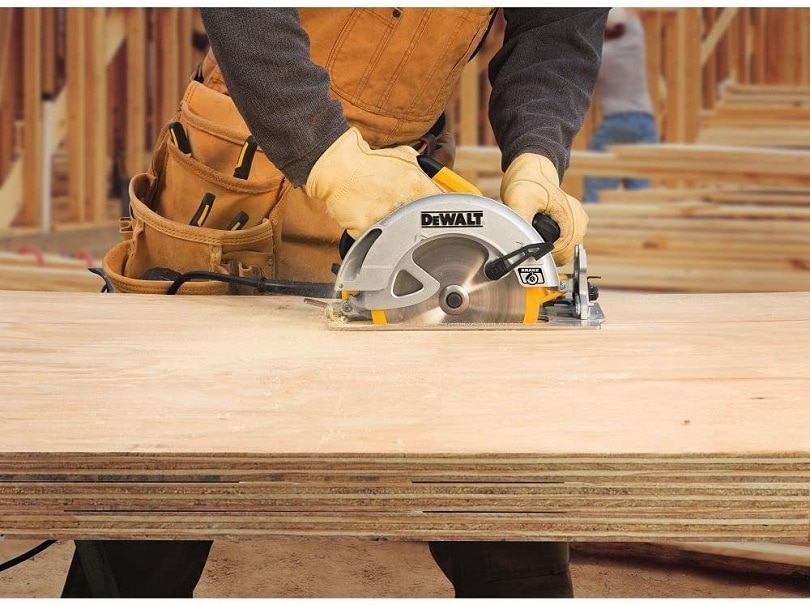 Festool vs DeWalt: Customer Service
Festool
Festool customer service is very friendly, but they can be a little difficult to contact. We often had to make several attempts to get through, and even then, we experienced long wait times. However, once connected with a representative, we were completely satisfied with the service we received.
DeWalt
DeWalt has high marks where customer service is concerned. They answer the phone quickly and help you get the answers you need. If they need to send parts, they do so fast, and they arrive in a few days. We've never had a problem with them honoring their warranty, and many times opt to send you a new tool instead of having you ship It in to get fixed.

Head-to-Head: Cordless Drills
Festool 564513 vs DeWalt DCD991B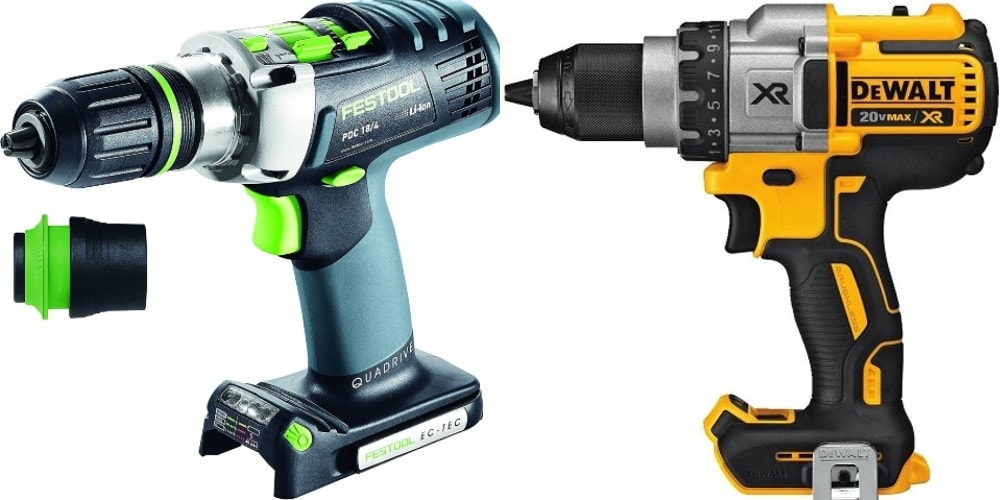 The Festool is the more expensive of the two, costing more than twice as much. It's also lighter, weighing just under two pounds, while the DeWalt is a little under four. It has three interchangeable chucks, including a unique right-angle chuck. It's also more ergonomic and includes a battery and charger, while the DeWalt does not. The DeWalt uses a larger 20-volt battery than the Festool's 12-volt, creating more torque and higher RPM. It also has three-speed settings instead of the two that Festool provides and has a brushed motor. Both tools have a strong LED headlight for illuminating the work area.
Our Verdict: DeWalt DCD991B Cordless Drill
The Festool drill feels and sounds like a high-end tool. We also love the right-angle chuck, but it's not as powerful as the DeWalt and is very expensive for a simple tool.

Head-to-Head: Jigsaws
Festool 561443 vs DeWalt DCS334B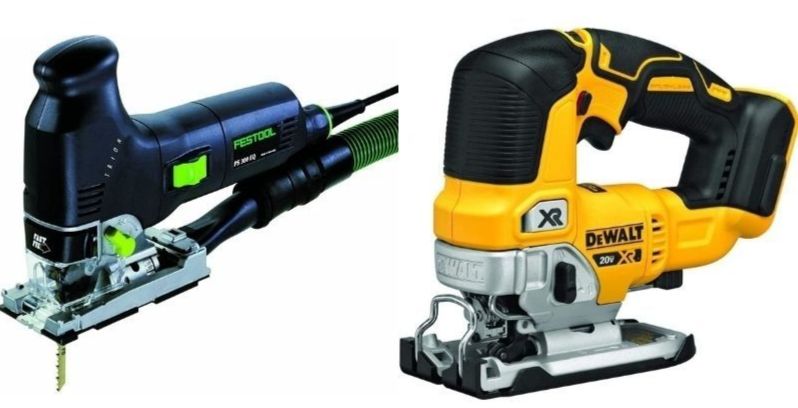 You rarely see a corded tool cost more than the cordless version, but that's what happens here as the corded Festool is nearly $100 more than the cordless DeWalt. However, once you purchase the battery and charger, the two tools are similarly priced. Both devices have about the same cutting power and features like soft start and tool-free blade change. The Festool has a built-in dust collection, while the DeWalt only has a dust blower, and the DeWalt has an LED headlight missing on the Festool.
Our Verdict: Tie
Both tools are effective at cutting and are about the same price. Festool lets you work as long as you need without running out of power and has a built-in dust collection port. The DeWalt is lightweight, offers portability, and has a LED headlamp.

Head-to-Head: Cordless Orbital Sander
Festool 575382  vs DeWalt DCW210D1 
The Festool sander is considerably more expensive than the DeWalt. It uses an 18-volt battery that supplies 3.2-amps of current, while the DeWalt uses a 20-volt battery that provides only 2 amps. It's larger than the DeWalt, but lighter and more ergonomic. You can also use the Festool as a cordless or corded sander with its hybrid design. Both tools come with a built-in port for dust collection and include a dust bag, but you can also connect them to a dust removal system or vacuum. The DeWalt includes a battery and charger where the Festool does not.
Our Verdict: Festool 575382 Cordless Orbital Sander
While the Festool is expensive, it makes the work a lot easier. It sands quickly and effortlessly, and the ability to switch between battery and cord is quite handy, and it's comfortable enough to hold through long work sessions.

Overall Brand Reputation
Performance
Edge: DeWalt
Although it's very close, we feel that the DeWalt tools have a little more power than the Festool brand, often at a significantly reduced price. DeWalt's consistent use of brushless motors and their lithium-ion battery advancements keep them at the forefront of the technology that controls tool power. Festool uses these technologies too, but they only acquire them, so consumers must wait for it to trickle down.
---
Price
Edge: DeWalt
Festool tools are very expensive, and their high cost will prevent many people from even trying these tools. While many people criticize DeWalt for their high prices, they are cheap compared to Festool. DeWalt's lower cost is due partly to them being an American company with American factories, where Festool is from Germany with worldwide factories.
---
Durability
Edge: DeWalt
Durability is one of DeWalt's main selling points, and they take it quite seriously. Most of their tools will survive many years of hard use and careless treatment. DeWalt design each tool for commercial contractors that will use them every day need to rely on them.
---
Design
Edge: Festool
Where Festool shines is in the design department. While DeWalt may make you feel like your driving a MAC truck, Festool will have you in a Rolls Royce. They are lightweight, easy to hold, and the motor sounds like a high precision engine. Next to a Festool, Dewalt tools are heavy and cumbersome.

Conclusion
We have to label DeWalt as the winner of the shootout between the Festool and DeWalt brands and consider it the best choice for most people. DeWalt is lower-priced, extremely durable, and readily available in most hardware stores. If you are looking at cordless tools, DeWalt has a huge selection that will all use the same battery, while the Festool brand is more limited, and there's a chance they won't have all the tools you need. However, we recommend Festool tools for people who primarily do woodwork as most of the tools have excellent built-in dust collection systems that help create a safer environment. These tools, paired with their collection machine, will leave you with noticeably cleaner air than many other systems.
We hope you have enjoyed our look at these two high-quality brands and have found the one you like better. If we have helped answer your questions, please share this comparison of Festool and DeWalt on Facebook and Twitter.