8 Best Roof Rakes For Snow Removal in 2023 – Reviews & Top Picks
Snow is heavy. It weighs about 20 pounds per cubic square foot, so anyone who lives in an area with extreme snowfall will need to find something to keep it from piling on their roof. That's where roof rakes are handy.
Roof rakes come in all shapes and sizes. They're made of a variety of materials, so how do you know which one to buy? We've reviewed a lot of them and have found eight that we think stand out above the rest. We'll give you a quick rundown of each one, give you things to consider when shopping, and finally give you some safety tips for raking your roof.
Our Favorite Choices for 2023 Compared
Rating
Image
Product
Details

Best Overall

AVALANCHE SRD20

Built-in wheels
Quick-connect handle
Reaches up to 20 feet
CHECK PRICE

Best Value

Ames Telescoping

Telescoping handle
Extends up to 17 feet
Sturdy poly tip with hole
CHECK PRICE

Garelick 89421

24-inch blade
Shingle saver rollers
Reaches up to 21 feet
CHECK PRICE

Garant GPRR24U

Anti-slip grip
Wide-angled head
Aluminum handle with three five-foot sections
CHECK PRICE

Suncast 24"

Easy to store
Multiple uses
Resin-coated aluminum curved handle
CHECK PRICE
The 8 Best Roof Rakes for Snow Removal
1.

AVALANCHE SRD20 Snow Roof Rake – Best Overall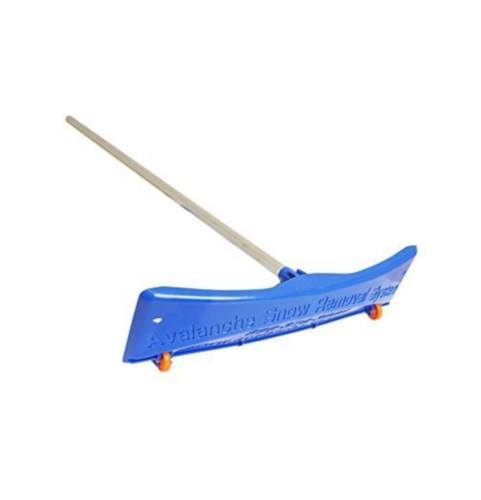 The AVALANCHE! SRD20 Snow Rake Deluxe features an aluminum handle that snaps together quickly when you need to use the rake. It also breaks down easily to fit into the included wall-mounted storage unit.
The handle has a vinyl grip for a firm hold to help give you the best control. It can be extended to reach up to 20 feet and has a wide 24-inch blade to cut snow into small chunks before you pull it down. There are also wheels built-in near the edge to help keep the blade from scraping and damaging your shingles.
The AVALANCHE! doesn't have any braces that connect the outer edge of the blade to the pole to give it more stability. Braces keep the blade from bending and breaking underweight. You may want to consider adding some of your own.
The pole is metal and can rust quickly. It'll last longer if you dry it thoroughly after each use before hanging it up to store.
Pros
Aluminum handle with vinyl grip
Quick-connect handle
Reaches up to 20 feet
24-inch-wide blade
Built-in wheels
Easy to store
Cons
Metal pole
No braces connecting pole to outer edge of blade
---
2.

Ames Telescoping Snow Roof Rake – Best Value

The Ames Companies True Temper Telescoping Snow Roof Rake has an aluminum handle with a non-slip grip to help you manage it efficiently. The telescoping handle only requires the push of one button to extend up to 17 feet.
The Ames True Temper line of roof rakes offers five different blade widths ranging from 26 to 52 inches. The blade, and the end of the handle, are made of sturdy poly material. The tip has a hole in it to allow hanging storage, without taking up too much space.
This rake works best when you cut the snow into small pieces to remove at one time. It doesn't work very well when the snow gets really heavy. You'll want to rake frequently so the snow doesn't build up too much. Although this rake has a telescoping handle, it's still straight and hard to get into corners.
Even though it can be tricky to use this roof rake at times, we found it to be the best on the market for the money. It does an excellent job of clearing your roof without damaging it and doesn't take up too much room.
Pros
Aluminum handle with non-slip grip
Extends up to 17 feet
Blades available from 26 to 52 inches
Telescoping handle
Sturdy poly tip with hole for hanging storage
Cons
Not for heavy snow
Hard to get into corners
---
3.

Garelick 21-Foot Snow Roof Rake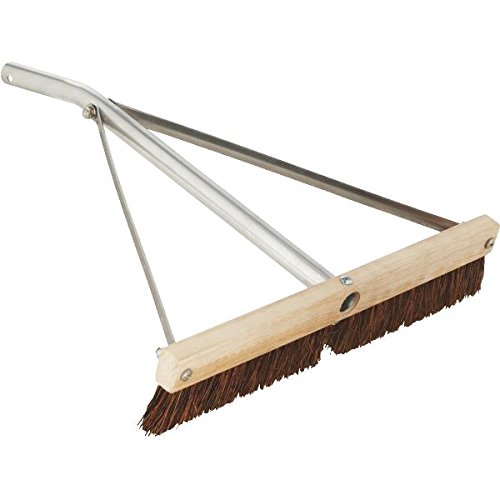 The Garelick 89421 21-Foot Aluminum Snow Roof Rake's lightweight handle can reach up to 21 feet. The 24-inch blade is attached to Garelick's patented shingle saver rollers. Although the rollers keep the rake from dragging on your shingles, they don't roll very well on their aluminum axle.
When we got our Garelick Roof Rake, we found that not all the holes lined up as they should, and we had to play with some of the pieces to get them to fit correctly. The handle has quite a bit of flex, so it can be harder to handle than some other rakes, but it still gets the job done.
Pros
Aluminum handle
Reaches up to 21 feet
24-inch blade
Shingle saver rollers
Cons
Quite a bit of flex
Rollers don't like to roll
Parts don't all fit together nicely
Find a roofing specialist in your area, and get free, no-commitment estimates for your project.


---
4.

Garant Yukon 24-Inch Roof Rake

The Garant GPRR24U Yukon 24-Inch Poly Blade Snow Roof Rake has an aluminum handle with three five-foot sections so you can make it five, ten, or 15 feet long. The anti-slip grip helps you maintain a firm hold on it, but the extensions aren't the sturdiest. The handle has a lot of wobble, especially when you're using all three sections.
This roof rake has a wide-angled head with a 24-inch polyethylene blade to help cut snow into manageable chunks and make it easier to remove. This rake works wonders on light, fluffy snow, but is challenging when snow is heavy and wet.
Pros
Aluminum handle with three five-foot sections
Anti-slip grip
24-inch polyethylene blade
Wide-angled head
Cons
Extensions wobble
Doesn't work well on heavy, wet snow
---
5.

Suncast 24″ Adjustable Snow Roof-Rake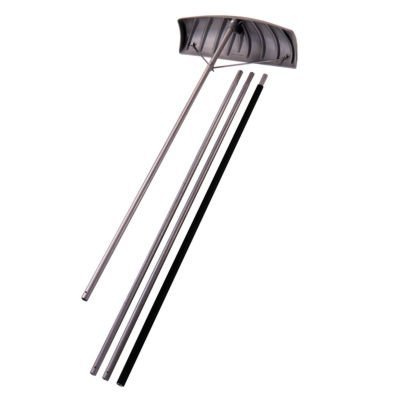 The Suncast 24″ Adjustable Roof Rake has a resin-coated aluminum handle. Four sections snap together to extend the handle from seven to 21 feet.
The lower part of the handle is curved to make it simpler to use. It also has a 24-inch non-stick graphite blade that glides along the roof effortlessly. It isn't too difficult to get the snow to fall off the shovel, for the most part. It does tend to get caught in the scoop, putting extra pressure on the handle.
The Suncast Roof Rake is a multi-purpose tool. Not only does it get snow off your roof, but it also works to rake leaves in your yard.
This rake gets more cumbersome and challenging to use with each extension added. You may want to avoid putting the rake up onto the roof or taking it down around any windows.
The Suncast can be disassembled for trouble-free storage, but it's hard to get it apart once used.
Pros
Resin-coated aluminum curved handle
Extends from seven to 21 feet
24-inch non-stick graphite blade
Easy to store
Multiple uses
Cons
Heavy
Hard to control
Challenging to get apart after use
Snow gets stuck in scoop
---
6.

Extreme Max Roof Snow Rake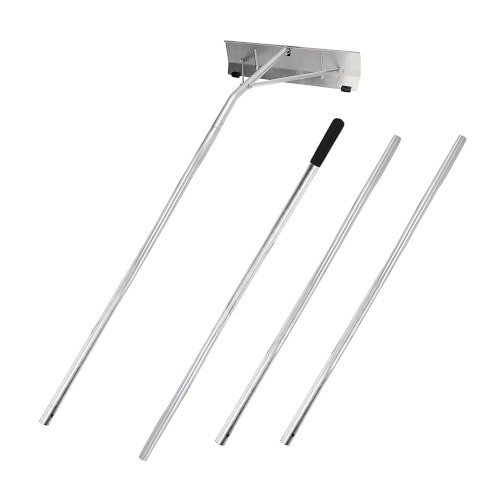 The Extreme Max 5600.3207 Roof Snow Rake has an aluminum handle with four extension rods that snap together quickly to reach up to 21 feet. It's easy to maneuver with one or two extensions but can be quite challenging when using all four.
This roof rake has a 24-inch blade with rollers to roll down your roof smoothly without scratching shingles. They do get caught up with the edge, though. You may want to trim the corners off the blade to keep the wheels moving smoothly. Even when the wheels aren't restricted, this rake still doesn't work well with wet and heavy snow.
When we received our Extreme Max Roof Snow Rake, the holes in the handle didn't all line up as they should, and the poles didn't fit together well. They assemble quickly with a snap-button and should disassemble the same way. However, the tabs don't release as they should, making disassembly almost impossible without two people.
Pros
Aluminum handle with four extensions
21-foot reach
24-inch blade
Blade rollers
Snap-button for quick assembly/disassembly
Cons
Not very maneuverable after two extensions
Doesn't work well with heavy, wet snow
Rollers get caught up on blade
Holes don't line up
Hard to get apart
---
7.

Snow Joe Telescoping Snow Roof-Rake
The Snow Joe RJ205M Telescoping Snow Shovel Roof Rake has a 25-inch aluminum blade and an aluminum pole that adjusts from 6.2 to 21 feet. This pole is one piece that slides inside itself to store. To extend it, pull out the section you want and tighten the plastic coupling.
The couplings are challenging to handle when you have gloves on, and don't hold very well. It isn't unusual for the handle to collapse, requiring you to readjust it frequently. They tend to bind up in freezing weather, making it hard to collapse the handle back down.
This roof rake is excellent for removing light, fluffy snow. Trying to get heavy, wet snow or wet leaves off the roof may be too much and cause the handle to break.
Pros
Telescoping aluminum pole
Adjusts from 6.2 to 21 feet
25-inch aluminum blade
Cons
Not good for heavy use
Plastic couplings difficult to turn with gloves on
Handle comes loose easily
Telescoping binds up
---
8.

Goplus 20′ Roof Rake for Snow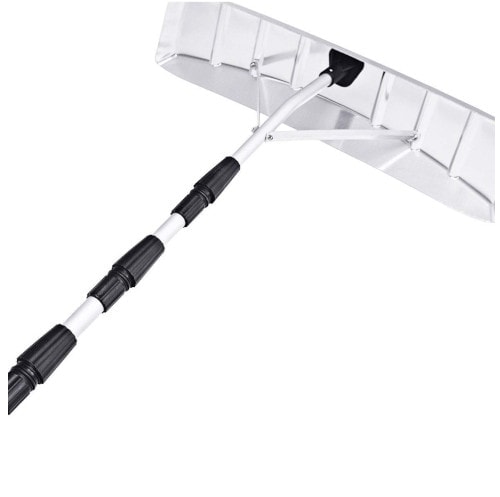 The Goplus 20′ Snow Roof Rake has a telescoping, non-slip aluminum pole. This rake telescopes out to 21 feet and has twist-n-lock couplings to keep it in place. The wide 25-inch blade has a scoop that helps pull snow down off roofs.
This rake does get the job done, but doesn't come without its misgivings. The illustrations in the instructions don't match the wording, or the rake itself. Once we got it together, it was challenging to get a good enough hold on the couplings to get them tight enough to hold. We found that the Goplus didn't work very well if there was too much snow built up, or if it was too wet and heavy.
Pros
Twist-n-lock telescoping, non-slip aluminum pole
Handle adjusts up to 21 feet
25-inch blade with scoop
Cons
Illustrations in manual don't match directions or rake
Not good for large amounts of snow
Not suitable for heavy snow
Difficult to adjust
You might also be interested in: Best Rake  for Acorns – Reviews & Top Picks
---
Buyer's Guide – How to Purchase the Best Roof Rake for Snow
1.

Size
Roof rakes come in many different sizes. The one to get depends on the size of your house. You want a handle that's long enough to reach where you need it to, but not so long that you have trouble controlling it.
Length isn't all you need. The blade width will determine how fast you can remove snow. If you have a large house, you'll want a wider edge.
Roof rakes are labeled with two numbers to indicate handle length and blade width. A label that reads 21' x 25" means the handle is 21 feet long and the blade is 25 inches wide.
2.

Handle
Straight:
Straight-handled rakes can get the job done, but they're more challenging to handle since they have no give.
Bending:
Bending handles work for any downward-sloping roof, and for getting into corners that aren't reachable with a straight handle.
Telescoping:
Telescoping handles allow you to easily adjust the handle length for more adaptability for different roof heights.
3.

Materials
Be mindful of how the rake was made. Look for aluminum or plastic handles over metal, since they're lighter and won't rust. Get plastic or polyethylene blades that won't scrape or damage your shingles.
4.

Durability
You want your roof rake to last as long as possible, so get one that won't bend where it isn't supposed to, and won't rust. The best ones have aluminum handles with polyethylene blades.
5.

Rollers, Wheels, or Bumpers
The rollers, wheels, or bumpers located near the rake's blade are there to keep the rake from actually touching the roof's surface. They protect both your roofing material and the rake from scraping and damaging each other.
Safety Tips
Inspect your roof before the first snowfall for any loose shingles the rake can catch on.
Wear heavy boots that will keep your feet warm, and give you a firm grip so you won't slip.
Wear temperature-appropriate clothing that allows you to move as needed with no restriction.
Always attempt to rake from the ground. If you must get onto the roof to reach higher places, have a safety rope for your protection.
Remove small chunks of snow at one time. This is not only easier on you; it also protects your shrubs from too much weight.
Be aware of large slabs of ice. If you're pulling one down, make sure no one is in the vicinity of where it will fall. These slabs of ice can cause severe damage.
Know where your power lines are so you won't catch them with the rake. Pulling on power lines is terrible for both you and them.
REMEMBER TO ALWAYS WEAR PROPER FOOTWEAR IF YOU WALK ON YOUR ROOF.

Conclusion
When we reviewed roof rakes, we found eight that we think will work for anyone. Some are more expensive, can be easier to use, and last longer. The more economical ones are still good rakes for their price; they just aren't made quite as well. You should expect some wobble in the handle. They also may not be able to handle wet, heavy snow. If you live somewhere that gets lots of heavy snow, pay a little more to get one that can handle more massive loads.
Determine how long you need your rake to be, and how wide the blade should be. The size of your house and the height of your roof determine what rake you should get.
Related Reads: