5 Best Sanders for Deck Refinishing in 2023 – Reviews & Buying Guide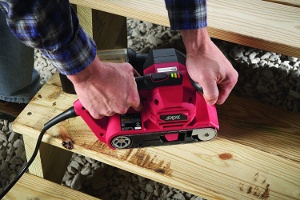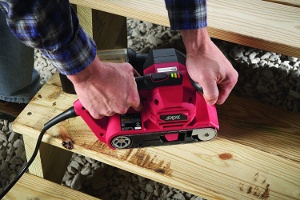 We admire your sense of preparation. Here you are, getting ready to refinish your deck and you're so thorough that you are reading reviews of sanders to get the job started right. At least we hope that's why you're here. The alternative is that you're neck-deep in doing the job and are troubleshooting — as your house burns down — where it all went so very wrong.
Either way, we've got valuable stuff for you. We reviewed some sanders for you. We looked at both belt sanders and orbital sanders to give you a nice range in case you are thinking beyond your deck. If the model you're looking at isn't one of them, or in case you're finished picking up the pieces of your shattered life and wondering how to avoid it in the future, we included some insights into how we arrived at our conclusions.
Please read on!
---
A Quick Look at Our Top 5 Picks for 2023:
Rating
Image
Product
Details

Top Pick

Makita 9403

Quiet
Aggressive
Powerful
CHECK PRICE

If you prefer an orbital sander

DEWALT DWE6423K

Powerful
Works great on non-wood projects
Great for precision sanding
CHECK PRICE

Best for the Money

SKIL 7510-01

Great for-dollar value
Lickity split belt replacement
CHECK PRICE

Bosch ROS20VSC

Ergonomic and comfortable to use
Easy Disc attachment
Variable speed Control
CHECK PRICE

Craftsman 7A 3X21

Acceptable for the job of sanding decks
Variable speed Control
CHECK PRICE
The 5 Best Sanders for Deck Refinishing
1.

Makita 9403 Sander – Top Pick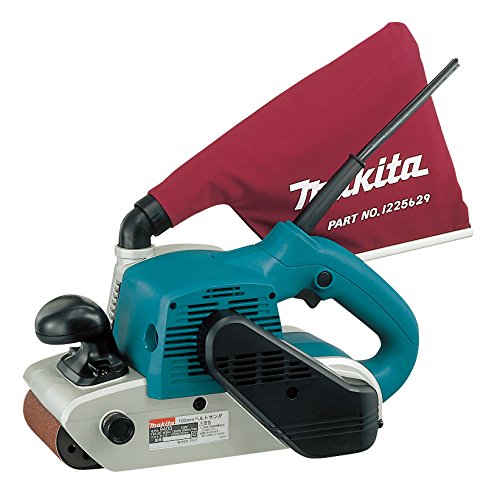 The best belt sander for deck refinishing is the Makita 9403. It's just that simple. This one will get up and get after a project, removing whatever you need removed tout suite. It's fast, powerful and easy to control.
It's also quiet. And heavy. Normally, we'd downrank a tool so much heavier than the competition, but weight in a deck sander isn't necessarily a bad thing because it aids the user in keeping the thing under control. It's built like a tank and quiet like a ninja.
What didn't we like about it? The cost. It's probably priced out of the range of anyone who is shopping on a budget. If you're a professional, the cost is acceptable. If you're a weekend warrior who just happens to need to sand a deck for refinishing this one time, you can get close to the Makita 9403's performance at a much lower cost.
Pros
Quiet
Aggressive
Powerful
---
2.

DEWALT DWE6423K – If you prefer an orbital sander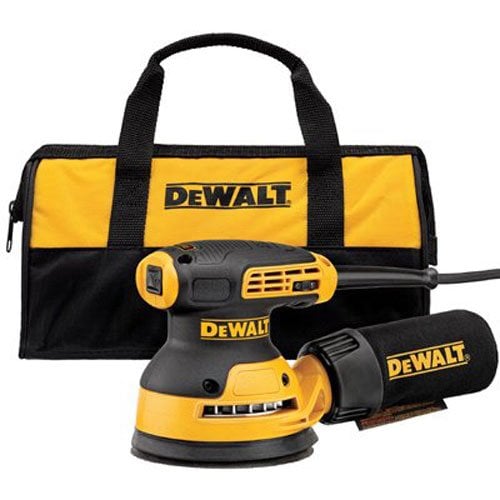 If we were looking at general purpose sanders for weekend warriors, the DeWalt DWE6423K would be in the thick of the running. We loved it. In fact, we had to restrain Jerry the Intern from using it to sand random things in our test workshop. This is just a fun, fun sander to mess around it.
It's powerful, it works great on hard surfaces like stone, it has decent waste capture. We even liked its price.
But … it's just lost trying to sand a deck. The things that make this a great tool — its ability to deliver a precise, smooth surface, it's ability to smooth out rock and concrete — are lost on a deck, which calls for a powerful, crude instrument.
For that reason alone, because you are primarily concerned with sanding a deck, we have to downrank this. We didn't like it, but there it is. Hold a grudge if you absolutely must.
Pros
Powerful
Works great on non-wood projects
Great for precision sanding
---
3.

SKIL 7510-01 – Best for the Money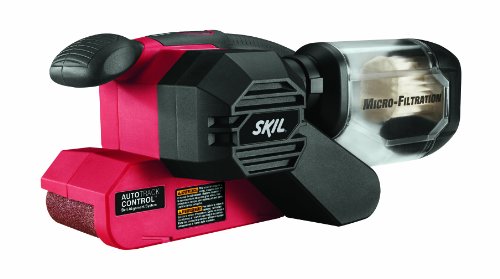 Skil's 7510-01 has the best for-dollar value of any sander on the market. Its performance you'll like, the price you'll love. That's our bottom-line take.
We'll start with the question of whether this is good to sand down a deck. Yes. Yes it can. It has the muscle and durability for a deck. You can pay for better, faster performance, but if it's just a matter of whether this can do the job it's not absolutely necessary.
We didn't much care for the dust collector. It had problems staying connected. That can be a messy distraction over the course of a large job like sanding a deck. We also thought that for sanding a deck, a three-inch belt translates into the job taking longer. If time is of the essence, maybe look at something with a wider belt. Despite this, we think this is the best sander for deck refinishing for the money, available this year.
Pros
Great for-dollar value
Lickity split belt replacement
Cons
Dust collector doesn't work all that great
Narrower belt
---
4.

Bosch ROS20VSC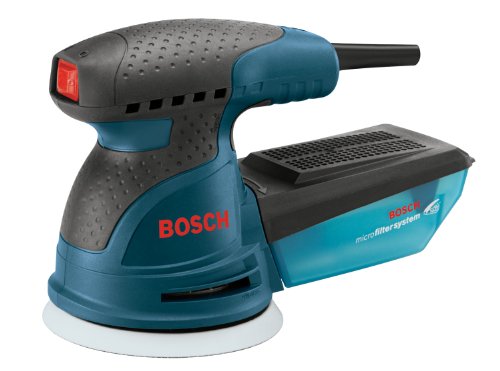 If you were a weekend warrior hoping to polish the wooden knobs on your throne room like any common local despot, the Bosch ROS20VSC would be a good choice for you to consider. It's small, light and fits comfortably and intuitively into your hand.
But … it's small. We're not talking about polishing wooden door knobs. We're talking about sanding down a deck, probably to reseal it. That presumes that at some point in the future you'd actually like to get to lay the sealant. And if you use this Bosch oval sander to do that, you're playing a dangerous game that the weather will turn towards winter before you get to it. On the other hand, maybe you have an unruly child practically begging for punishment of monotonous, seemingly endless busy work. This would qualify for that.
And because it's small, the amount of waste produced will very obviously overwhelm its storage capacity for it.
So, as fun as this model is to use, it's inappropriate for use as a deck sander. Go with a bigger one with a belt.
Pros
Ergonomic and comfortable to use
Cons
Best designed for small work
Fills with dust quickly
---
5.

Craftsman 7A 3X21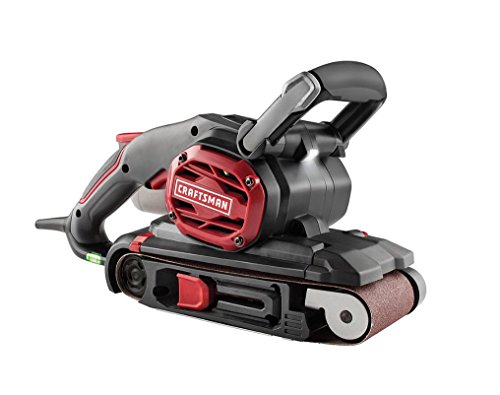 The Craftsman 7A 3×21 is a decent sander. We liked it. You can use it to sand down a deck just fine.
It aggressively goes after whatever you're trying to sand and has the durability to last until the job is done. It also comes with fairly decent features. It doesn't really excel at anything, but it won't leave your frustrated and ready to throw it against the wall, either.
And that's really the thing with the Craftsman 7A. It does what you'd expect, but doesn't do it in a way that leaves you in awe of it. That'd be one thing if it was also light on the wallet, but it's not. It's one of the most costly models we looked at. It exists in that worst places for tools. You can either pay much less and get similar quality or pay just a little more and get exceptional.
And that, not quality, is why we ranked it last.
Pros
Acceptable for the job of sanding decks
Cons
Price doesn't match quality
Terrible for-dollar value
---
Buyer's Guide – Choosing the Best Sanders for Deck Refinishing
So you've read our reviews and decided that they offer some useful insights into which sander is best for your deck. In fact, you found the insights so useful that you think you want to make up your mind, rather than leave that to random Internet strangers. We get that. Random Internet strangers are strange folk. So, we've put together some tips in how to look for the best sander to suit your needs. The journey starts with you.
Sanding space size
This is no general tool review, where we tell you that an honest appraisal of what you need it for is your first step. We've established that you need a sander for your deck. So, the question becomes: what, honestly, do you need this for?
Not all decks are created equally. Some decks have odd-shaped corners and differences in design. If you have detail work, you're going to want a sander that accommodates it. If you like monotonous looking things, you'll want a model that delivers speed and power while giving short shrift to versatility.
Orbital vs. belt
We'll say it, if you're buying a sander for your deck we would strongly advise a belt sander. Orbital sanders are cute. We want to take them home and cuddle with and coo at them. What they lack is sanding space and power. They are designed for control and precision. You want big, powerful and intimidating for a job like sanding a deck. We reviewed the DeWalt DWE6423 as a deck sander mostly out of respect for the model, not as a serious contender. It's a great sander and if for some reason absolutely must use an orbital sander on a deck, we'd recommend it. Overall, however, we'd suggest that for the sake of your own sanity you go with belted.
Price
Getting a decent belt sander doesn't mean emptying out your bank account. You can get decent quality at a pretty reasonable price, especially if deck sanding is all you're going to do with it. Skil's 7510-01 is a great example of a tool that'll get the job done and make the most of the dollars you spend. Or you can open up your checking account and pay the premium price for the Makita 9403. Sometimes we'd suggest looking in the middle to match quality and price, but we found that the middle ground on sanders doesn't offer great value.
Conclusion
Forget just sanding a deck, the Makita 9403 is the best sander we looked at for our reviews. It does it all and is "use it while the baby naps" quiet. You pay for it, and the cost probably puts it out of the range of hobbyists and occasional users. We strongly recommend that you use a belt sander to refinish a deck, but if you insist on buying an orbital because the other things you'll use it for dictate it, we suggest the DeWalt DWE6423K. Skil's 7510-01 is the best value you're going to find on the market, but its dust collection might give you fits. If you need something for precision sanding, the Bosch ROS20VSC is ergonomic and comfortable to use; it's just not suitable for a big job like a deck. We were mostly "meh" about the Craftsman 7A until we looked at the price tag, which gave us a case of the vapors.
See Also: