15 Spectacular DIY Outdoor Fall Decorations You Can Make Today (With Pictures)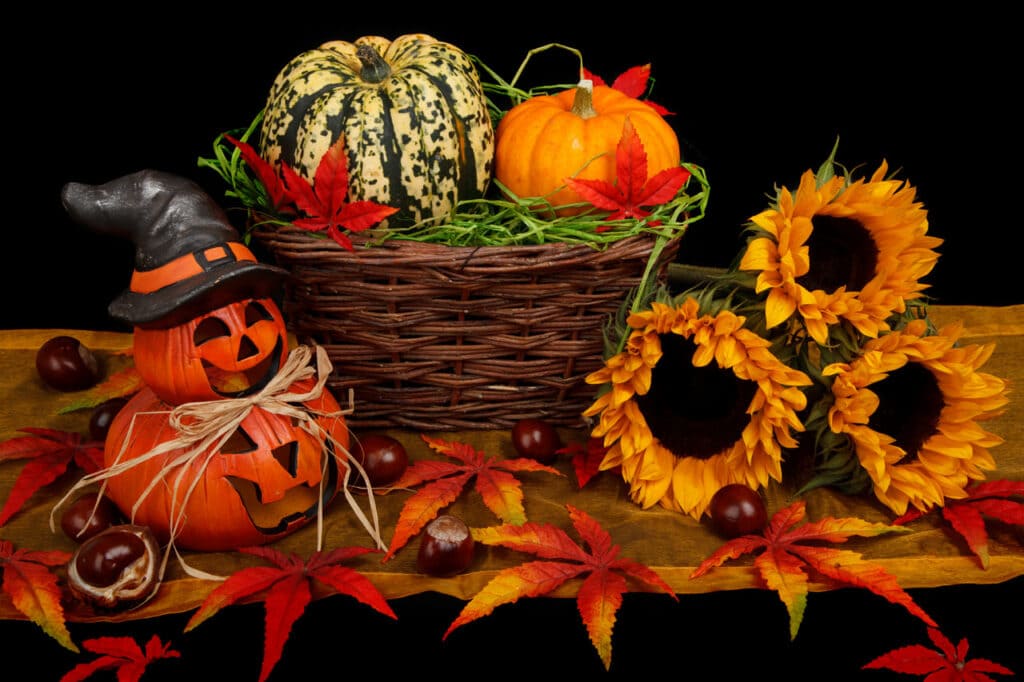 To us, fall is the best time of the year. Of course, some of you might have a different preference, but just compare its atmospheric mood to those of other seasons. If "idyllic" is not the first word that comes to mind, we don't know what else to say!
This is the one time of the year when you'll find most people in good spirits, as they are aware of the fact that their days are finally becoming shorter. The temperatures will also be cooling down, and you'll notice the leaves changing color, unintentionally adding magic to what seems like a magical moment.
If you've been contemplating dressing up your yard this year, we have a couple of fall decoration ideas that might put a smile on your face.

The 15 Spectacular DIY Outdoor Fall Decorations
1.

DIY Wooden Pumpkins by First Day of Home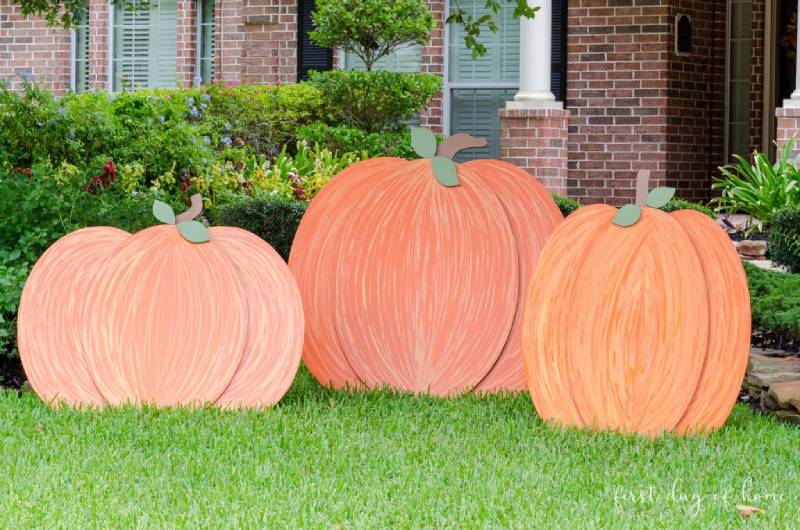 | | |
| --- | --- |
| Difficulty: | Beginner |
| Time: | 45–60 min |
Did you know the idea of using pumpkins for decorations was borrowed from Scottish and Irish traditions? They used to carve potatoes and then place lit candles inside each one of them every time they held a Celtic festival.
We just decided to replace the potatoes with pumpkins, because this cultivar of winter squash has always been seen as a symbol of fall in these parts of the world. But since we're trying to be clever and creative this year, instead of using a real pumpkin, we're going to make a wooden one.
---
2.

DIY Fall Rustic Mason Jars by Sincerely Jean
| | |
| --- | --- |
| Difficulty: | Beginner |
| Time: | 10–15 min |
The notion that one has to be willing to break the bank in order to make their front yard look different during fall is a fallacy. The few who believe that are people who've never tried some of these incredible DIY ideas before.
To bring the rustic jar idea to life, you'll need four mason jars, a foam paint brush, vinyl, sandpaper, twine, wheat stalk, and some white & brown acrylic paint. Once you have all your supplies ready, you'll know what does what, or what goes where. In a few minutes or so, your Fall Rustic Mason Jars set up will be ready to make a statement.
Hint: There must be four jars, as each one of them will have a letter painted, to spell out "FALL."
---
3.

DIY Vase Holder by Upcycle This DIY That
| | |
| --- | --- |
| Difficulty: | Beginner/Intermediate |
| Time: | 45–60 min |
If you trust you can work on a more complex DIY project, we'd encourage you to try out the DIY Wooden Vase Holder. But for this project, you'll require several tools and materials. You'll definitely need a saw, paintbrush, drill, hot glue gun, pencil, and measuring tape. Don't forget about safety glasses or ear protection.
The pallet planks are obviously the primary material here, and you'll also need a DIY aging strain, screws, rags, wheat stalks, a water-based topcoat, hot glue, sandpaper discs, a bottle, and maybe frozen glass spray paint.
Be very careful while cutting those planks, as accidents tend to happen a lot whenever miter saws are involved.
---
4.

Easy DIY Pumpkin Door Wreath from Simply Beautiful by Angela
| | |
| --- | --- |
| Difficulty: | Beginner/Intermediate |
| Time: | 45–60 min |
A door wreath is not just an accessory, but THE accessory. It has this uncanny way of making a statement, by accentuating the curb appeal. You honestly don't have to repaint your front door if the goal is to give it some personality. That's the work of a wreath.
A standard-sized door will require a 24-to-26-inch pumpkin door wreath. Anything bigger than that should be hung on a portcullis or wicket gate, and not a conventional door.
---
5.

DIY Neutral Fall Wreath from Simply Beautiful by Angela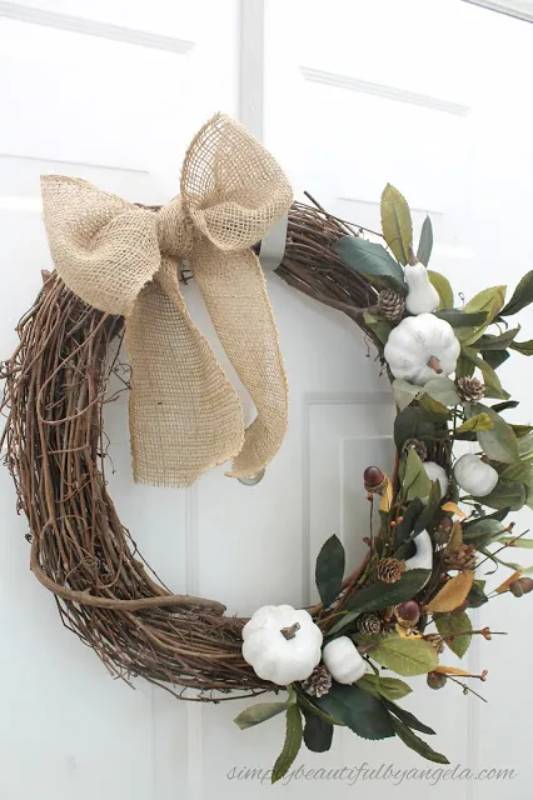 | | |
| --- | --- |
| Difficulty: | Beginner/Intermediate |
| Time: | 45–60 min |
Working with a neutral color when decorating your yard can be beneficial in more than one way. For instance, it could give you that freedom you sometimes yearn for while looking to incorporate other colors, without having to worry about making the whole yard look like a circus. In addition, brighter neutrals usually make open spaces look breezy and clean.
So even if our neutral fall wreath doesn't add any pop of color to your door, you'll still be happy knowing it's complementary to the general aesthetics.
---
6.

DIY Brushed Chalk Painted Pumpkins by Anderson + Grant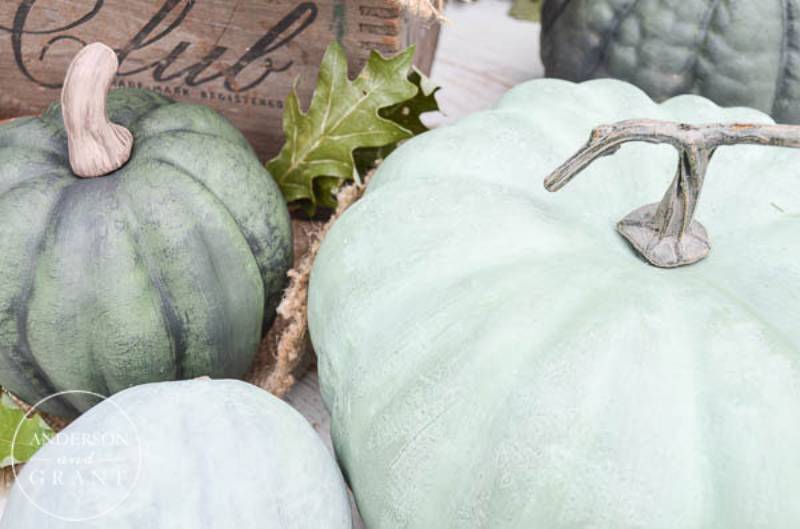 | | |
| --- | --- |
| Difficulty: | Beginner |
| Time: | 20–30 min |
The good thing about chalk paint is, it requires little to no preparation at all. You'll never hear a chalk painter talk about how they always have to prime or sand a surface, to ensure the paint sticks. Also, in case you haven't realized, this paint is applicable on almost any surface, be it metal, concrete, plastic, or even fabric.
However, that doesn't mean that you won't experience any drawbacks. You'll eventually learn that this type of paint often cures slowly, chips easily, and demands an extra protective topcoat every time.
Then again, it's not like we're painting an entire house, right? Just a couple of dry pumpkins to spruce up our outdoor space.
---
7.

DIY Faux Magnolia Pumpkin by Lolly Jane
| | |
| --- | --- |
| Difficulty: | Beginner |
| Time: | 20–45 min |
As you all know, most of our pumpkins have carotenoids, which are essentially organic pigments that give them that deep orange tint. "Most" being the operative word in that statement, as not all pumpkins are bred to be orange. We're pretty sure you've seen some that are blue, red, and even white.
The point is that nobody said you only have to use orange pumpkins to decorate your outdoor space. Nobody even said that your pumpkins have to be natural. So, what's stopping you from decorating your outdoor space using faux magnolia pumpkins?
---
8.

DIY Fall Pumpkin Planters by On Sutton Place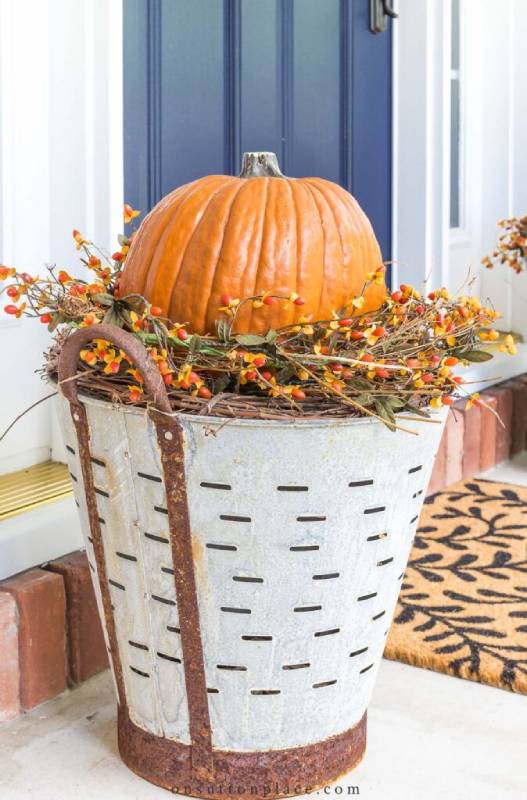 | | |
| --- | --- |
| Difficulty: | Beginner/Intermediate |
| Time: | 45–60 min |
Have you ever heard of container gardening? Because we're going to apply that same concept here, to add versatility to our limited space. Growing pumpkins in a planter will provide a focal point in the yard, and instantly add color to the space.
We guarantee you that a pair of matching fall pumpkin planters on either side of your front walk will leave anyone passing by, completely speechless. It's you to decide if you'll be going with large planters or several tiny ones.
---
9.

DIY Farmhouse Pumpkin Bucket by A Night Owl Blog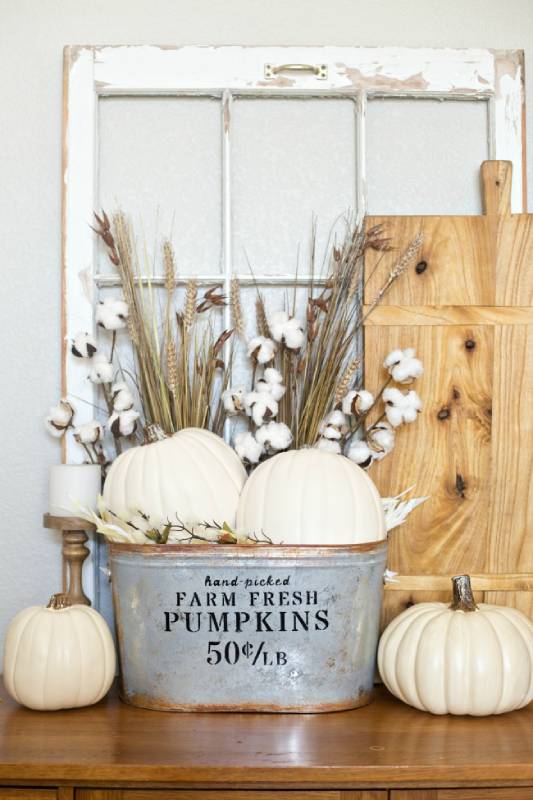 | | |
| --- | --- |
| Difficulty: | Beginner |
| Time: | 45–60 min |
Farmhouse décor is one of the best ideas if you're going for a rustic charm that's simple and practical. We know some people wouldn't even consider this style due to its aesthetic reflection of rural architecture, but you shouldn't be quick to dismiss the fact that it also embraces modern comforts.
And you'll be glad to hear that the farmhouse pumpkin bucket décor is yet another budget-friendly DIY project that won't leave your pockets dented.
---
10.

DIY Illuminated Tree by The Fanciful Miser
| | |
| --- | --- |
| Difficulty: | Beginner/Intermediate |
| Time: | 45–60 min |
We're going to have to warn you beforehand that this is not going to give you a subtle look. It will be like having Christmas in the fall because the entire yard will be lit up. But if you don't care about making dramatic statements, now's the time to buy those battery-operated candles, and start working.
Building a DIY illuminated tree is easy and the instructions are simple. Assuming you already know what you're doing, it might take you close to an hour to have everything set up.
---
11.

DIY Newspaper Pumpkins by The Stonybrook House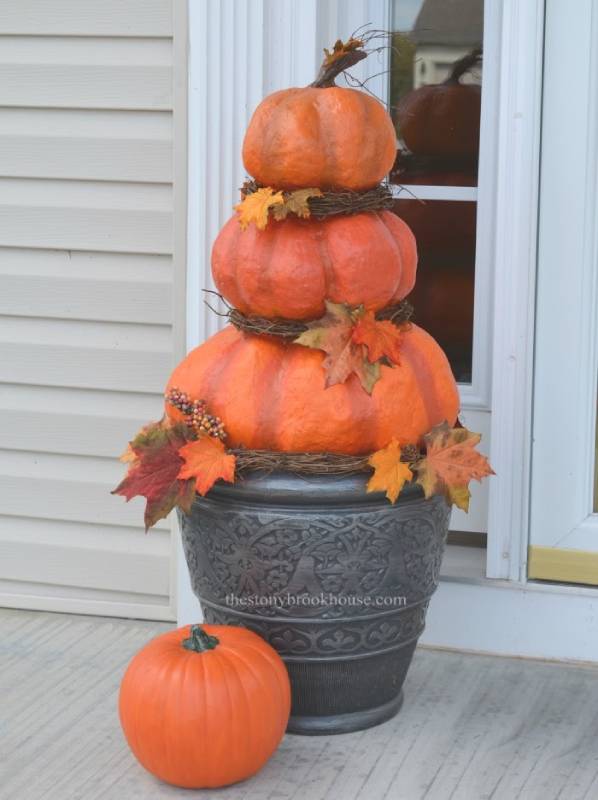 | | |
| --- | --- |
| Difficulty: | Beginner |
| Time: | 30–45 min |
Can't find a real or fake pumpkin? Then make one using old newspapers, mixed with any other trash that you can find. You could work on this project with your kids, seeing as it's similar to the kind they normally do in grade school. Get tape, small plastic bags, flour, water, and paint.
Our pumpkin has to look real and hard, so we'll give our raw materials that hard and durable feeling by turning them into a paper mâché. That's why you have flour and water in your list of materials.
Once you're done making the mâché, place them in the small bags and start painting. We promise you that by the time you're done, your DIY newspaper "pumpkins" will look as real as any pumpkin grown on a farm.
---
12.

DIY Halloween Chalkboard Tombstones by Made in a Day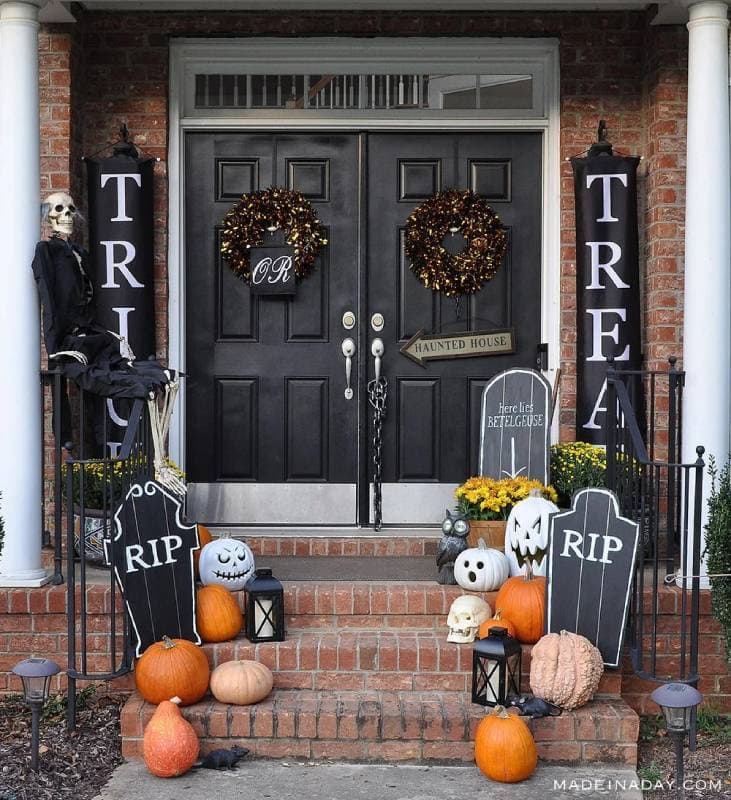 | | |
| --- | --- |
| Difficulty: | Intermediate |
| Time: | 45–60 min |
Halloween is just around the corner. And word on the street is, the souls of the dead are planning to make another cameo this year—as they usually do before they go back to hibernate. If you don't want them to pay you a visit you should do what everyone's doing and wear some costumes!
Don't forget to dress up the yard as well, using these DIY Halloween Chalkboard Tombstones. That's the only way they'll know they aren't invited to your home.
---
13.

DIY 4X4 Wood Pumpkins by Do Dodson Designs
| | |
| --- | --- |
| Difficulty: | Intermediate |
| Time: | 45 – 60 min |
This project will require the 4×4 posts typically used for fencing. Don't buy new ones, as they look better weathered and dried out. Will you have to sand them first before applying the paint? Yes. And have your mask on, together with a pair of protective eyewear and gloves.
The mask and eyewear are supposed to protect you from the chemicals used to treat the posts, while the gloves offer protection from splinters. Building this DIY 4X4 wood pumpkin is somewhat tricky, so exercise caution.
---
14.

DIY Pallet Pumpkin Trio by The Handyman's Daughter
| | |
| --- | --- |
| Difficulty: | Intermediate |
| Time: | 45–60 min |
The main advantage of this decorative idea is that it won't require you to spend big bucks. Conversely, the downside is the work you'll have to put in to bring the project to fruition.
Separating those pallets, sanding, measuring, and cutting all of them into appropriate pieces, is no walk in the park. You'll also be using advanced tools to sketch the pallet pumpkin shapes, and that requires experience.
---
15.

Upcycled DIY Bundt Pan Pumpkins by Les Petites Gourmettes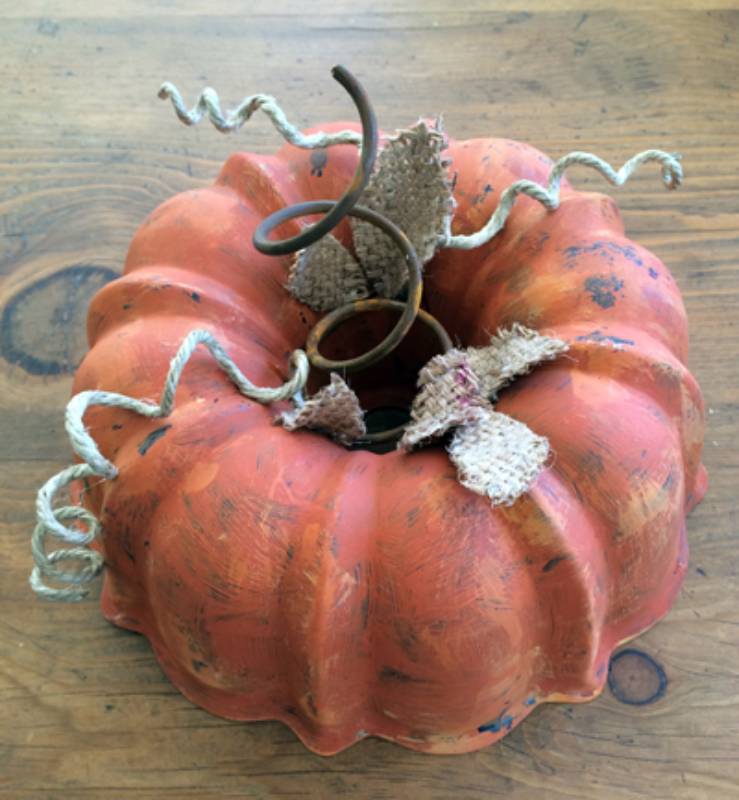 | | |
| --- | --- |
| Difficulty: | Beginner |
| Time: | 45–60 min |
If this doesn't scream clever or creative, we don't know what does. Or have you heard of anyone who's tried to make metal pumpkins by upcycling bundt pans? And the whole process is as easy as peeling a hard-boiled egg.
Start by painting the bundt pan orange, blue, white, or whatever color you prefer. Then add a stem, which can be anything, including a rusty bed spring. You'll need to make the whole thing look real by adding a few leaves and tendrils.

Conclusion
With the plans above you can decorate your outdoor space even if you're working with a shoestring budget. These DIY fall decoration ideas aren't as complex as you may think, too. Anyone can pull them off, even without prior experience. And lastly, fall is the best season of the year.
If you have other fall decoration ideas in mind, and you'd like to share them, feel free to drop us a line. We really love interacting with you guys.
---
Featured Image Credit: Vera Kratochvil, Public Domain Pictures