How Much Does Home Depot Charge to Install a Dishwasher? (2023 Update)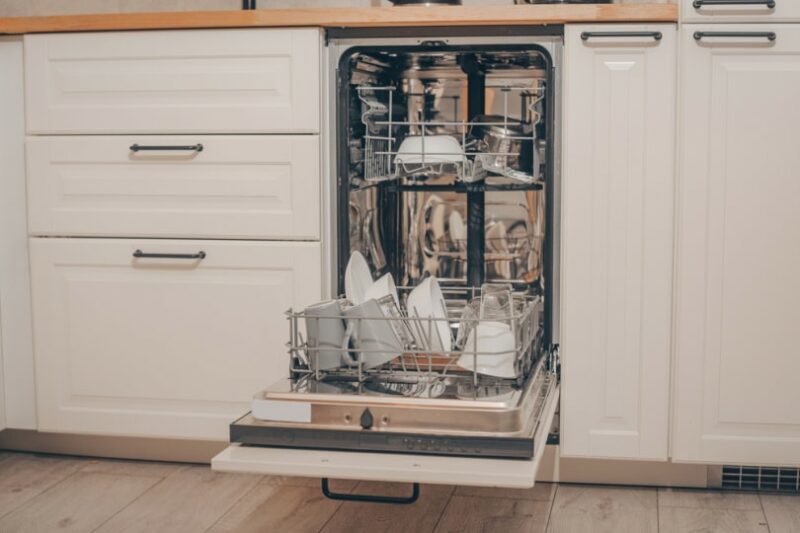 Dishwashers are one of the most convenient appliances you can own, drastically cutting down on time spent scrubbing dirty dishes and cookware. Home Depot sells dishwashers, but you may not also know that they install them too! If your dishwasher costs more than $396, delivery and installation will be free! If your dishwasher doesn't qualify for this offer, installation costs $99, and delivery costs $59. Keep reading as we explain further!

Why Use Home Depot?
Home Depot includes everything from selling you the dishwasher, bringing it to your home, installing it, and cleaning up. They offer financing on products, specialty credit cards, and other offers to help make the process as easy as possible.
If you want a new dishwasher but don't want to hire a separate contractor to do the job, opt for a Home Depot installation. They send a team of qualified and insured contractors who are experienced with dishwashers and other types of installation. They'll also be able to quickly and accurately assess if any additional work needs to be done during the course of the installation.
The catch is that Home Depot installation might be more expensive than buying the dishwasher and hiring an outside contractor to do the work. However, you receive Home Depot's 1-year guarantee on all labor performed and can purchase a separate warranty for the dishwasher.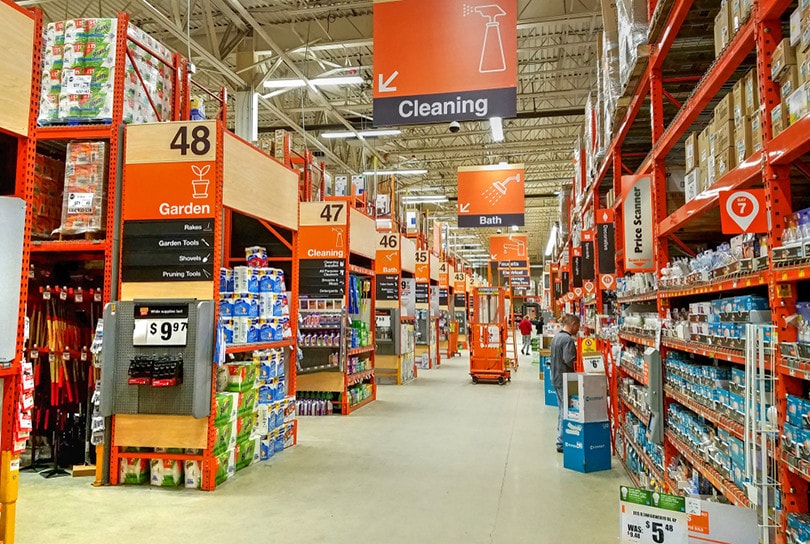 How Much Does Home Depot Charge to Install a Dishwasher?
If your dishwasher costs more than $396, delivery and installation will be free! If your dishwasher doesn't qualify for this offer, installation costs $99, and delivery costs $59. Don't fret, though, because they periodically run promotions that offer free delivery and installation for select brands of appliances, including dishwashers.
Home Depot carries a huge range of dishwasher brands, and prices range from $300–$3,000 or more. If you're not eligible for free delivery and installation, expect to pay $160 on top of the cost of your dishwasher.
While this might not fit into everybody's budget, you have to remember that Home Depot offers various ways to pay for things. If you're in a pinch but are desperate for money, ask a worker if they offer financing for the brand you're looking at.
How to Prepare for Your Dishwasher Installation
You'll need a few things before your delivery arrives. To make this easy, we'll list everything below.
Dishwasher Installation Prep:
An available 3-prong, 110-volt outlet
Access to your water supply line shutoff valve
Measure the area where your dishwasher will go and ensure the product you order will fit in the area.
Clear all obstructions in your driveway and home so the contractors can get in and do their work without interruption or additional headaches
Have a connection kit on hand for your dishwasher
An adult must be present at the time of installation
Any additional components needed for installation should be on hand or in the order with the dishwasher
If this seems like a lot, don't worry. Home Depot will be able to give you instructions on everything that you need for a smooth installation. If you have any questions, their customer service line or any worker at the store will be able to help.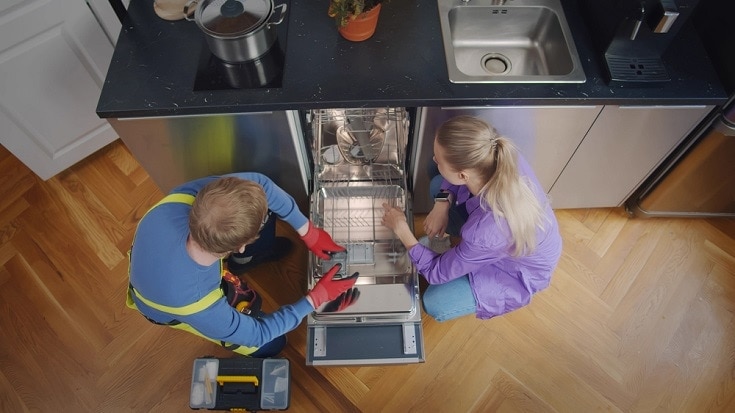 Additional Costs to Anticipate
While it's convenient that Home Depot offers dishwasher installation, it doesn't include everything. In some cases, you'll be charged more if extra work needs to be done, and some local building codes require a plumber or electrician on site. Make sure you ask about these things ahead of time so that you can get them taken care of in advance and avoid worrying about them in the future.
Some of the extra costs you might have to pay for include:
Hauling away your old dishwasher costs a flat rate of $25, but you'll have to disconnect it yourself.
Plumbing work that needs to be done prior to installation. This should be done by a qualified and licensed plumber. Plumbers typically run $50–$120 an hour, depending on your area.
Moving of heavy objects or furniture may incur an additional charge, up to $35 for six pieces of furniture.
What Is the Dishwasher Installation Process Like?
The day before your installation, you'll be sent an email or text with the 4-hour window Home Depot's contractors expect to arrive with your delivery. An adult will need to be present to receive the dishwasher, observe installation, and sign any paperwork. Overall,
the installation process is relatively simple.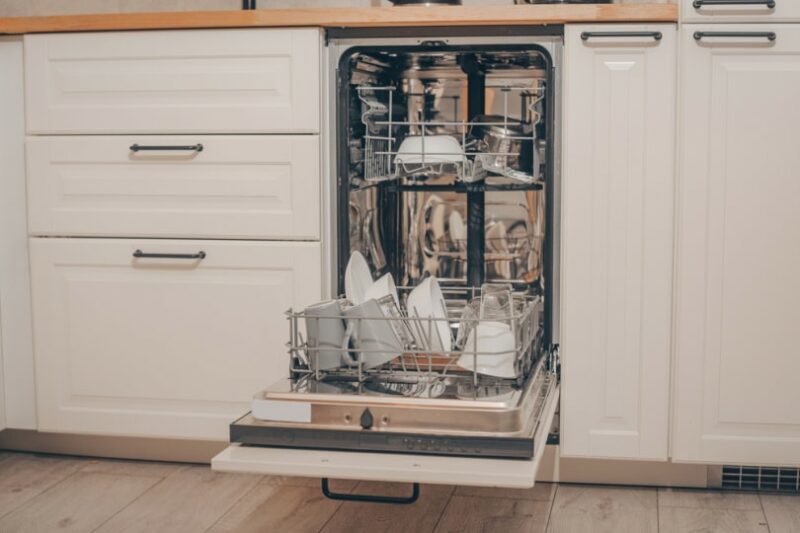 Home Depot Dishwasher Installation Process:
The delivery team will arrive with your dishwasher.
The contractors will bring the dishwasher in, then unpackage it.
At this stage, you should visually observe the dishwasher for signs of damage, defects, or missing components. The contractors will do the same.
The team will move the dishwasher into place, make sure it's level, and connect it to water and electricity sources.
The contractors will test the dishwasher to ensure functionality. Pay close attention to signs of malfunction and raise any concerns with the workers.
The contractors will haul away your old dishwasher (if applicable) and the new one's packaging.
Sign the paperwork ensuring that the dishwasher didn't arrive damaged and that the appliance was working properly after installation.
If you notice signs of malfunction or defects after the installation, you have 48 hours to report these to Home Depot to process a return or exchange.

Conclusion
Home Depot's robust installation service will deliver and install your new dishwasher for free if it costs more than $396. If it doesn't qualify, you'll pay $160 for delivery and installation. This is a great deal considering that you simply order the dishwasher and wait for it to arrive as opposed to searching for and hiring a separate contractor. If you do decide to hire Home Depot to install your new appliance, you'll have squeaky clean dishes again in no time.
You may also be interested in: 
---
Featured Image Credit: More Than Production, Shutterstock