How to Clean Your Shower Head – The Best Way (3 Easy Methods)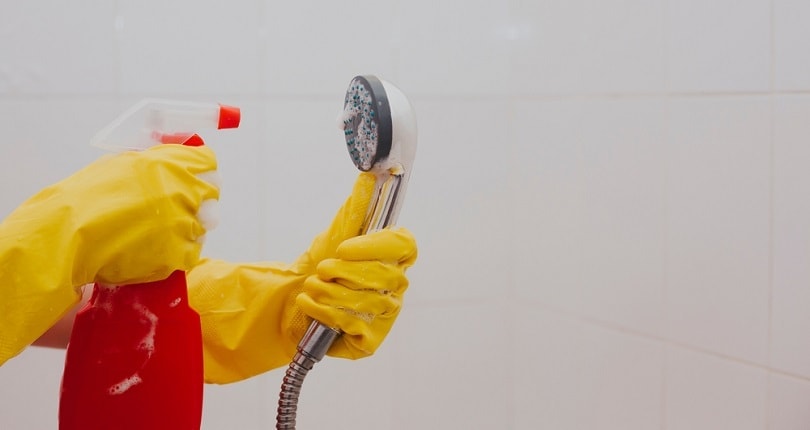 Just like any plumbing fixture, your shower head will begin to lose performance over time. If you have excessive amounts of hard minerals in your water like 85% of homes in the United States, then you'll also likely see some visible signs that it's time to clean your shower head. Often, we don't even notice that the shower has been slowly getting weaker and weaker over the years since it's happening incrementally. Even if you think yours is fine, regular cleaning can do wonders for boosting its longevity and lifespan. But don't fret, it's an easy and quick fix. In this article, we're going to cover several different ways that you can easily clean your shower head and restore function and beauty to a currently clogged fixture.

How to Know Your Shower Head Needs to be Cleaned
There are several signs that your shower head has seen better days. A lack of water pressure from a fixture that used to provide high-pressure spray is a sure sign. Likewise, white residue forming on the shower head is a signal that hard minerals like magnesium and calcium are accumulating inside. Even if you don't notice the decrease in performance, you're likely still experiencing it. Finally, if your shower head is spraying water in several directions, you can be pretty certain that blockages inside are causing it.
Cleaning Your Shower Head
Method 1: Wipe it Down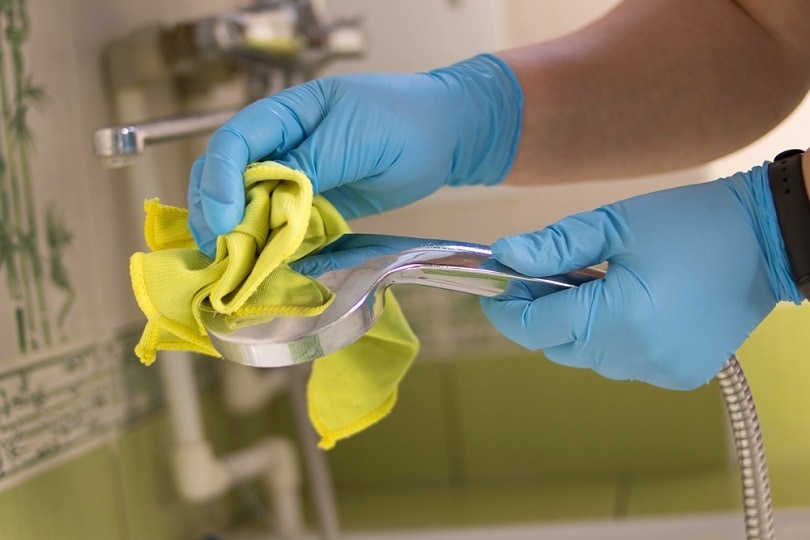 It may seem simple, but if your water doesn't contain high amounts of hard minerals, you may not be experiencing too much blockage inside. Start by using a scrubber sponge and wiping it across the shower head when it's dry. You're trying to dislodge anything that may be stuck in, on, or around, the jets. Once you have wiped as much as you can, try it again using some vinegar on the sponge this time. This will clean the outside of your shower head and return it to a like-new shine. It may also rejuvenate your shower head's performance. But if it doesn't, it's time to move on to some heavier attacks.
---
Method 2: Vinegar Soak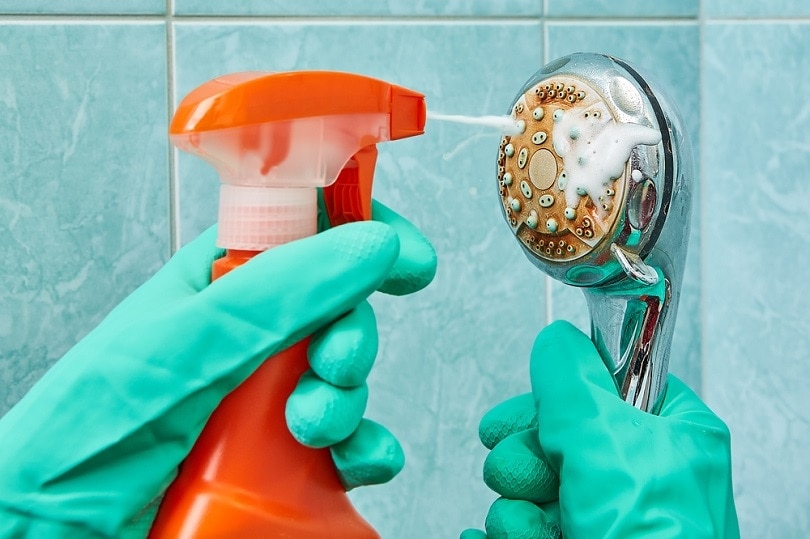 For this method, you're going to fill a plastic bag up with white vinegar. Once it's full, you're going to wrap it around the shower head, making sure that the fixture is fully submerged in the vinegar. Then, using a piece of masking tape, tape the bag in place so it has time to soak and work its magic. We suggest soaking for an hour, but twenty minutes may do if you're impatient. Once you remove the bag, wipe away any loose deposits before you run the shower on hot to flush out anything that's remaining.
If you find that standard white vinegar just isn't cutting it, then you may try a cleaning vinegar that can be much stronger than food grade vinegar. This 45% pure vinegar from Calyptus is a great choice since it's nine times stronger than regular vinegar. It's still safe for humans and pets though since there are no harsh chemicals.
---
Method 3: Limescale Remover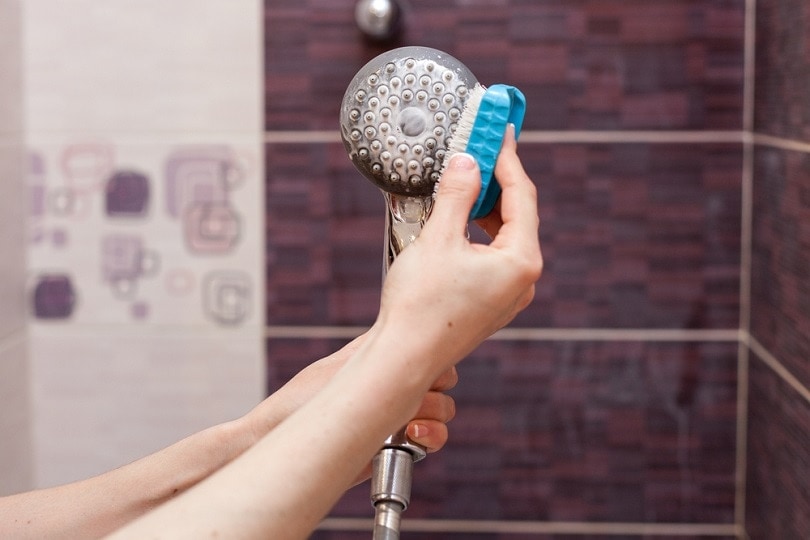 If vinegar still isn't doing enough to remove the stubborn deposits from your shower head and restore good water flow, then you might try something a little harder. Limescale removers can be very effective at removing any minerals that may have accumulated in your shower head. The method is the same as with vinegar, but you'll be using a specialized limescale remover product. The CLR Pro Calcium, Lime, and Rust Remover is a very effective product that we'd recommend trying. Add it to a plastic bag and tie it around your shower head, making sure it's fully submerged in the cleaner. After an hour, remove the bag and run hot water through your shower for a few minutes. Your shower head should be functioning like brand new.
CLR PRO Calcium, Lime and Rust Remover, 1 Gallon Bottle
Industrial Strength: CLR PRO Calcium, Lime and Rust Remover is a non-toxic, multipurpose cleaner designed for bathrooms or bathroom...
Fast Acting: Quickly removes calcium, lime and hard water deposits, soap scum, discoloration and dirt. Cleans and shines stainless...
Multi-Purpose: Versatile cleaner for home or office surfaces. Use on plastic, ceramic tile, glass, stainless steel, faucet and shower...

Conclusion
With hard water being such a common problem across America, most of us are going to deal with a clogged shower head at some point in time. When it happens, there's no need to worry since it's a very simple and easy fix. Try dry wiping with a scrubber sponge first, then wipe with vinegar. Should that fail to do enough, try a vinegar soak with either regular white vinegar or a cleaning specific vinegar like the Calyptus 45% pure vinegar. Your final plan of attack is a specialty limescale remover such as the CLR Pro Calcium, Lime, and Rust Remover. Between these three methods, your shower head should be as good as new again.
---
Featured Image Credit: G.Tbov, Shutterstock