Husqvarna 150bt vs 350bt: Which One's Best? Head to Head Comparison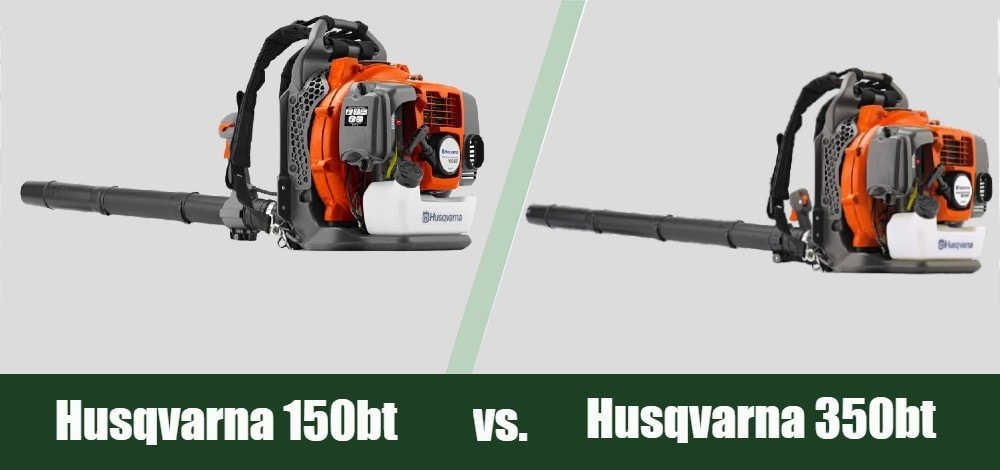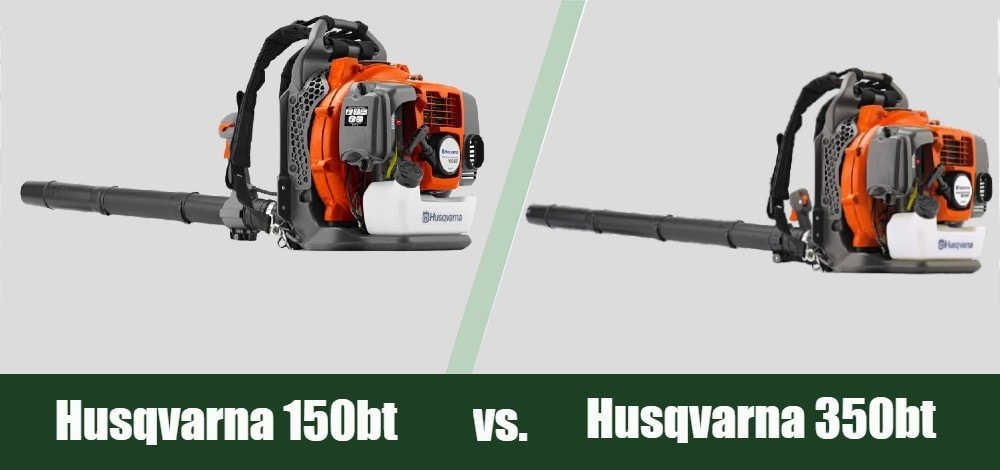 The Husqvarna 150bt and 350bt are backpack leaf blowers, and they share many of the same features and performance statistics, particularly because the 350bt is a descendant of the 150bt. They both have the same 50.2 cc engine that generates 2.1 HP.
They offer roughly the same blowing force, around 20 Newtons, but they deliver it differently. The 150bt offers more intense wind speed but has a lower airflow, which means that it is better suited for stubborn wet leaves that take more power to shift them. The 350bt, on the other hand, has a slower airspeed but greater airflow, and it will make shorter work of large piles of leaves.
Although both models have an ergonomically designed backpack, the 350bt has undergone a couple more stages of evolution and various improvements, so it does a better job of spreading the weight around the user's back. It is better for commercial use when the operator has the backpack and blower on for several hours at a time. This is further supported by the additional features of the 350bt, including cruise control and an adjustable pipe length.
The additional features of the 350bt and its commercial use make it a little more expensive, but for the serious home user as well as the commercial user, it has several features that help it stand out from its older sibling.

At a Glance
Husqvarna 150bt
Engine Power: 50.2 cc/2.1 HP
Airspeed: 251 mph
Air Displacement: 434 CFM
Weight: 22.5 lbs
Fuel Tank Volume: 1.25 liters
Husqvarna 350bt
Engine Power: 50.2 cc/ 2.1 HP
Airspeed: 180 mph
Air Displacement: 494 CFM
Weight: 22.5 lbs
Fuel Tank Volume: 1.25 liters
Overview of Husqvarna 150bt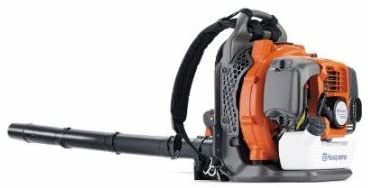 The Husqvarna 150bt is a backpack leaf blower. It is designed for the experienced homeowner or the commercial user, and it has the features and power that befits its target market. The backpack is ergonomically designed to be comfortable and effectively spreads the blower's weight across the wearer's chest, shoulders, back, and upper body.
The 150bt has a 251-mph airspeed, which is substantial and can prove effective even in removing wet leaves that stick to surfaces. The Husqvarna 150bt has an air volume of 434 cubic feet per minute (CFM), which is reasonable but not ground-breaking. If you have a large area to cover, it may take longer to clear rather than something with less speed and more volume, like the Husqvarna 350bt.
The 150bt benefits from Husqvarna's X-Torq engine, which the manufacturer claims produces 60% fewer emissions and has 20% improved fuel efficiency.
Pros
251 mph airspeed
X-Torq 50 cc engine
Ergonomic, contoured backpack design

Overview of Husqvarna 350bt
The Husqvarna 350bt is a very similar device to the 150bt. It has an X-Torq 50.2 cc engine, so it is an energy-efficient and powerful motor. It also has an ergonomically designed backpack and padded waistbelt, but it has undergone a few improvements since the day the 150bt was introduced, and it does an even better job of spreading the 22.5-pound weight around the body.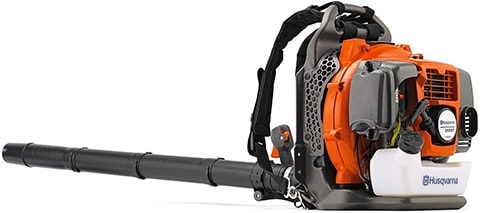 The Husqvarna 350bt has an air velocity of 180 mph and a flow volume of 494 CFM. This increased flow volume ensures that you can quickly cover large areas and move mountains of leaves. Although the velocity could be more powerful to shirt heavier weights and more stubborn wet leaves, it should still be more than enough for commercial use.
Where the 350bt excels is in some of its extra features. The pipe of the blower can be extended by adding extra sections. It also has an air purge bulb. It should start more efficiently and, hopefully, on the first pull.  Finally, the cruise control feature lets you keep the blower at a particular throttle level, which negates the need to hold down the trigger, reducing user fatigue and helping control fuel consumption.
Pros
494 CFM airflow volume
X-Torq 50 cc engine
Cruise control
Air purge
---
What are the differences between them?
Performance
Edge: Draw
The Husqvarna 150bt and 350bt have different airflow velocity and volume ratings. While the 150bt displaces less air, it does so with greater force, which means it can be used to clear wet grass cuttings and damp leaves stuck to the ground. It will take longer for dry leaves because it will only be able to move a relatively small amount at a time.
The 350bt has a slightly lower velocity but greater displacement. It will make short work of a larger area, but it may struggle with some stubborn wet leaves and other debris that is difficult to move. There isn't a winner here because it depends on what you need from your backpack leaf blower. Some will prefer the raw power of the 150bt, while others will prefer the stamina of the 350bt.
Price
Edge: Husqvarna 150bt
The Husqvarna 150bt is a little older than the 350bt, which is why it costs about 20% less. However, the prices are similar, and you get more features and extra comfort from the 350bt, and the extra money may be worth the additional features.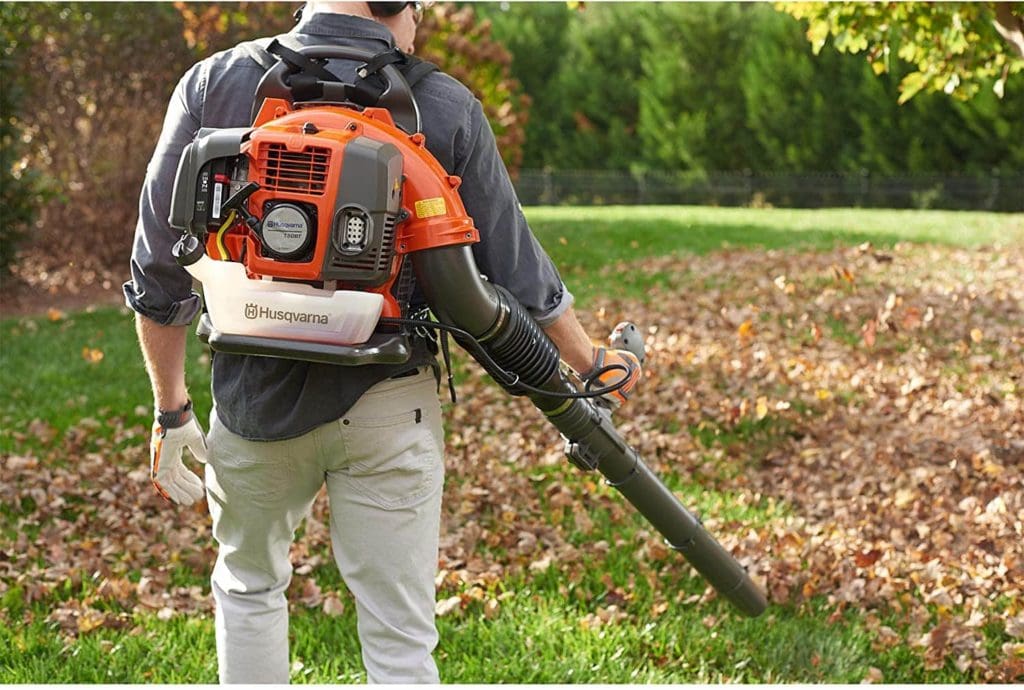 Extra Features
Edge: Husqvarna 350bt
The Husqvarna 350bt has a few additional features that help it stand out. In particular, it has cruise control. This enables you to set the blower to a particular throttle level and maintain the setting without having to hold down the throttle. It reduces user fatigue, can help minimize fuel consumption, and is easier to use.
It also has an air purge system, which enables you to remove air from the pipes and should make it easier to start. With the 350bt, you can also extend or minimize the size of the pipes.
---
What the Users Say
We have researched what others are saying about both models of Husqvarna backpack leaf blower so that you can get a clear picture of the two devices and how well they perform.
Buyers were impressed with the power of both models, but several users have said that the pipes need to be firmly attached using a silicone spray. The 150bt is praised for its ability to clear wet and dry leaves.

Conclusion
The Husqvarna 150bt and 350bt are backpack leaf blowers. They are powerful and designed for comfort and long-term use, and although they are similar in many respects, they differ in critical ways. Most notably, the 150bt moves a smaller volume of leaves but with greater force, and it is suitable for wet leaves and grass cuttings, while the 350bt moves more but has slightly less ballistic force.
It is the 350bt, thanks to its host of additional and value-added features, that comes out on top. It is not only better for commercial use but also for the home user.