Husqvarna 240 vs Stihl 170: Which One's Best?
Rating
Image
Product
Details

The Winner

Husqvarna 240

Comfortable
Light and portable
More than enough power to do the job
CHECK PRICE

The Runner-up

STIHL 170

Comfortable and safe
Very lightweight and precise
Reliable once up and running
CHECK PRICE
Yankees vs. Red Sox. Ford vs. GM. Coke vs. Pepsi. McDonald's vs. Burger King. These brand wars all have their devoted, passionate partisans. We'll add Husqvarna vs. Stihl, a brand war that touches a more specialized subset of American consumers — users of chainsaws. Both brands have their devoted partisans who insist that the quality of the other has begun to flag in recent years, while theirs is as excellent as the day of the company's founding. That includes today's comparison between each brand's respective lightweight, highly portable chainsaws intended for pruning and other light work around the yard. Once you get past the brand loyalty, you find that both saws aren't all that different. Today, price and availability are why we're handing the trophy to the Husqvarna 240.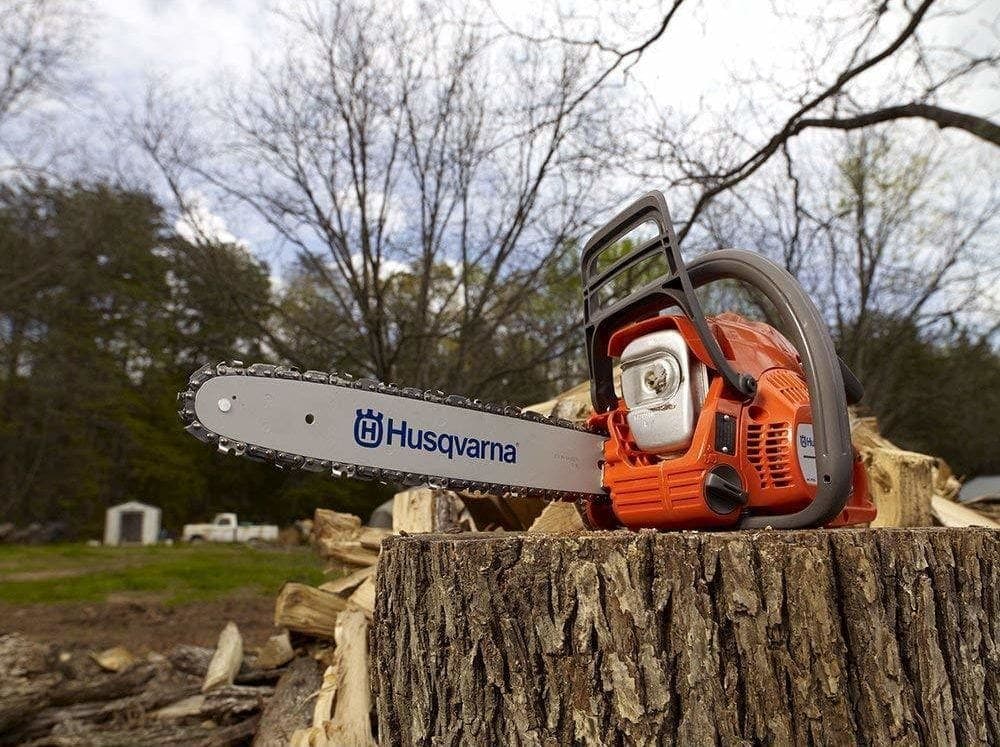 What's the difference between them?
Performance
The Husky, with a 38.2 cc engine, is noticeably more powerful than the Stihl's 30.1 cc engine. For what these saws are designed for, as long as you use a sharpened blade, the difference is pretty marginal. These are chainsaws built for portability and precision, not raw power. Both deliver pretty equitably in performance.
Portability
For chainsaws intended to do pruning and light work around the yard, portability is almost as important as performance. You don't need to overpower limbs, but you do need to cut them right where you want to cut them. The Stihl weighs eight pounds without cutting attachments, while the Husqvarna weighs just over 10. This isn't do-or-die territory, but over the day it could change the user fatigue dynamic slightly, to where Husqvarna users would require a little more downtime for rest.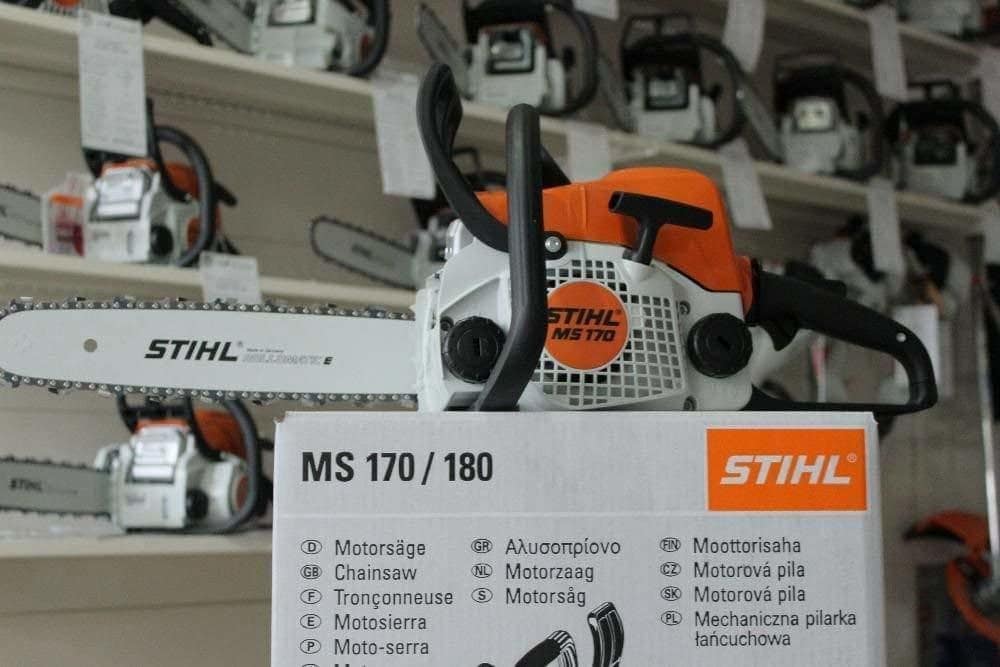 Durability
We like Stihl's smart carburetor that adjusts the oil/fuel mixture depending on how much air is getting to the filter. That means it can operate for longer in a dust-heavy environment before you need to take a break to clean it out. However, we got basically the same function out of Husqvarna's air injection system, which traps large particles before they get to the air filter. While taking different paths, both saws end with performance that is unimpeded by ambient debris for longer.
Design
Both saws are very similar in their rear-handle designs and their features to reduce user fatigue. The Stihl's slightly lighter weight gives it a slight edge, because over a day, that will lead to lower user fatigue. That advantage is small compared to the fact that both saws have similar features to reduce vibrations during use. Those vibrations cause more fatigue than raw weight.
Price
There are two primary ways that price figures into a purchase decision. Either the two items being compared are otherwise nearly identical in performance, or the price difference is so great that it makes performance issues secondary. In this case, it's the first. Both saws deliver in reliability, ease of use, and overall performance. Both would serve you well. However, Husqvarna's is less expensive, to a degree that won't be bridged by a short-term hiccup in sticker price. You might be able to cobble together discounts, rebates, and store/manufacturer sales to eliminate this as an effective difference-maker, or you might be able to find a refurbished model or a model with aesthetic defects.
Availability
People are attracted to old-fashioned notions like mom-and-pop stores and local retail. Lots of people like Stihl because the brand hasn't sold out to big box stores. This, to them, smacks of quality. Selling out not only means no personal relationship with the salesperson, but also that the manufacturer had to reduce quality to meet higher demand. There's a term for this idea: outdated. Stihl doesn't sell through big-box retail outlets, and you can't buy its chainsaws on the Internet. That makes it a special hassle to get Stihl products, and it's based on an obsolete loyalty to nostalgia. The 240 gets the nod here.
Quick Rundown of Husqvarna 240
Husqvarna's 240 is an excellent chainsaw for light work like pruning limbs. It's light, accurate, and comfortable. It's also less costly than its competitor and, most importantly, more readily available. You don't need to spend time hunting for a licensed retailer and hoping there's one nearby. If you can find it at one, that's great. If you can't, you can still order it online and have it brought to you.
Pros
Light and portable
Comfortable
More than enough power to do the job
Cons
Startup can be difficult
Read and follow owners' manual carefully
Quick Rundown of Stihl 170
CHAINSAW STIHL MS 170 NEW ORIGINAL 1.3kw BEST CHOICE
STIHL Quickstop Chain Brake: STIHL Chain Saws are equipped with a chain stopping system designed to reduce the risk of injury in...
Anti-Vibration System: STIHL has developed a system for minimizing the vibration levels of handheld outdoor power equipment. This...
Ematic Lubrication System: When used with STIHL OILOMATIC saw chain will provide proper lubrication and less oil consumption than...
In a globalized marketplace, there is no reason for home chainsaws to be available only through licensed retailers. Stihl still goes that route. It's a great saw, but it's not so much better than the Husqvarna that it makes the extra hassle worth it. These models are basically the same saw. The difference is that Husqvarna's business model is superior.
Pros
Reliable once up and running
Very lightweight and precise
Comfortable and safe
Cons
Difficulties getting started
More expensive
Only available from licensed dealers, limited availability
Conclusion
We'd all like to think that the better chainsaw is the one that can just flat-out outperform the competitor. That's not really the case here, however. We have to give the nod to the chainsaw that is more affordable, and even more importantly, more easily available. People are attracted to the idea that a saw you can look at before purchase is always a better buy, but that's not really the case. Perfectly serviceable, reliable power tools are available at big box retailers and even on the Internet for less money. In this case, Stihl's price and relative difficulty in buying one are deal-breakers.
Related Reads: