Husqvarna 455 Rancher Chainsaw Review 2023 – Pros, Cons, & Verdict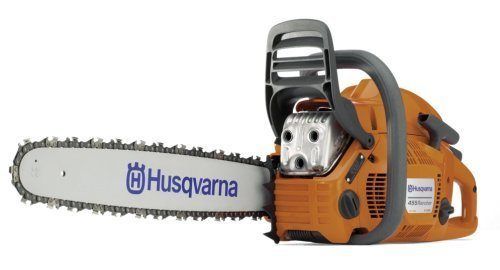 We give the Husqvarna 455 Rancher Chainsaw a rating of 4.8 out of 5 stars. 
Build Quality: 4.8/5
Power: 5/5
Features: 4.8/5
Price: 4.5/5
Review Summary
Like most Husqvarna chainsaws, the Husqvarna 455 Rancher Chainsaw is dependable and powerful. It is perfect for both homeowners and professionals. It isn't terribly expensive but is plenty suitable for most uses. This is an upper-tier chainsaw by every stretch of the imagination. If you need to cut down larger trees, this chainsaw has you covered.
We loved that it was packed full of safety features, which is a big deal when it comes to chainsaws. Whether you plan on using it a little bit or a whole lot, this chainsaw has your back.
Husqvarna 455 Rancher – A Quick Overview
Pros
Plenty of safety features
Vibrates little
Simple chain tightening system
Powerful engine
Easy to start
Lightweight
Cons
Oil release system is not adjustable
Small fuel tank
Specifications
Specifications
Brand: Husqvarna
Model: 455 Rancher
Engine power: 5cc
Power output: 49 HP
Weight: 8 lbs
Length: 20"
Power speed: 9000 RPM
Fuel capacity: 88 fluid ounces
Sound level: 112 dB
Safety Features
Anytime you're using something powerful enough to cut down a tree, there is a level of risk involved. Chainsaws can be dangerous. However, they are quite a bit less dangerous than they used to be. Over the years, many companies have come out with new safety features that have made chopping trees much easier than it used to be.
This chainsaw is packed full of safety features. It has an inertia-activated chain system. If there is a sudden, jerking movement, the saw automatically turns itself off. This is about as safe as it gets. With this saw, you don't have to worry nearly as much when it comes to kickback.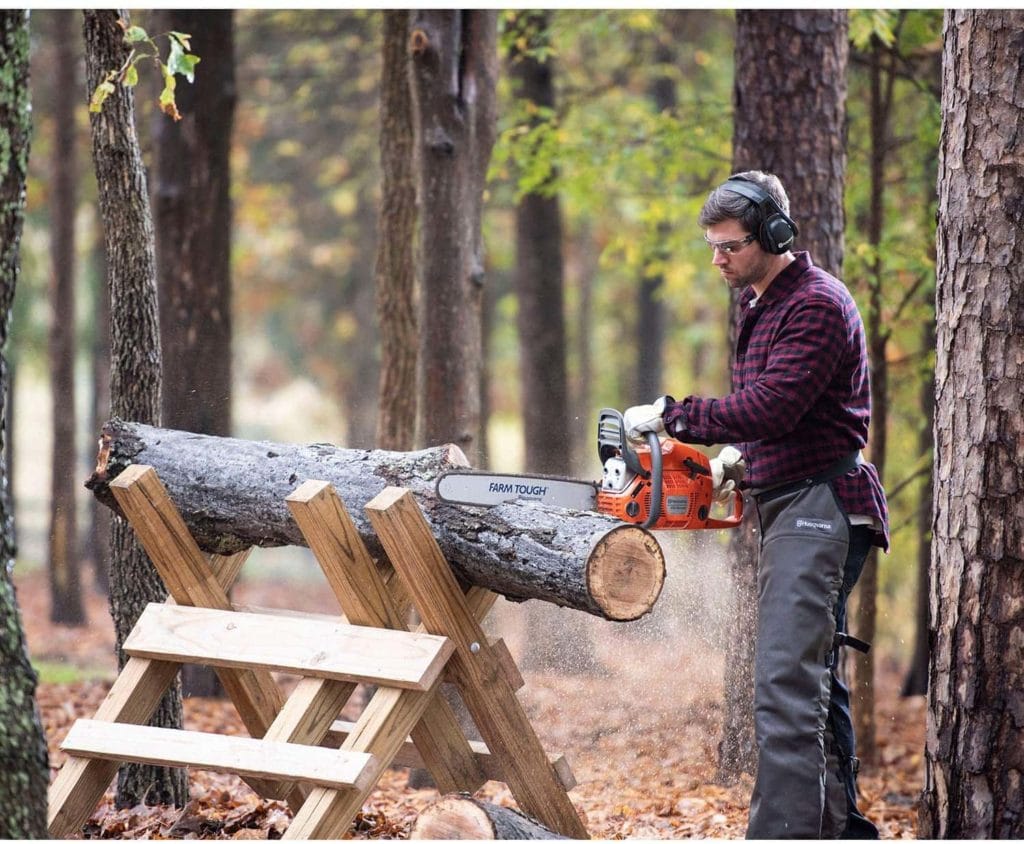 Powerful Engine
This chainsaw's engine is quite powerful and suitable for most purposes. It is also designed to stand up against strict regulations. The engine keeps exhaust to a minimum and operates very cleanly. While using this saw, you will not be breathing in tons of noxious fumes. The engine is more efficient, which allows it to create less exhaust, go through fuel slower, and remain powerful.
Truthfully, this saw has one of the most powerful motors on the market.
Easy to Start
This chainsaw is quite easy to start. Many chainsaws are somewhat difficult to start – even today after tons of technical advancements. However, this chainsaw is different. It is quite easy to start and takes on a minute or two to get it up and running. While professionals likely won't appreciate this feature very much, it is awesome for beginners. If you don't have much experience starting chainsaws, then this one is a great option for you.
Poor Customer Service
Sadly, this chainsaw is not backed up by solid customer service, it is actually quite poor. There are many reports of the company's customer service not responding or taking months to respond. If you have a problem with this chainsaw, this can cost you hundreds of dollars.
While defects aren't common, they happen occasionally with every product. If the chainsaw comes damaged, you likely won't be able to return it without much trouble.

FAQ
Is this a professional-grade saw?
It can be considered a professional grade saw. If you're a professional who occasionally cuts trees and bushes, this is plenty for your needs. However, this saw is a bit less durable and heavier than a true professional saw.
With that said, it is also considerably cheaper than a professional-grade saw. It is a great value for the cost.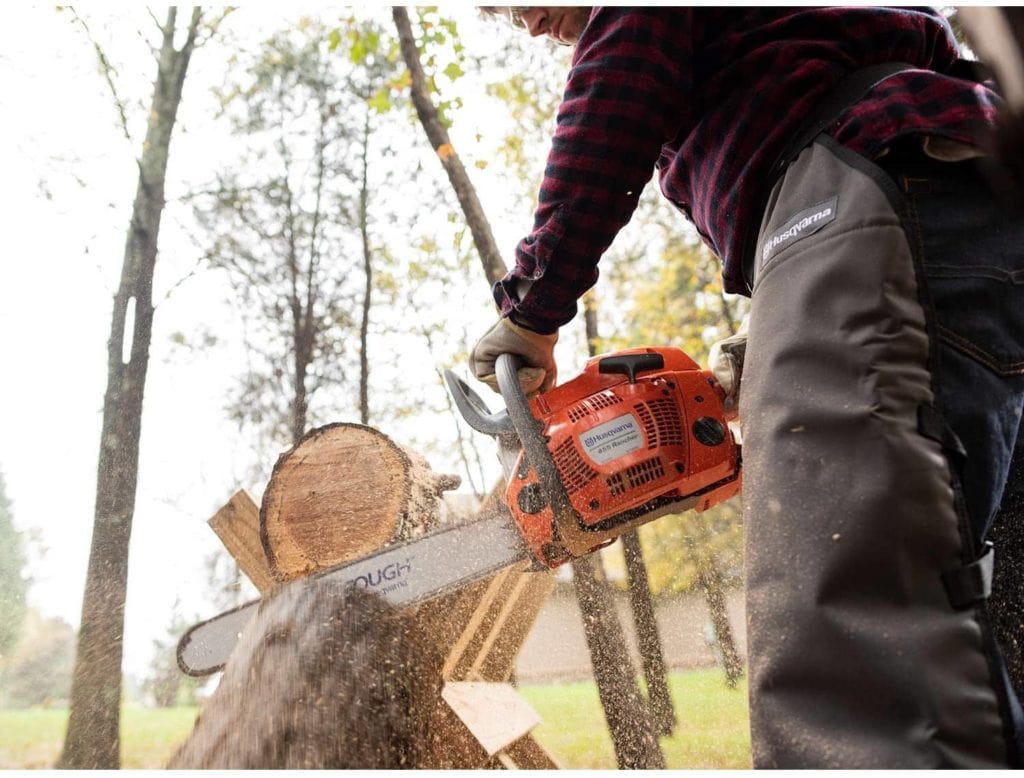 What size bar can be used with this chainsaw?
It is not very clear from the description what size bars this chainsaw can use. However, there are 24-inch bars being sold by this brand that list the 455 Rancher as a possible fit.
Beware, as you increase the length, the engine may bog down a bit more.
Does a bar come with this chainsaw?
Yes. A 20-inch bar comes with this chainsaw. However, you can purchase a slightly longer bar if you wish as a replacement.
What type of warranty does this chainsaw have?
It has a 2-year-warranty. You can extend this warranty at the time of purchase. However, it is actually very difficult to act on this warranty. Their customer service department is not responsive in the least and there are not many repair shops that work on this tool. Because of this, the warranty isn't actually that helpful.
What the Users Say
Many customers reported that this saw was easy to handle and took care of most trees and limbs without issue. It has great power and can cut through most materials quickly. There are no obvious defects with the chainsaw; everything works as it should.
The chain brake works quite well, according to a few users who unfortunately ended up testing it. There are many reports of potential injuries being avoided thanks to this great safety feature. When the feature does engage, it is easy to unlock the chain and get back to work.
The only complaints involved the company's customer service. Many people reported defects but then had difficulties contacting the company to act on the warranty.

Conclusion
This is a solidly built saw. It has an efficient motor that is extremely powerful without running through tons of fuel. It can be used with a variety of different bars and comes with a 20-inch bar, which is suitable for most purposes. It comes with amazing safety features that have likely saved quite a few fingers.
There aren't many problems associated with this chainsaw. In fact, the chainsaw itself is fine. The only issue seems to be with the company's customer service. The warranty is difficult to use because the customer service department is not particularly responsive.
• See als0: How to Grow Jasmine Indoors – 5 Tips, Tricks, & Guide 
Related Reads: