8 Most Dangerous Cities in Colombia (2022 Update)
Note: This article's statistics come from third-party sources and do not represent the opinions of this website.
Colombia is a beautiful country, with lush jungles and stunning vistas. It also has a great culture that many travelers are looking to explore. Although Colombia is a fantastic place to visit, there are certainly some cities you should avoid. Due to problems like drugs and poverty, crime rates are incredibly high in some parts of Colombia.
If you're looking at visiting Colombia, check out our list of the 8 most dangerous cities in the country.
The 8 Most Dangerous Cities in Colombia: A Quick Look
1.

Bogotá, CO
Population: 11,344,000
Average monthly salary: $326
Number of homicides in 2021: 1126
Bogotá is the biggest city in Colombia, and also the country's capital. The population in Bogotá is 11,344,000 and almost 60% of Colombian people live there. It's a beautiful city filled with history and friendly people. The nightlife is excellent, and there are plenty of job opportunities.
Although the city is stunning and friendly, Bogotá still has a very high crime rate. It's a city with one of the highest homicide rates in Colombia. The most common crimes are murder, armed robberies, assault, pickpocketing, corruption, drug dealing, and kidnapping. The average monthly salary is roughly $360, and poverty levels in Bogotá are rising and pulling criminal activities along. If you still decide to visit Bogotá— regardless of its safety—be careful not to walk alone at night, always have a card instead of cash, and try not to look too flashy, this will help make your visit to Bogotá much safer.
---
2.

Medellin, CO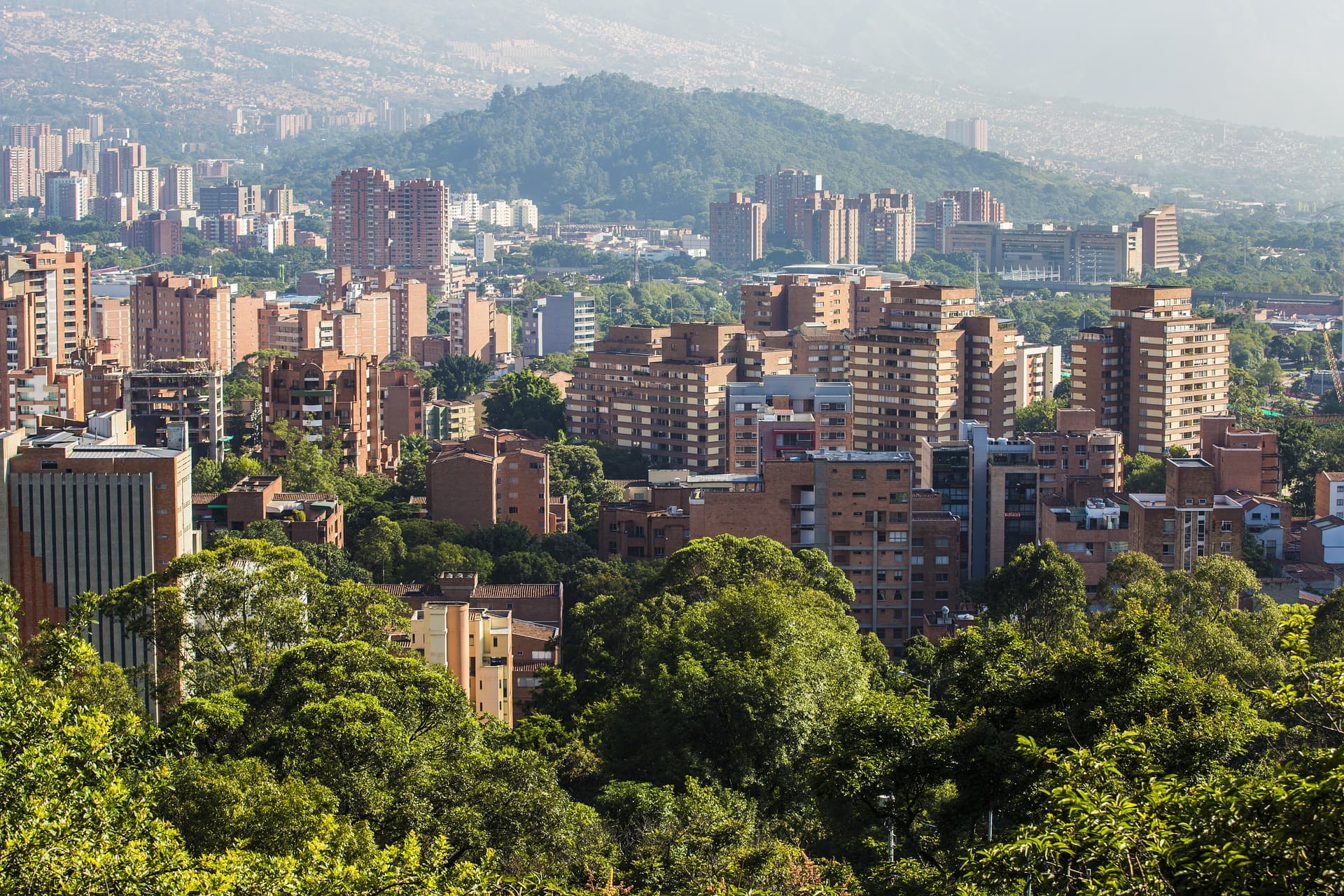 Population: 4,068,000
Average monthly salary: $395
Number of homicides in 2021: 403
Medellin is the second-largest city in Colombia, and there are a lot of crimes occurring daily. Assault and muggings happen fairly often, followed by crimes such as armed robbery, vandalism, vehicle theft, and corruption. Over 40% of people living in Medellin live in poverty, likely enhancing the crime rate. Medellin is incredibly unsafe at night, so you should never walk alone when it's dark, and the most common targets are young people aged 18 to 24 years
Medellin also has an issue with drug trafficking and home violence, but from what we see, the crime rates in Medellin are dropping compared to recent years. Still, 2021 was an excellent year for Medellin since there were 126 days without homicides which is not very common.
---
Population: 468,000
Average monthly salary: $315
Number of homicides in 2021: unknown
Buenaventura is a port city in the department of Valle de Cauca. Although the actual meaning of the city's name is good fortune, this city is not so fortunate when it comes to crime. In 2021, there were multiple reports of homicides, kidnapping, and extortion. Small criminal organizations run the city, so innocent people are often caught in the crossfire.
The most famous criminal organizations in Buenaventura are Los Shotas and Los Espartanos. These criminal groups are constantly trying to enroll young adolescents and teenagers into their shady businesses. Since Buenaventura is a port city, it also has high drug trafficking rates that enhance the violence. In 2021, Buenaventura had an approximate unemployment rate of 33%, which likely led people to get involved in criminal activities to survive. There have been reports of missing people that have still not been found today.
---
4.

Santiago de Cali, CO
Population: 2,836,747
Average monthly salary: $333
Number of homicides in 2021: 1052
Santiago De Cali, just known as Cali to residents, is the capital of the Villa De Cauca department and the sports capital of Colombia. It seems that Cali crime rates keep getting higher year by year. The most dangerous part of Cali is the so-called "Aguablanca" area, where most crimes happen annually. There are numerous gang crimes, robberies, drug trafficking, and assaults.
In 2021, May was the deadliest month in Cali, with over 177 homicides. The city was shaken up when COVID hit, and since a lot of people lost their jobs, they may have had to resort to crime in order to support themselves and their families. The majority of crimes happen in communes, which are the center of activities for over 80% of Cali gangs. Until Cali stops the bloodshed and the violence in the city, this is not the place in Colombia that you want to visit.
---
5.

Barranquilla, CO
Population: 2,325,000
Average monthly salary: $326
Number of homicides in 2021: 302
Barranquilla is a Colombian city located near the Caribbean Sea, and it's the fourth most famous city in Colombia. Barranquilla has become a very poor city, and over 41% of the citizens live in poverty. There have been significant increases in kidnappings, carjackings, homicides, and street robberies. Most gangs are located in the city's southwest, where most violent crimes occur.
Barranquilla is a city known for drug trafficking due to the port, which makes trafficking a lot easier. Most cartels traffic marijuana and cocaine, which often leads to wars between cartels. You should undoubtedly avoid Barranquilla—especially the downtown area.
---
6.

Palmira, CO
Population: 318,728
Average monthly salary: $315
Number of homicides in 2021: unknown
Palmira is a Colombian city located in the Valle de Cauca department. According to reports from last year, Palmira was among the worst places to live in Colombia. It's a medium-sized city with great history, but unfortunately, it's filled with crime. Homicides and violent crimes are not uncommon, and unfortunately, even children are often victims of crime in the city.
Over the years, Palmira has had incredibly high homicide rates that were way above the national average. The violence mostly happens due to drug trafficking which creates rivalries between cartels. Since Palmira is close to Cali, gangs find it a perfect place for crime and trafficking drugs to other parts of Colombia and the world.. Overall, like other cities on this list, it's best to avoid Palmira until the situation improves and the crime rates drop.
---
7.

Arauca, CO
Population: 82,752
Average monthly salary: $310
Number of homicides in 2021: unknown
Arauca is the capital of the Colombian Arauca Department. The total number of homicides in 2021 in this Colombian city is unknown, but there are constant reports of violence and other criminal activities. In 2022, there have already been reports of murders of innocent people who were victims of armed clashes between gangs. In Arauca, the gangs control people through kidnapping, threats, child recruitment, and even murder.
Also, sexual abuse and rape are not uncommon in this Colombian city. Since it's on the border with Venezuela, Venezuelan gangs work in Arauca too, which increases the crimes and clashes between gangs. Another common issue in this city is drug trafficking, and although police are present, many police officers are also corrupted. So, this is another Colombian city you shouldn't visit, at least for now.
---
8.

Tumaco, CO
Population: 203,971
Average monthly salary: $314
Number of homicides in 2021: 258
Tumaco is a city located in southwest Colombia, close to the Ecuador border. It's home to many dangerous groups and drug traffickers, making the city unsafe. The most common crimes happening in Tumaco are murder, theft, and drug trafficking. The homicide rates have dropped compared to past years, but they are still high for a city this size.
Like other Colombian cities, gangs try to enroll young people and teenagers in their criminal activities. If they do not accept, they commonly get hurt or murdered, and even their families are at risk. Other frequent crimes are kidnapping and sexual violence. The local police are trying to prevent these issues from happening, but corruption is rife due to poverty and security is very low.
Realted Read: 25 Most Dangerous Cities in the World
How has the crime scene in Colombia developed over the years?
It's difficult to track the development of the crime scene in Colombia. This is because the numbers keep rising and dropping year on year, making it hard to keep track of everything that's happening.  In some areas of Colombia, the crime rates keep getting higher, while they are dropping in others.
How safe is Colombia for tourists?
Colombia isn't necessarily unsafe for tourists, but it depends on which city you are visiting. Some places are not safe for tourists and they should avoid them, while others can be great, but you should be cautious either way. Before you decide to travel to Colombia, investigate the city you plan to visit first. Try to avoid the extremely dangerous places, but Colombia is a wonderful country, and there are great places to visit.
Which places in Colombia are the safest?
Colombia has dangerous cities, but of course, there are safe places you can visit, including:
Salento
Palomino
Minca
Barichara
There are the safest cities in Colombia, although there are some other towns that are good for tourists too.
How to Stay Safe in Colombia?
Some easy tips will help you stay safe in Colombia. First of all, try to learn at least basic Spanish, which will help you to fit into the environment. Try to blend in with the locals, don't wear flashy clothing, and never have too much cash with you. If possible, avoid walking on the streets at night and avoid public transportation. Of course, if you choose to take a taxi, make sure it's a reputable company. Be cautious when drinking in clubs and if someone tries to rob you, it might be best to avoid resisting and avoid bigger possible problems.

Conclusion
Colombia is a lovely country with amazing history and beautiful cities. There are dangerous cities and areas, though, so you should educate yourself on each place before deciding to visit. Overall, if you do not engage in any criminal activities, you should be fine, but it's best to avoid the cities that we have listed. Safety should always be your top priority so take our list into consideration before visiting Colombia.
---
Featured Image Credit: Pixabay