WEN 4212 Drill Press Review 2023 – Pros, Cons, & Verdict
We give the WEN 4212 Drill Press a rating of 4.9 out of 5 stars. 
Build Quality: 4.8/5
Power: 4.9/5
Features: 4.9/5
Price: 4.8/5
Review Summary
The WEN 4212 is an inexpensive, 10-inch variable speed drill press. It is designed for use by DIYers and keen home users, although its range of features and decent power mean that it wouldn't be out of place in some workshops.
It has a 10-inch swing and variable speed settings between 530 and 3,100 RPM. Speed is altered by simply moving the lever, rather than having to move belts from one position to another. The depth adjustment gauge, LED screen, and a bevelling worktable are among the other features of this surprisingly feature-packed drill press.
Founded in 1951, the US-based tool manufacturer WEN is a popular company that has amassed thousands of loyal followers. It is popular with amateurs and professionals.
The 4212 is more expensive than earlier models but still falls within the budget range for home workshop owners, and it is a little heavier and more cumbersome than some.
WEN 4212 – A Quick Look
Pros
Good quality 4.2 Amp motor
Large worktable
Simple variable speed control
LED screen for speed display
Tilting worktable
Cons
Quite cumbersome
Expensive compared to budget models
Specifications
Specifications
Brand Name: WEN
Model: 4212
Motor: 4.2 Amp
Swing Distance: 10"
Speed: 530 – 3100
Worktable Bevel: 45°
Stroke Length: 2⅜"
Chuck Size: ½"
Table Size: 8" x 7⅔"
Warranty: 2 years
Easily Adjustable Variable Speed
The WEN 4212 is a variable speed drill press. It has five speed settings between 530 and 3,100 revolutions per minute. Although the exact speed you use will be dependent on the size of the bit and the density of the material you're drilling, metals like steel require lower speeds than woods. The adjustable speed range of this drill means that it is suitable for a range of materials including metal and wood, although you may need specialist machinery for more specialist work.
While some drill presses, including models that the WEN 4212 replaced, required the removal of a cover and the manual movement of belts from one pulley to another, the WEN 4212 does not have this requirement. Changing the speed is as simple as changing the lever to your desired speed.
Once you've set your speed, the LED display screen is a convenient feature that will display the current speed that you're drilling at. Whether you need to know the impact of the drilled material on the speed of the bit, or you want to check without having to see where the dial is, this is a convenient addition to the press.
Convenient Worktable
A drill press is only as effective and beneficial as the worktable that it includes. Thankfully, the 4212 has a good quality, sturdy, and adjustable worktable. Its workspace measures 8 inches by 7⅔ inches. This is more generous than a lot of other drill presses, and its size means that you won't have to try and fashion some kind of extension. The table should be large enough to work on.
The worktable is also beneficial because it can be adjusted and moved according to your needs. Of particular note, is the ability to bevel or tilt the table up to an angle of 45° left or right. The measurements of this tilt are not laser-accurate, and you may find that you are 1° or 2° out, so you should always measure properly before assuming the bevel to be correct. However, this bevelling and tilting ability is another way in which you can customize the work you do without having to try and fashion your own alterations to the table.
Plenty of Value-Added Features
The WEN 4212 is described as being suitable for home use, and this is true, but that doesn't mean that it is basic or lacking in function. As well as having the tilting table, speed display screen, and adjustable speed dial, you will also find a host of other features. For example, the 4212 has an onboard laser that can be used to pinpoint the area you are drilling. Again, you will need to check the precision of the laser, but it is a very handy little addition to a drill press.
The depth adjustment gauge allows you to limit the distance that the spindle travels so that you can precisely measure the depth of any hole that you drill. There's even onboard storage for the chuck key, which is a time-saving and money-saving addition because we have all lost keys to our favorite tools.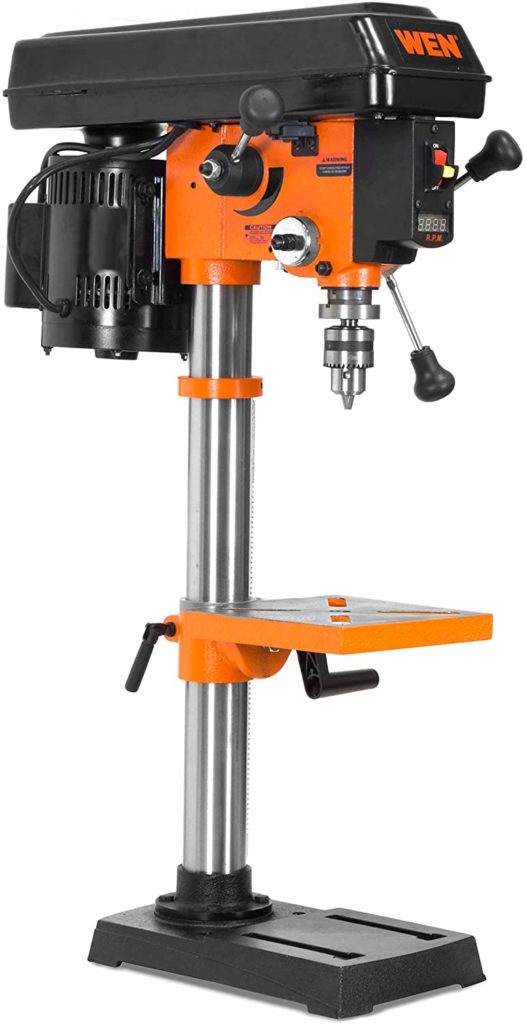 Heavy and Quite Large
There are a lot of features to like about the WEN 4212, but it isn't without its problems. It does lack a little precision. The beveling angle and the laser light may be slightly out, but this can be fixed with some fiddling, or through proper and accurate measurements using the proper equipment.
What is difficult to change, however, is the size and heft of the table. To some people, this will be advantageous. It gives you the confidence that you need when swinging the drill down. For others, it will be an inconvenience, and it means that you will want to situate the drill press permanently in the position you choose, rather than looking to move it about.

FAQ
What's the difference between the WEN 4212 and the 4210?
The WEN 4212 is the bigger sibling of the 4210. It is more powerful, with a 4.2 Amp motor compared to a 3.2 Amp version. It has increased capacity, and with the WEN 4210 you have to move the pulley belt manually to change the speed of the drill. With the 4212, you only have to turn the variable speed dial. The WEN 4212 will also drill to a depth of 3", compared to the 2" of the 4210, but the 4212 is more expensive
Does it have a work light?
The WEN 4212 does not have a work light. It does have a laser, but this is only used to offer a guide as to whether you will be drilling.
How is the laser powered?
The laser pointer is powered using batteries. It takes 2 AA batteries, and one of the more common complaints with this model of drill press is that the laser will consume a lot of batteries, especially because it is easy to forget to switch it off after use.
What the Users Say
While compiling our review of the WEN 4212, we have checked other reviews and had a look at buyer and owner comments. This helps us to determine the value and benefit of the model when used in different circumstances.
Owners have said that the WEN 4212 is a powerful drill press and praised it for its combination of price and performance. They were also pleased with the variable speed dial because it is much easier and quicker to change the speed compared to having to manually change belts on pulleys.
However, some owners did say that the table tends to flex or bow a little when they place a lot of pressure on it.

Conclusion
The WEN 4212 is a variable speed drill press and is considered an affordable but high-quality press with good features and decent power. It has a variable speed setting that can be altered quickly, via dial, and it has additional features like an LED display screen and laser guide. It will not be out of place in any home workshop, and will even prove suitable for use in some professional shops, although it is lacking a little precision for this kind of use.