Ryobi P1811 Drill Kit Review 2023 – Pros, Cons, & Verdict
We give the Ryobi P1811 Drill Kit a rating of 4 out of 5 stars. 
Build Quality: 4.4/5
Power: 3.1/5
Features: 4.1/5
Price: 4.5/5
Review Summary
There's a space right there smack dab in the middle of the pack for the Ryobi P1811. It doesn't excel in anything, what it does is deliver dependable performance for the kind of power you'd fully expect spending the money to buy one. That makes it a really good value at an affordable price. It's design and LED work light make it perfect for in-tight spaces. Just make sure your jobs are on the lightish side.

Ryobi P1811 – A Quick Look
Pros
Affordable
Good for working in tight spaces
Good working lights
Cons
Not a lot of torque, underpowered
Specifications
Brand name: Ryobi

Model: P1811

Tool: Drill

Type: Cordless

Dimensions: 11 x 7 x 9.8 inches

Weight: 7.18 lbs.
Compact for tight spaces
Cordless drills with a lot of power and torque have a very serious limitation in that they also tend to be big and bulky. That makes them hard to maneuver into cramped, tight spaces where you need to work. The P1811 has a compact, light design that is easy to work into places bigger drills won't fit, and it's a got a great work light to illuminate what you're trying to do. No more rigging extra lights or just guessing in the shadows.
Keyless chuck, on-board bit storage
Swapping out bits is made simple with the P1811's keyless chuck. Just twist and replace. That means you also don't have a chuck to keep track of. The P1811 makes that even easier with magnetic onboard storage for spare bits.
Ryobi battery compatible
Users already invested in the Ryobi line of power tools have a ready power supply for the R1811. The lithium-ion batteries that run the rest of your tools are compatible with this cordless drill. Depending on what settings you prefer, the battery will run an average of 45 minutes and takes about 60 minutes to charge.

FAQ
How good is the warranty that comes with this model?

Both the tool and the battery are covered by three-year warranties.

What are the maximum RPMs and torque power you can achieve with this model of cordless drill?

1600 RPMs with 340 inch-pounds of torque.

Is the motor brushless?

No. It has a brushed motor.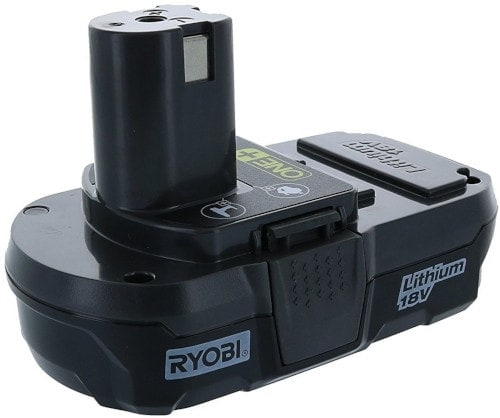 What the Users Say
It's kind of hard to overestimate how popular Ryobi's P1811 is in general with the people who purchased it. The overwhelming number of them were at the top of every ranking we found. People tend to have pretty vocal relationships with power tools because they cost money, so it's rare to find one that collected so many positive reviews so far at the top.

Once you read through the reviews, one trend starts to materialize. The Ryobi P1811 does exactly the job people buy it to do. It's not just that it's a good tool, it's that for the people who find it, it does exactly what they were looking for. There's an important difference.

There were a few basic things that stood out as to why people liked it. It was powerful enough for the job. It held a charge for a good long while. It is rugged and reliable. It is compact and powerful. A tool that got just one of those would be a successful tool line. This one got all four from people who bought it and used it.

Of course, there a handful of people who had negative experiences. It was a pretty small number. There is no main theme to their grievances. They were more across the board, ranging from a short operational life to batteries that just wouldn't take a charge. It's the kind of random complaints you'd expect from a model that otherwise offers very little complain about.

If there was something to watch in the reviews, it was the performance of the two batteries that come with the P1811 and their charger. If you think this might be a good segue into a standard line of household tools built around one specific set of batteries, and this is something a few people leaving positive reviews would be their choice, this is something to pay some attention to. The entire attraction of having one set of batteries for all of your cordless tools is that it's cheaper to have one make of battery than it is to have one make of battery for every tool. It also cuts down on the hassle of a bunch of extra chargers and cables lying around. The excess cords isn't so much an issue here, but you'll want to keep an eye on battery performance to make sure that your power infrastructure is working properly. In those cases, a dead battery isn't just one inoperable tool. One batter is an inoperable workshop.

It's a pretty minor thing, especially when matched up against the bulk of user opinions, the vast majority of which were glowing. Again, this wasn't a matter of this being the best tool on the market but in the case of the people who bought them the absolute right tool for the job. And that is what counts.

Conclusion
We think of the Ryobi P1811 as something of a value purchase. The person who gets the most out of it needs it for a pretty basic load of home repair jobs or pretty simple construction jobs like pre-fab furniture or hanging shelves. It's a dependable budget model that gets that person the kind of power they really need at a price that isn't excessive. It has a compact design and a work light that makes it good for working in corners and other tight spaces. If you have needs to sometimes stretch to heavy loads, you might want to consider spending a bit more money.

You might also be interested in these Ryobi reviews: