20 Free DIY Computer Desk Plans You Can Build Today (with Pictures)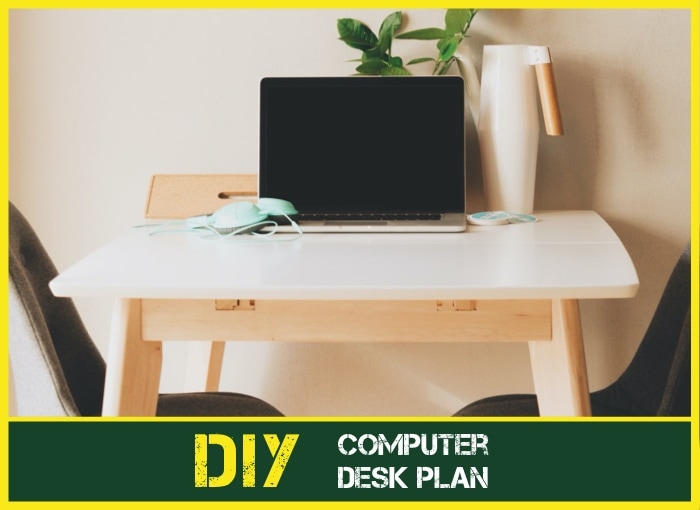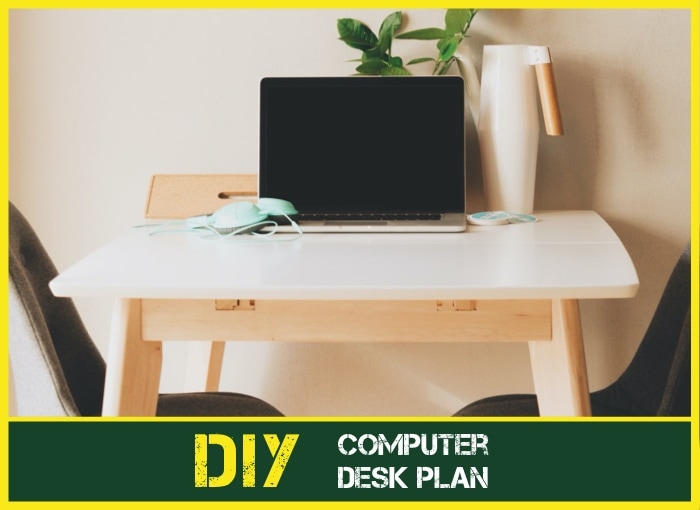 Many people like the idea of making their own computer desks but are put off by the seeming complexity of the task. The good news is that there are a lot of simple, accessible designs online, which will teach you how to build a computer desk of your own for a fraction of what you might pay for a similar desk at the store. With a little bit of time and elbow grease, you can use the following plans to create a beautiful desk that matches your home décor and fits in the space you have perfectly, all while saving money over a store-bought design.

The 20 DIY Computer Desk Plans
1.

Truss Desk from Shanty 2 SHIC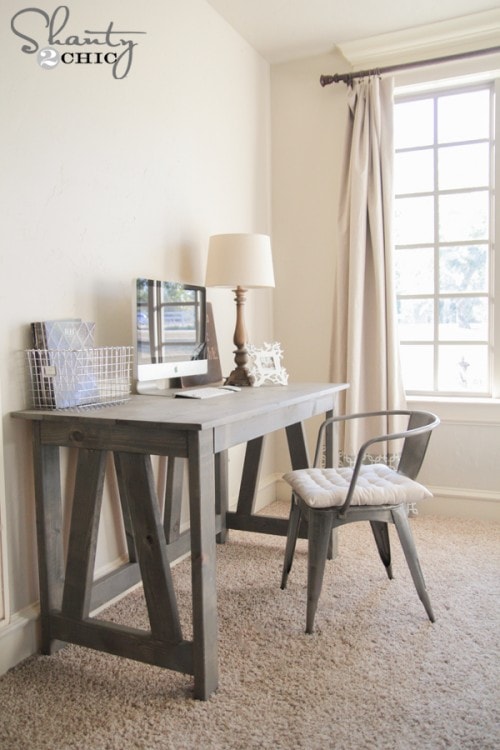 The best thing about the Truss Desk from Shanty 2 Chic is that it's a simple design that looks great when completed. You can also paint or stain it a variety of colors, so you can match it to the preexisting décor in almost any room. It doesn't require a lot of expensive fixtures or hardware, and most of the cuts are relatively simple.
---
2.

1×3 Sawhorse Desk from Ana White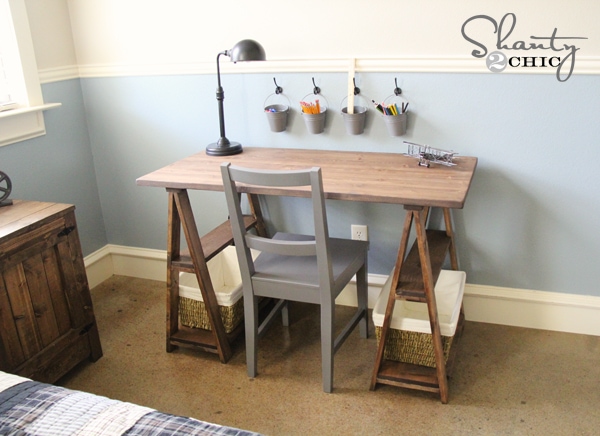 If you're looking for a model with an even more rustic design, the 1×3 Sawhorse Desk from Ana White could be the desk that you're looking for. It makes use of a pine project panel and strand lumber, so you could pick up and assemble the parts for this desk in as little as an afternoon.
Like the previous model, it's not tied to its country appearance and could be painted in shades of white, black, or even seafoam to give it a softer appearance. To learn more about this design, check it out at Ana White's website.
See also: our favorite store-bought sawhorses of the year.
---
3.

Corner Computer Desk Plan from Ana White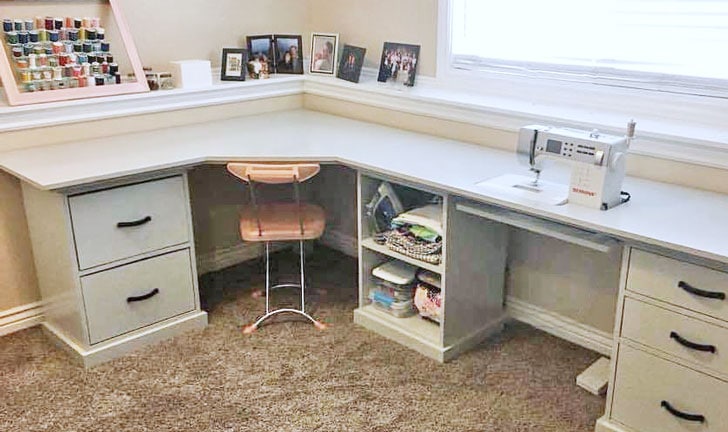 If you need to make the most of a small room, a corner computer desk plan may be just what the doctor ordered. This desk plan maximizes the space your workspace while taking up a relatively small footprint in your room. It also comes with a lot of space for storage, though if you're the messy type, you may want to consider adding cabinet doors to keep the clutter hidden.
While you could go with a rustic finish on this model, it will probably look better in painted neutral colors. To find the plans for this model, visit Ana White's website.
---
4.

Modern 2×2 Desk Plan from Ana White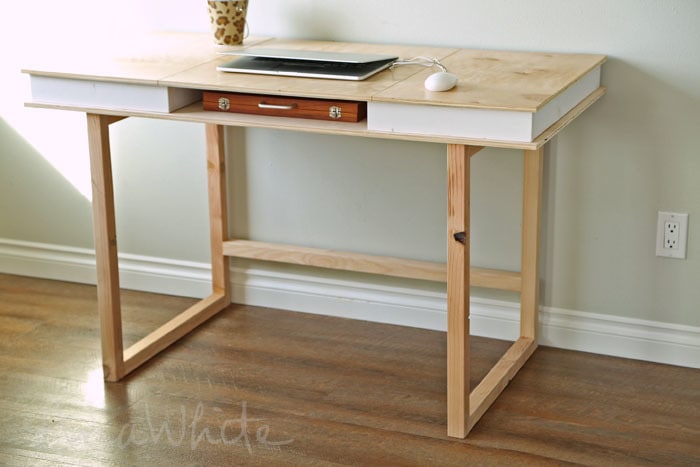 This sleek, modern desk is great for public areas. Its minimalist design makes it feel like it takes up less space than it really does, and it lets light through, maximizing the room's airiness. If you follow the design, which relies heavily on the use of picket holes, all of the fittings will be hidden from sight, giving the desk a very clean final look.
If you're looking for a desk with a more modern flair that would look great in a living space, then this desk could be the one for which you're looking. Check it out at Ana White's website.
---
5.

Polished Concrete Desk from Ideas 2 Live 4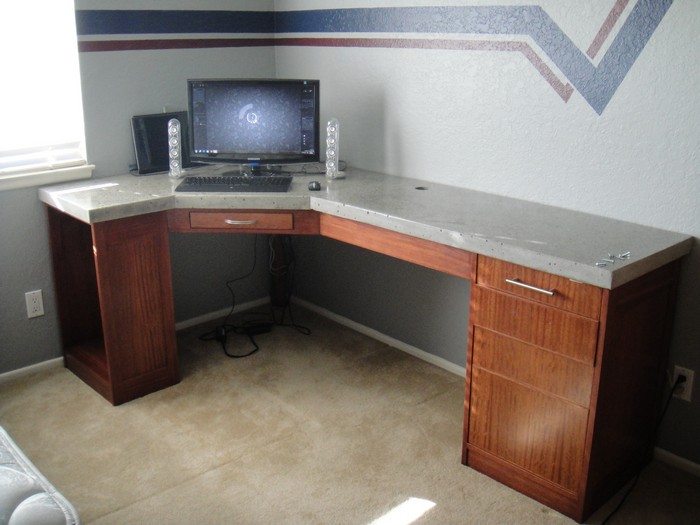 This desk is going to require more work than most, but the final product is arguably one of the best on our list. If you're looking for a corner computer desk plan but want to take the next step and make something truly beautiful, then this polished concrete desk could be what you're looking for.
The desktop is made from concrete, but crushed glass and fiber-optic lights were added beforehand to create a computer desk that shines in the day and night. This isn't the easiest desk to build on our list, but it is one of the most rewarding. You can find the plans at Ideas 2 Live 4.
---
6.

Pottery Barn Style Desk from The Borrowed Adobe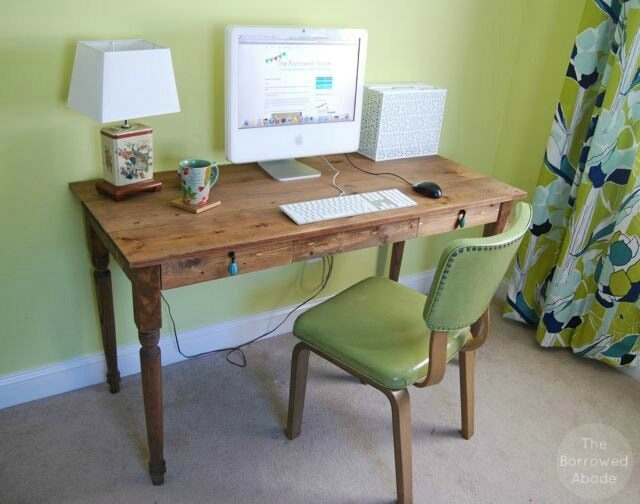 Sometimes you'll see something in a store and wish you could create it yourself to save some money. This handy worker had the same idea and designed a desk that could be made for a quarter of the price of the store-bought equivalent. The best thing about this design is that it's highly customizable, allowing you to choose your own leg designs and drawer sizes.
While it's not going to be the best fit in rooms with very modern décor, this desk will work well in contemporary and fit right in a rustic home. You can find detailed plans at The Borrowed Adobe.
---
7.

Three Compartment Desk from Shades of Blue Interiors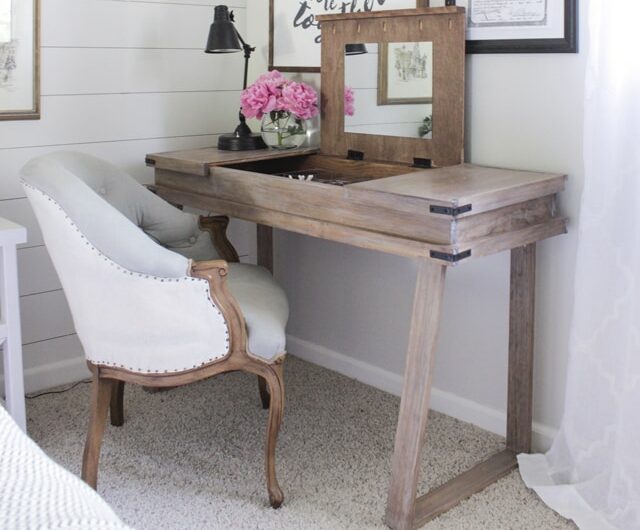 If you're looking for a desk that does double duty as a desk and as a hidden storage compartment, then the Three Compartment Desk could be the model you're looking for. Hidden under each of the three tabletop panels is a single large compartment that holds a surprising amount of stuff. This desk gives you a lot of space for office supplies but is easy to clean up when company is coming.
The original designer added mirrors to the undersides of the lids, so this desk could theoretically serve double-duty as a makeup table. You can find the plans for this flexible desk at Shades of Blue Interiors.
---
8.

Industrial Computer Desk from The Handyman's Daughter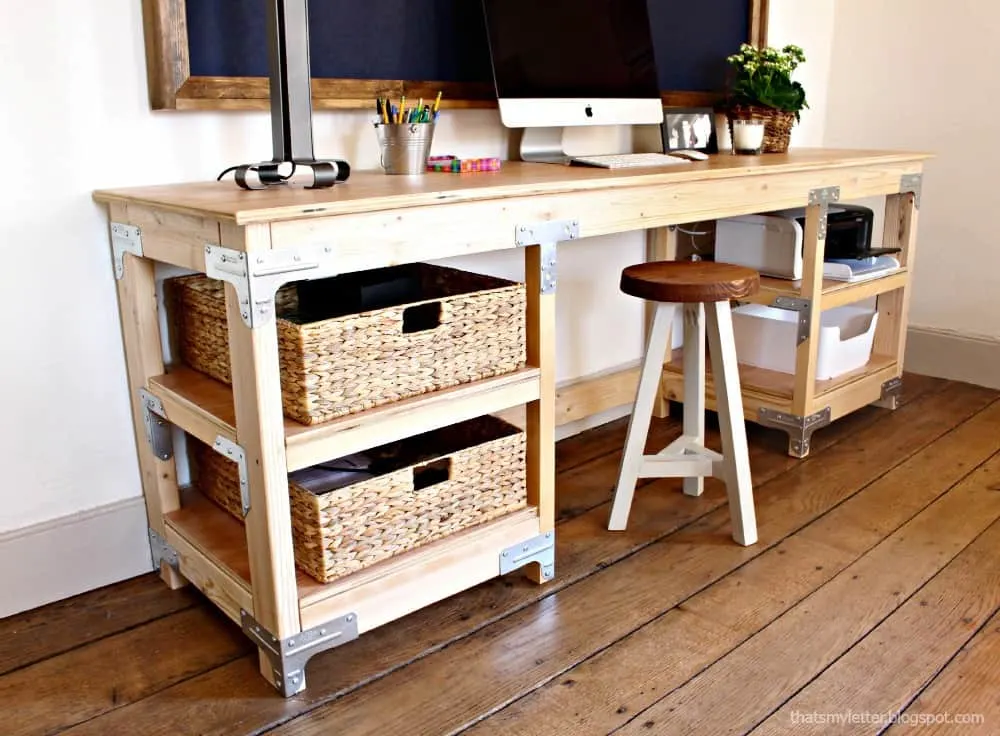 This desk is one of the stronger models you'll find on our list, and the exposed hardware is equal parts functional and cosmetic, so if you need a desk that is tough and looks tough, too, this model fits the bill. You could potentially paint or stain it in softer colors, but the big, boxy shapes work especially well with a darker color.
This would be an easy plan to adapt if you wanted to add drawers or cabinet doors and sides. It's also a relatively inexpensive model, even with the brackets factored into the final price. You can find the plans at The Handyman's Daughter.
---
9.

Built-in Computer Desk Plan from Crazy Clever at Instructables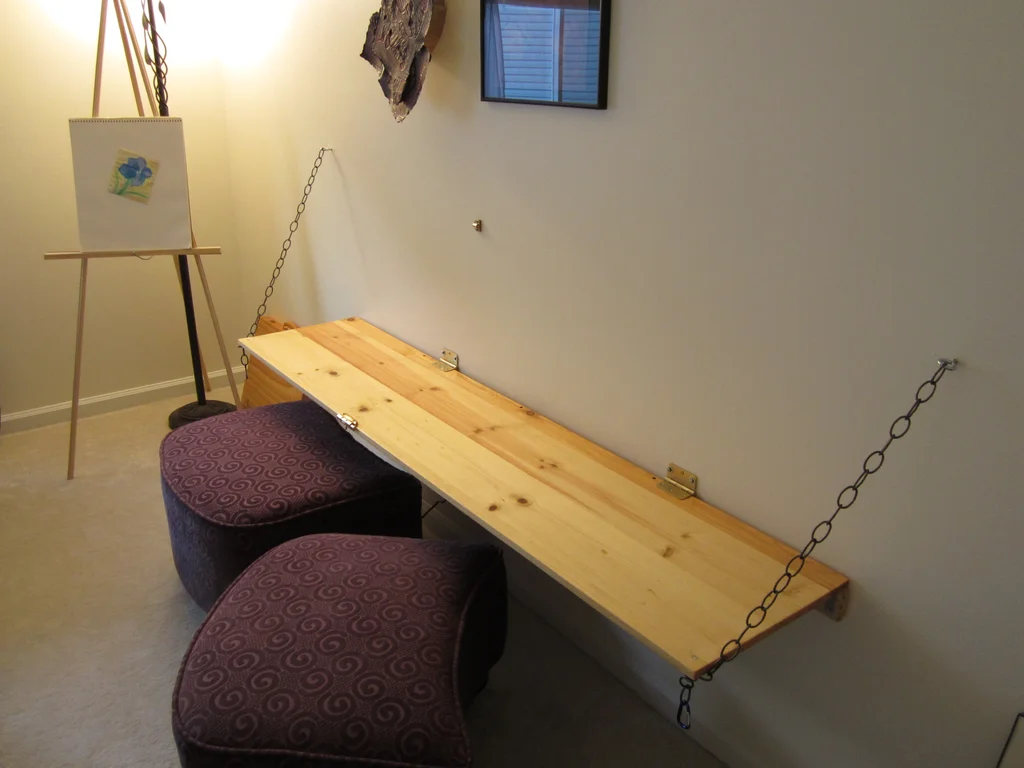 While this built-in computer desk plan was originally designed with children in mind, it would be a good plan to adapt for people who are trying to make the most of their limited space. If you don't have a designated office space, this fold-down desk will allow you to work when you need to, but it folds up against the wall when you need to use the space differently.
These plans include directions for creating a chalkboard on the underside of the desk, which is an expensive way to add some color to any room. You can find plans for this great desk at Instructables.
---
10.

Built-in Computer Desk Plan from Shanty 2 SHIC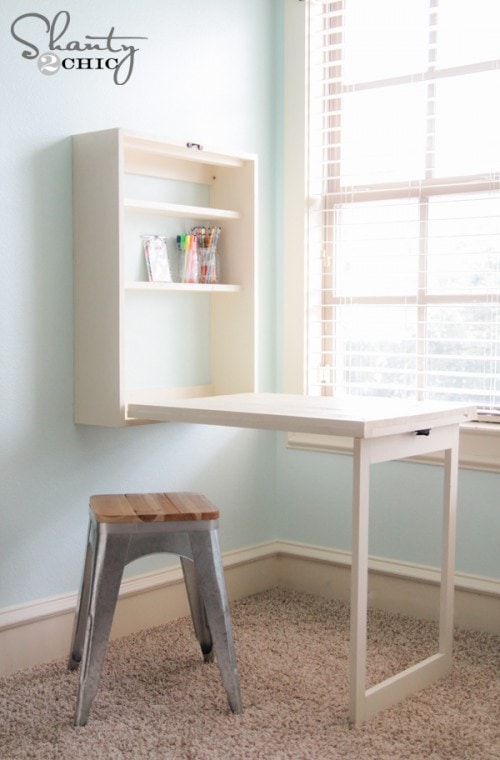 You've heard of Murphy beds. How about a Murphy desk? This model built-in computer desk plan gives you the ability to fold it up into the wall when not in use. If you need to create a bedroom office, but don't want to permanently give the space over to a desk, this can be a good solution.
Another plus is that you'll be able to paint or stain it any color to match the furniture you already have. It also comes with some interior storage space you can use to hold your office supplies. You can find plans for this great desk at Shanty 2 Chic.
---
11.

Custom Ergonomic Computer Desk from Simplified Building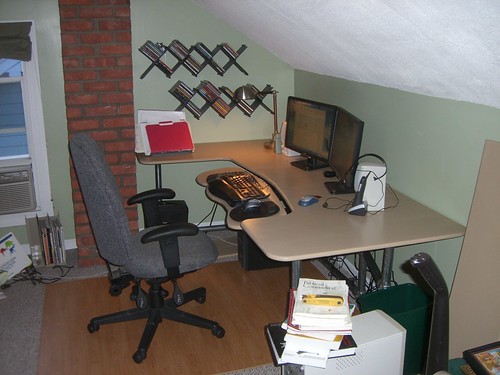 Not all desk designs take your body into account. If you find that sitting for long periods hurts your back, or that your hands could use some relief like that provided by an ergonomic keyboard, then you could use a desk designed to make your life easier. This desk features an oversized keyboard tray for an ergonomic keyboard, as well as plenty of space for working.
It does use a metal frame, which is a step up in difficulty from other models on this list, but the result is more than worth it. If you want to build this great ergonomic desk, you can find the plans at Simplified Building.
---
12.

Adjustable Standing Desk from Sparksight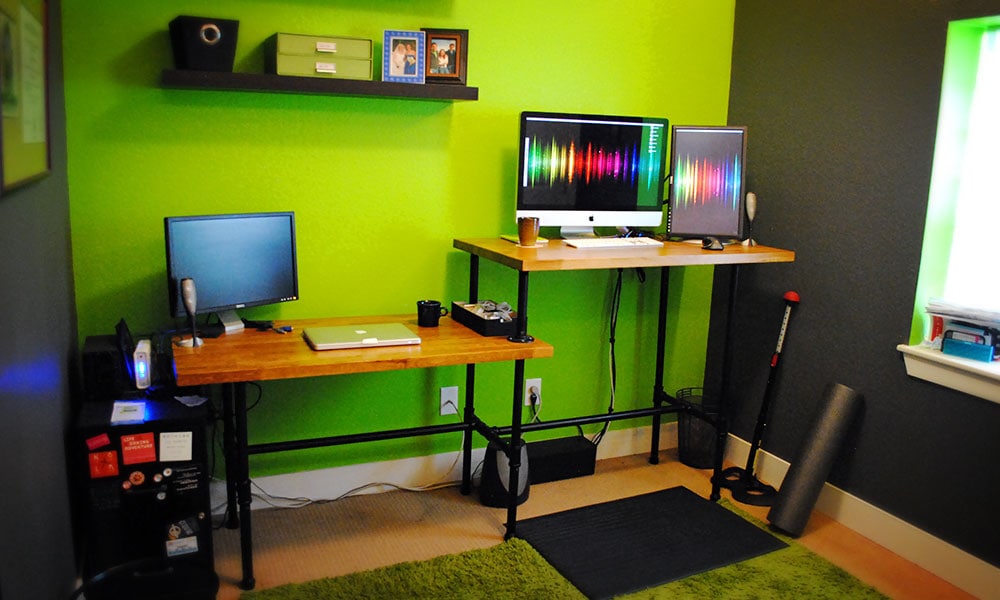 If you're like us, you've probably researched dual sit/stand desks and balked at the price. The transforming features alone can cost as much as a separate desk. That's why we love this desk that creates a workspace for sitting or standing and allows you to work as your body dictates.
While it's not the most attractive design out there, it does allow for a sit/stand desk in a compact area. It's also a relatively easy build and one that won't break the bank. Credit for this great desk goes to the husband and wife team that designed it over at Sparksight.
---
13.

L-Shaped Double-X Desk from Handmade Haven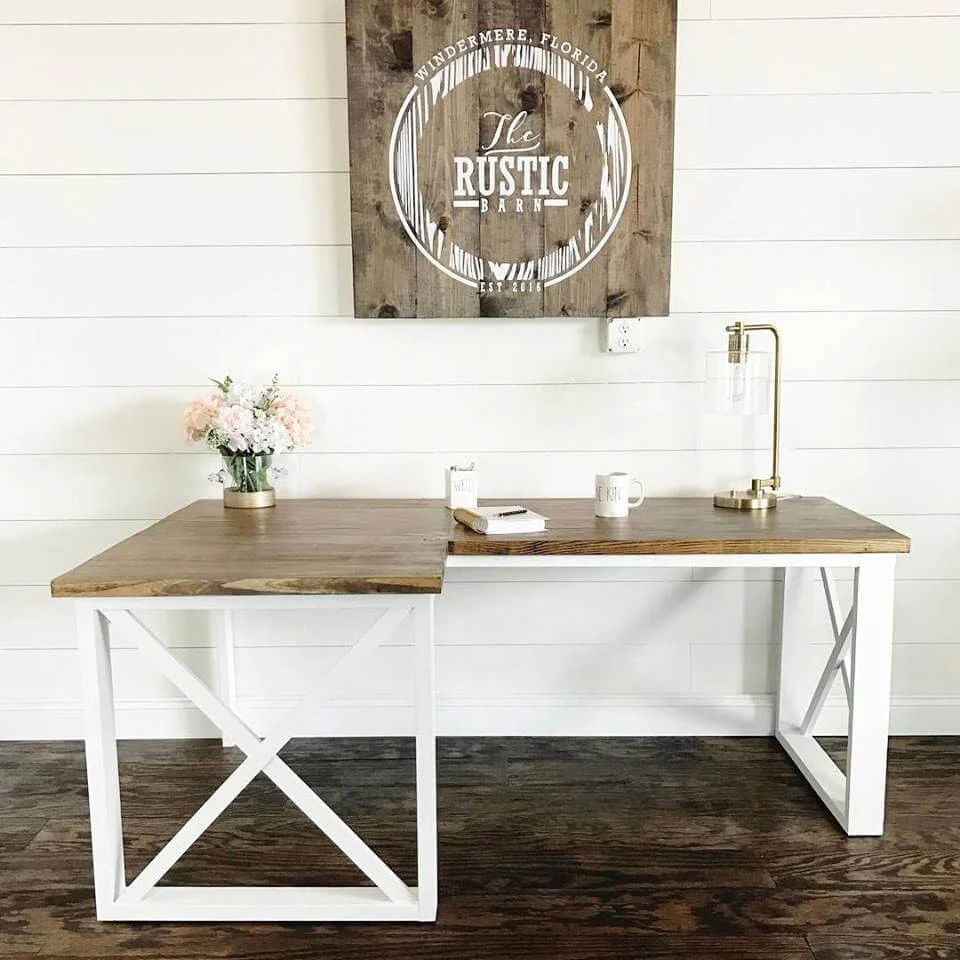 The last plan on our list is a corner computer desk plan. While this isn't a design that would work in every room and doesn't have the storage that most people are looking for when they build a desk for themselves, it has a nice, clean look that can complement certain room designs very well.
It's also a good desk for newbies since it doesn't require any advanced techniques. Even if you're not 100 percent sure what you are doing, you should still be able to turn out a high-quality desk. You can find plans for this desk at Handmade Haven.
---
14.

DIY Tower Desk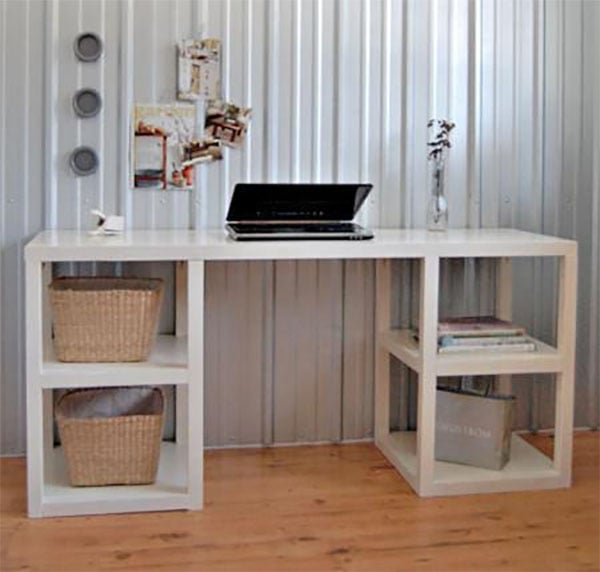 The desk is spacious and has plenty of storage. It has a sleek and contemporary look and can also serve as a console table. The Antique White Valspar flat finish does a wonderful job of revealing a slight wood grain. The desk was constructed solely using pocket holes and was adjusted to fit the height of the builder.
It's the perfect addition to any office and has a timeless, classic style. It's easy to customize, too, and it can be used for many different purposes. Whether you need extra storage for documents and supplies, or a workspace to get creative, the DIY Tower Desk is sure to fit your needs.
---
15.

Gold Leaf Writer's Desk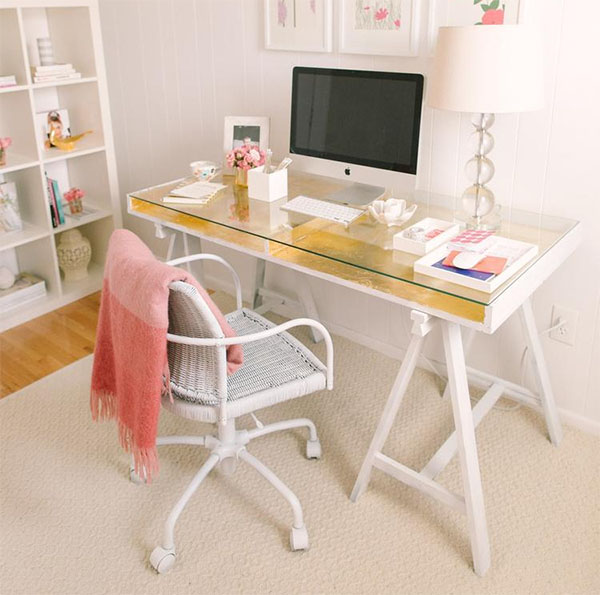 If style is your goal, this DIY computer desk will wow you to no end. Thanks to a little innovative tinkering with a Vika Gruvan desk from IKEA and some gold leaves, this how-to shows you what you need to do to create a luxurious desk on the cheap. The end result exudes style, yet there's plenty of practicality on deck.
It's a highly serviceable desk that should serve you well whether you're working, gaming, painting, or drawing. Don't worry if you're not the most artistic person on the planet—the directions are straightforward and walk you through every easy step. Even better, you should be able to craft this desk in less than an hour. Quick and easy!
---
16.

Seamless Computer Desk
This wall-mounted desk was designed to maximize workspace in a studio with limited floor space. Its minimalist design blends seamlessly with the surrounding room, adding function without overwhelming the existing layout. Compact yet practical, this desk is perfect for anyone looking for a stylish solution to create a workspace in a small area.
This wall-mounted desk has a wooden finish that blends well with any decor, making it perfect for those who want their decor and furniture to match. Its sturdy construction and precise build ensure it will maintain its great look for years.
---
17.

DIY X-Desk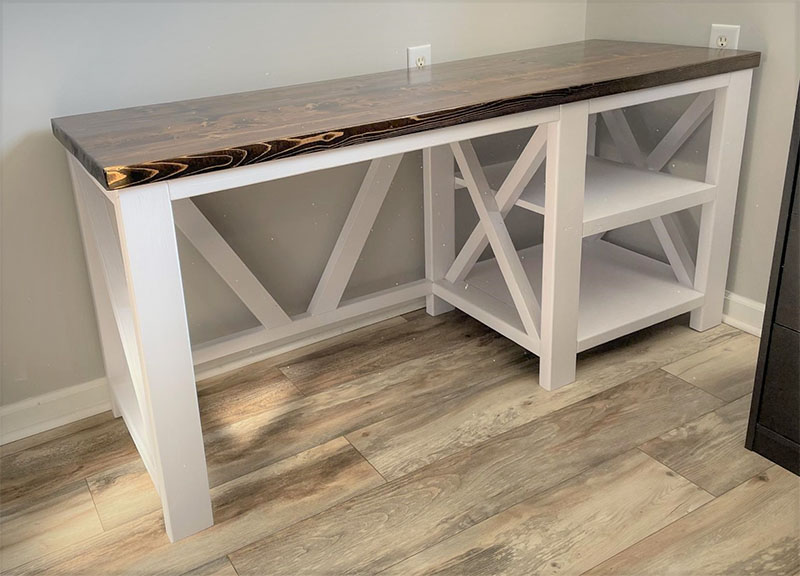 Get inspired by the Rustic X Collection and build your own stunning farmhouse desk using Ana-White.com's free plans. The desk uses all off-the-shelf dimensional boards and can be easily constructed with the step-by-step instructions provided.
Say goodbye to pricey store-bought desks and hello to a cost-effective solution that costs around $50 to build. With its rustic design and sturdy construction, this desk is perfect for any room in the house, whether it's in the great room or tucked away behind a bedroom door, to provide some much-needed peace and quiet.
---
18.

Gamer's Dream Desk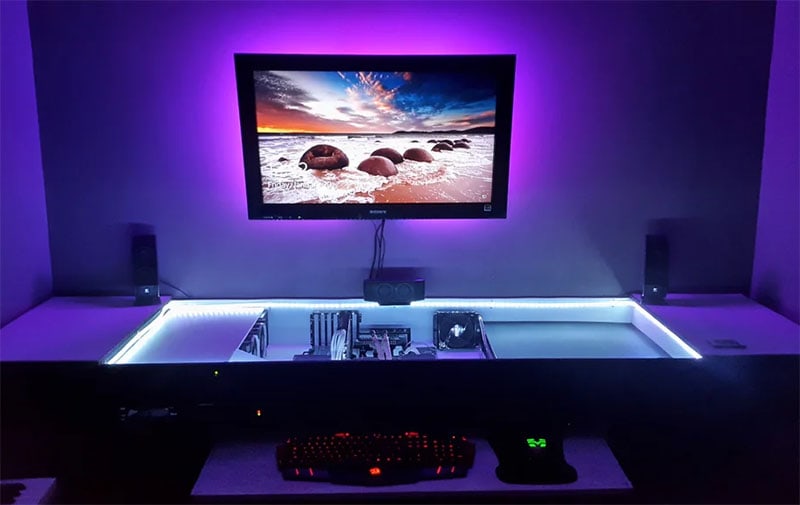 Looking to create the ultimate gaming setup? Then you need to check out this custom-built gaming desk. Designed with visual aesthetics in mind, this desk features RGB lighting and storage for all your gaming gear without the need for unsightly shelves.
Inspired by Project Alternate by De Blow, this desk is part one of a two-part build. It includes a modular design, allowing you to easily switch parts out to customize your gaming setup. The desk is made from high-density particle board and is finished with a smooth vinyl top for maximum style.
---
19.

Affordable DIY Desk
If you want to upgrade your workspace without breaking the bank, consider building your own desk! Thanks to this entry, you can easily create a custom desk for around $50. It's made of 2×4' MDF sheet and steel tie plates, so you can be sure it'll last.
With many store-bought desks exceeding hundreds of dollars, this DIY desk is an affordable alternative. You'll need a few simple tools but nothing too complicated. The end result is a stunning, custom-made desk that you can be proud of.
---
20.

The $40 Desk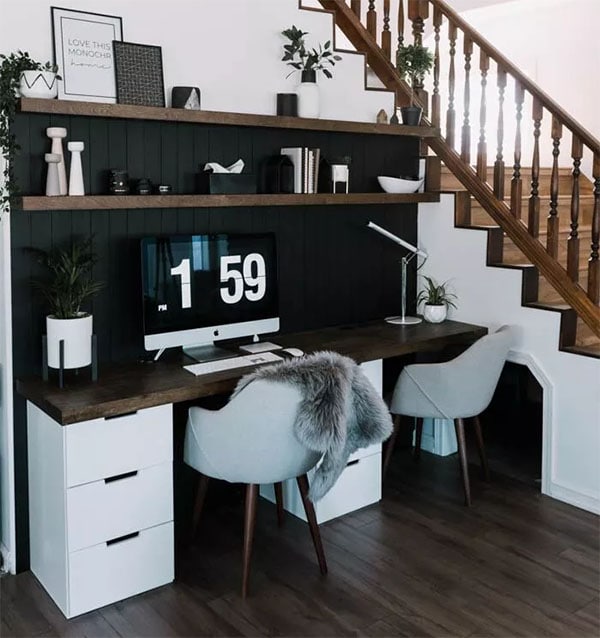 A custom computer desk for only $40? Sign us up! Please note that this desk plan assumes you have some spare wood available and the necessary tools to complete the job. Aside from that, the main investment you need to make is for the plywood.
From there, you'll be on your way to crafting a sizable computer desk, complete with floating shelves. As long as you have some basic knowledge of woodworking, you can easily put this desk together in an afternoon. You may even have enough extra wood to build a matching chair!

Conclusion
We hope that our list of DIY computer desk plans has helped you find a desk that can complete your room on a budget you can afford. There are a lot of designs for desks out there, but we've tried to collect some of the best in one place, so you can get a good idea of what you can find for free today.  Learning how to build a computer desk isn't a task for everyone, but it can be a highly rewarding and fulfilling experience. Not to mention that you create a useful, and hopefully, beautiful final product that will enhance your home and make your life a little bit easier.
You might also be interested in: 19 Free DIY Farmhouse Desk Plans You Can Make Today