12 Smart Home Statistics in the UK: 2023 Update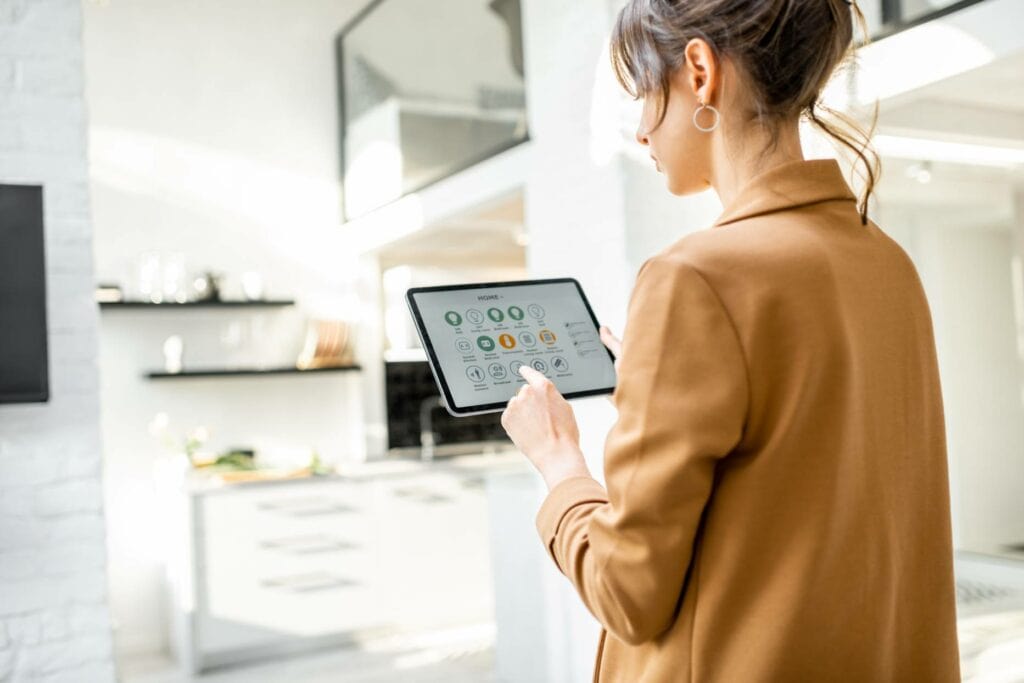 Note: This article's statistics come from third-party sources and do not represent the opinions of this website.
A smart home is one where elements of lighting, heating, or other electronic and electric devices can be controlled remotely, typically by using a smartphone or via a laptop or computer. Smart home hubs and assistants have become popular controllers while the range of smart home devices continues to expand.
The actual definition of smart home devices varies. While some consider Bluetooth speakers and smart speakers to be smart home devices, others do not, and this means that there is a lot of disparity in the figures available. This is especially important since smart speakers like Alexa and Google Homes are the most widely owned of all smart home devices.
Below are 12 statistics related to smart homes in the UK, including details of the most popular types of devices as well as overall market statistics.

The 12 Smart Home Statistics in the UK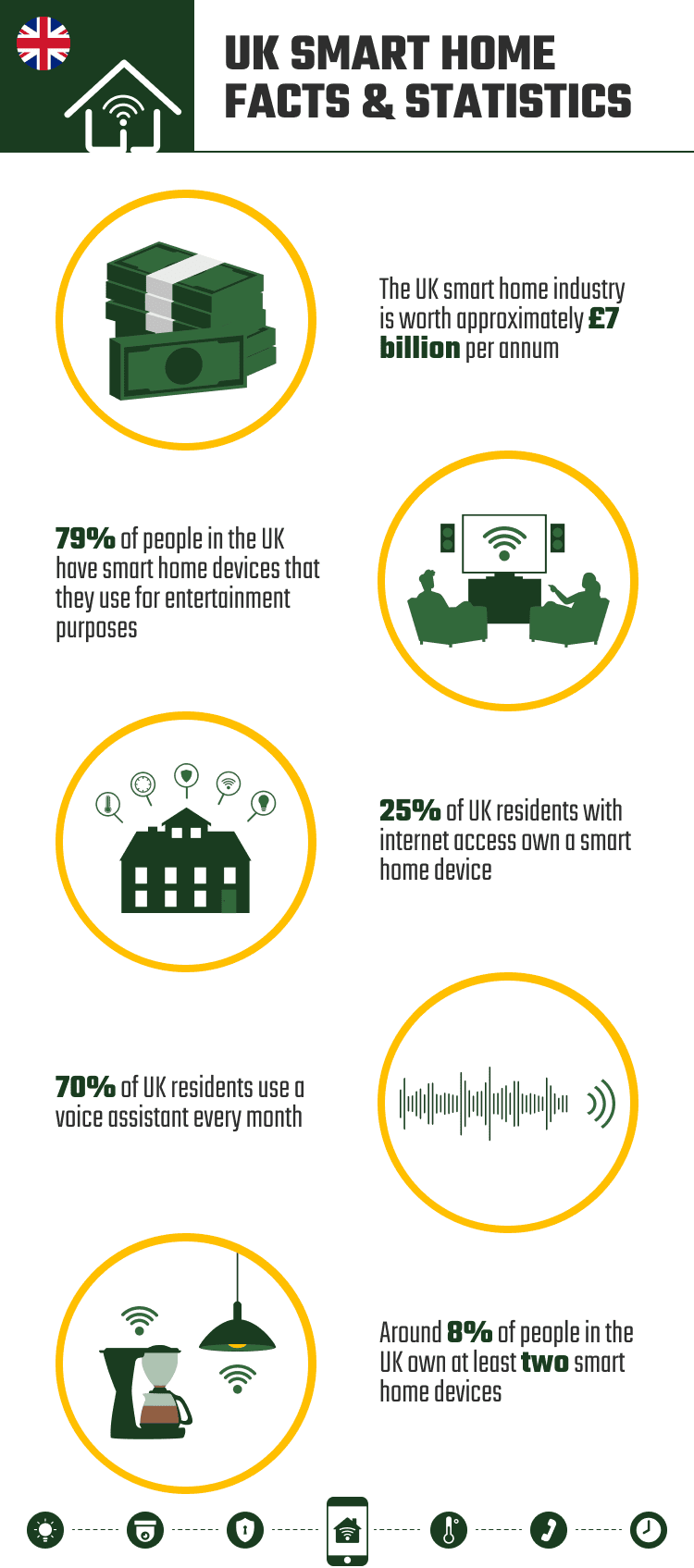 The Smart Home Market
1.

The UK smart home industry is worth approximately £7 billion per annum.
(Statista 1)
Although the smart home industry isn't really separate in itself, with most smart home devices falling under the guise of electronic devices, speakers, or other categories, the smart home industry is believed to have a revenue of just over £7 billion per annum. This includes the purchase of controllers and hubs, as well as the smart devices that are included in the home.
In comparison, the US is believed to be the largest smart home market and has annual revenue equivalent to £28 billion, or four times that of the UK. The US population is approximately 40 times larger than that of the UK.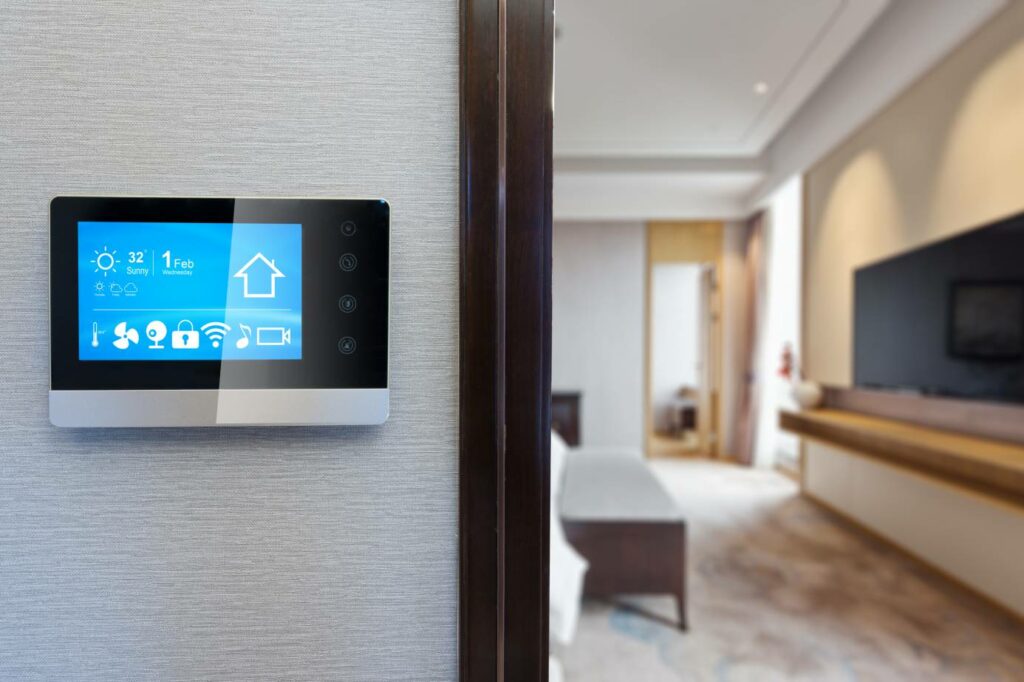 ---
2.

There are more than 2.2 million smart homes in the UK.
(The Eco Experts)
A smart home is one that includes at least one device that can be controlled remotely. This can include devices like smart thermostats and smart speakers. The range of available devices has expanded over the past few years, with smart appliances including fridges and coffee machines being available. Of the approximately 25 million homes in the UK, some estimates suggest that 2.2 million of those homes are smart homes.

Devices
3.

Smart assistants and smart heating devices are the most popular devices.
(Showhouse)
Smart speakers and digital voice assistants are the most popular current device in houses. But when it comes to devices that people are most likely to buy in the coming years, many people want to buy smart heating devices as smart assistants. This is likely a result of the increase in heating and energy prices following the outbreak of war in Ukraine.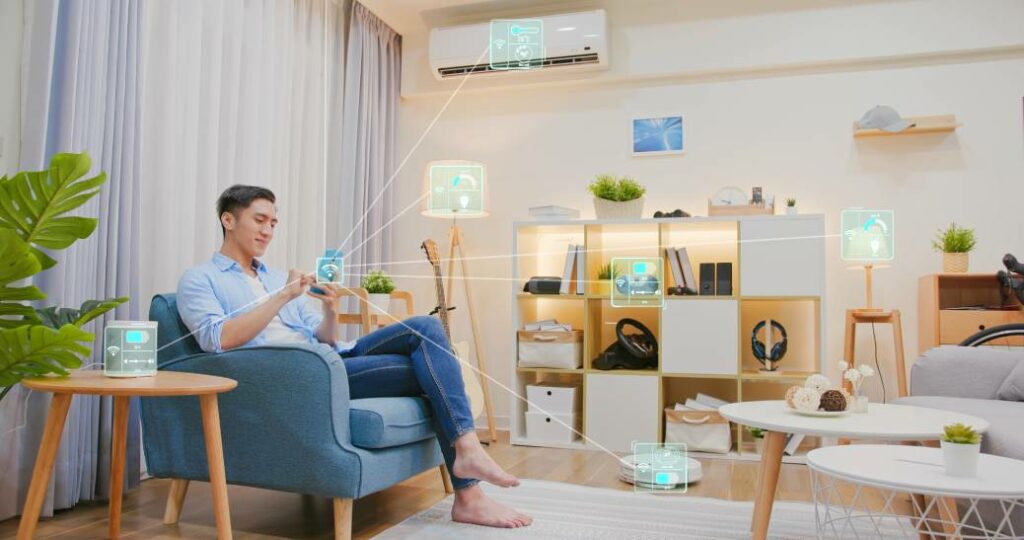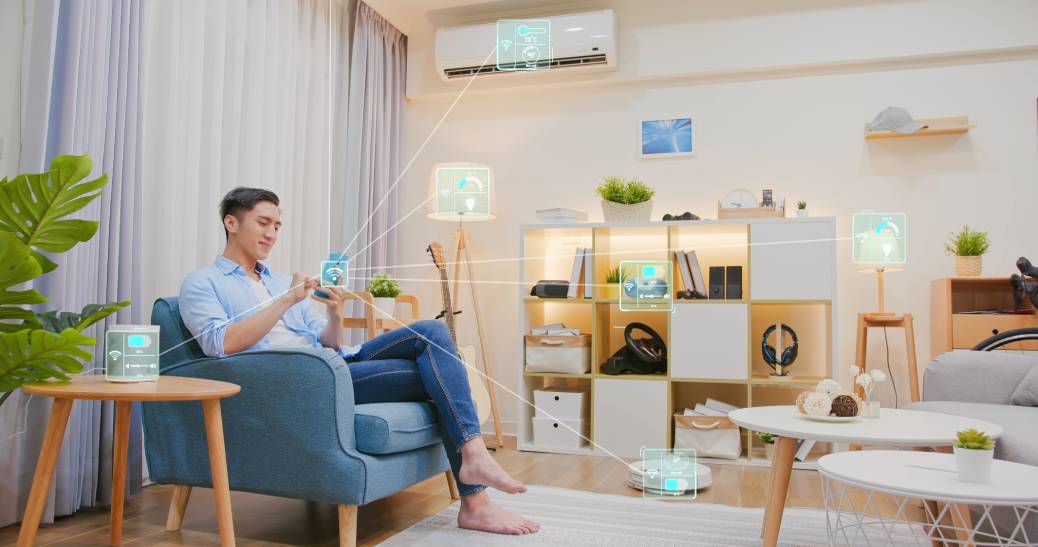 ---
4.

79% of people have smart home devices that they use for entertainment purposes.
(Statista 2)
Entertainment is the most popular reason for smart device ownership with current owners. Nearly 8 in 10 people that have smart home devices use them for entertainment. Such devices include smart speakers and voice assistants but can also include VR headsets and more.
---
5.

50% of people in the UK now own a smart speaker.
(Statista 3)
Smart speakers rose in popularity during the Covid pandemic and approximately half of all people in the UK now own at least one smart speaker. Smart speakers are not only used for entertainment, playing music, and podcasts, but they can be used for voice search, and they are also used as a means of controlling other devices in the home. Thermostats, separate speakers, televisions, lights, and other smart home features can be controlled via the voice assistant on Alexa and Google Home speakers.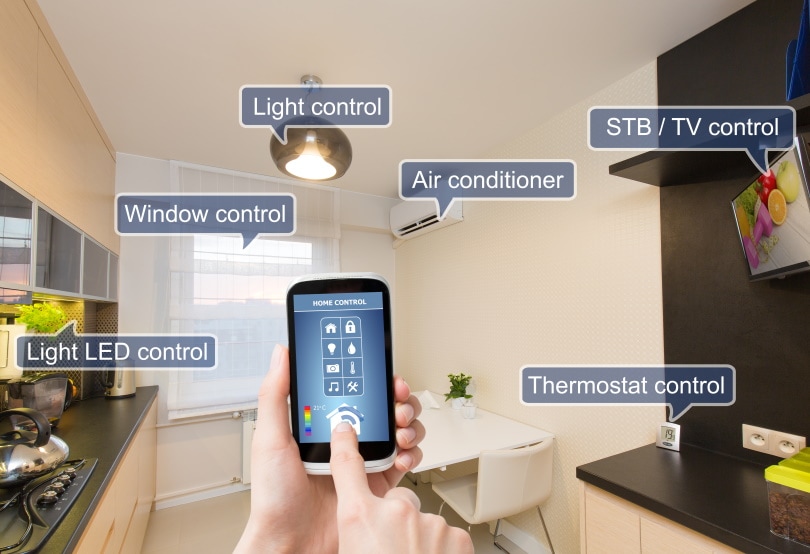 ---
6.

Smart thermostats are the second most popular smart home device.
(YouGov)
Smart thermostats are connected to Wi-Fi. They can be controlled traditionally with set timers and thermostatic controls that turn the heating system on and off according to the existing temperature, but they can also be controlled via smartphone and computer apps, as well as voice assistants. It is possible to turn the heating on as you leave work so that the house is warm when you get home. Owners can also monitor their heating use and energy use with these devices, and they are the second most commonly owned type of smart home device.

Smart Home Adoption
7.

25% of UK residents with Internet access own a smart home device.
(Finbold)
Although the estimates of smart penetration do differ according to the definition of smart home devices and their use, the UK's figures do consistently come out above global averages. According to one study, 25% of UK residents that have access to the Internet own at least one smart home device. This is roughly double the global average of 13.5% and puts the UK at the top of the table for smart home adoption.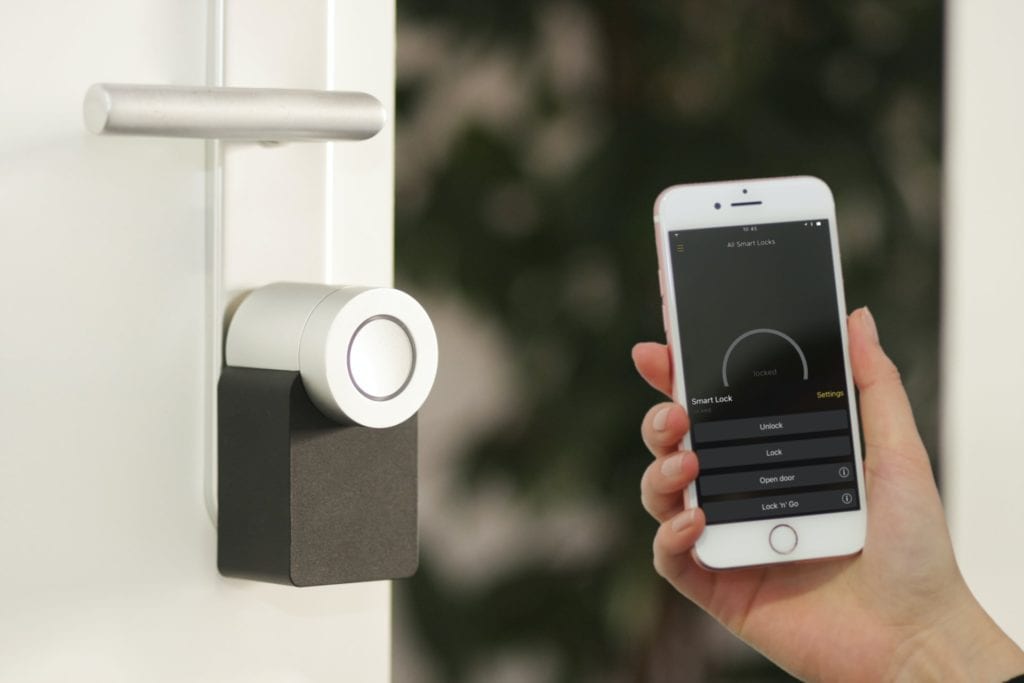 ---
8.

16% of people say they do not have any smart home devices.
(Statista 2)
Owning a smart home device does not necessarily mean that you have a smart home. Because some studies define a smart home as one that is controlled remotely, owning a smart device does not necessarily mean that a person has a smart home. Smart speakers that are only used to play music or for voice searches are not used as smart home devices. Only 16% of people say that they do not own any smart home devices.
---
9.

Setting up a smart home system could save users £450 a year.
(The Eco Experts)
One possible reason for the increase in popularity of smart home devices in the UK is the potential they have to save homeowners money. Like much of the world, the UK has seen spiraling energy costs in the past few years, and the UK has some of the highest energy prices globally. Although it does depend on the type of smart home devices installed and how they are used, estimates suggest that a smart home can reduce energy consumption by as much as 30%. At current energy prices, that would equate to a £450 financial saving per year.
---
10.

70% of UK residents use a voice assistant every month.
(Voxlydigital)
Voice assistants can be considered smart home devices, especially as they are used as a controller for other smart home devices. Voice assistants are also found on a host of different devices, from smart speakers to smartphones that most people carry in their pockets. As a result of their inclusion in such a wide range of devices and their prevalence in homes across the country, 70% of people in the UK, according to one survey, said that they had used a voice assistant within the past month.
---
11.

8% of people own at least two smart home devices.
(YouGov)
While a lot of people own one smart home device, typically a smart speaker or, more recently, a video doorbell, far fewer households have a collection of devices. In fact, fewer than 1 in 11 people own two or more smart devices.
Owning multiple devices enables greater home automation. Some hubs offer the capability to set scenes. For example, saying goodnight to a voice assistant can lead to lights being turned off, doors being locked, heating being turned down, and devices being muted.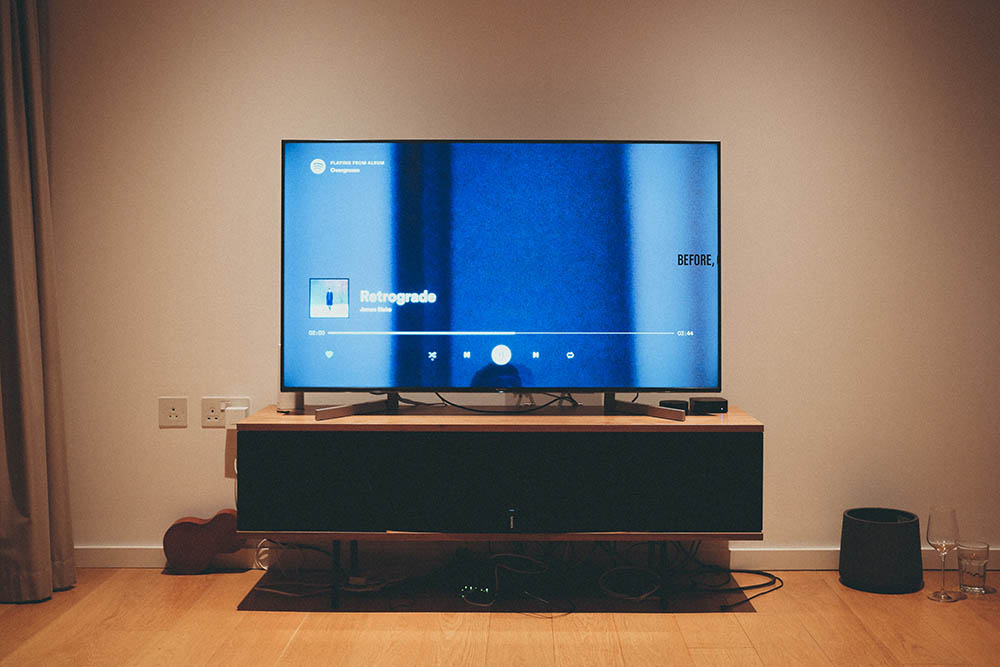 ---
12.

Security fears are the biggest barrier that prevents non-owners from buying smart devices.
(YouGov)
When it comes to the reasons that non-owners have not bought any smart home devices, security fears represent the greatest barrier to entry. About 39% of respondents to a YouGov poll stated security fears as their biggest concern. Cost is also a factor, with 36% giving this as the main reason that they do not have any smart devices.

Frequently Asked Questions
What is a smart home?
A smart home is a home that includes one or more devices that can be controlled remotely. The devices may be entertainment, heating, lighting, or other environmental controls. Some devices can work together and are controlled by a central hub or controller. For example, a voice assistant or voice assistant-enabled speaker.
What is a smart home ecosystem?
All smart home devices use an ecosystem to control and manage the device and to connect to the Internet. If you want to use multiple devices together and want to control all of your devices from a single hub, those devices will need to use the same ecosystem, or the ecosystems used need to be able to communicate with one another.
The most commonly used ecosystems are Amazon Alexa, Google Home, Samsung SmartThings, and Apple Home. When choosing an ecosystem, first look at the devices you already own and whether they can be used with the likes of Google, Amazon, or Alexa. It could save you money and make the transition to a smart home simpler.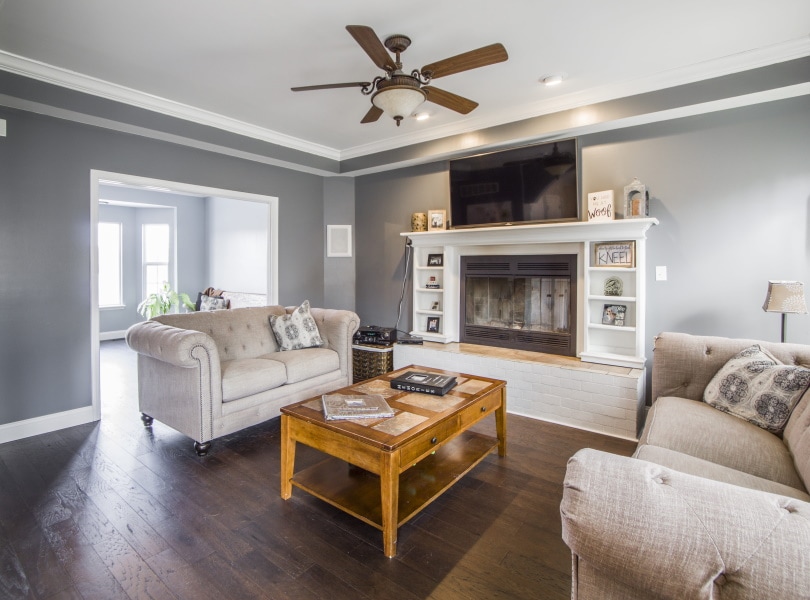 Do smart home devices still work if the Internet goes down?
Most smart home devices communicate with one another using Wi-Fi and rely on an internet connection to offer their full range of features and settings. Most devices still offer some functionality if there is no internet connection, but the features are limited, and it may be impossible for devices to work together.
Do smart home devices have a monthly fee?
Most smart devices do not have a monthly fee. Once you have paid for the device, this is usually the only cost you have to pay. However, this may not be the case with all devices or with all smart home or home automation ecosystems. There are plenty of ecosystems and devices available that do not charge a monthly fee.

Conclusion
The UK has one of the largest smart home markets in the world, per capita, and it continues to grow with more individuals buying smart speakers and voice assistants and with increased interest in devices, like smart thermostats and smart security. Although smart home appliances, like washing machines and fridges, have yet to really pique homeowners' interests, this is another area that could see further growth in the future.
---
Featured Image Credit: RossHelen, Shutterstock