Best 20-Inch Chainsaws 2023 – Reviews & Top Picks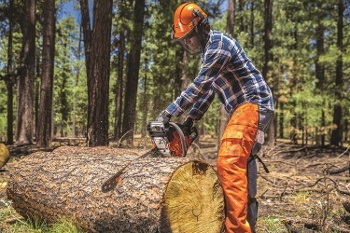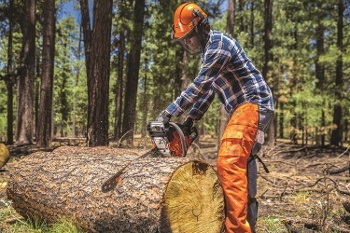 If you plan to use a chainsaw regularly for large, heavy-duty jobs, you'll need to upgrade from the cutting power of a 14- or 16-inch chainsaw to the big leagues. Perfect for cutting through large diameter logs and branches, a 20-inch chainsaw can be an incredibly useful tool for anyone living on a ranch or in a rural area.
Of course, more power in your chainsaw can also make it harder to handle – if you don't know how to choose the right saw for your needs. That's why we've put together this guide to the best 20-inch chainsaws around. Go ahead and read through our in-depth reviews to get our take on which saws are the best of the best for every project you might want to finish.
---
A Comparison of our Favorite Models for 2023:
Rating
Image
Product
Details

Best Overall

Husqvarna 460 Rancher 20″ Chainsaw

Powerful 60.3 cc engine
9000 RPM blade speed
Easy to clean and adjust
CHECK PRICE

Poulan Pro PR5020 20″ Chainsaw

Good power and torque
Consistent
easy pull-starting
Low emissions and reduced fuel consumption
CHECK PRICE

Best Value

COOCHEER Ladyiok Chainsaw 62CC 20″ Gas Chainsaw

Exceptionally affordable
Large and powerful engine
Easy to start
CHECK PRICE

Husqvarna 20″ 450 Rancher II

Reduced fuel consumption and emission
9000 RPM blade speed
Great safety features
CHECK PRICE

SALEM MASTER 5820F 20″ Gas Powered Chainsaw

Excellent 8500 RPM blade speed
Automatic oiler
Comfortable design
CHECK PRICE
The 5 Best 20-Inch Chainsaws:
1.

Husqvarna 460 Rancher 20″ Chainsaw – Best Overall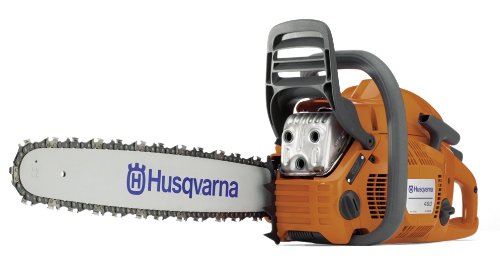 It should come as no surprise that the inventor of today's mass-market chainsaw design, Husqvarna, continues to produce remarkably innovative and reliable tools. With their 460 Rancher 20-inch chainsaw, they've upped the ante on many previous models with improvements to the machine's overall torque, safety features, and air filtering system.
A robust 60.3 cc engine powers the 460 Rancher's huge 9000 RPM blade speed – and with 3.4 Nm of torque behind its 20-inch bar, this chainsaw has enough power to handle any job you might throw at it. An automatic chain oiler helps to deliver a steady supply of lubricant to the bar and chain for uninterrupted cutting, as well.
Rounding out the 460 Rancher's big list of features are an inertia activated chain brake, a quick-access side-mounted chain tensioning system, quick-release air filter for easy cleaning, and a proprietary LowVib vibration reducing system. In short, there's no other 20-inch chainsaw we'd rather have when facing our toughest jobs.
Pros
Powerful 60.3 cc engine
9000 RPM blade speed
Automatic chain oiler and high torque
Great safety rating thanks to its inertia activated chain brake
Easy to clean and adjust
Ergonomic handle and low vibration design
---
2.

Poulan Pro PR5020 20″ Chainsaw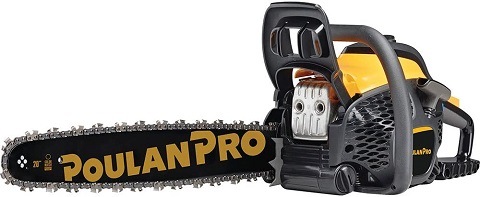 A well-respected sub-brand of the Husqvarna company, Poulan Pro offers hardworking tools at a fraction of the cost of their orange parent. With the PR5020, their 20-inch chainsaw model, Poulan has put together a surprisingly lightweight alternative to other large chainsaws that still packs a hefty punch.
The PR5020's 50cc engine puts it on the lower end of the power scale for 20-inch chainsaws. But thanks to a proprietary OxyPower engine technology that draws more power from less fuel, it's easily able to compete with larger engine chainsaws.
Compared to other 20-inch chainsaws, the Poulan Pro's pull-start system feels smooth and easy to use. Claiming to reduce pull force by 30%, it has the added benefit of increasing the longevity of the starter mechanism.
The only real downside? The PR5020 is one heavy saw. Weighing in at a whopping 17 pounds, it can easily lead to fatigue in the hands and shoulder of even the strongest worker. We're glad that its vibration dampening system works well, or else this added weight could have been a dealbreaker.
Pros
Reasonably priced alternative to Husqvarna
Good power and torque thanks to the OxyPower engine system
Consistent, easy pull-starting
Low emissions and reduced fuel consumption
Cons
Difficult to set up
Heavy
Slightly difficult to handle
---
3.

COOCHEER Ladyiok Chainsaw 62CC 20″ Gas Chainsaw – Best Value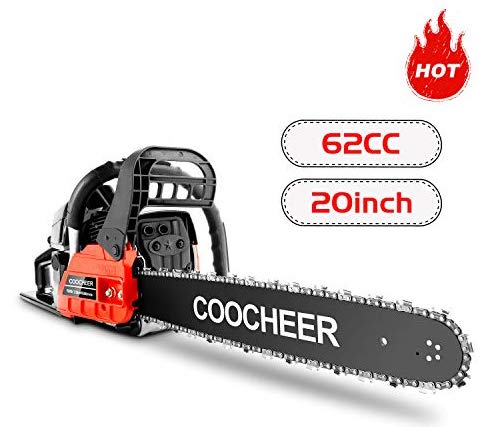 Far from being a recognized name in the power tool industry, we'll admit to being skeptical at first of the COOCHEER Ladyiok Chainsaw. It makes large claims on being a powerful and easy to use 20-inch chainsaw, and we're glad to say that for the most part, it backs them up well.
An oversized and extra-powerful 62cc engine provides the base for this rugged chainsaw, producing blade speeds up to a respectable 8500 RPM. Getting it started is easy thanks to the large rope wheel, which also has the benefit of reducing strain on the starting mechanism.
Just like the Husqvarna which earned our top spot, the COOCHEER Ladyiok also features an easily replaceable air filter system and automatic chain oiler.
Unfortunately, this saw is just as heavy as our number two pick – possibly even a little bit more. It's guaranteed to lead to quick fatigue, and its anti-vibration system is lacking in efficacy.
In short, the COOCHEER Ladyiok Chainsaw may very well be the best 20-inch chainsaw for the money. It's a great alternative to our top two choices when your budget is extra tight.
Pros
Exceptionally affordable
Large and powerful engine
Easy to start, easy to maintain
Cons
Extra heavy
Vibration dampening system doesn't work all that well
---
4.

Husqvarna 20″ 450 Rancher II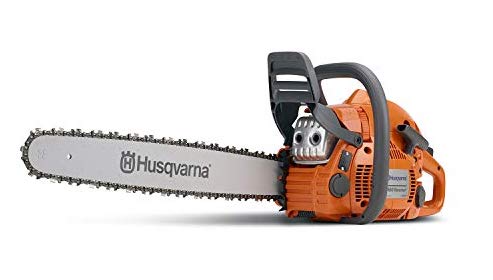 Smaller and lighter than the 460 Rancher which took our top spot, Husqvarna's 450 Rancher II 20-inch chainsaw is an excellent alternative for anyone who's looking for a lighter weight chainsaw that still has plenty of power.
The genius of the 450 Rancher II lies in its X-Torq engine: Advanced technologies allow it to reduce fuel consumption and emissions while increasing overall torque thanks to powerful air injection. Add this to the Smart Start system for foolproof and nearly effortless startups, and you can see why this Husqvarna chainsaw deserves your consideration.
Even though its 50.2cc engine is a full 10 ccs smaller than the 460 Rancher, the 450 Rancher II is still capable of producing the same 9000 RPM blade speed that sets Husqvarna saws apart from the competition.
Other features that build on this solid foundation include an automatic chain oiler, inertia-activated chain brake, and significant vibration dampening. Overall, it's an excellent choice for anyone who needs 20-inch chainsaw utility without the usual heavy and sluggish handling you'll find in other saws.
Pros
X-Torq engine reduces fuel consumption and emission
50.2cc engine
9000 RPM blade speed
Great safety features and easy maintenance
---
5.

SALEM MASTER 5820F 20″ Gas Powered Chainsaw
Last but not least on our list, the SALEM MASTER 5820F 20-Inch Gas Powered Chainsaw was one of our most difficult to review. At first glance, it seems to offer all the power and functionality of saws three times its price – and while our testing didn't reveal any problems with it, there are a worrying number of reports on defective machines and non-existent customer service.
A 58cc engine provides the SALEM MASTER with an excellent 8500 RPM blade speed, and the automatic oiler and comfortable design make it a great option for long workdays. Once we got it put together – which was quite a challenge, thanks to the poorly written directions – we were happy with the overall experience and chain brake safety feature.
In conclusion, while we would love to be able to recommend this low-cost chainsaw for everyone to try on their own, there are simply too many questions surrounding the consistency of quality for this machine. Perhaps in a few years, once the manufacturer has worked out any defects, we'll be able to recommend it more highly.
Pros
It might work when you get it
Cons
Poor ergonomics
Consumes too much fuel
---
Buyer's Guide – Choosing the Best 20-Inch Chainsaw
Knowledge is power, so prepare yourself to make the best decision possible in your chainsaw purchase by studying up on the following topics:
How to Choose the Right Chainsaw Size
Before you go buying a 20-inch chainsaw, it's important to make sure that you really need that much sawing power. Why? Because while a larger chainsaw can handle bigger, tougher jobs, it also produces a higher risk of losing control – and the kickback on a larger saw can be extremely dangerous, indeed.
Light use, such as occasionally pruning trees and shrubs, can easily be accomplished with a 10- to 14-inch chainsaw. In fact, their lightweight designs and slim profiles can make it easier to maneuver for precise cutting.
Moderate use chainsaws are geared towards consistent home maintenance use, as well as occasionally cutting through thick branches or logs. If your projects won't get any larger than cutting firewood, choose a 16- to 18-inch chainsaw for the job.
Heavy duty projects, such as professional trimming, cutting large amounts of firewood, or clearing acres of brush, require the largest and most powerful chainsaws. If you plan to tackle projects that might otherwise be left to a professional landscaper, a 20-inch chainsaw is the only way to go.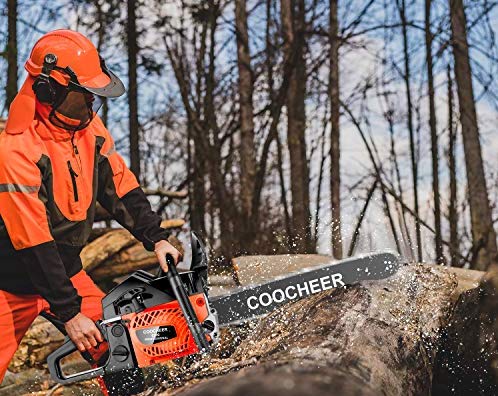 What to Look for In a 20-inch Chainsaw
When evaluating a chainsaw of any size, we look closely at the following features critical to purchasing any chainsaw:
Engine size and power: Larger bar lengths require a corresponding increase in engine power to prevent stalling while cutting. The best 20-inch chainsaws will have engine sizes between 50 and 60cc and produce chain speeds up to 9000 RPMs.
Ergonomics and weight (vibration, too): You might be surprised by how much the handle design and weight of a 20-inch chainsaw can affect your ability to cut safely with it. We've ensured that each pick in these reviews is well-balanced and gave special priority to chainsaws that featured vibration-reducing technologies.
Safety features: Higher-end chainsaw models will feature an inertia-activated chain brake, which reduces the risk of injury in the event of a kickback.
Durable construction: Of course, because a 20-inch chainsaw will be more expensive than most outdoor tools, you'll want to know that you're making a safe investment. Most chainsaws will offer a 1-year warranty to back up their solid construction.
Chainsaw Safety Tips
Conclusion
A tried and true name in the chainsaw business, Husqvarna, has easily secured our top pick in these reviews with their 460 Rancher 20-inch Chainsaw. While it's certainly on the expensive side of chainsaws, this beast of a machine's power, durability, and performance simply cannot be beat. We've been using Husqvarna chainsaws for years for one good reason: They're the most hardworking saws around.
For big chainsaw power on a smaller budget, consider the COOCHEER Ladyiok Chainsaw 62CC 20″ Gas Chainsaw as an excellent alternative to the Husqvarna. It's surprisingly reliable given its low cost, and comfortably designed with a slip-free ergonomic handle. We can highly recommend it for anyone who can't quite afford the Husqvarna.
In buying a chainsaw, we look for three key things: ease of use, durability, and how it handles. These three things are and that is why we pay extra close attention to them.
Related content: