Bauer Pressure Washer Review 2023: Pros, Cons, FAQ and Verdict
Review Summary
Our Final Verdict
We give Bauer Pressure Washer a rating of 4.5 out of 5 stars.
Editor Rating: 4.5/5
Build Quality: 4.3/5
Durability: 3/5
Power: 4/5
Features: 5/5
Price: 4.5/5
Maybe you just bought a new house with a deck. Or maybe you've lived in your house for a while, but you're tired of the mildew coating the deck boards and lurking in the cracks of the brick. Power washing is one of the easiest ways to clean your deck. If you're planning on washing more than once or twice a year, it might behoove you to buy the equipment instead of rent. The 2000 PSI Max Performance Electric Pressure Washer by Bauer is a solid power washer with favorable reviews and a moderate price. Here's what you need to know about this tool before you buy.

Bauer 2000 PSI Max Performance Electric Pressure Washer – A Quick Look
Pros
Lengthy hose and cord
Budget-friendly
Electric rather than gas
Cons
Short warranty
May not be a good choice for professionals
Specifications
Brand: Bauer
Model: 56877
Voltage: 120 V
Amps: 14 amps
PSI: 2000
GPM flow rate: 3
Weight:2 lbs.
Cord Length: 35 ft.
Hose Length: 25 ft.
Warranty: 90 days from date of purchase
Who Makes Bauer Tools?
If you're a frequent shopper at Harbor Freight, you might be familiar with their store brand, Bauer Tools. While Harbor Freight already boasts low prices, Bauer products are especially cheap since they're usually made in foreign countries and there's no middleman cost since it's a store brand. These tools are designed in the USA but made around the world.
How Much Do Pressure Washers Typically Cost?
Purchasing a pressure washer will usually cost you between $150-$400 depending on the brand and quality. The Bauer 2000 PSI Max Performance Electric Pressure Washer hovers on the lower third of this number, making it an affordable choice.
Why Is the 2000 PSI Max Performance Electric Pressure Washer a Good Choice?
You might think that this pressure washer cuts corners on quality because of its low price, but it actually has favorable reviews and features comparable to more expensive residential models. For instance, the 25 ft. hose is relatively long, which makes this an excellent tool for the hard-to-reach areas of your deck. 2000 PSI can blast away old grime and mildew. You'll need to be careful on stained wooden surfaces or old paint, however, since such a strong force may cause it to strip or chip.
The 2000 PSI Max Performance Electric Pressure Washer runs on 120 V of electricity. Some pressure washers run on gas, but they tend to be more powerful than most homeowners need. Additionally, gas is an extra expense that you don't have to worry about if you have an electric model.
What Are the Disadvantages?
Although the 2000 PSI Max Performance Electric Pressure Washer seems pretty well built overall, every manufacturer has their lemons. Unfortunately, the 90-day warranty period seems very short given that most people don't use their pressure washer more than once or twice a year.
Store brands like Bauer have a reputation for being lesser quality than their name brand counterparts. However, the reviews seem to suggest that this pressure washer is as good of a quality as big-name brands without the slightly higher price tag. However, we don't recommend this model for professionals. Most reviews say it does a good job while it works, but it doesn't have the longest life expectancy. Thus, it'll likely please the homeowner who wants to occasionally clean their deck with no frills but isn't reliable for someone who pressure washes for a living.

FAQ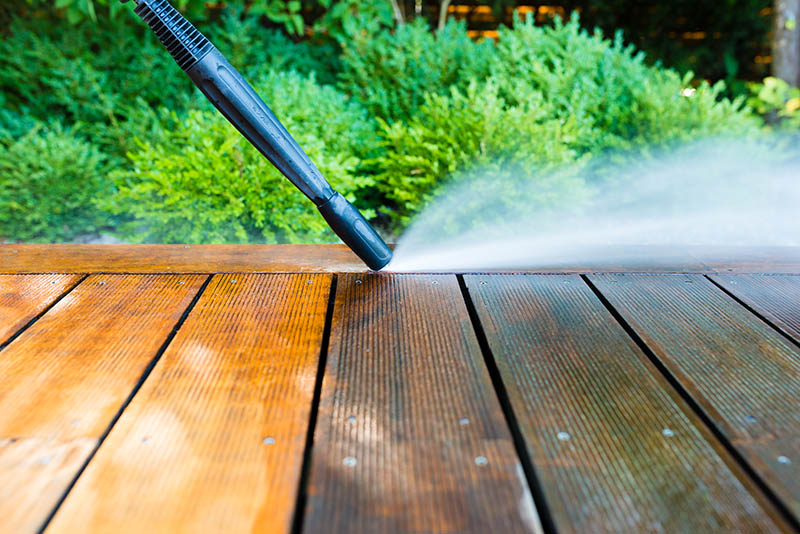 How good is the warranty that comes with this model?
The 2000 PSI Max Performance Electric Pressure Washer comes with a manufacturer's warranty that covers the unit up to 90 days after purchase. Unfortunately, that isn't a very long time for something to go wrong.
According to most of the customer reviews, the pressure washer typically performed satisfactorily at first, but then quit after about a year. Since the warranty is so short, the unit had to be replaced instead of repaired, which can be costly in the long run.
We recommend making sure this is the model you definitely want before purchasing because of the short, limited warranty, and 20% restocking fee.
How durable is the 2000 PSI Max Performance Electric Pressure Washer?
While it lasts, the 2000 PSI Max Performance Electric Pressure Washer seems to clean just as well as more expensive models. However, a number of reviewers say their model only lasted a year or two before it quit.
How does the price compare to similar models?
Since most pressure washers fall into the $150-$400 range, this model is fairly inexpensive given that it's at the lower end. You get what you paid for, but it honestly doesn't look like other models are necessarily superior despite the slightly higher price.  
Is it better to rent or buy a pressure washer?
On average, it costs between $100 and $200 a day to rent a pressure washer. You might wonder why anyone would ever consider renting a pressure washer since the unit is only a little more to buy. While that's true, renting a pressure washer relieves you of the burden of maintaining and storing the equipment, and gives you access to a higher-quality machine.
The Bauer 2000 PSI Max Performance Electric Pressure Washer isn't comparable to a commercial machine like you can rent from Home Depot. However, a cheaper pressure washer is sufficient for most DIY needs. If you plan on washing your deck more than once or twice annually, it'll essentially pay for itself within a year, so that's why some people prefer to purchase instead of rent.
What the Users Say
According to Harbor Freight, 93% of customers would recommend this item. Users cited the price, ease of use, power, and weight as major wins for this model. Most of the complaints centered around the hose, which is prone to tangling. Quite a few customers said that their model did the job for about a year, and then they had to buy a replacement. However, it's important to note that we don't know how often they used the machine. Also, since renting a pressure washer costs between $100-$200 a day, it still might be cheaper for them to replace the unit annually rather than renting.

Conclusion
It's always a gamble when you buy store brand equipment. Even so, the Bauer 2000 PSI Max Performance Electric Pressure Washer seems fit for the task as long as you're purchasing it for occasional use. The long cord and 2000 PSI ensure that you can blast hard-to-reach areas, making your project a breeze. If you're considering renting versus purchasing a power washer, you should know that this unit pays for itself within two days of use, making it a fairly economical choice. However, you should make your final decision before purchasing since there's only a 90-day warranty and 20% restocking fee.
See Also: Harbor Freight Portland 1750 Pressure Washer Review – Pros, Cons & Final Verdict