Mrliance Pressure Washer Review 2023 – Pros, Cons & Final Verdict
Review Summary
Our Final Verdict
We give Mrliance Pressure Washer a rating of 4.8 out of 5 stars.
Build Quality: 4.9/5
Power: 4.9/5
Features: 4.7/5
Price: 5/5
Mrliance Pressure Washer – A Quick Look
Specifications
| | |
| --- | --- |
| Brand Name: | Mrliance |
| Model: | Electric Pressure Washer |
| Weight: | 19.61 pounds |
| Hose Length: | 20 feet |
| Power Cord Length: | 35 feet |
| Flow Rate: | 3.2 gallons per minute |
| Maximum PSI: | 1,000 |
| Height: | 12 inches |
| Length: | 20 inches |
| Width: | 24 inches |
| Input Voltage: | 110 Voltage |
If you're in the market for an affordable lower-powered pressure washer for everyday activities, the Mrliance electric pressure washer is an outstanding choice. It's great for everyday maintenance activities like cleaning the siding or deck of your home, but it can't handle bigger jobs like deep concrete cleaning.
It's also extremely portable, so you can take it to your friend's or family's home to help them with smaller projects, and it comes with a 2-year warranty, so you know it'll last.
This small little pressure washer might not be the most powerful one on the market, but for most people, it's all you need and won't need to spend nearly as much. It's durable, high-quality, and reliable, which is everything you want!
Pros
Great 3.1 GPM flow rate
An outstanding mix of price and quality
It comes with multiple spray tips
Longer power cord
It has a 2-year warranty
Cons
Not the best for cleaning concrete
Not as much power as a gas-powered pressure washer
Mrliance Pressure Washer – The Details
High-Quality and Easy to Use
While the Mrliance electric pressure washer doesn't have the largest price tag, don't let that fool you. It's a high-quality machine that will last a long time and is incredibly easy to use.
It doesn't take much to assemble, allowing you to get started on the job faster than ever. It's an outstanding mix of price and quality, giving you exactly what you want without charging you an arm and a leg.
---
4 Spray Nozzles to Choose
When you order the Mrliance electric pressure, you're not ordering a tool that pigeonholes you into one type of job. Each Mrliance electric pressure washer comes with four different spray nozzles for you to pick from.
They all provide a different spray angle, allowing you to complete a wide range of tasks by simply switching out the nozzle. It only takes a second or two and it opens up a ton of new possibilities for you.
---
It Comes With a 2-Year Warranty
Whenever you purchase something new, you want it to last. And while every company promises that their product will keep doing what they tell you, all the promises in the world don't matter if they won't back them up.
With Mrliance's electric pressure washer, you get a 2-year warranty, so if their product doesn't last they'll make it right for you. It's a little extra peace of mind when you're ordering a more expensive piece of equipment online.
---
Limited Power Output
While the Mrliance pressure washer provides plenty of power for an electric pressure washer, there's no denying it can't quite keep up with gas-powered options. Of course, gas-powered pressure washers cost more upfront and to run, but if you need a pressure washer for tough concrete stains, this one might not get the job done.
But if you're looking for a pressure washer for concrete surface cleaning, the cleaning of siding, your deck, or your car, the Mrliance electric pressure washer has more than enough power to do the job.

FAQ
While there's a lot to love with the Mrliance electric pressure washer, it's also perfectly normal to have a few questions. We understand and it's why we decided to answer some of the most frequently asked questions for you here.
Where does Mrliance make this electric pressure washer?
Mrliance makes this electric pressure washer in China.
How portable is the Mrliance electric pressure washer?
The Mrliance electric pressure washer weighs less than 20 pounds, has a long power cord, and has a longer hose. Finally, its compact size makes it easy to take from place to place. If you don't want a big heavy pressure washer, this is a great choice.
Why do you need different nozzles?
Different nozzles allow you to effectively change the pressure hitting the surface you're trying to clean. Smaller nozzle openings push out a smaller stream of water at a higher PSI, while larger nozzle openings cover a larger area with less pressure.
Sometimes you need extra pressure to work out tough dirt and grime, but other times the extra pressure will cause damage to various components.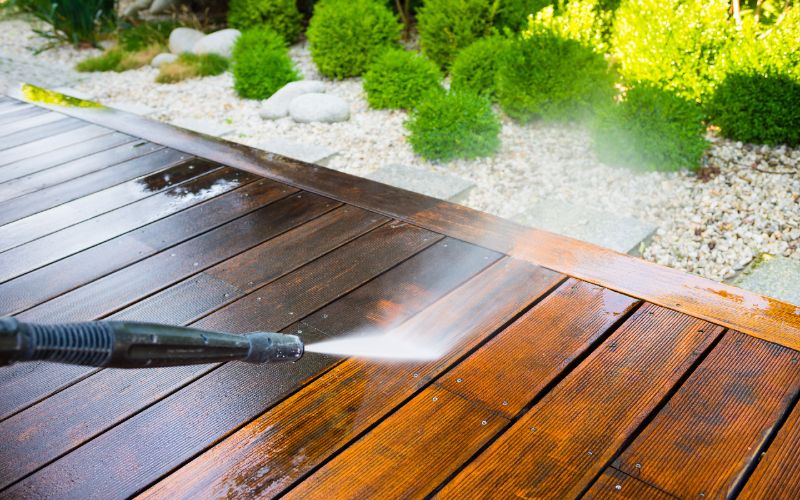 What the Users Say
For the most part, the users are pleasantly surprised with this pressure washer. Multiple users note that they weren't expecting the quality and capabilities of this pressure washer considering the price.
Moreover, users love that it's lightweight and easy to move around. Finally, while users love what they're getting with this pressure washer, it does seem like they went into it with realistic expectations. It's a great little pressure washer, but it's not going to perform like the far more expensive and more powerful models out there.
However, one user did note that they couldn't figure out how to put it together and that it didn't come with directions. But if you're semi-handy, this shouldn't be a problem for you.

Conclusion
If you need a pressure washer to clean the siding of your home, wash your car, or clean off a deck or patio, this Mrliance electric pressure washer is a great choice. Just have realistic expectations for it, and don't expect to get the best of the best at this price point.
Still, it's a great value, and its lightweight design makes it an excellent choice for anyone who can't handle the bulkiness or weight of other pressure washers.
See Also: Harbor Freight Portland 1750 Pressure Washer Review – Pros, Cons & Final Verdict